DOWNTOWN — You don't have to miss out on paczki once the office supply runs out on Fat Tuesday.
The filled pastries are a favorite on Mardi Gras — also dubbed "Paczki Day" — but you can also make them at home. Chicago-style paczki are relatively true to their Polish origins, said Delightful Pastries bakery co-owner Dobra Bielinski.
"Chicago, because of its huge Polish population, keeps it a little bit more authentic for the most part," Bielinski said. "I think that gives … the Chicago paczki great flavor."
Delightful Pastries, 131 N. Clinton St., is expecting to make 64,000 paczki for Fat Tuesday, serving up traditional flavors like rose, plum and apricot alongside modern varieties like Nutella and peanut butter and jelly. The bakery has been prepping for the bid day for a month, Bielinski said.
The bakery shared its decades-old recipe and tips for making paczki at home.
Bielinski showed us how to make paczki, Chicago-style:
Paczki are doughnut-like pastries that got their start in Poland. They're made with a bit of alcohol and a lot of sugar, deep fried and glazed or covered in powdered sugar.
And if you're struggling with the pronunciation, say it with us: pownch-key. (You can also watch this video to hear experts say it.)
Bielinski said she will occasionally make dough at Delightful Pastries and take it home if she wants paczki — so, yes, you can make these treats at home. It can take several hours, and this recipe makes about 36 paczki.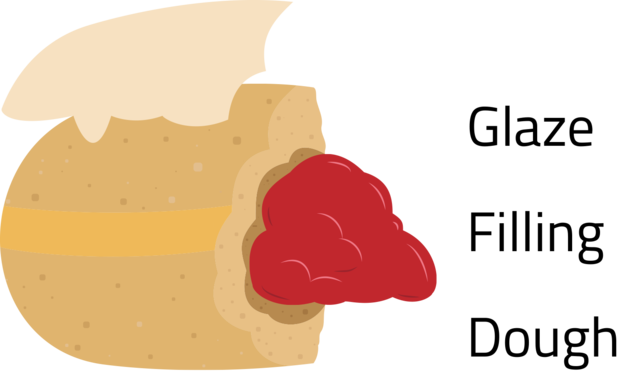 How to make it
What you need:
1000 grams of bread flour
110 grams of butter
70 grams of sugar
60 grams yolks
150 grams eggs
20 grams of salt
290 milk
50 grams fresh yeast (if using dry yeast use 16.5 grams)
4 grams of lemon oil
4 grams of orange oil
10 grams of rum, or the liquor of your choice
Here's how you put it all together:
1. Mix the yeast with the milk and let it sit for 10 minutes.
2. Add softened butter, sugar, yolks, eggs, salt, oils, rum (or the liquor of your choice) and flour to the mix. If your dough is dry, add milk in 15-gram increments until the dough is smooth.
3. Mix the dough until it comes together slowly. When the bottom of the mixer is clean you can remove the dough.
4. Roll the dough and let it rest for one hour.
5. Weigh the dough into 60-gram pieces and roll them into little round balls.
6. Let the paczki rise for 1-1½ hours.
7. Fry the paczki in oil at 356 degrees Fahrenheit. Flip them to ensure both sides of the paczki turn a hazelnut-brown color and the inside is cooked.
8. Put glaze on top, or powdered sugar, or roll in cinnamon sugar. (Here's a recipe for a paczki-friendly glaze.)
9. Get the filling of your choice (jam, custard, etc.) and put it into a pastry bag with a long tip like you'd use for frosting. Jam the tip of the bag into the side of the paczki and fill the dough with your filling.
Quick tips
Get people to help you make the paczki, or it could take a lot longer, Bielinski said.
Many make paczki with rum, but you can substitute vodka or another liquor. If you're going for a Southern-style paczki, for example, you can use moonshine, Bielinski said.
Give your dough time to rise and rest, Bielinski said. How much time this will take varies depending on how warm your kitchen is. Look for your dough to double in volume.
You can fry the paczki in a "high heat oil" like grapeseed oil, peanut oil, canola oil or lard, Bielinski said. (Avoid anything that could give your paczki-eating friends and family an allergic reaction, though.)
It typically takes  four to five minutes to fry the paczki, Bielinski said. Each side should be hazelnut brown. If you're not sure the paczki are cooked through, stick a toothpick in — if the toothpick comes out clean the paczki is done.
If you let your dough rise enough before frying the paczki then you should get "smile lines," the golden line that wraps around the paczki's side. If you don't get smile lines then let your dough proof longer.
Let your paczki cool down a bit on parchment paper after you've fried them and before glazing them.
If you use a pastry bag to fill your paczki, avoid using a jam with chunks of fruit because they can clog the pastry bag's tip, according to cooking blog Jenny Can Cook.
This story was originally published by DNAinfo Chicago in 2017.