NORTH LAWNDALE — If it seems like everywhere you look in Chicago, someone is filming a TV show or a movie, it's not just you.
The industry is booming in the city, with nearly three times as many jobs tied to filming here than seven years ago, officials touted Thursday at an event to spotlight the growth.
Mayor Rahm Emanuel and Gov. J.B. Pritzker were among the dignitaries on hand Thursday at Cinespace Studios on the West Side to tout the city's success in drawing filmmakers to Chicago and pledge that the trend will continue.
The new governor clowned around at the event, getting behind the bar on a movie set and grabbing some booze off a shelf.
Emanuel and Pritzker were joined by Cinespace president Alex Pissios, State Sen. Elgie Sims, Jr. and others at the studio where shows like "Chicago Fire," "Chicago P.D." and "Empire" are filmed to announce that 2018 saw a record film numbers in the city.
Some 13,000 jobs were supported by the film industry in 2018, up from 5,000 in 2011. Additionally, 2,478 permits were issued to support 520 film projects, according to the Chicago Department of Cultural Affairs and Special Events.
Emanuel said that years ago, shows would often be set in Chicago but filmed elsewhere. Thursday's numbers would not be the end of the story, the mayor said.
"'ER' was a series about a Chicago hospital, filmed in L.A. That would not be the case today," Emanuel said. He added that the numbers released by the city are a milestone that he'd like to continue building on.
"This is a report that signifies a milestone. It's not the end, it's not graduation day. It signifies that we are here, we're permanent," Emanuel said. "This is now an industry that's part of the diverse economy in the city of Chicago in the same way that theater is a permanent part, in the same way that healthcare is a permanent part."
Earlier this week, NBC announced it was renewing its Chicago slate: "Chicago Fire," "Chicago Med" and "Chicago PD."
Film producer Robert Teitel, who has made 9 movies in Chicago including "Soul Food" and three incarnations of "Barbershop," said it's easier to get films done in Chicago than when he started his career in the early 1990s.
"There's more people, there's more of an infrastructure. There's more crew members because there's more work."
Teitel added that tax credits are a huge incentive but sometimes it's hard to say what is the deciding factor on filming in Chicago or somewhere else. For example, he said the trend of movies being set in Chicago but filmed in Toronto will still happen, but maybe not as much as in the past.
"That's never not going to happen. It's just cost efficiency, what makes sense. No one doesn't want to come here. Everybody wants to. Sometimes it just doesn't make sense," Teitel said.
Richard Moskal, who worked as head of the Chicago Film Office for 23 years before retiring last November and is largely credited for the increase in film production in the city, attended the Thursday announcement and was singled out by the mayor for praise. Before the press conference, he told a reporter that the increase in film work in the city over the years has been the result of a few things.

"The state tax credit, for sure as well as the city's ability to accommodate production, specifically television production." Moscal said. "The first tax credit came through around 2008. It evolved over time and as other tax credits in other states went away, Illinois' stayed stable. The tax credit is good as long as you're offering quality. I think that's what has positioned Chicago differently. We had a great look, we have quality crews and incredible talent so casting out of Chicago made it really significant."
Additionally, for productions that require outside shooting, weather can be an issue. 
Jennifer Lafleur, a Los Angeles-based actor who has appeared on "Chicago Fire" and was last working in Chicago in October to shoot the independent movie "The Husband," said "I arrived on September 30 and the weather was beautiful. They scheduled the costumes for the film to have a late summer vibe, but then the weather dropped from in the 80s to into the 40s in two days, so I was outside in a tank top freezing," she recalled, laughing. "I don't mind the cold. I filmed 'Chicago Fire' outside in the cold. It was the abrupt shift and the costumes not being able to adjust that made it a challenge."
Chicago will always have an authenticity that cannot be recreated on a soundstage, but it was state grants that allowed Cinespace to be created and state tax incentives that keep the filmmakers coming back. 
Cinespace, opened in 2011 on the site of a former steel mill, was renovated by $17.3 million in state grants issued by then-Gov. Pat Quinn. 
On Thursday, Pritzker would not take questions from reporters and did not directly address tax incentives, but said "Since 2012, we've had $2.5 billion in film production spending with nearly half of that going to wages for Illinois workers. An entire film ecosystem of businesses and services has built up around this industry here. I intend to make sure our city and our state really come together with private industry and workers to forge a path forward so that we can reach even greater heights."
As a gubernatorial candidate, Pritzker told the Chicago Sun-Times that the state should hold annual hearings to assess "the efficacy of the tax credits. We need to make sure there's transparency" so taxpayers know what they're getting for the tax breaks.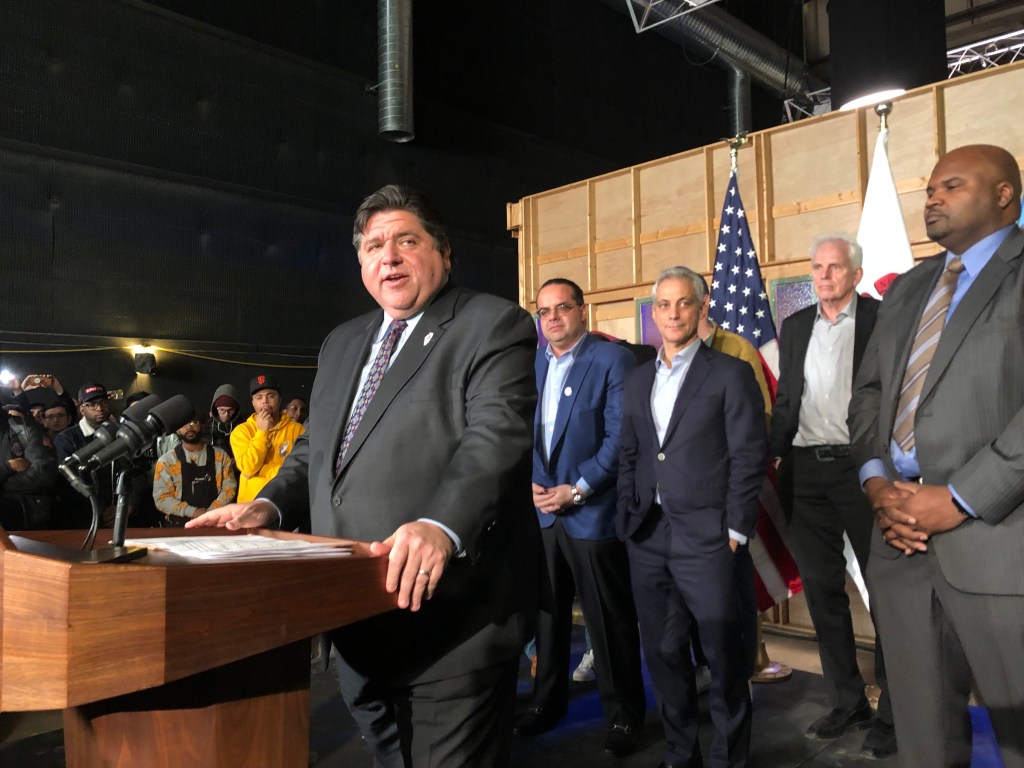 Over the past decade, the state of Illinois has given nearly $420 million in tax breaks to companies that came to the state to make television shows, movies and commercials. The Illinois Film Production Tax Credit Act provides a tax break of at lease 30 percent for specific expenses and is set to expire in 2021 unless renewed. 
Also in his address on Thursday, Pritzer said "As governor, I'm committed to public/private efforts and city/state partnerships to grow our economy. We need to do everything we can to create jobs for the city of Chicago and the state of Illinois."
Both Pritzker and Emanuel clapped when State Sen. Elgie Sims, Jr. (17th) said that he has legislation in Springfield to increase the threshold for the state's spend in the industry by making the tax credit permanent.