Get more in-depth, daily coverage of Chicago politics at The Daily Line.

CITY HALL — Mayor Rahm Emanuel's plan to build a $95 million training facility for Chicago police and fire departments advanced Thursday, as aldermen disregarded calls from mayoral candidates Toni Preckwinkle and Lori Lightfoot to delay the project.
With the endorsement of the City Council's Committee on Zoning, the project heads to a vote by the full City Council March 13. A separate proposal to award AECOM the contract to build the facility (O2019-1154) is awaiting a hearing in the City Council's Budget Committee, which could consider the matter next week.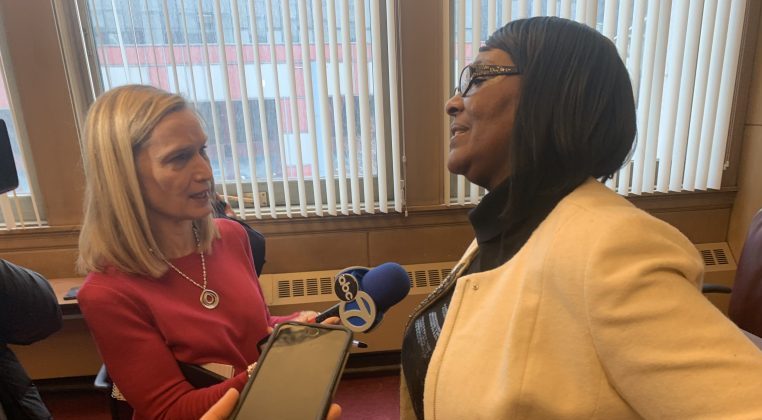 Ald. Ameya Pawar (47th) and Ald. Deb Mell (33rd) voted no. In the April 2 runoff for treasurer, Pawar faces state Rep. Melissa Conyears-Ervin, while Mell will take on Rossana Rodríguez-Sánchez to hang on to her North Side City Council seat.
Ald. Emma Mitts (37th) said she considered delaying plans (O2019-374) to build a 500,000-square-foot training facility in West Garfield Park because of Preckwinkle and Lightfoot's opposition.
"I'm not one to back down," Mitts said, adding she decided to move forward because of the project's significant benefits for her ward. "I'm not willing to wait another second."
Building the training facility on the long vacant 30-acre site at 4301 W. Chicago Ave. will breathe new life and bring "jobs, additional resources and hope" to West Garfield Park, Mitts said.
"I want the mayoral candidates to know long before they decided to run for mayor, I was working on this project and my community doesn't want to wait," Mitts said.
Mell attempted to delay the vote on the training facility by forcing a quorum vote to determine whether a majority of aldermen were present at the Zoning Committee meeting, the first to be led by Ald. James Cappleman (46th) after 25th Ward Ald. Danny Solis resigned as chair.
Solis has not been seen at City Hall since the Sun-Times reported he received sex acts at massage parlors, the erectile dysfunction drug Viagra and campaign contributions in exchange for ushering deals through City Council.
However, a majority of committee members were present: Mell, Pawar, Cappleman, Michelle Harris (8th); Raymond Lopez (15th); David Moore (18th); Matt O'Shea (19th); Margaret Laurino (39th) Brendan Reilly (42nd); and Tom Tunney (44th).
Mell said she voted against the training facility because of Lightfoot and Preckwinkle's opposition.
The "next mayor must have confidence in the process," Mell tweeted after the vote.
Pawar said he could not vote for the proposal because Emanuel has tapped AECOM to build the facility. The Los Angeles-based firm has built prisons and faced allegations of wrongdoing, as detailed by the Chicago Reporter.
Mitts addressed her colleagues who oppose the training facility directly before the vote.
"You take care of your business, and I'll take care of mine," Mitts said, delivering a succinct defense of aldermanic privilege, which gives each alderman the final decision over projects in his or her ward.
"And I hope that each and every one of you look in your own wards, see what you got," Mitts said. "And then just take a look in the 37th Ward. Don't you think we want the same thing? Don't you think we deserve the same thing?"
Moore said members of the City Council should follow the lead of voters in the 37th Ward, who re-elected Mitts Tuesday with more than 54 percent of the vote, according to early returns.
If residents of the 37th Ward opposed the training facility, Mitts would not have won without facing a runoff.
"The community's vote is their voice," Moore said.
However, one of many opponents of the training facility who were removed from the City Council Chambers during Thursday's meeting yelled out that Mitts would not have been re-elected had Emanuel not contributed $30,000 to her campaign.
Cappleman said he agreed with Emanuel that the new, state-of-the-art facility is needed to address serious concerns outlined by the U.S. Justice Department in its 2016 investigation of the Chicago Police Department. It found officers that graduate from the five-month academy were "unprepared to police lawfully and effectively."
Cappleman faces a runoff April 2 against scientist Marianne Lalonde, who opposes the project.
The facility would replace the police training academy at 1300 W. Jackson Blvd., built in 1976; the fire prevention training facility at 1010 S. Clinton St., built in 1950; and the Fire Academy South at 1338 S. Clinton St., built in 1965, officials said.
However, members of the No Cop Academy coalition said the money would be better spent on restoring cuts made to Chicago Public Schools' budgets or reopening mental health clinics shuttered by Emanuel.
"My wish is that as the police and those in the community they serve have more opportunity to interact with one another, possibly some healing can begin," Cappleman said, acknowledging the deep distrust between black and Latino Chicagoans and members of the Chicago Police Department.
The training facility will include two buildings, including one for classrooms, labs, simulators, conference rooms, an auditorium and offices.
The other building is slated to include a shooting range and space for "active scenario training and a dive training pool" for teams to practice rescues from submerged vehicles in daylight or dark.
The campus will also include a driving course, skid pad and and a place for "hands-on practice in real-world situations."
In May 2018, the City Council earmarked $20 million from the sale of the city's largest maintenance garage and yard along the North Branch of the Chicago River — now slated to be part of the Lincoln Yards development — for the construction of the training facility. The city bought the land for the training facility for $9.6 million.
City officials have not identified how they plan to cover the remaining cost of the training facility. The Chicago Infrastructure Trust is overseeing the project.
Only two aldermen voted to block that move at the time — Ald. Carlos Ramirez Rosa (35th) and Ald. Ricardo Muñoz (22nd).
Plans call for the training facility to include a Culver's and a Peach's restaurant.
"These restaurants may not be what you want," Mitts said. "But right now we have nothing. And something is better than nothing."
Harris and Scott said the training facility would have a catalytic effect on the West Side, and spur private development.
"Our communities need this kind of development," Harris said. "We start with this, and other things will come."
The Zoning Committee approved the other items outlined in our preview, with the exception of a proposal to build a four-story, 20-unit building (O2019-322) with four parking spaces at 2135 W. Cermak Road in the 25th Ward.
In the 45th Ward, aldermen gave the green light to plans (O2019-333) for a four-story, 31-unit building with nine parking spaces at 4900-08 N. Milwaukee Ave. across the street from the Jefferson Park Transit Center.
The development includes six units set aside for low- and moderate-income residents, which Ald. John Arena (45th) said was "much needed" and in a perfect location.
Arena lost his seat on the City Council after drawing fierce criticism for aggressively advocating for affordable housing.