UNIVERSITY VILLAGE — The Illinois Attorney General's office and the Cook County State's Attorney's office are investigating a complaint that alleges supporters of candidate Byron Sigcho Lopez were buying votes in the 25th Ward Tuesday.
A complaint was filed with the agencies after voters were seen requesting gift cards after casting ballots at Barbara Jean Wright Court Apartments, 1354 S. Morgan St., in the 25th Ward's 4th precinct.
Chicago Lawyers' Committee for Civil Rights, which staffs a hotline where voters can report electoral abuse, initially sent poll watchers to the site after receiving complaints that the precinct was refusing to let people register to vote, said Ami Gandhi, an attorney with Chicago Lawyers' Committee for Civil Rights.
During the visit, poll watchers observed what they described as "strange" behavior — voters entering one room, casting their ballot and then entering a separate room across the hall where they allegedly received $20 gift cards in exchange for a vote for Sigcho Lopez, said Matt Owens, an attorney and field captain for election protection with Chicago Lawyers' Committee for Civil Rights.
When the poll watchers walked into the other room across the hall, people were "hostile towards them" and asked why they were being observed, Owens said.
"Our poll watchers observed four voters asking where they can get their gift cards before the Attorney General's office arrived," Owens said. "Once the Attorney General's office arrived, more voters continued asking for gift cards."
One voter who was carrying a postcard with Sigcho Lopez's name on it told poll watchers he would receive a gift card in exchange for voting for Sigcho Lopez, according to Owens.
Owens didn't disclose whether the postcard was given to the voter inside or outside the polling place.
At 6:25 p.m. Tuesday, another voter approached poll watchers asking where they could get their gift card, said Timna Axel, director of communications for the Chicago Lawyers' Committee for Civil Rights.
The voter told poll watchers he was approached by Sigcho Lopez's supporters outside the polling place and was promised a gift card in exchange for voting for Sigcho Lopez, Axel said.
Investigators with the Attorney General's office were seen interviewing voters in the parking lot Tuesday afternoon, Owens said.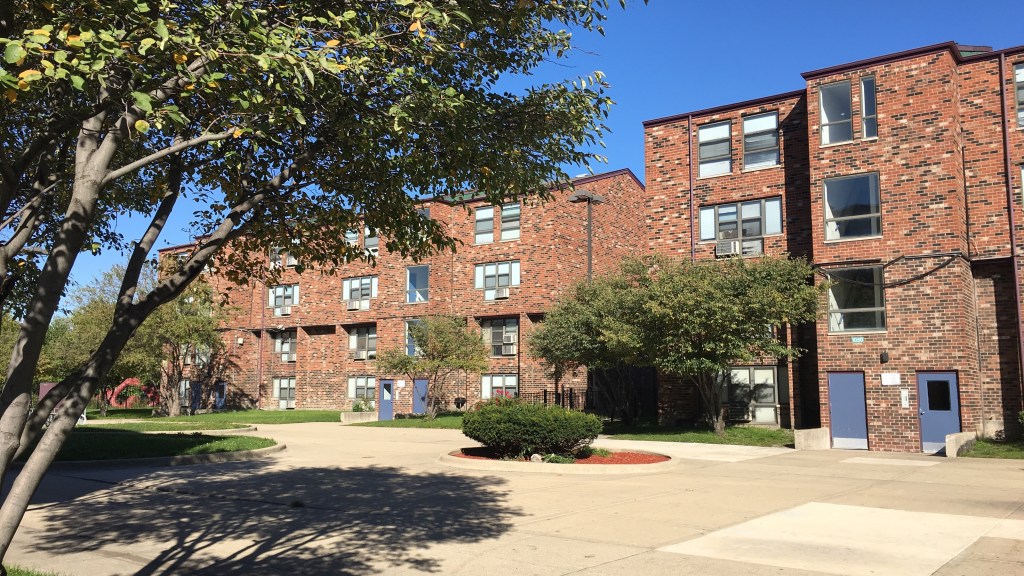 Jim Allen, Chicago Board of Elections spokesman, confirmed a complaint was filed with the board, and the agency forwarded the complaint to the state attorney's office to investigate.
Investigators have not yet disclosed who was distributing the $20 gift cards.
On Tuesday, Sigcho Lopez landed 29.3 percent of the vote in the 25th Ward race, securing a spot in the April runoff. Alex Acevedo received 22.2 percent, also securing a spot on the runoff to replace disgraced — and missing — Ald. Danny Solis, who wore a wire for the feds.
A resident at Barbara Jean Wright Courts, who declined to give their name for fear of retaliation, said they witnessed the distribution of gift cards and voter intimidation at the apartment complex Tuesday.
Earlier in the race, the Barbara Jean Wright Tenants Council distributed two flyers to residents — one advertising for a meet-and-greet event with Sigcho Lopez and a second flyer offering a $20 dollar visa gift card to residents who vote, the resident said.
Despite being split between two wards, the resident said the Tenants Council only organized a meet-and-greet with Sigcho Lopez.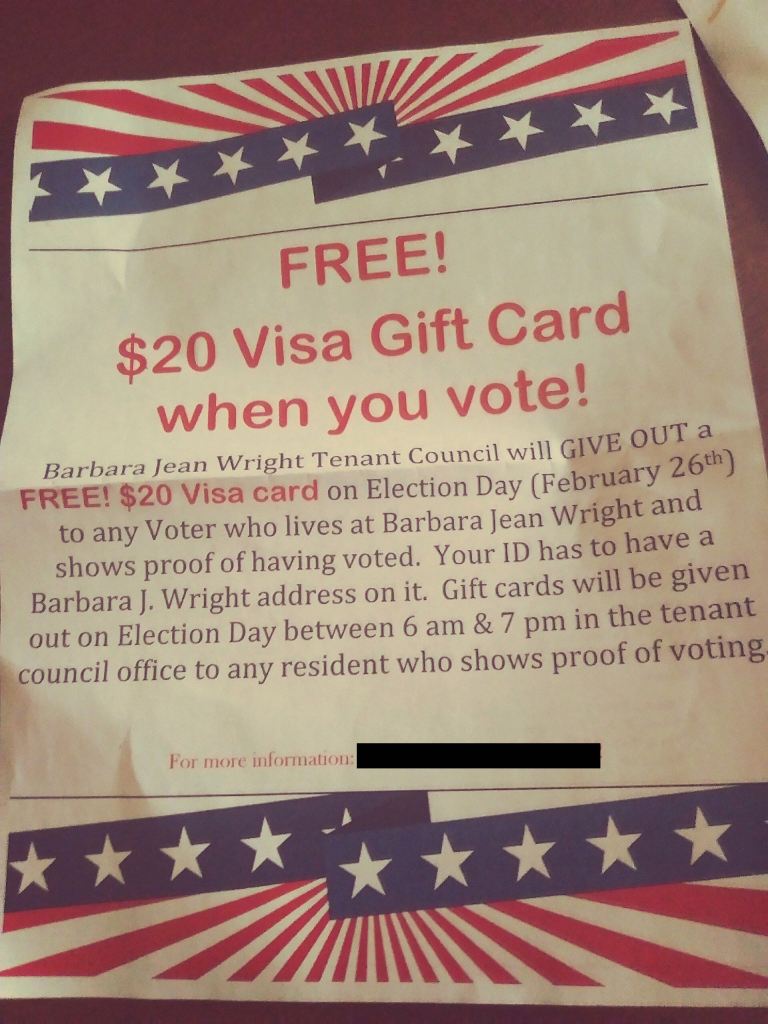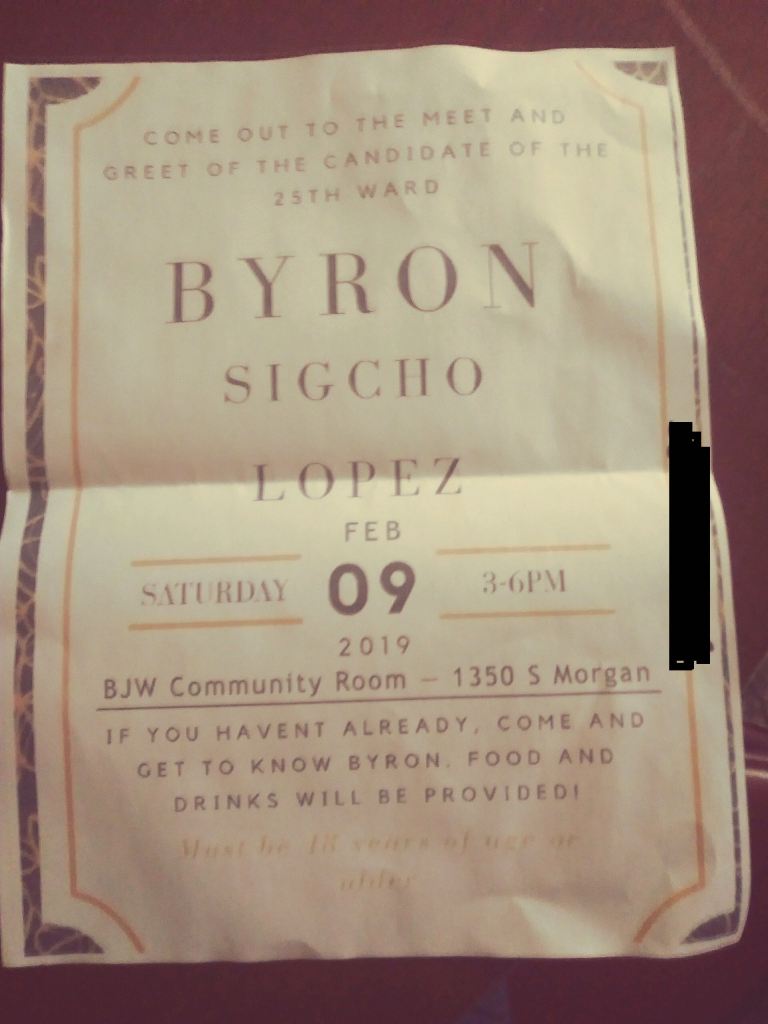 Tenant Council President Jessie Johnson slammed the allegation and denied that people were urged to vote for Sigcho Lopez in exchange for the gift cards.
Residents at the complex were distributing flyers and postcards for a number of candidates, not just Sigcho Lopez, she said. Residents might have assumed that they should vote for Sigcho Lopez in order to get the gift card because the council has worked with — and advocated for — Sigcho Lopez in the past, Johnson said.
The Tenant Council removed fliers advertising the gift cards after Board of Elections officials informed them that they could not provide gifts or money in exchange for a vote, Johnson said.
The gift cards were provided by the Chicago Housing Initiative, a group that works with low-income renters in Chicago, and the tenant council, Chicago Housing Initiative's executive director Leah Levinger confirmed.
The gift card incentive aimed to encourage more people to vote in the low-turnout ward, she said, but the group offered the gift cards to Barbara Jean Wright residents 18 and up whether they voted or not. And there was no stipulation that voters had to vote for a specific candidate in order to receive the gift card, Levinger said.
People previously complained about the gift card fliers, Board of Elections spokesman Allen confirmed. At the time, the Board of Elections advised the person on the flier that it was illegal to offer anything of value to entice people to vote.
The allegations of vote buying are especially concerning in the 25th Ward, which includes parts of Chinatown and Pilsen, where a number of voters primarily speak a language other than English.
"It's all the more concerning that we have vulnerable populations of eligible voters in this area that such intimidation and pressuring and vote buying seems to be happening," Gandi said.
Sigcho Lopez campaign did not immediately respond to comment Tuesday night.
Zoe Chan, a spokeswoman for Sigcho-Lopez's campaign, told the Sun-Times she was still gathering facts but had spoken with a precinct captain at the location.
"We take very seriously any allegations of this nature," Chan told the Sun-Times. "We are committed to conducting a rigorous investigation into it. Should we uncover anything in our investigation that would seem to contravene some kind of election law, we would be the first to contact the authorities."
Chinatown complaint
Last week, Sigcho Lopez denounced an accusation that his supporters engaged in ballot theft in a Chinatown senior center.
Candidate Hilario Dominguez, a former teacher and activist, along with State Rep. Theresa Mah, whose 2nd District seat includes Chinatown and Pilsen, leveled the allegations at Sigcho Lopez's supporters.
They alleged his supporters took incomplete vote-by-mail ballots from seniors at the Chinatown Elderly Apartments, 300 W. 23rd St. They were then told their ballots would be filled out for Sigcho Lopez because they had previously received a free meal at Phoenix Restaurant from Sigcho Lopez's campaign, the state representative and the aldermanic challenger alleged.
Mah and Dominguez filed a complaint regarding the allegations with the Chicago Board of Elections. The complaint has since been sent to the state's attorney's office, Allen confirmed.
Dominguez said the alleged manipulation of senior votes was "outright appalling," and called for Sigcho Lopez, former director of Pilsen Alliance, to "work with the Board of Elections to return these incomplete ballots to the voters."
Sigcho Lopez said the allegations made against him were "false" and "a desperate attempt to distract and deceive the voters" by Dominguez's campaign.
The campaign provided food at "educational campaign events," Sigcho Lopez said, but the allegation that they were buying votes is "absurd."
Do stories like this matter to you? Subscribe to Block Club Chicago. Every dime we make funds reporting from Chicago's neighborhoods.