Content warning: This article contains descriptions of a suicide attempt involving a child and may be disturbing for some readers.
BRONZEVILLE — On Friday morning, 11-year-old Jamari Evans was on life support at Comer Children's Hospital.
His devastated mother Tierra Black said Jamari tried to take his own life four days ago, and while she's praying that he can recover and live a full life, she is also furious — and looking for justice.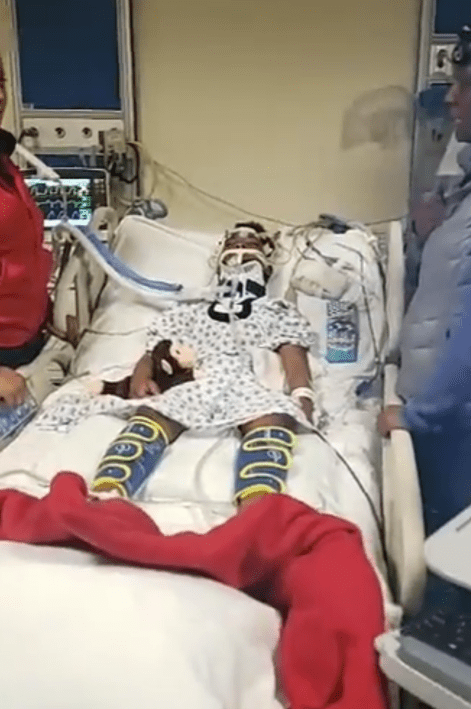 Surrounded by friends and family outside the hospital at 5721 S. Maryland Ave. Friday morning, Black recounted a series of events that led to the night her son, Jamari, tried to take his life after months of bullying from teachers and students at Carter G. Woodson Elementary, 4414 S. Evans Ave.
The problems began at the end of the 2017-2018 school year, when Jamari was a fourth-grader at the Grand Boulevard school, his mom said. Black said she had made several trips to the school over issues with teachers and staff, seeking help from Principal Tamara Nakia Littlejohn, but to no avail.
"I called [CPS] to let them know what was going on, and they said they'd investigate," said Black, who added that her request for a school transfer was denied. "I guess they're still investigating."
The bullying continued into the new school year. Jamari, forced to repeat fourth grade, was placed in a classroom with a teacher who was verbally and physically abusive, Black said. After two months of his mom pleading with school administrators, he was transferred to another classroom, she said.
Black believed that her complaints made her son a target for harassment and bullying from teachers and staff, noting several incidents where Jamari — who is a special education student with an Individualized Education Plan (IEP) — was assaulted and punished after. One teacher grabbed him so violently there were scratches on his back, Black said.
Things came to a head the day before Christmas break, when Jamari was attacked by several students inside the school's gymnasium.
The boy who once loved school as much as he loved basketball and the color green told his mom that he wanted to die.
Monday night, Black's 9-year-old daughter discovered Jamari in his room, unconscious, and called for her. Black went to his room and found him on his knees, a sheet tied to his bedroom door wrapped around his neck, urine soaking his pants.
"He was already gone," his mother said. "The sheet was so tight around his neck that I was trying to take the knot out as I was trying to revive him."
She started CPR and continued to try to revive him until a Chicago Police Department officer took over. An EMT relieved the officer soon after. It took 3o minutes and two shocks from a defibrillator to resuscitate him.
He was then taken to Comer, where he's currently on life support.
"He's critical, but we're hopeful he pulls through," said Derrica Jackson, Jamari's cousin.
Black said she's heard nothing from the school staff or administrators since Jamari's hospitalization.
Littlejohn did not respond to requests for comment.
CPS officials said they have launched an investigation into the allegations made by the Black family. Crisis counselors have also been sent to Woodson Elementary.
"This is a horrible tragedy, and the thoughts and prayers of the Chicago Public Schools community are with Jamari and his loved ones," CPS spokesman Michael Passman said. "The allegations that have been made are highly concerning, and the district is conducting a full investigation."
CPS will hold adults accountable if it's determined that they failed to assist a student in need, officials said.
On Saturday. Ald. Pat Dowell (3rd), whose ward contains Woodson Elementary, also called on CPS to investigate what happene to Jamari at the school.
"Any hint of bullying must be taken incredibly seriously and anyone and everyone who works with children must immediately follow the proper protocols to stop bullying in its tracks," Dowell said in a statement. "Parents, first and foremost, must have full confidence that their children are safe in CPS' care. Jamari deserves answers. Teirra deserves answers. We as Chicagoans deserve answers."

Family friend and former mayoral candidate Ja'Mal Green said Black is not alone. A number of parents have contacted him with similar stories.
"It should not take something like this to happen to get a response," Green said. "We have to wait for families to suffer to get something done."
Now her daughter has become a target, too.
"They pull her hair, they hit her," Black said, fighting back tears. "I'd been keeping them out of school because I didn't want them to endure it anymore."
Sequoia Williams said her second-grader Mason also had problems with bullies at Woodson, with one incident leaving the eight year-old with a broken arm and eye abrasions.
"He was being bullied because he looks different from other kids," said Williams, who added the she contacted the Chicago Board of Education, the Department of Children and Family Services and police department about the attacks and Principal Littlejohn's alleged apathy.
Williams said after that, her son became a more of a target at Woodson — this time by teachers and the principal. He was ultimately transferred to Doolittle Elementary School, but he's being bullied there, too.
"One teacher put her hands on him, and when he tried to move out the way, she claimed that he had attacked her," said Williams.
School staff recommended that Mason be committed to a psychiatric hospital. Williams took to Mason to Comer for an evaluation, which revealed that the trauma he experienced was connected to incidents at Woodson.
"They're brushing things under the rug," Williams said. "Our kids are not safe, and they're not allowing organizations who can help to come in and do so."
Woodson is the same school where, last fall, a 7 year-old student with Down syndrome wandered out of her class to the front porch of a stranger's home.
Black's family friend, community activist Jedidah Brown, said they are now filing a Freedom of Information Act (FOIA) request for school documents related to Jamari's case and will secure legal representation for Black.
"We want other families who have similar stories to reach out to us," Brown said.