CHICAGO — "Empire" actor Jussie Smollett paid two men $3,500 to fake a racist and homophobic attack on him, and then lied to police about it to further his acting career and make more money, Chicago Police Supt. Eddie Johnson said Thursday morning.
In a scathing press conference, the city's top cop took Smollett, 36, to task for harming Chicago's already troubled reputation for its racial divide.
"Now our city has problems, we know that," Johnson said. "But to put that national spotlight for something that is both egregious and untrue is shameful."
The actor is now facing a felony charge for Disorderly Conduct in Falsifying a Police Report, which could carry a prison sentence of up to three years, said Tom Ahern, a Chicago Police spokesman.
"When we discovered the actual motive, quite frankly it pissed everybody off," Johnson said, noting the weeks of investigation diverted police resources.
He alleged Smollett wanted to have the choreographed attack caught on surveillance camera, but the one on the Streeterville street where the ruse went down wasn't pointed at them.
The men punched Smollett "a little bit" and the actor "self-inflicted" cuts and scratches on his face, said Johnson.
Johnson also alleged Smollett wrote a check to the men involved — and police have that check. One of the men had previously acted on "Empire," and Smollett used them because he "probably knew he needed somebody with some bulk," Johnson said.
Smollett talked with the men before the attack, after it and while the men were in Nigeria for a short period after the incident, Johnson said.
Police announced the charges against the actor Wednesday night. Smollett turned himself in early Thursday without incidents, his legal team and several others at his side. He was scheduled to appear in Bond Court at 1:30 p.m. Thursday.
Johnson also alleged it was Smollett who first sent a racist letter to the set of "Empire" that threatened Smollett. Johnson said he did it because he was dissatisfied with his salary.
"I know how hard it's been for our city and nation to come together," said Johnson. "This announcement today recognizes that 'Empire' actor Jussie Smollett took advantage of the pain and anger of racism to promote his career. …How can an individual who's been embraced by the city of Chicago turn around and slap everyone in the city in the face by making these false claims? Bogus police reports cause real harm.
"… I'm offended by what's happened and I'm also angry. … This publicity stunt was a scar that Chicago didn't earn and certainly didn't deserve. To make things worse, the accusations within this phony attack received national attention for weeks."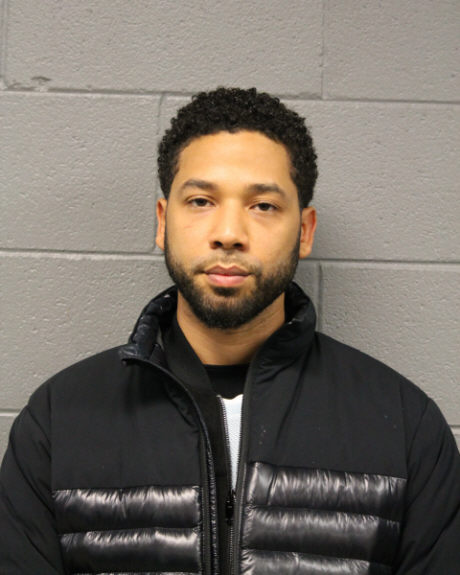 Smollett told police — and national media outlets — that he was attacked in Chicago last month after a 2 a.m. sandwich run to Subway. He was in town to film the Fox TV show.
He told police his attackers yelled racial and homophobic slurs, beat him, put a noose around his neck and poured bleach on him on a desolate stretch of Streeterville, just north of the Chicago River.
Smollett, who is gay and black, reportedly told investigators that his attackers called him "'Empire' f—–" and "'Empire' n—–," and told him it was "MAGA" territory.
But police said the "incident did not occur."
Mayor Rahm Emanuel slammed Smollett in a statement, saying "hate crimes will never be tolerated."
"A single individual who put their perceived self-interest ahead of these shared principles will never trump Chicago's collective spirit," Emanuel said.
The case has taken several bizarre turns over the weeks as police initially said they were struggling to find video of the attack while Smollett criticized skeptics during a "Good Morning America" interview.
That interview later helped investigators with the case, Johnson said.
Amid the skepticism, police referred to Smollett as a victim and gave periodic recaps of multiple detectives' search for video evidence of the attack. They later released grainy footage of two men walking in the neighborhood, and labeled them "persons of interest." After those men were tracked down, police briefly called them "suspects."
But when investigators searched their home, brought them into a police station and questioned them, the two men were soon released. Their lawyer said new evidence presented to investigators cleared them. At that point, police said they had "shifted" the investigation of the alleged attack.
The men are cooperating with police and said they participated in the staged attack because they wanted money, Johnson said.
The men were reportedly seen at the Cook County Criminal Courthouse on Tuesday.
Smollett described the letter to "Good Morning America."
"Just because on the letter, it had a stick figure hanging from a tree with a gun pointing towards it with the words that said, 'Smollett, Jussie, you will die, black f –,'" Smollett said. "There was no address, but the return address said in big, red, you know, like caps, 'MAGA.' Did I make that up, too?"
On Tuesday night, Cook County State's Attorney Kim Foxx abruptly recused herself from the investigation "out of an abundance of caution" based upon her "familiarity with potential witnesses in the case," according to a statement from her office.
Foxx's second in command, First Assistant State's Attorney Joseph Magats, will serve as the acting state's attorney in the case.
"Out of an abundance of caution, the decision to recuse herself was made to address potential questions of impartiality based upon familiarity with potential witnesses in the case," a spokesperson told news outlets.
RELATED STORIES: