This story was produced by the Better Government Association, a nonpartisan, nonprofit newsroom,  for the Chi.Vote Collective, which is designed to prepare voters for the upcoming Chicago municipal elections. 
LAKEVIEW — Long before the Ricketts family took control of the Chicago Cubs, the team's owners engaged in a series of high-profile battles with government leaders over changes to a historic ballpark that had become both the cultural magnet of the 44th Ward and its biggest frustration for many residents.

When the one-time parent of the Chicago Tribune-owned Wrigley Field, there were fights over lights, night games, rooftop bars across the street and crumbling stadium infrastructure that endangered fans. Disgraced Gov. Rod Blagojevich was caught on a government wiretap threatening to block state financial aid sought by the team unless the paper fired members of its editorial board.

Politics and the Cubs remain no less intertwined today, and those simmering tensions are on sharp display in the upcoming city elections in which the Ricketts family is linked both openly and behind the scenes to efforts to deny a fifth term to 44th Ward Ald. Tom Tunney.

Tunney's resistance to some expansion plans at and around Wrigley have emerged as a central focus of the campaign in which he faces two challengers. The veteran alderman insists he's looking out for the best interests of the whole neighborhood while the Ricketts family says he's been bullheaded by standing in the way of progress.

Elizabeth Shydlowski, one of Tunney's rivals in the Feb. 26 vote, is funded primarily by donations from Cubs management. The team also has clear links to a dark money group that in recent months has papered the ward with anti-Tunney mailers.

The third candidate in the race, Austin Baidas, has poured more than $200,000 of his own money into his campaign.

All of which has resulted in a political stew where the longtime alderman and the biggest-name investors in the neighborhood are headed for a faceoff that may determine how Lakeview evolves for years and possibly decades.

"They [the Ricketts family] want government out of their way in all things local," Tunney said. "They want an alderman that doesn't say no — ever — to them."

Wrigley Field tensions may seem to dominate the race, but residents say the ward is also facing other critical issues that need attention.

At a recent public forum held at the Center on Halsted, the three candidates sparred over neighborhood safety, rising property taxes, how best to support small businesses and, of course, City Council corruption.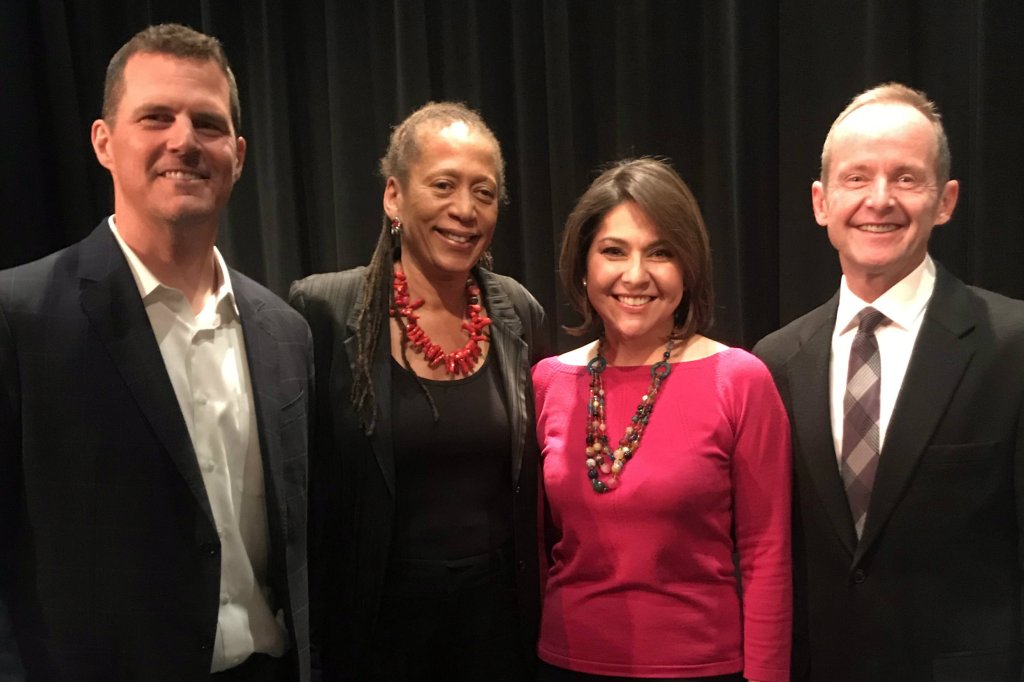 Following criminal charges leveled against longtime Ald. Ed Burke (14th) as well as revelations that outgoing Ald. Danny Solis (25th) cooperated with investigators by secretly recording conversations with council colleagues, Tunney's challengers have sought to use his incumbent status to paint him as a member of a corrupt system.

"The status quo isn't OK anymore," Baidas said in an interview. "The city of Chicago collects plenty of money in taxes. The problem is it doesn't go to where we want it to go, and it's corruption and the political insiders who divert money away … from where people want the resources to go."
Baidas is a Lakeview resident of 15 years and former senior advisor at the U.S. Department of Transportation under the Obama administration.

Shydlowski, who has worked for both Democrats and Republicans, said Tunney's refusal to endorse a candidate for tax assessor in the 2018 Democratic primary motivated her to run.

In that assessor's race, challenger Fritz Kaegi, who ran as a reformer, ousted longtime Democratic Party insider Joe Berrios. In November, Kaegi won election to a full term as assessor.

"I thought it was a natural choice to choose Fritz Kaegi, the reform candidate, and when [Tunney] took a neutral position that made me feel like he was more of the political machine in Chicago as opposed to supporting the residents of the 44th Ward," she said.

One criticism routinely leveled against Tunney is his decision to maintain ownership of the Ann Sather restaurant chain after promising when he first took office in 2003 that he would sell his interest if he became alderman.

Outside employment for aldermen has become a key issue since federal prosecutors charged Burke with attempted extortion for allegedly using his post as alderman to steer business to his private law firm. Many aldermen hold outside jobs, but Tunney's has attracted keen interest in the ward of late.

A recent BGA/WBEZ investigation found Burke recused himself from City Council votes 464 times in the last eight years, more than four times more than all other aldermen combined. But Tunney had 21 recusals — the second highest number — during the same period.

Citing Tunney's recusals, Shydlowski said, "It's very important to me that whoever you elect as your alderman is … able to vote on every issue that comes before the City Council."

Both Shydlowski and Baidas also blasted Tunney for protecting Burke when Tunney opposed a measure in 2016 that would have allowed the city's inspector general to investigate the city's $100 million-a-year city worker's compensation program. Burke long ran the program from his perch as chairman of the council's Finance Committee, though he resigned the powerful committee post after being criminally charged.

Tunney said the measure would have given Inspector General Joe Ferguson too much power since he already has oversight over the executive branch.

But perhaps more immediately visible to many Lakeview residents is how the neighborhood will adjust to — or oppose —  ongoing redevelopment projects around Wrigley Field.

Residents living near Wrigley have concerns about the number of night games, concerts and alcohol availability on a plaza adjacent to the field the team recently built. Finding a compromise between the Cubs' and neighbors' interests has been a central part of the feud between Tunney and the Ricketts family.

"They'll never stop asking for either more zoning, more night games, closing the streets down," Tunney said. "The Cubs really have pledged to be a good neighbor, but it's my role to make sure that they're being a good neighbor."

Both of Tunney's challengers support the status quo at Wrigley Field, but say the voices of residents need to be included more in the decision-making process.

David Genc, president of the Southport Neighbors Association group that represents residents who live just west of Wrigley Field, said he doesn't personally oppose development around the ballpark. But he also wants to make sure that development won't jeopardize longtime businesses — a concern often expressed by small business owners.

"I think it's important that other parties win outside the Cubs with this development," Genc said. "It would be tragic if the smaller restaurants and bars around Wrigley Field that are independent and not affiliated with the Rickettses were to go out of business and then cease to exist."

The Cubs' owners haven't officially endorsed any of the three candidates, but their funding of Shydlowski and strong ties to a recently formed issue advocacy group called Neighbors for a Better Lakeview leave little doubt where they stand in working against Tunney.

Last summer, thousands of glossy campaign mailers attacking Tunney were sent to Lakeview residents by the Neighbors group, a nonprofit organized under a section of the tax code that does not require it to disclose its donors.

In state records, each of the group's directors used as their address the newly built Cubs conference center on Waveland Avenue adjacent to the ballpark. Dennis Culloton, a Ricketts family spokesman, said the family was an early donor to the group and continues to financially support it, though he declined to specify how much the family had given.

A separate issue advocacy group, the Economic Freedom Alliance, has also spent more than $130,000 to distribute its own anti-Tunney mailers around the ward. The Alliance has had ties to the Illinois Manufacturers' Association, a prominent business trade group.

But it is the direct donations to Shydlowski from the Ricketts family and others tied to the Cubs that have been the most obvious.

State campaign finance records show that well over half of the more than $26,000 so far raised by Shydlowski is linked to Cubs owners, executives and Culloton.

Shydlowski said she met with the Cubs in October to ask for financial support — the only candidate to do so, according to Culloton. He said team chairman Tom Ricketts made a $10,000 contribution in early January to help Shydlowski fend off a challenge to her ballot petitions.
While Baidas has said that he is not supported by the Ricketts family, he does call Cubs co-owner Laura Ricketts, a Democratic fundraiser, a friend.
Despite the Ricketts family funding directed to his opposition, Tunney brushed off the strained relationship with the Cubs as "more of a media story," arguing he works with the organization regularly and disagreements are just part of the job. But Tunney also said that having a billionaire financing a rival, coupled with anti-Tunney money also coming in from unknown donors, sets this election apart from his prior races.

The Ricketts family made national news earlier this month with the publication of family patriarch Joe Ricketts' racist, Islamophobic email exchanges. Ricketts, a conservative billionaire financier from Nebraska, has since apologized and the team has condemned the comments.

It's unclear whether many voters will factor the controversy into their choice on Election Day in the 44th Ward, where political sentiments tend to run liberal.

Shydlowski said she disagrees with what the Ricketts patriarch said, but at the same time said she has no plans to return the money given to her campaign by the family.

"Voters care about their taxes," Shydlowski said. "Voters care about their quality of life, and care about not having rats in the streets. … At the end of the day, voters care about, 'How is this election going to affect me?'"
Chi.Vote: Everything You Need To Vote On Feb. 26