ALBANY PARK — For Annette Aragon, her first film is personal.
The Chicago native, a senior at Hope College in Holland, Mich., will soon be screening a film she created about gun violence and the impact it has on families. She knows. Her brother, Israel Aragon Jr., was shot and killed in Albany Park in 2016.
"My family and I lost him to gun violence, and it's something that's really affected us," Annette Aragon said. "We know the struggle that all [of] these moms, siblings and friends face when they lose someone they love. Not just emotionally, but also struggles in finding justice, too."
Her film, "10-71 Shooting Aftermath," is named after the police scanner code for an active shooting. It will be screened for free at Christ Lutheran Church, 3253 W. Wilson Ave., at 6:30 p.m. Friday.
Families of shooting victims often experience a years-long process of grieving. And their mourning isn't helped by comments from the public and police about the victim either being at the wrong place at the wrong time or speculation that the person who was killed was doing something illegal when they were gunned down, she said.

Annette Aragon's film is her first, and part of an ongoing project focused on how families process grief.
The 21-year-old filmmaker hopes by interviewing families for her project she can help eliminate the "stigma" and rationalizations people have regarding gun violence.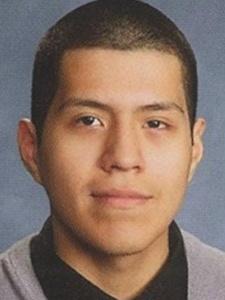 Israel Aragon Jr., 21, was fatally shot in the 4400 block of North Albany Avenue on Sept. 7, 2016. A former student at Waters Elementary and St. Benedict Preparatory School, his murder remains unsolved, and no motive has been released.
RELATED: Families Remember Those Lost To Gun Violence With Día De Los Muertos Altar In Irving Park

After Israel's death, the Aragon family founded Israel's Gifts of Hope, a group that supports the Chicago families who have lost their children to gun violence.
Annette Aragon, studying communications, took a documentary film class as an elective last summer. For her final project in that class, she chose to focus on what happens after the initial news coverage of a fatal shooting fades. She checks in with families who are still processing their grief.

"The news covers the shooting at the time it happens and then people slowly go back to their everyday lives and may not think about the shooting anymore," Aragon said. "But for the people who lost someone, that's their life now. That's my family's life now. We have to learn to live with it."

The project first focused on her family, but she's now decided to produce a second film expanding on the subject and is interviewing other families in Chicago who have experienced similar losses.

"I know a lot of other families whose children have passed away. They were just normal kids," Annette Aragon said. "These were just normal kids with the same dreams that other people had."

To that end, she created an online form for families who would like to share their story with her for the second, currently untitled, film.

"I've already interviewed another family and plan on going back to Chicago to do more interviews," she said. "I know from experience, it's very difficult to find people who understand and can actually relate."
But the process can be healing.
"During my interviews, you can tell it kind of alleviates some of the stress the family is going through, speaking to someone who went through the same thing," Annette Aragon said. "And in a way, it's healing for me, too."
Do stories like this matter to you? Subscribe to Block Club Chicago. Every dime we make funds reporting from Chicago's neighborhoods.