JEFFERSON PARK — Park on your own block. Or else.
That's the message a Northwest Side woman said she got on her car last month in the form of a neatly handwritten note.
Meher Banow, who lives around the corner from where she's parked her car for nine years, ignored the note — and apparently found out what the consequence was.
Someone slashed one of her tires.
Now she's trying to figure out what's going on in her quiet neighborhood — and who is going to help her.
"Everyone's afraid and they're parking somewhere else," she said. "It's like we're letting the bullies win and I need that to stop."
Banow has lived near the corner of Foster and Monitor avenues since 2010 and regularly parks her car, a green Toyota Scion, on the one-way street in front of the condo building in the 5100 block of North Monitor Avenue.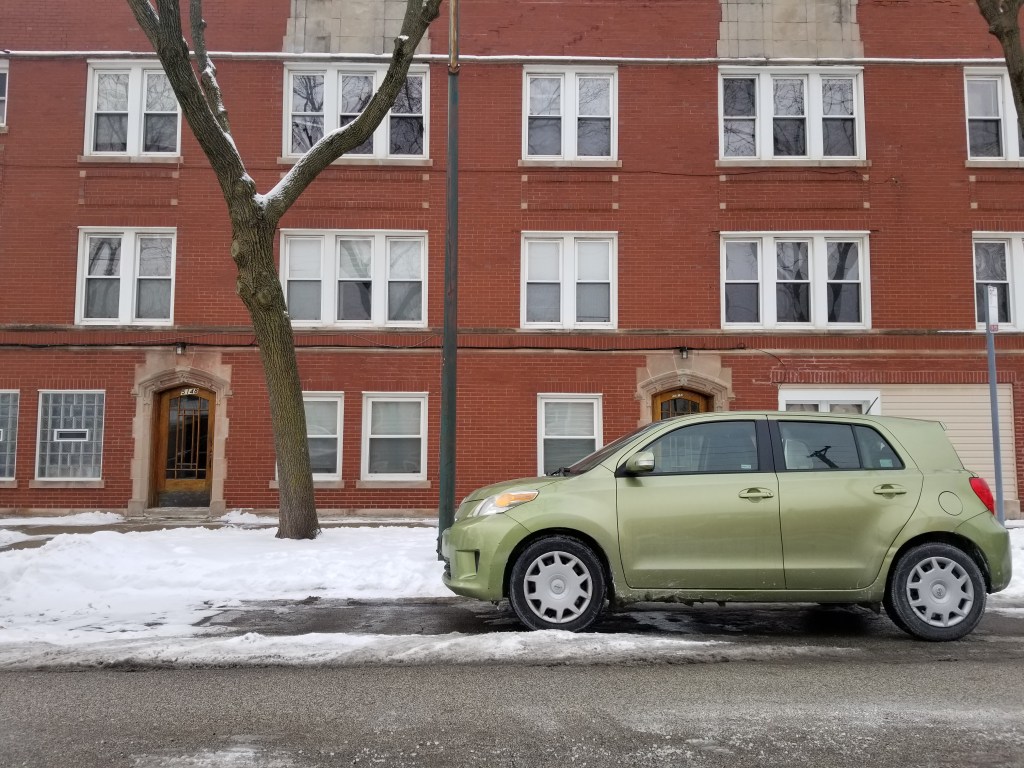 Like many areas in Jefferson Park, the side street has free unrestricted parking. But around the corner, on Foster Avenue, cars can't be parked 7-9 a.m. Monday through Friday as well after a 2-inch snowfall.

"I've parked there on Monitor for nine years without issue," Banow said. "I live right next to that condo in the next building."

Banow found the note inside a plastic bag tucked under her driver's side windshield wiper on Jan. 26.

"This is the last time you going to park here. If you want nothing to happen to your car. … You live on Foster Ave park there. Please," the handwritten note said.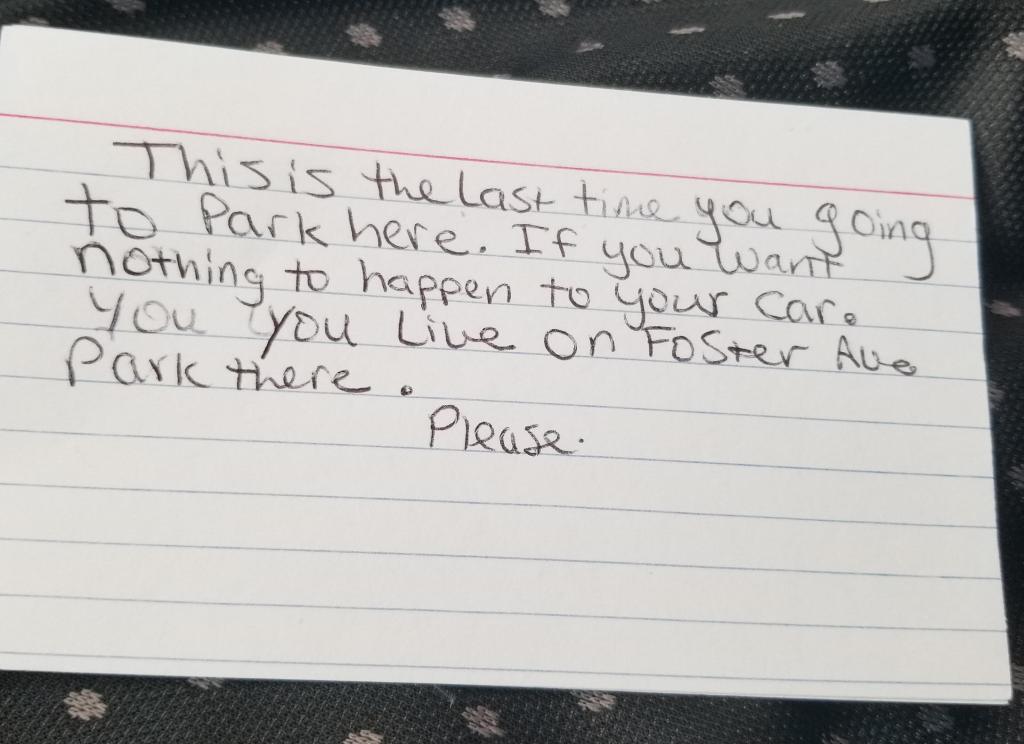 Because Monitor Avenue is public parking, Banow ignored the note and continued to park there. About a week later, she was headed to work when she realized one of her car's tires was flat.

"It was dark in the morning when I left on Feb. 4 and I had no idea why it was flat. I took a Lyft to work and when I came back a friend helped me change out the flat tire," Banow said.
A neighbor who lives in the building next to where the tire was slashed told Block Club its residents had been notified about what happened to Banow's car.
"Until now we've never had a problem with parking before," the neighbor said. He asked not to be named because he fears his vehicle would be vandalized, too.
"And we're keeping our eyes open. We have a little community watch going on now," the neighbor said. "But she should be able to park wherever she wants; that's the bottom line."
After two attempts, Banow said police finally processed her two police reports — one for the note and another for the slashed tire. But when she followed up with detectives, Banow was told police had suspended the case.
"My reports were forward to the Area North detectives and I had such a horrible experience. They hung up on me," Banow said.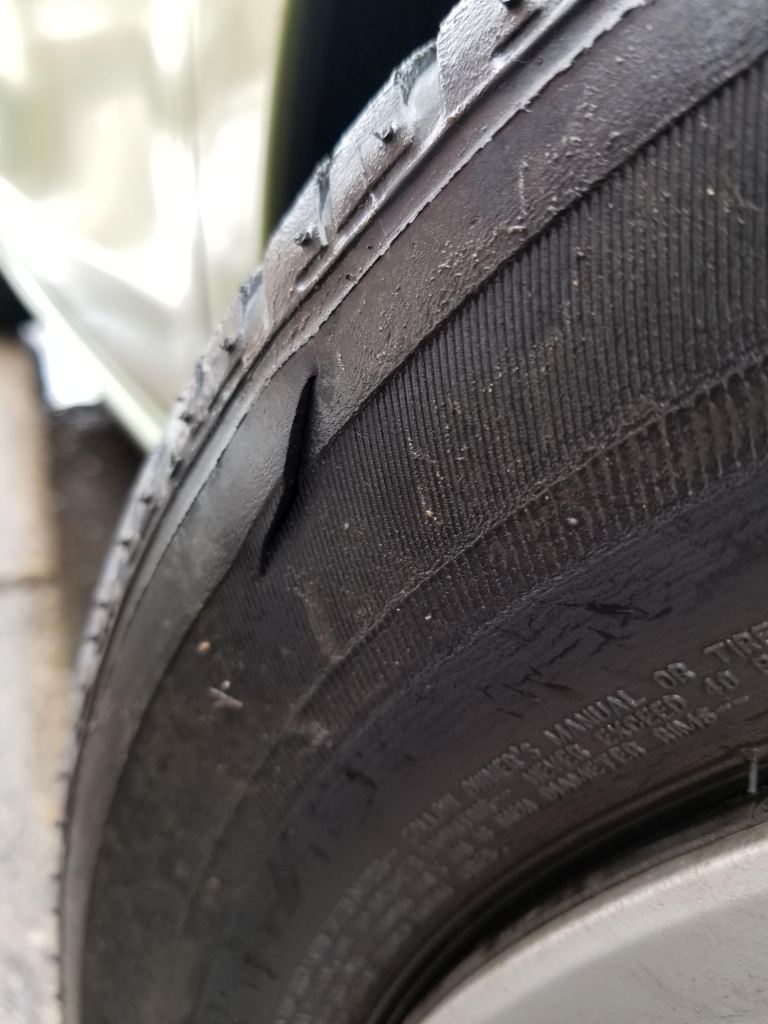 When Banow called, she said she was told to park elsewhere and take a self-defense class, she alleges.
"It's like they're letting the bullies win and I need that to stop," Banow said.
Norma Pelayo, a police spokeswoman, confirmed two police reports had been filed regarding the note and tire slashing and that detectives were still looking into the matter.

"No arrests have been made," Pelayo said.

At a loss of what to do, Banow also reached out to the office of Ald. John Arena (45th) and was told the alderman would ask for increased security in the area.

"We need to figure [this] out as a community. We have to get together to stop this kind a behavior right now," Banow said. "Right now it's a slashed tire, but what is next? We need to create a safe environment. We can't allow this kind of bullying to escalate because it can get worse if we don't stop it right now."
Owen Brugh, Arena's chief of staff, said his office has asked for more police to patrol the area.

"It's terrible what happened to this woman — a parking dispute in an area where there is a lot of free parking," he said. "We certainly don't want to see parking disputes to get to the point of property damage."
Banow said her neighborhood doesn't have a lot of crime, but the fact someone is actively bullying people over parking is making it feel unsafe to her and neighbors she's spoken to.
"I'm going to organize the community. We're going to make our neighborhood feel safe again. We can't let this escalate," she said. "It's so petty. Parking is not a problem here."
Do stories like this matter to you? Subscribe to Block Club Chicago. Every dime we make funds reporting from Chicago's neighborhoods.