ENGLEWOOD — The City of Chicago officially christened a new Fleet and Facility Management headquarters on the old site of Kennedy-King College Thursday, a project aimed at helping to revitalize Englewood.
The 12.5-acre site at 69th and Wentworth will be used as a hub for the city to store and repair city vehicles and equipment. Called "2FM," the headquarters will also house trade shops to support carpenters, sheet metal workers, blacksmiths and painters.
But it's also intended as a job center — a way to send 200 city jobs into Englewood and support local businesses.
"There's still work to be done," Mayor Rahm Emanuel said at a ribbon-cutting ceremony, proudly touting the number of developments that have come to the area.
"Kids cannot become what they cannot see, but when kids look out of the windows of Englewood High, they will see people from their neighborhood working at 2FM headquarters."
The Fleet Management center moved from the banks of the North branch of the Chicago River — a huge site the city sold to developer Sterling Bay for $104.4 million. The prominent developer aims to transform that land into controversial development Lincoln Yards.
Moving fleet management out of the industrial riverfront site to Englewood was hailed by Ald. Roderick Sawyer (6th) as a new opportunity that will bring development to the neighborhood.
"When this project first came about, it was roundly criticized. A lot of people stated that it was just moving one problem to another area, but it's the opposite. This is creating opportunity for this neighborhood," said Sawyer, adding that the power of public projects influences more development.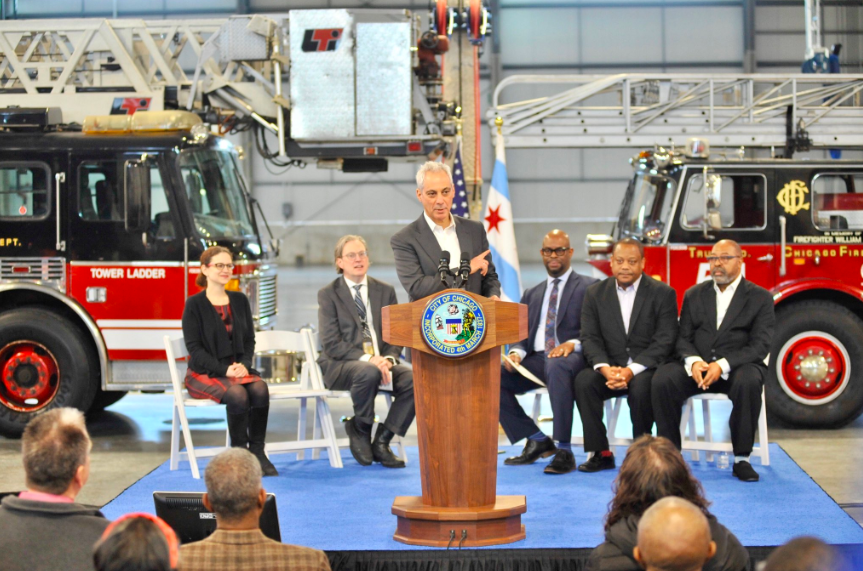 "People have to eat, they have to shop, they have to clean their clothes, they have to bank," said Sawyer, who thanked Emanuel for helping to make the project happen. "As we build these types of public capital investments, private development will certainly follow."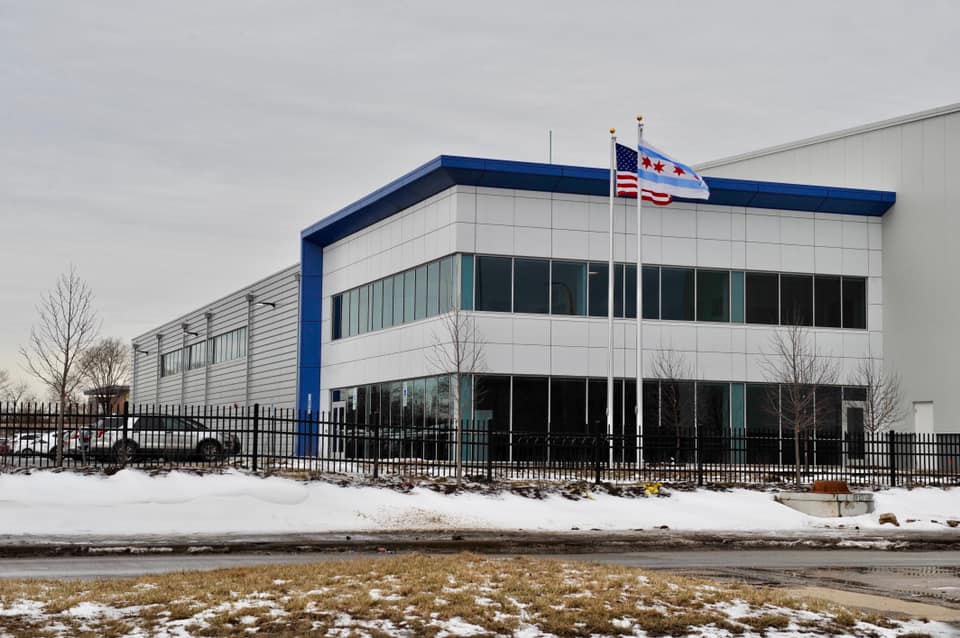 The 2FM building is one of three new facilities servicing city equipment in the wake of the sale of the old Fleet Management property. The two other facilities are located on the North Side, in Dunning and Goose Island.
According to the city, the Englewood project exceeded the goal set for participation from minority- and women-owned businesses, with a combined 58 percent of contracts awarded to the two groups.
Kennedy-King President Gregory Thomas spoke of Englewood's transformation as he welcomed Fleet Management to the neighborhood.
"The more Englewood rises, the more pride our students and community residents feel," said Thomas, adding that he looks forward to collaborating with 2FM on providing job training programs for the college's students.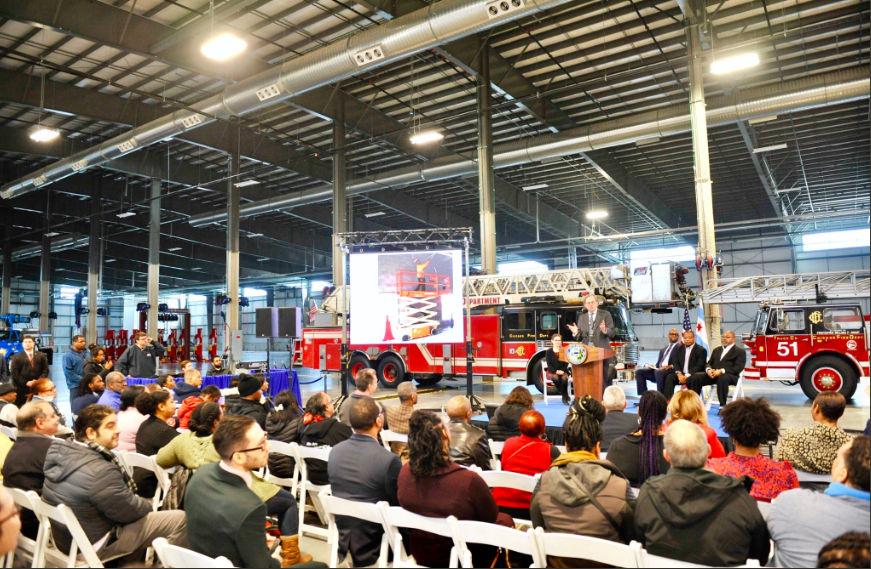 "I think it's great that this is happening," one lifelong Englewood resident told Block Club. "It's good to drive past and see this instead of a vacant lot."
Others, like 6th ward aldermanic candidate Richard Wooten, are entirely opposed to the move.
"Fleet was hated up north. People didn't want it. It only adds to the system of pollution, and as we understand it, pollution builds up," said Wooten, who noted there are two nursing homes near the new facility. "People could get sick."
Do stories like this matter to you? Subscribe to Block Club Chicago. Every dime we make funds reporting from Chicago's neighborhoods.