HUMBOLDT PARK — Managing a chronic illness is never easy, and for many years, Noelia Cruz had a tough go of it.
More than a decade ago, Cruz was diagnosed with fibromyalgia, a recurring disorder that causes widespread pain and fatigue. For long stretches of time in her 20s, she thought her life was over; she hardly left her bed for a full two years.
"I lost a lot of mobility. I couldn't generate any energy," Cruz said, adding, "I couldn't do anything normally anymore."
It was especially hard given Cruz's ambitions. She had come to Chicago from a small Puerto Rican town to pursue violin performance and fine art with the goal of making a name for herself in the art world.
But three years ago, everything changed.
"I was working out by myself at an L.A. Fitness, and this guy randomly says, 'Do you want to hit the bags?'" Cruz recalled. Before that day, she had watched boxing with her grandmother as a child but had never tried herself.
"I started out with no knowledge of technique. But when I hit the bag, it was a revelation. It was love at first punch."
Not long after that, Cruz started training with longtime Chicago Park District coach Johnny Plaza Jr., and her life began to take a turn for the better.
"Everyday I was fighting this huge condition and trying to figure it out. … I would talk to my professors about it. I needed to find a medium to express this. Boxing became the perfect medium. I embrace it as a performing art, rehab and sport all in one," Cruz said.
Today, after three years of training under Plaza Jr., Cruz's illness is significantly more manageable. She still has flare-ups, but they don't last as long as they did. More often than not, she feels strong and empowered, eager to get up and greet the day. Just recently, she had a gallery show in the West Loop, where she showcased her paintings and sculptures.
Cruz has also become quite the boxer. She was recently one of five women asked to join the Puerto Rican national team. In the coming months, she'll be traveling to the Dominican Republic and Nicaragua to compete in international tournaments.
"When we started, Johnny asked me, 'What's your dream?' And I said my dream is to represent Puerto Rico in an international tournament," Cruz said. "I'm still processing that it's happening — being able to train with their coaches and connect with that history."
Boxing is one of the most popular sports in Puerto Rico and the island has produced several star boxers over the years. It's fitting then that Cruz and Plaza Jr. train in Humboldt Park, Chicago's Puerto Rican enclave.
Like Cruz, Plaza Jr. also grew up on the eastern coast of Puerto Rico. He was exposed to the sport at a young age.
"One of my older brothers was a boxer, and one of his friends was a real good boxer. That was my inspiration: I knew someone from the neighborhood that actually boxed. Once I learned, that was it, I was in love," he said.
As a young adult, Plaza Jr. took up the sport himself, both near home and while he was away serving in the Marine Corps. At one point, though, he lost his way when he found himself involved in a gang.
"I was running around with a bad group and one of my best friends was killed by someone in the same [gang] that I was from. I decided I wanted to get into something different," he said.
Plaza Jr. boxed in more than 100 fights before he realized he preferred coaching. He went on to volunteer coach the youth program at Hamlin Park's field house for 34 years. Three years ago, he landed a paid coaching gig at Humboldt Park's field house. He still teaches at Hamlin Park once a week.
Similar to Cruz, Plaza Jr. suffers from health problems that have held him back in life, including rheumatoid arthritis, two hip replacements and a back surgery, to name a few.
Boxing, he said, keeps him healthy — both physically and mentally.
"I always say, 'You gotta fight to live," Plaza Jr. said.
Over the course of training together, the two have established a unique bond.
"From day one, we connected and she did everything I asked of her," Plaza Jr. said of Cruz.
Cruz said she's grateful to Plaza Jr., a second coach and the Chicago Park District program as a whole. Without boxing, she said, she would likely still be suffering as she did in the early days of her diagnosis.
Founded in 1972, the district's boxing program has produced a number of professionals over the years, including Olympians Michael Bennett, David Díaz, Fres Oquendo, Nate Jones, Leroy Murphy and former champion Montell Griffin.
The program is offered at 22 Park District field houses across the city. Every year, there's a citywide tournament during CPS spring break at Curie High School.
At 33, Cruz is older than most who train under Plaza Jr. The program typically serves kids between 8 and 18 years old.
At one of Plaza Jr.'s recent training sessions, the Humboldt Park gym was full of people: more than a dozen kids punched bags and sparred as parents stood by, either to wrap their kids' hands or simply to watch. But when Plaza Jr. and Cruz entered the ring, it was as if no one else was in the room.
"I'm fighting for something every single day. Even when it's hard to come and train, I remind myself that I'm fighting for my health, I'm fighting to get better. The improvement I've had is a huge motivation," Cruz said.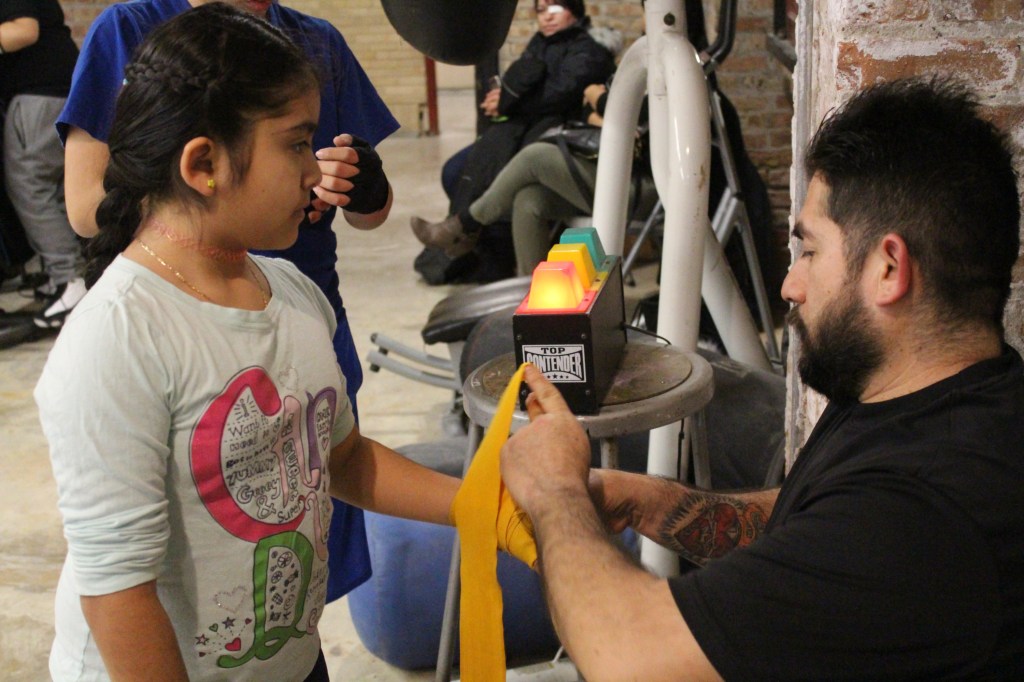 Do stories like this matter to you? Subscribe to Block Club Chicago. Every dime we make funds reporting from Chicago's neighborhoods.