CHICAGO — "Devil in the White City," the bestselling book chronicling the grisly H. H. Holmes "Murder Castle" killings amid the 1893 World's Columbian Exposition, is being made into a TV series.
Actor Leonardo DiCaprio and director Martin Scorsese have long planned to adapt the book but had originally touted the project as a film. The two now plan to create a TV series for Hulu, an online streaming platform, according to Variety.
DiCaprio was originally slated to play Holmes in a movie, but it's unclear if those plans are still in place. He and Scorsese will serve as executive producers, according to Variety.
"Devil in the White City" was written by Erik Larsen and covers the 1893 world's fair, focusing on architect Daniel H. Burnham and Holmes, a prolific serial killer.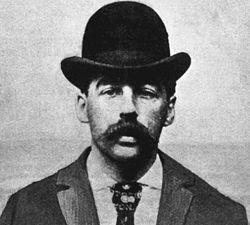 While the fair stunned millions of visitors from around the world, Holmes crafted his infamous Murder Castle on the South Side and lured unsuspecting women to their deaths.
The castle, at 63rd and Wallace in Englewood, later burned and was demolished in 1938. A U.S. Post office is now located near the site of the home.