ALBANY PARK  — Architects are working on plans to best redesign the playgrounds, fields and outdoor areas shared by three Albany Park schools — and their asking parents to help them create the perfect plan.
Albany Park Multicultural Academy, William G. Hibbard Elementary and Edison Regional Gifted Center are all in the 4900 block of North Sawyer Avenue, and the community is joining forces to rebuild the outdoor areas around the schools. Parents met at Hibbard Elementary Wednesday night to weigh in on what the shared spaces could look like.
Should there be rain gardens? Climbable art? Outdoor classrooms?
And what should be done with Sawyer Avenue, which gets roped off so kids can play there?
Tax-increment financing dollars from the Lawrence and Kedzie TIF, which was created in 2000, will be used to help update and expand the outdoor recess areas into a "green space" for the three schools.
In the project's first phase, to be completed this summer, officials aim to improve playgrounds and built an athletic field, according to Mark Kozlowski, a design manager with Infrastructure Engineering, Inc. A second phase, to begin in 2020, will focus on infrastructure improvements to Sawyer Avenue, and the Albany Park Multicultural Academy and Edison Regional Gifted Center schools.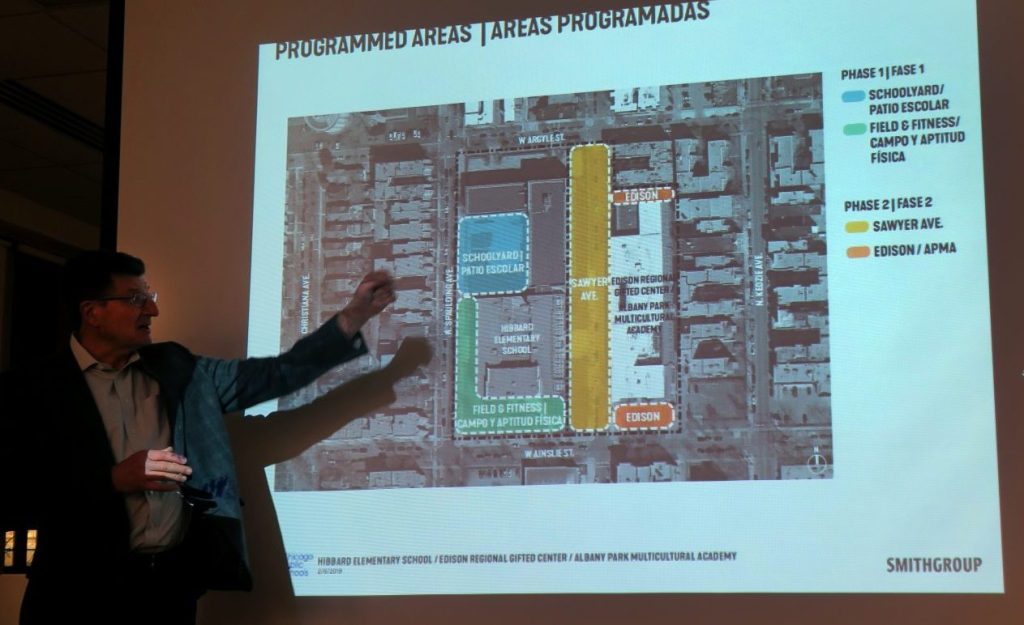 Chicago Public Schools hired architectural firm SmithGroup to design the project.
"We're just getting started on the design. We really haven't designed anything yet because that's why we're here tonight," said Paul Wiese, vice president at SmithGroup. "To get your ideas as to what you'd like to see for your schools, your students and the community."
At the meeting, parents and neighbors were asked to use stickers to show their preference for design features like hammocks and equipment that would allow for outdoor movies on Sawyer Avenue, outdoor classrooms and climbable art.
Some residents said they were concerned with how parking and traffic patterns in the area will be impacted during construction and after the project is complete. They also worried how stormwater retention would be handled and even how the renovated Sawyer Avenue would be plowed during heavy snowfall.
The community's feedback will be incorporated into SmithGroup's formal design for the project, which will be presented to the community at a later date. The Chicago Department of Transportation and a TIF task force will have final review, Kozlowski said.
Parents said they appreciated the opportunity to weigh in on the project. The improvements will help students at the schools and the neighbors who use the playground on the campus, too, said Katie Mitchell, an Edison parent.
"It's nice that they're getting insight, but it's hard to comment on something when there are still parts of the puzzle they're trying to figure out," Mitchell said.
Mitchell said she's most interested in what will happen to Sawyer Avenue under plans. Right now, the street gets roped off for school recesses.
"It's not ideal for kids to play in the street. That's where they're playing tag …My kid has personally hurt himself tripping on stuff there," Mitchell said.
Ald. Deb Mell (33rd) said the idea for improvements came about four years ago, but the Lawrence and Kedzie TIF's funding for the project was diverted to the construction of the $70 million Albany Park Tunnel that prevents flooding in the area.
"We put the project on hold a bit, but once that tunnel project was completed we resurrected it," Mell said. "I am going to do everything I can to get this open and ready for next school year. I want to move fast because there's a new administration coming in, and while I would assume they'd be supportive of this, you never know."
Residents and parents who were unable to attend Wednesday's meeting can submit their feedback to Mell's office.
Check out the design concepts being considered below: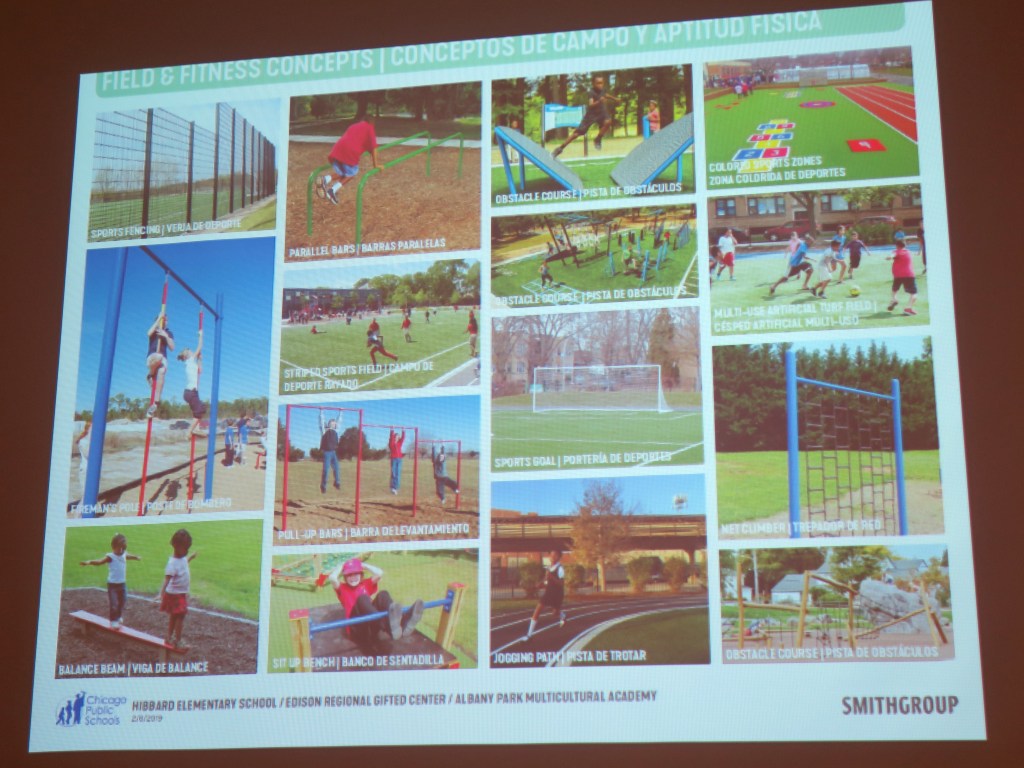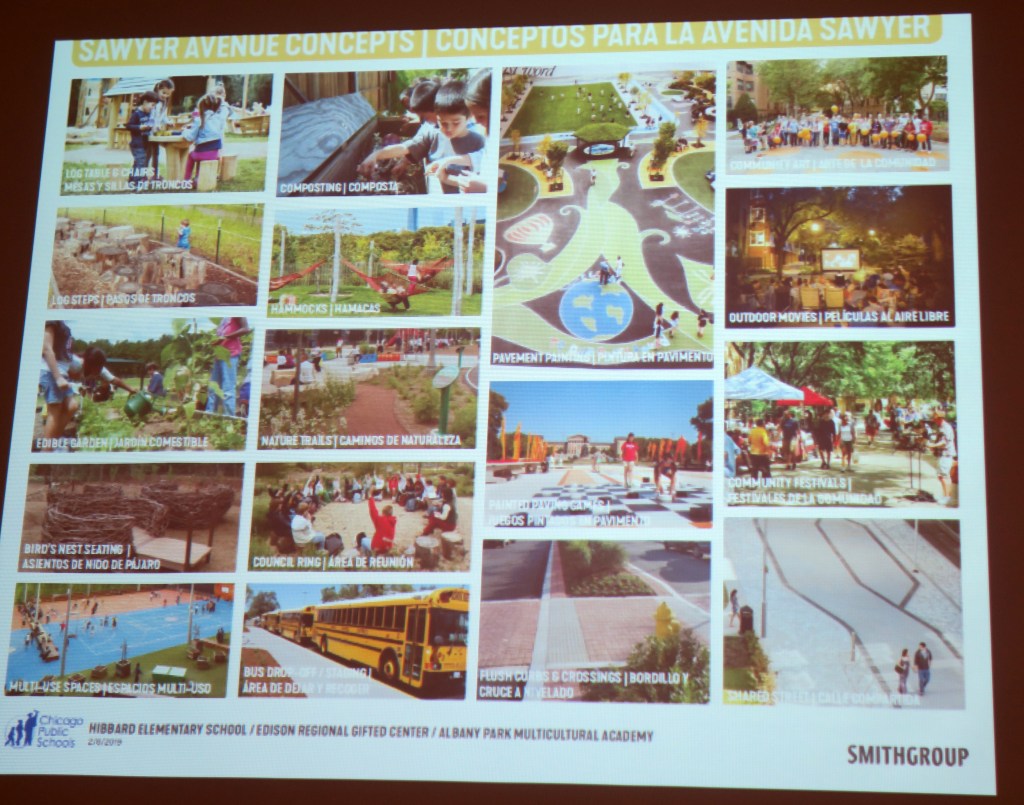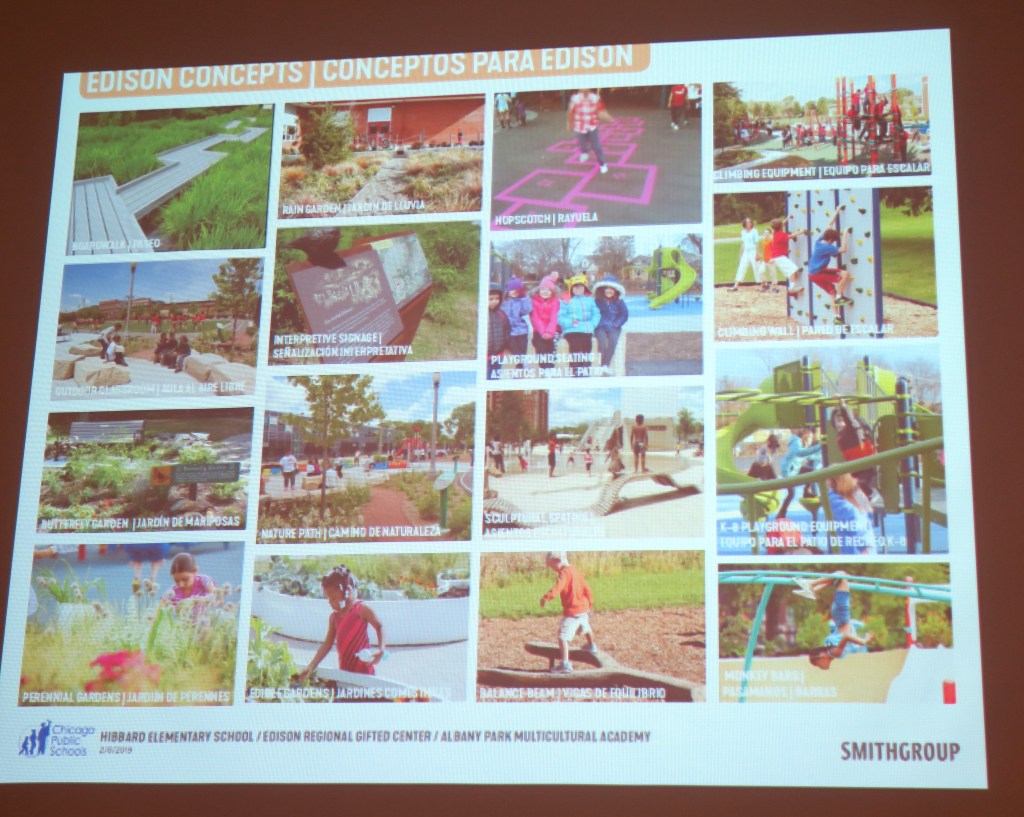 Do stories like this matter to you? Subscribe to Block Club Chicago. Every dime we make funds reporting from Chicago's neighborhoods.