WEST TOWN — It's called "working out" for a reason — getting in shape and staying in shape is work.
But you know who never looks miserable while they're jumping and kicking and squatting and pressing?
Cheerleaders.
Matthew Hollis, 42, and Jena Ertel, 45, have a theory about that, and their theory is that it's all about the poms, those shimmery bundles of we've-got-spirit sparkle.
"You can't really take yourself that seriously as an adult with poms in your hands," said Ertel.
With that in mind, Hollis and Ertel — dance and fitness pros who became besties when they were both students at Columbia College — developed PomSquad Fitness. It's a workout format that swaps out hand weights for fluffy tufts of glittery joy, with participants shaking poms for the duration of an hour-long aerobic routine built around cheer-based dance movements.
"When people are done taking class, they generally are like, 'These poms, they make me want to reach my hands higher,'" said Hollis, who makes his home in West Town. "Where normally you reach your arm, you have this thing on the end of it that's going to shake and fly with you. And they make an amazing noise when you're dancing. Like a whooshy shake, and it adds another rhythmic layer to the music."
Make no mistake, PomSquad, taught at studios and fitness centers across Chicago, is still a grueling workout. It just has shinier accessories.
"There's a lot of arms in cheerleading, very sharp arms. That's what wears everybody's shoulders out, the coordinated elements of arms. And then cheerleaders always have this prancing element to them, they're always bouncing back and forth, which is like tons of little calf raises. Then we turn that prancing into a squat, into a lunge, big jumps," Hollis said.
"In a 50- to 60-minute class, we'll low end [tally] 5,000 steps, high end 6,000, within less than an hour. We burn 10 calories a minute," he said. "But we're still here to smile."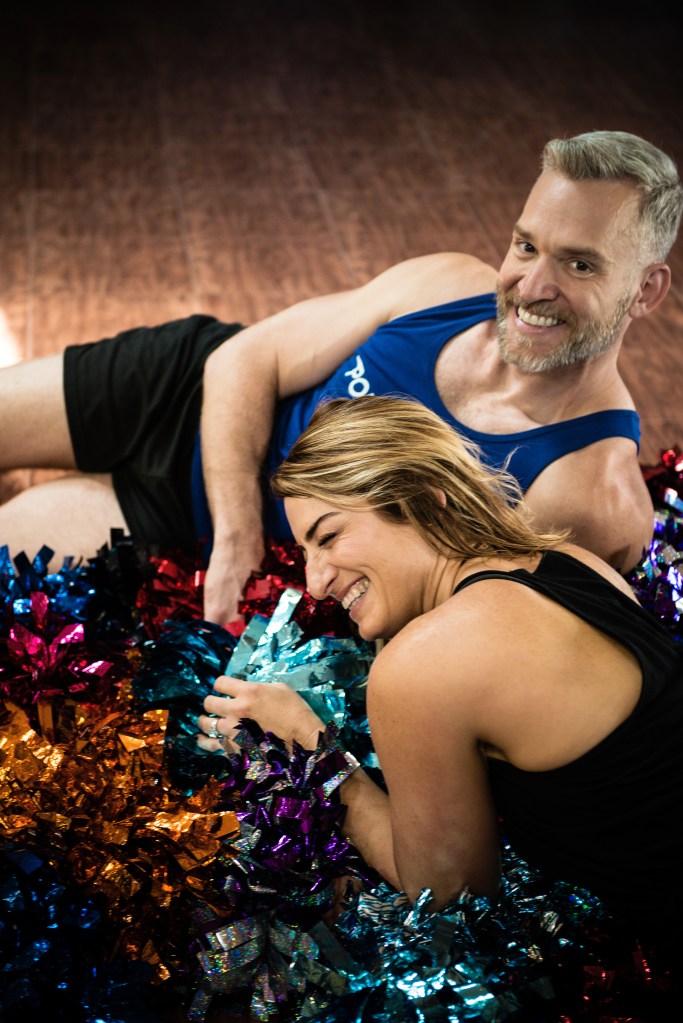 Hollis wasn't a cheerleader in high school (he played basketball, to his chagrin) and Ertel's cheer career came to a premature end post-middle school, when her parents took a pass on schlepping her to practice and auditions in high school.
"I just was always longingly looking at the cheerleaders — I loved the outfit, and the poms, and the dancing in front of people," Ertel recalled. "There was something, like a piece inside of me, like an unrequited love, that I never got to actually do it."

Nostalgia definitely attracts its fair share of former cheerleaders to PomSquad, some of whom even bring their own (typically brittle and falling apart) poms — "They're like, 'These are the ones I have from grade school or high school,'" Hollis said. Plenty more, just like Hollis and Ertel, are finally living out their childhood cheer dream.
(You know you've tapped into a collective cultural fantasy when Hollywood jumps on the bandwagon. Diane Keaton and Pam Grier are leading the cast of the upcoming flick "Poms" — tagline: "You're never too old to bring it!" — set for a May release.)
For others, though, cheering, or their past experience with cheerleaders, is the stuff of nightmares, dredging up long-buried memories associated with the worst of adolescence: popularity contests; a million snubs, either real or perceived; and general feelings of not belonging.
When it comes to convincing these folks to join a PomSquad class, the challenge, and Hollis and Ertel have the focus group results to back this up, is to overcome the reputation of cheering as the epitome of Mean Girl culture.
The beauty of PomSquad, Hollis said, is everyone makes the cut.
"Your first class, we greet you. We always give a shout out to our new squad mates — they're squad mates for life. We try to be extra welcoming," he said.
That sense of inclusivity extends to men, of course.
Though Napoleon Jinnies and Quinton Peron recently made history as the first male NFL cheerleaders to perform at the Super Bowl (sans poms, it should be noted), men have largely shied away from PomSquad. 
In general, guys are wary of group class scenarios, according to Hollis.
Add in dance, poms and "Magic Mike" up front, and that reluctance increases exponentially, he said.
"When they do take [the class], their response pretty much across the board is, 'Wow, that's so much harder than I thought it was going to be,'" Hollis said.
Ready? OK!
PomSquad, in one form or another, has been gradually evolving ever since Hollis first began combining cheer, dance and satire more than a decade ago.
The original incarnation, dubbed "The Power of Cheer," was Hollis' sassy response to a wave of self-help blather. Think, "Use the power of cheer to improve you and your life."
"I was at a point where I was like, 'I do not need to keep watching Oprah and having somebody tell me the secret to happiness.' I'm just going to make it up and call myself a guru," he said.
Hollis performed The Power of Cheer — sample: "What do you do with a setback? You treat it like a case of crabs and you got [to] shave it off, shave it off, way off" — at venues around town and continued to refine the cheeky concept, ultimately earning a grant to study cheer and create a cheer-based dance act. That led to half-time shows for the Windy City Rollers roller derby league, and eventually the city came calling, asking Hollis if he could create a "cheer fitness in the park" routine.
By this point Ertel had joined the Power of Cheer squad. She and Hollis teamed up to develop the park program, which they called Cheerobix (cheer + aerobics).
"But everybody called it Cheerio Box, constantly," including Hollis' own mother, he said. "So that's why we rebranded it PomSquad."
Ertel sensed they were onto something with the fitness angle. "Maybe I was projecting, but there is something to holding pom poms and dancing with them and finally getting to be a cheerleader," she said, and her instincts were right.
Hollis and Ertel announced a PomSquad class at the now-defunct Indigo dance studio, and people came. "Then more people started coming, and then we started to double our classes per month, and then we had to move to a new space," Ertel said.
The two realized that in PomSquad they'd created a format that could be taught to other instructors and plugged into fitness center class schedules. They now have trained PomSquad instructors (called captains), who subscribe to the program and receive access to new routines, choreographed by Hollis, every month.
As goofy as the poms concept might sound to some, Ertel is quick to point out that is has a solid foundation — Hollis is a certified personal trainer and she's certified in dance education (their full-time jobs on top of PomSquad).
"So it wasn't like a couple of knuckleheads putting together a format," she said.
Would Hollis and Ertel like to see PomSquad become the next Zumba? Um, do cheerleaders like to clap?
But growing PomSquad is still a work in progress and never-ending hustle.
Ertel, who lives in Berwyn with her husband and their 6-year-old son, oversees PomSquad's business side. Managing social media alone, with its ever-changing algorithms and constant shifts in consumer behavior, could be a full-time job, she said.
"How weird that our society has surrounded Instagram and been like, 'This is what's telling us what's good,'" she said. 
"If I were to send an email to a gym and say, 'Hey we want to put our format into your gym,' if they looked at our Instagram and they saw 10,000 followers, they'd be like, 'Great!'" Ertel said. "But if they look at our Instagram and see that there's 800, they might be like, 'No.'"
Chasing clicks and likes and shares can be a thankless, frustrating and fruitless pursuit. Luckily Ertel has the perfect remedy at her fingertips: Pick up a pom, get to work and shake it off.
"Moving your body is guaranteed to make you feel better 100 percent of the time," she said. "With a pom, it's like your hand is covered in sparkles. And when you see them all moving in unison, it's pretty inspirational."
To catch Hollis and Ertel in action, join a PomSquad Sunday workshop. "It's always a party," Ertel promised.
Do stories like this matter to you? Subscribe to Block Club Chicago. Every dime we make funds reporting from Chicago's neighborhoods.