This story was originally published by DNAinfo Chicago in 2016.
CHICAGO — Hard to believe, but there was a time when pizza in Chicago was a novelty, not a given, when restaurants specializing in it got more buzz than a Brendan Sodikoff spot and squirrels could feast on a slice without becoming social media sensations.
In the 1930s, Granato's on Taylor Street was that place. Considered the city's first official pizzeria by food-writing folks of the time, Granato's advertised its round pizzas baked in a wood-burning oven, setting it apart from Italian bakeries in the neighborhood selling sheet-pan pizza alongside breads and pastries.
RELATED: A Guide to Chicago Pizza: From Deep-Dish to Tavern-Style and Beyond
Deep-dish came along in 1943, and as soldiers returned home from World War II, the pizza business picked up. Taverns put out thin, square-cut pizza as bar snacks; patrons indulged.
But pizza really took off in the 1950s, according to Tim Samuelson, the city's cultural historian.
"It becomes the cool food, the cool meal to go with your rock 'n' roll," Samuelson said.
A 1953 Chicago Daily Tribune story documented the trend: "Sixteen short years ago there wasn't a pizzeria in the Chicago classified telephone directory. Today there are more than a hundred, and the neon signs shout 'Pizza' all over town."
By 1961, Granato's was no more, felled by construction of the new University of Illinois at Chicago campus. But pizza and the pizzeria were here to stay.
Nowadays, Chicago pizza aficionados (which, you could say, includes all of us) have their pick of restaurants serving every style of pie: Neapolitan, New Haven, Quad Cities. There is no end to the discourse on what makes an authentic/atrocious pie.
Meanwhile, the city's 10 oldest pizzerias just keep doing what they've done for generations. None went out of their way to claim the title — history can get murky when it comes to food — so after digging through news archives and interviewing current and past owners, we've done it for them.
These are the places that started and have stayed in Chicago (though some have multiplied beyond city limits). Some opened as pizzerias, others as taverns, and while their menus might now offer chicken wings, quinoa burgers and gluten-free brownies, their stock in trade remains pizza.
If there is a way to screw up cheese, sauce and dough — and there is, aficionados would insist — these venerable spots haven't figured it out.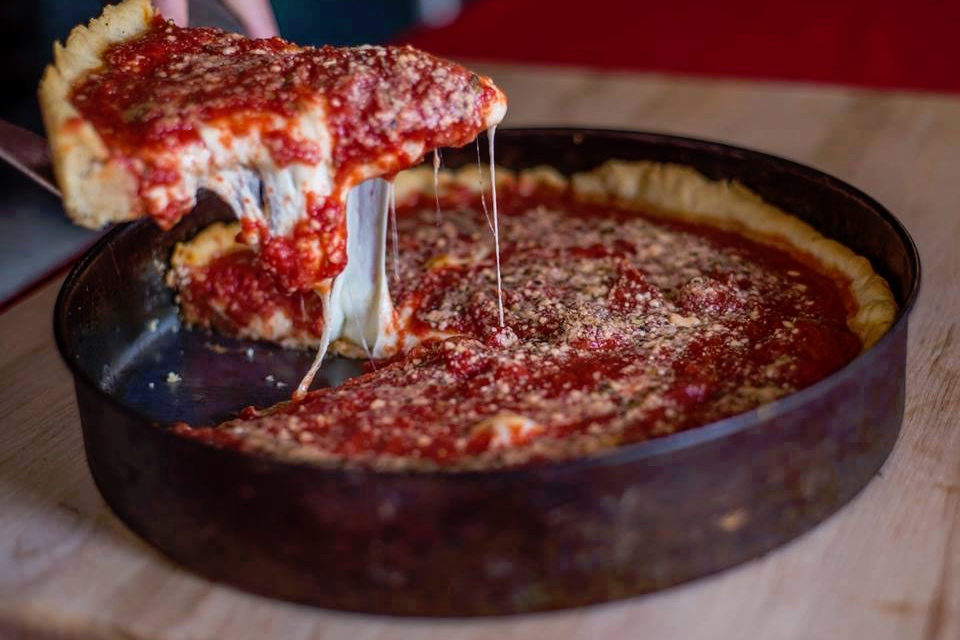 The birthplace of deep-dish pizza, simply known as Uno's, opened in 1943. The story — the one repeated for decades, the one told by the corporation now called Uno Pizzeria & Grill— credits Ike Sewell for introducing this never-before-seen culinary creation to the world.
But the lesser-known version, as vetted by Samuelson in years of research, puts Ric Riccardo, Sewell's business partner, as originator. Riccardo, owner of Riccardo's on Rush Street, lived in an apartment above a noisy bar at Wabash and Ohio. The feds shut down the bar, Riccardo took it over and, wanting to have some sort of signature item, came up with deep-dish.
He and Sewell first called the place The Pizzeria, then Pizzeria Riccardo and finally Pizzeria Uno — to distinguish it from the second location Sewell opened up the street, Pizzeria Due, which opened in the mid 1950s. Today, there are Uno's in 21 states and five other countries, including Kuwait and Honduras. Tourists line up daily at the original River North spot.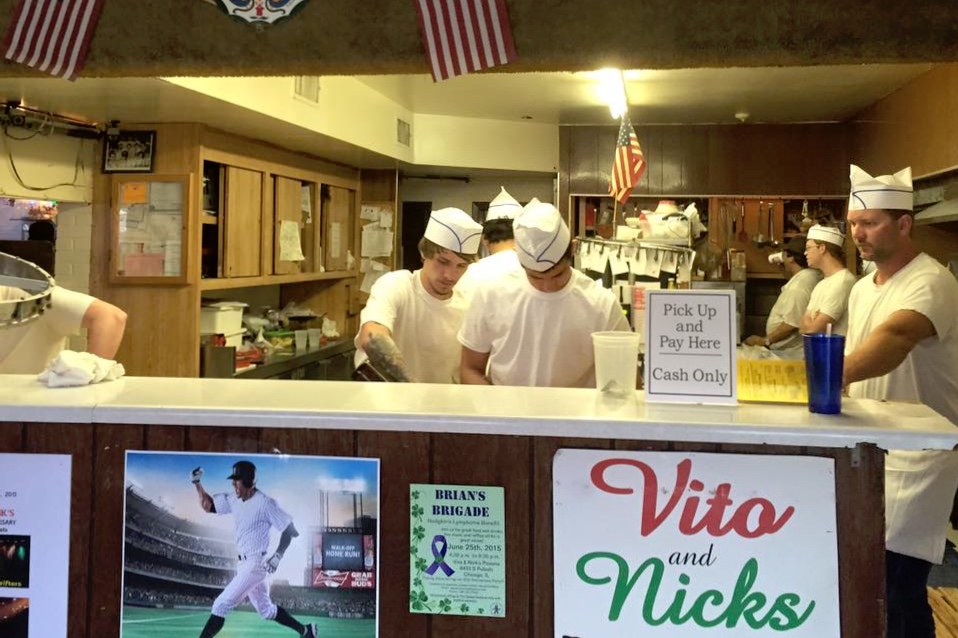 Vito Barraco had been running taverns since 1920, first near the old Cook County Hospital, then 80th and Halsted, then 79th and Carpenter. His wife, Mary, cooked simple food, spaghetti and such. In 1945, their son Nick, back from the war, joined the business. That's when they added pizza — Mary's thin-crust pizza.
They moved to Pulaski Road in 1965, renaming it Vito and Nick's. To this day, old-timers from the neighborhood call it Nick and Vito's, a habit that started after Vito died in 1976, said Nick's daughter, Rose Barraco George, who now runs the place.
"When they order an Old Style, you really know they're a South Sider," she said.
Old Style's the only beer on tap. The walls are carpeted. The cheese and sausage ("I have a patent on it," George said) are from the same family-owned Chicago purveyors, and the crust is still made according to Mary Barraco's recipe.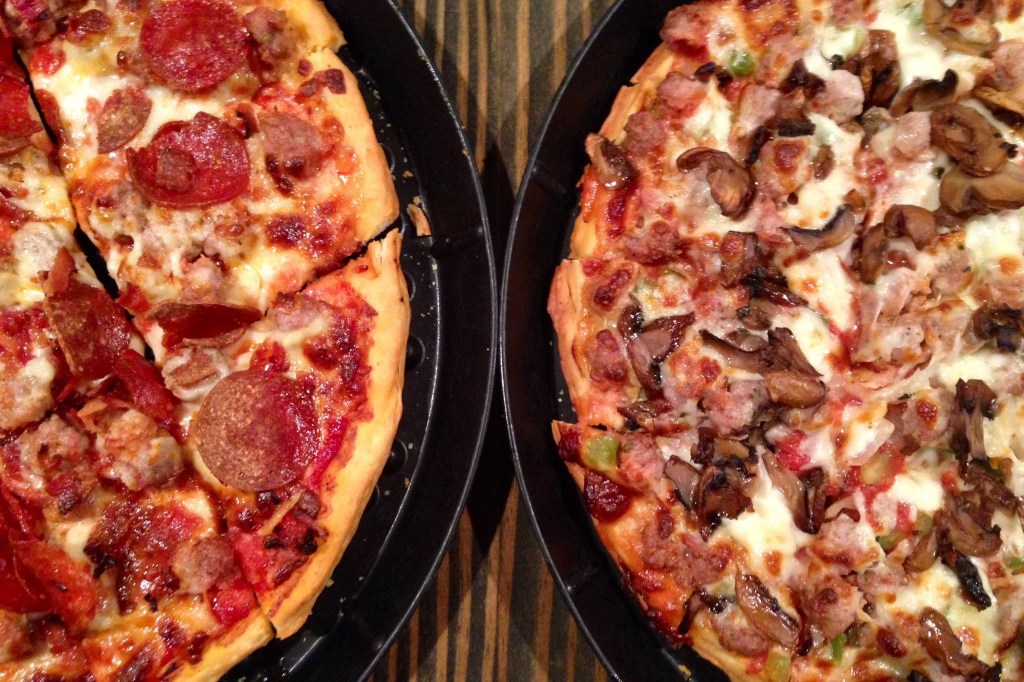 Vincent and Mary Grittani, Italian immigrants in a largely Polish neighborhood, opened their bar in 1923. Because baseballs from nearby Piotrowski Park hit the tavern windows so often, they called it Home Run Inn.
In 1947, they started making pizza and setting it out "much like we do popcorn or pretzels today," said great-granddaughter (and Home Run Inn marketing director) Gina Bolger. Their Polish customers embraced this new food, so the Grittanis started charging for it.
A regular customer in the 1950s kept asking the kitchen to partially bake his pizzas. He let the staff in on his secret: He'd wrap the pizzas in foil and store them in his icebox at home to bake later. That sparked the frozen side of the business, now in 47 states.
There are eight Home Run Inns in Chicago — a ninth is opening in Berwyn — and seven fourth-generation family members who keep it all going.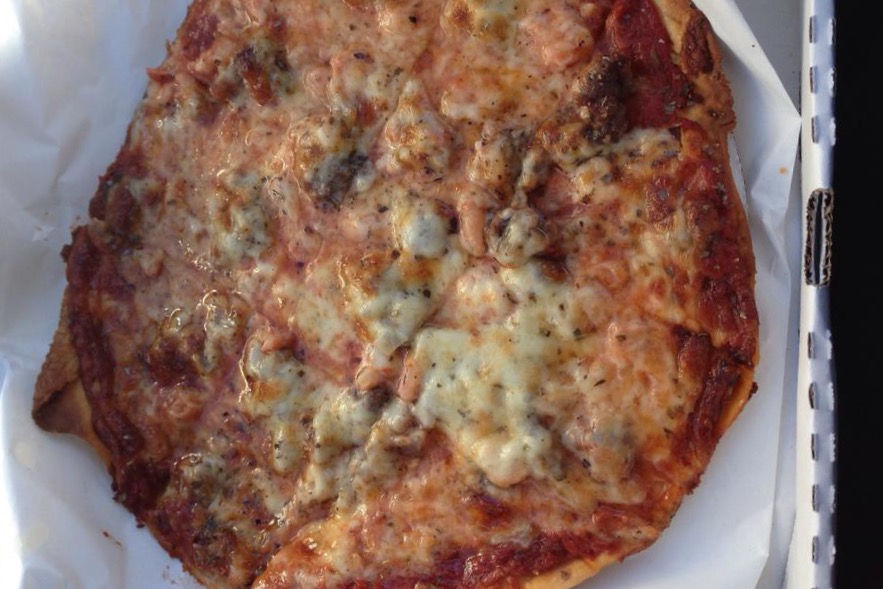 Italian immigrant Phillip DeCarlo made a living by opening restaurants and selling them to fledgling restaurateurs once he helped get them off the ground. His own pizzeria, which he opened in 1947 at 67th and Dorchester (later moving to 71st Street), has stayed in the family. There are four other locations now.
Italian Fiesta's thin-crust has a White House endorsement, according to DeCarlo's granddaughter and co-owner Patti Tubbs. Tubbs' sister met Michelle Obama before President Obama was first elected. When the first lady heard her family owned the pizzeria, she was floored.
"Michelle told her when she was growing up, their treat for good grades was our pizza," Tubbs said. After that encounter, Tubbs and her sister were flown to Washington, D.C., to serve their pizza alongside the Obamas' other hometown foods at a pre-inauguration fete.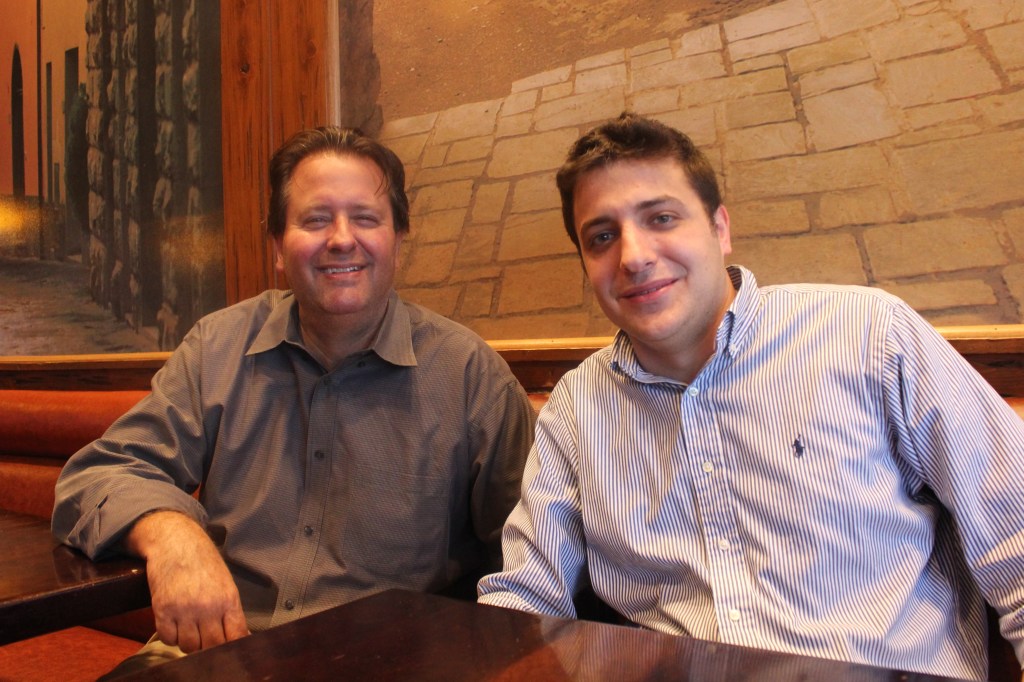 Note: Marcello's Father and Son has now closed.
A small pizzeria called Father and Son opened on the corner of Whipple and Diversey in 1947. Six years later, Marshall Bauer, who learned the pizza trade at his aunt's joint on the South Side, borrowed $2,000 to buy it. There was no need for Bauer to change the name because about five years in, his dad joined him.
Today, Bauer's son Billy runs Father and Son restaurants, with help from his nephew and cousin. They added "Marcello's," Italian for Marshall, to the name in the '90s.
According to Billy Bauer, theirs was the first North Side pizzeria to deliver. By the late '60s, they'd moved to the Milwaukee Avenue building, an old Studebaker dealership, and were delivering as many as 1,500 pizzas a night.
The current pizza menu offers New York style, pan and "gourmet" pies (gorgonzola with candied walnuts, anyone?), but the most popular remains the sausage thin crust.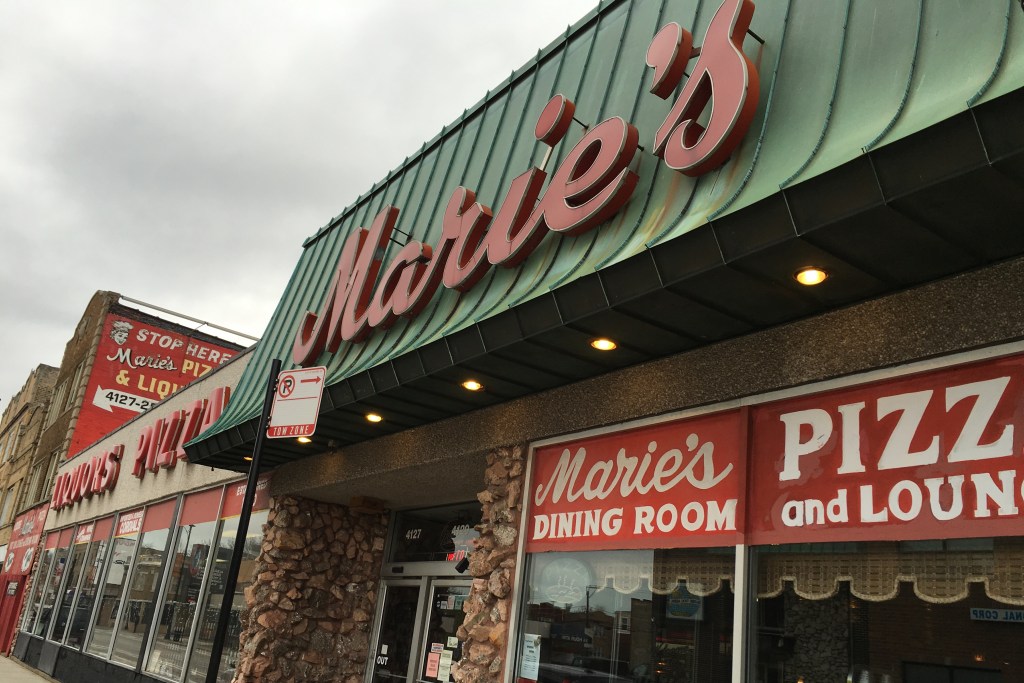 It was a summer day in 1971 when George Karavidas told his 11-year-old daughter Nadine Marie she was going to work with him at the family's pizzeria two blocks away. She's worked there ever since.
Marie's wasn't named for her, but for her grandmother Marie. Her grandfather, Theodore Karavidas, opened it as a tavern and packaged goods store in 1940. In 1950, after George bought the business from his dad, he started making thin-crust pizza.
Back then, the pizza didn't automatically come with cheese. "Sausage, no cheese, has a whole different taste profile, so when I see an order like that, I have to go see who ordered it, because I know that's old-school," Nadine Karavidas said. (The sausage is still made according to George's specs by a local purveyor.)
Also old-school: those red vinyl booths, stone and wood-paneled walls and over-the-top decorduring the holidays.
"Our last remodel was in 1979," Karavidas said.
7. Candlelite, 7452 N. Western Ave.
The Candelite is as known for its hand-lettered neon marquee as for its cracker-thin crust. Both have been around since 1950. Back then, there was another tavern across the street called the Welcome Inn that also served pizza. Legend has it the Candlelite poached the competing tavern's chef in those early years, co-owner Pat Fowler said.
The place has changed ownership at least five times and closed once for a major renovation to expand into an adjacent storefront. The menu has also grown beyond the signature thin-crust. Last month, Candlelite debuted a Detroit-style pan pizza.
Requests to have the restaurant personalize the neon sign — say, for a loved one's birthday or anniversary — work the same. Just ask.
8. Pat's Pizza, 2679 N. Lincoln Ave.
Nicholas "Pat" Pianetto Sr. and his sister Leona opened Pat's Pizza in 1950, in the basement of a wood-frame building at 3114 N. Sheffield owned by their dad. A tiff between siblings led Leona to open her own pizzeria on Belmont Avenue.
Things ended up fine. Brother and sister resolved their differences and both businesses flourished, Leona's into a local restaurant chain (no longer owned by the family) and Pat's as a thin-crust specialist.
In time, Pat's passed from Nick Sr. to son Nick Jr. and his wife, Linda. Twelve years ago, the Pianettos moved the pizzeria to Lincoln Avenue. Widowed for two years now, Linda carries it on with daughter Gina and said she's grooming her 12-year-old grandson to join them.
Pat's secret is in the crust. "The whole process of how we make our dough and raise it — it's a three-day process," Linda Pianetto said.
9. Pete's Pizza, 3737 N. Western Ave.
Carlo and Maria Canale opened their pizzeria in 1955 on Belmont Avenue, just across from the old Riverview amusement park. They rolled their pizzas thinner than how it was done in their native Italy, with dough, sausage and tomato sauce made from scratch daily (then and now).
In the 1960s, their niece Josephine and her husband Biagio Cirrincione followed suit, opening a pizzeria on Peterson and eventually taking over Pete's when the Canales retired. Cirrincione sons Sam and Tom now run Pete's, which has been in its current spot since 1986, and eight other eateries in the family's Suparrossa Hospitality Group.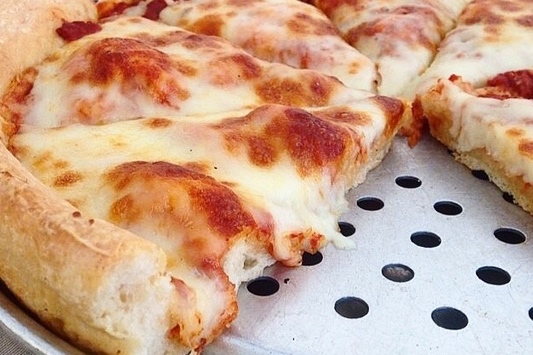 Sometime in the early 1950s, Concetta "Connie" DeGrazia and her husband DeGrazia started selling pizza and pasta from a small storefront at 26th and Lowe. Pizza sales did all right, but when they swapped provolone for mozzarella, it became a hit.
In 1963, when the DeGrazias retired, employee Jim Stolfe bought the business and building, trading in his Oldsmobile to make it happen. Stolfe didn't have enough money to change the sign, so it stayed Connie's.
And it has stayed in the Stolfe family through three generations and the move in 1987 to Archer Avenue, now the flagship. Three other locations, a frozen pizza line and nationwide shipping round out the operation. The original sausage-topped pan pizza remains the most popular item, marketing director Caitlyn Moore said.
Do stories like this matter to you? Subscribe to Block Club Chicago. Every dime we make funds reporting from Chicago's neighborhoods.