ALBANY PARK  — They've got the beer, a mascot and a growing name thanks to serving brews at neighborhood festivals.
And now Twisted Hippo finally has a taproom and kitchen to serve its fans.
After a 2018 spent brewing and building, the Albany Park brewery officially opened to the public on Friday.
Located at 2925 W. Montrose Ave., Twisted Hippo's interior features bright green and pink accents, as well as a sweeping "felt cloud" hanging from the ceiling that adds more than just a splash of color.
"It's a piece that was designed to help with sound dampening so that people can sit and have a conversation with each other without yelling," said Marilee Rutherford, one of the co-owners. "It's made by a local company called Turf, and is made out of felt from recycled bottles."
The cloud is just one of many items inside made from recyclables. The tables are made from recycled ash and the planters near the kitchen window were made from  recycled milk bottles.
For co-owners Marilee and Karl Rutherford, a wife and husband team, and business director Todd Ruddick, Friday's grand opening marked a big move to their own space.
Over the summer, Twisted had a contract to brew its beer at Aleman Brewing at 3304 N. Knox Ave. while its facility was being built.
In December, Twisted Hippo started brewing at the Montrose location, which offers a wide menu.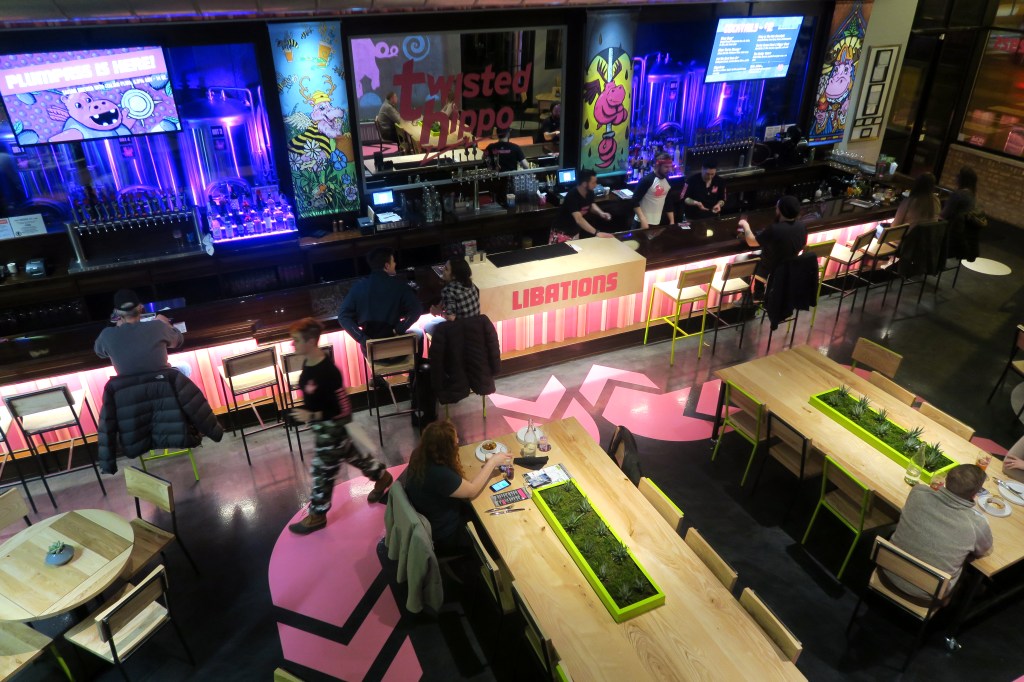 The menu features starter plates like cheese curds, wings and charcuterie plates alongside larger fare like smash burgers, jibaritos and their "chef's sando."

"And our menu is pretty varied. We have a lot of favorites on there," Rutherford said.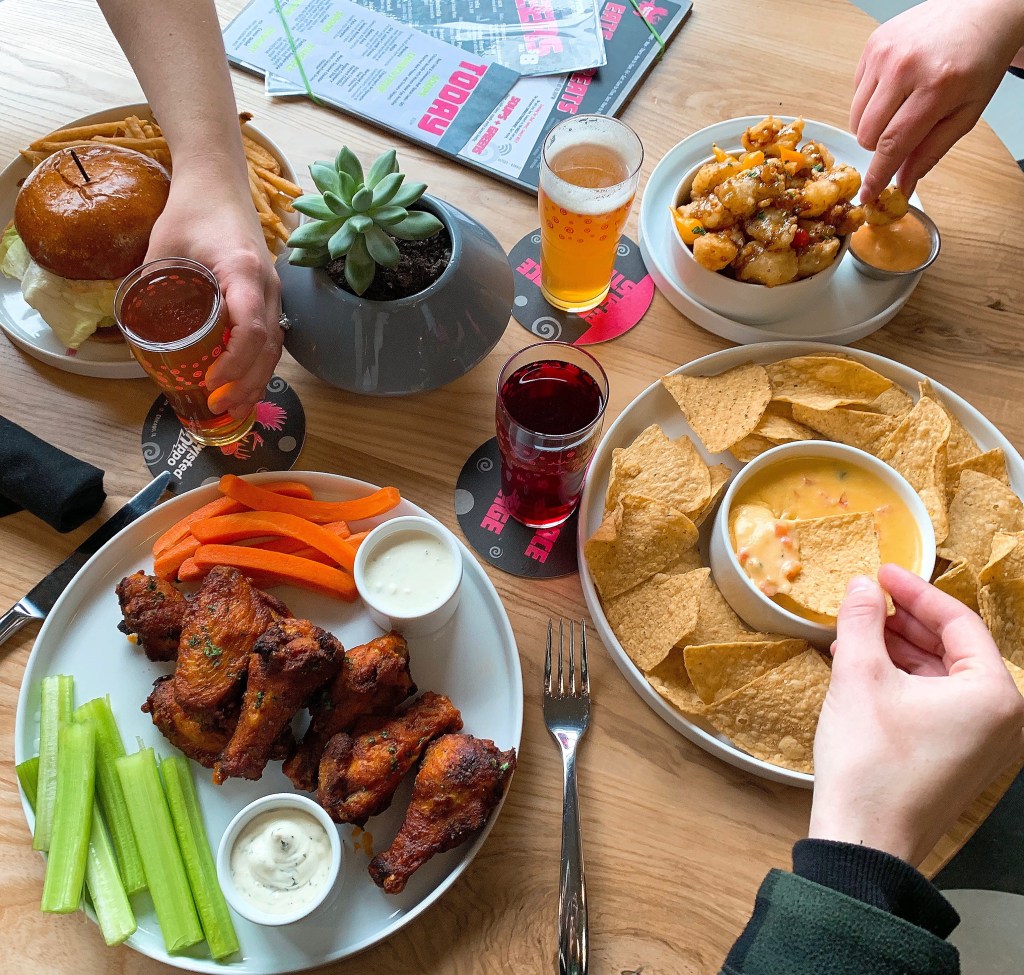 "Our cheese curds are super popular. And we have a pretty phenomenal smash burger. We're also serving yuca fries in addition to regular fries, which is a fun little change of pace," she said.

Beers currently on tap include an Elvis-inspired peanut butter, banana and bacon ale called Velvet Elvis, a kolsch brewed with roasted beets called Beeting Heart and a candy bar brown ale called Pinky's Pieces — named after the brewery's mascot Pinkelsworth "Pinky" T. Hipposford.

The brewery currently has crowlers available, 32-ounce cans that can be filled with the beers on tap, as well as four packs available for sale.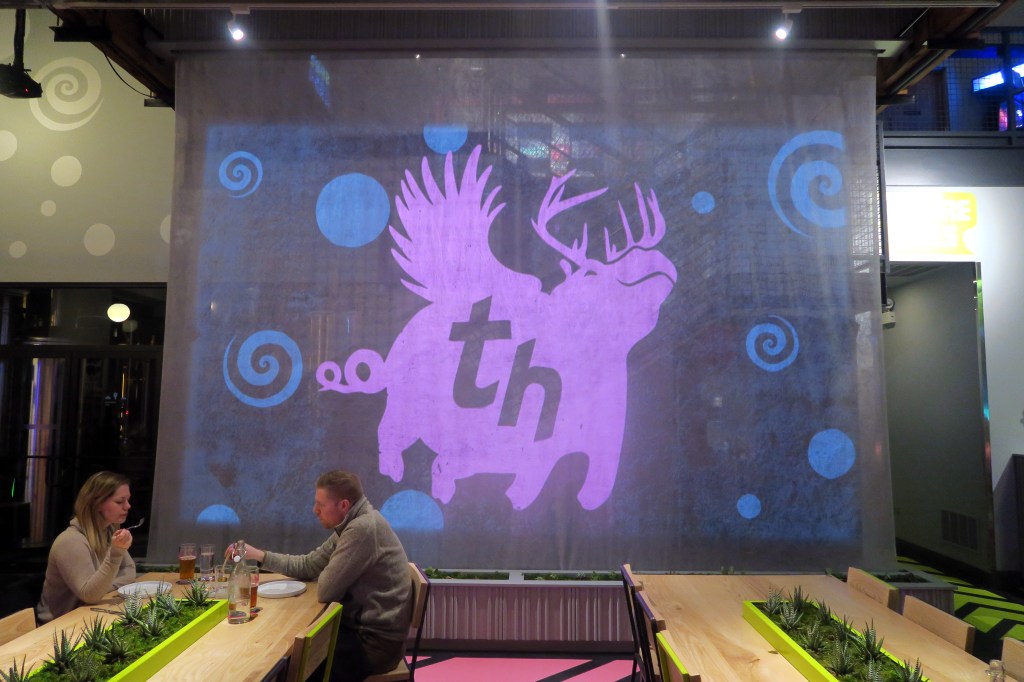 The menu pricing includes the server tip. So once a tab is opened, customers are given back their card and they can wander around without having to worry about closing out.

"It's actually incredibly simple. We start a tab with your first drink or food item ordered and your tab goes with you. So you can keep ordering from anywhere in the space," Rutherford said. "And because your price is all inclusive, once you're done you can walk out the door if you want. With the pricing, we take care of our staff and make sure to pay them a good living wage."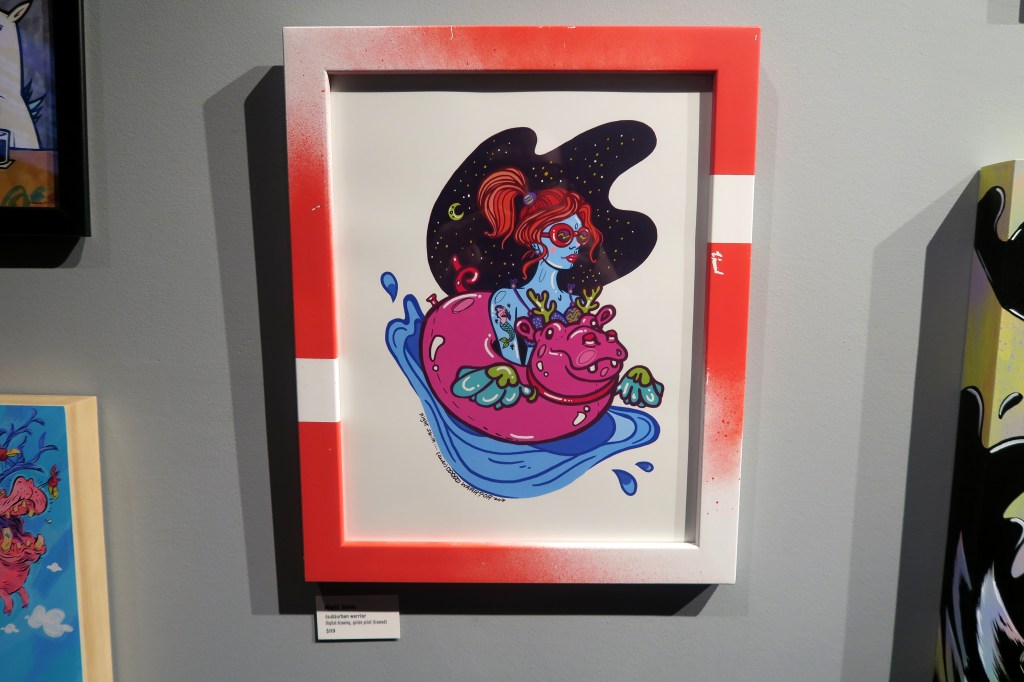 The second floor has a gallery that will feature a rotating set of artists.

RELATED: Twisted Hippo Now Brewing Beer At Its Albany Park Home As Kitchen, Taproom Get Ready To Open

"The gallery is going to be changed out every six weeks or so. It's a dedicated space for art. Right now it's filled with local artists versions of our mascot Pinky," Rutherford said. "All the art is for sale and the artists receive the bulk of the payment for that. We want to make it really valuable for them."

Also on the second floor is the video game Killer Queen. The video game needs a minimum of two players but can accommodate a maximum of ten players in two teams of five.

The arcade version of the Killer Queen is only available at a handful of places in Chicago, like Uptown Arcade, Logan Arcade and now Twisted Hippo.  

"It's a super fun game and we're going to start going Killer Queen league nights here in the next few weeks. We're really looking forward to that, it's going to be a lot of fun," Rutherford said.

Anyone interested in more information on the league can visit twistedhippo.com or email the brewery at info@twistedhippo.com.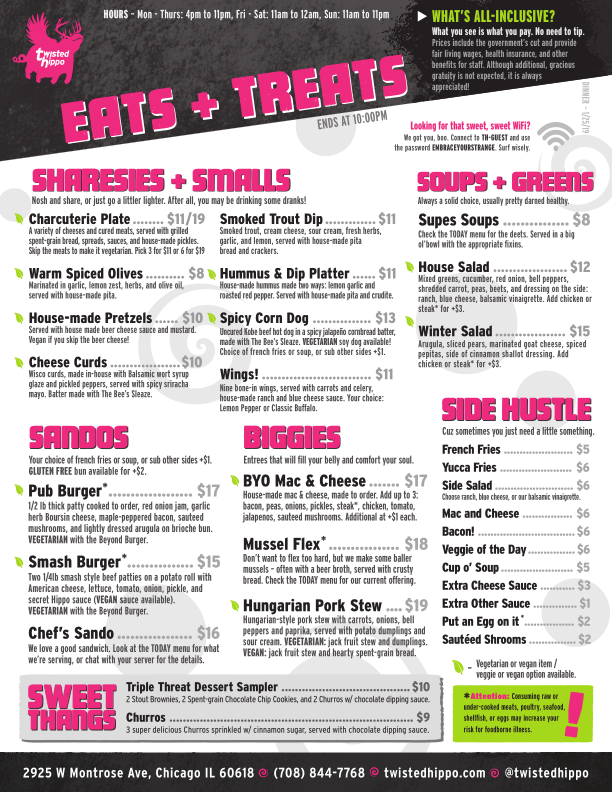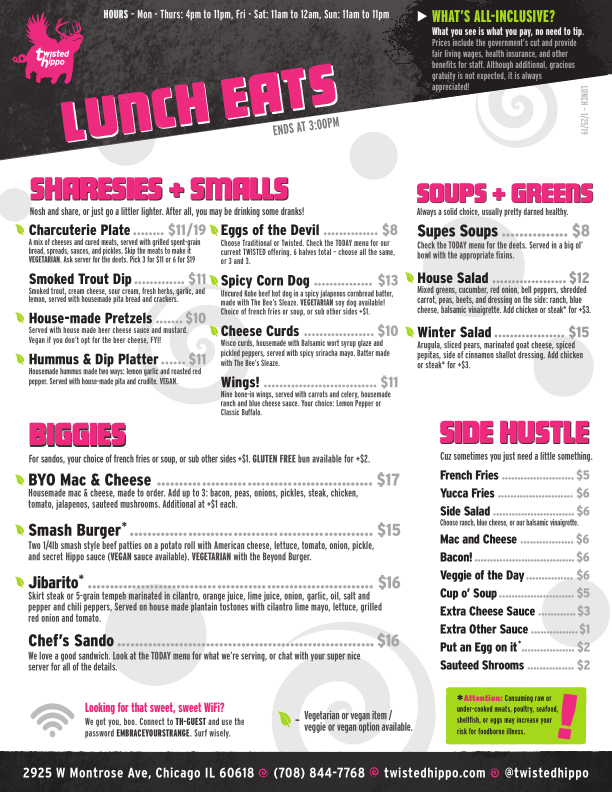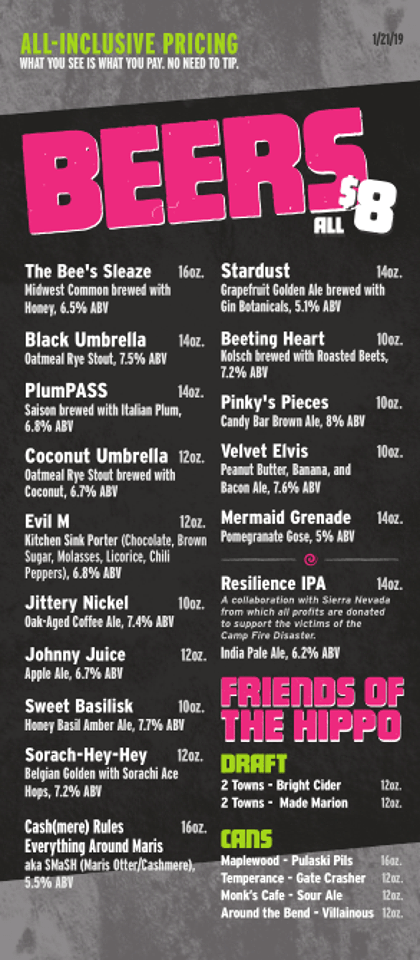 Do stories like this matter to you? Subscribe to Block Club Chicago. Every dime we make funds reporting from Chicago's neighborhoods.