NORTH PARK — For five years The Forest Playschool has allowed preschool children to experience the outdoors on the city's Northwest Side — but now a group of neighbors are taking issue with the nature-focused school.
In a December letter to Ald. Margaret Laurino (39th), neighbors complained that the school, located at 5801 N. Pulaski Rd. in Peterson Park, has "become unattractive" and that there is "unstructured play" going on there, according to Manuel Galvan, a spokesperson for Laurino's office.
While Laurino declined to reveal the identities of the neighbors who complained or say how many neighbors complained, a recent CBS 2 report featured an unidentified woman on camera who criticized the outdoor-themed school's use of fire to cook food and stay warm.
After neighbors raised concerns, Laurino, who is not seeking another term, spoke to school leaders about their existing contract with the Chicago Park District.
Laurino doesn't oppose the school operating in the park "as long as they adhere to their contract and are good neighbors." That includes "picking up after themselves," she said.
"When people have issues that are important to them, I always appreciate when they bring them to my attention," Laurino said.
One resident who lives on the block across the street from the park on Central Park Avenue told Block Club he thinks the unique preschool program is a "great" resource for kids in the neighborhood.
"It's not an eyesore, it's a point of pride," said John Badal, a woodworker who's lived on the block for the past 10 years. "I wish I had those opportunities growing up. …I want this school preserved."
Peterson Park is located in the North Park Village Nature Center, a 58.54-acre nature preserve and educational facility that was formerly home to a tuberculosis sanitarium.
Among the center's many programs is the Forest Playschool — a nature-focused preschool program that holds class almost entirely outside in the Walking Stick Woods, a 12-acre parcel of land in the center.
Teresa Weed, the school's director, said the students experience all seasons in the 12-acre woods. Unless there's a deep freeze or severe rain, students begin their day playing in the woods before working on art projects, listening to stories, helping prepare snacks over a warm fire or tending to the school's garden — all outside.
"They're watching all the changes and cycles, development of plants and animals in that one spot," said Weed, who has a masters in zoology and background in early childhood education. Weed contracts with the Chicago Park District to host the preschool in the park.
During severe weather, the preschool's students relocate to the park's field house or school is canceled, like it was during the Polar Vortex last week, she said.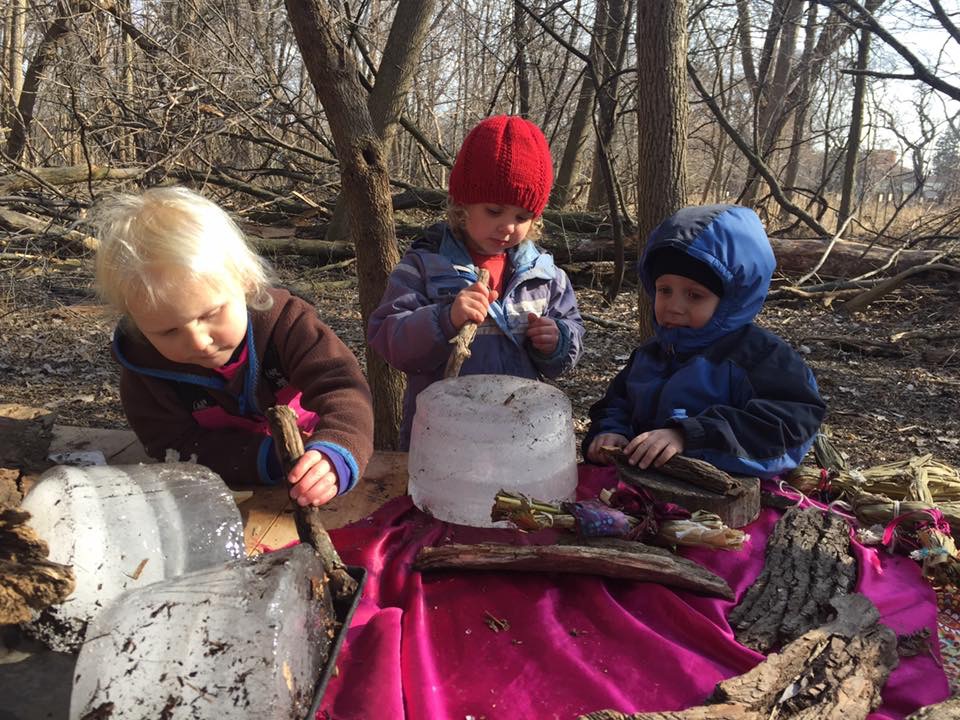 Jane Niermann, an Irving Park parent, said the outdoor school has offered "amazing" experiences to her son.
"He's really grown in his confidence in himself," Niermann said.
Elizabeth Kinsmen, another parent, grew up in what she calls "the sticks" of Wisconsin. The Forest Playschool is a way for her son to experience nature the way she did growing up, despite living in a bustling city.
"This school, when I heard about it, made total sense to me," Kinsmen said.
Unlike indoor preschool programs, Weed said the children who attend Forest Playschool benefit from learning to adapt to nature's unpredictability. Uneven ground, a lack of toys, animal sightings and changing weather all contribute to the children's experience. And it keeps them engaged.
"Everything about the wooded areas, everything about the terrain is educative," she said.
Responding to neighbors' complaints, Weed said the park District agreed that anything in the adventure playground area deemed "trash" or not "organic or part of the naturally wooded area" would be removed.
The park district set to discuss the Forest Playschool at a meeting at 7 p.m. March 5 at the park's nature center, Weed said. Park District representatives did not answer questions last week about the meeting.
Do stories like this matter to you? Subscribe to Block Club Chicago. Every dime we make funds reporting from Chicago's neighborhoods.