SOUTH LOOP — A new app aims to help Chicagoans find someone who's "more than a hookup" — and the more they use the app, the better matches they'll find.
The app, AIVA, uses artificial intelligence to learn what its users are looking for in a partner or friend.
And it's testing out its theory in Chicago.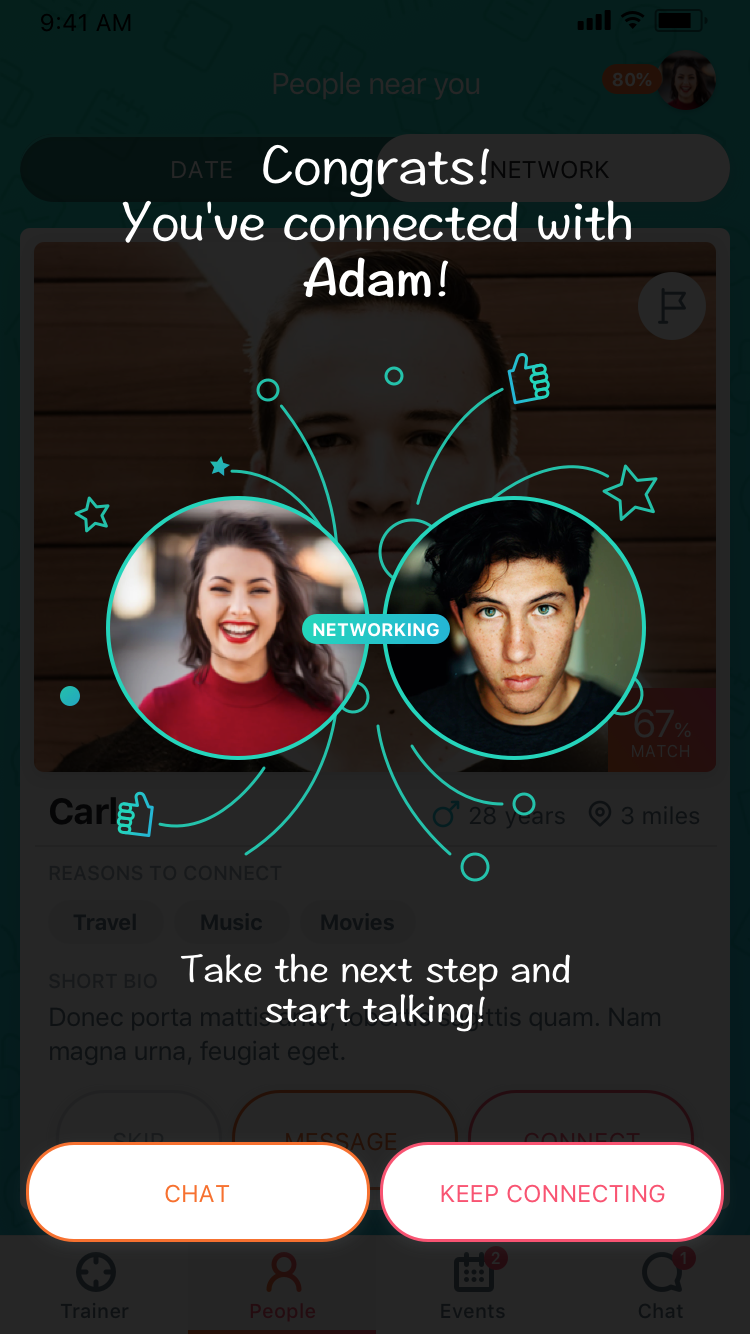 The app will make "finding meaningful relationships faster," said CEO Nick Frontiere, of the Loop. And he hopes users will now "enjoy the process while it's happening."
AIVA is technically in its testing phase for now, but anyone can get it for an iOS device — and the more people who sign up, the more the artificial intelligence will learn how to become as effective as possible.
The test will be extended past Valentine's Day to help Chicagoans find a good match for the romantic holiday.
Frontiere said he wanted to launch AIVA in Chicago because the city has a young population that's looking for love and the city is a technology hub.
"We really wanted a city that had an open mind to new types of ways of communicating and new technologies," Frontiere said.
Users will be able to download the app and create a profile with information about themselves, like what they events they'd like to attend or what topics interest them.
That profile will help AIVA learn about the user, Frontiere said. From there, AIVA will show profiles of people who might interest the user. The more a person accepts or rejects a proposed match the more AIVA learns about what the user is looking for in a partner.
Once a match has been made, users can send messages and start talking with the person with whom they connected.
The app will also show users local events that fit their interests, making it easier for them to meet up with new dates, friends or people with whom they can network, Frontiere said.
What sets AIVA apart from other dating apps, like Tinder, is those apps are "basically giant dictionaries" that show users a list of people without taking into account if those people share interests. That means users are "mindlessly swiping" through people to find a date, Frontiere said.
"Our perspective is completely the opposite," Frontiere said. "You should feel like when you're on the app to meet people, the app is trying to learn who you'd like to meet to, as quickly as possible, facilitate communicating and talking with people who you'd like to engage with."
Frontiere, who works for Argonne National Lab, and his brother developed the artificial intelligence framework behind the app over several years. Working at Argonne while creating AIVA and the dating app meant Frontiere had to sacrifice part of his social life and had many late nights, he said, but he hopes the artificial intelligence behind AIVA will be usable in all kinds of applications.
"The goal of the framework was to put something in people's hands to show them AI can be used to their benefit," Frontiere said. "They'll start saying, 'Why weren't people doing this before?'"
AIVA is available for iOS on the Apple Store.
Do stories like this matter to you? Subscribe to Block Club Chicago. Every dime we make funds reporting from Chicago's neighborhoods.