EAST GARFIELD PARK — The record-breaking cold temperatures have inspired folks from all over the city to step up and help those experiencing homelessness get warm clothes, a hot meal or a heated place to stay.
But for the Salvation Army's mobile outreach workers, it's just another week on the job.
"We see less people [in colder temperatures] but we see people who really need help," said Richard Vargas, director of community social services at Salvation Army. "If it's [this] cold and they are here, they are accessing what we have; obviously they really are in need."
In 2018, the mobile feeding unit served 233,755 meals to people who are homeless in Chicago. And as temperatures get into dangerous territory, the trucks are making extra stops to help people experiencing homelessness.

The group has partnered with the City of Chicago to perform wellbeing checks for those calling 311 requesting assistance. Case workers make home visits and can transport people to warming centers, shelters or medical facilities, depending on the situation, according to the organization.
Helping homeless people have access to hot meals, getting them off the streets and seeking treatment is part of the evangelical organization's mission to help those less fortunate.

The mobile feeding and mobile outreach units make sure that mission is accomplished. The trucks drive around the city to assist homeless or underserves families who need assistance in the form of food, counseling and shelter.

The feeding unit makes 12 stops a day, starting in Uptown and heading south to stops in Garfield Park and Humboldt Park. During these cold days, the truck will go out in the evening as well as on day runs, giving out hot soup, bread, water or juice and treatment options. Staff will also hand out hats, gloves and other winter wear when available.

Its stop in Garfield Park is one of the busier areas. Vargas said they feed between 50 and 60 people in an hour, although it depends on weather.

"For the most part, people are receptive to us," Vargas said. "[We] care about the community and build relationships. People see us as that source of hope."

In his 11 years managing the feeding projects, Vargas has established close relationships with the community and often sees the same people out and about. He said he has watched children grow up who still come get a warm meal.
That intimate relationship, he said, can help influence someone to go into treatment or enter a detox program, even if that relationship takes time to grow.

"People have taken 10 years before they decided to get some help," he said.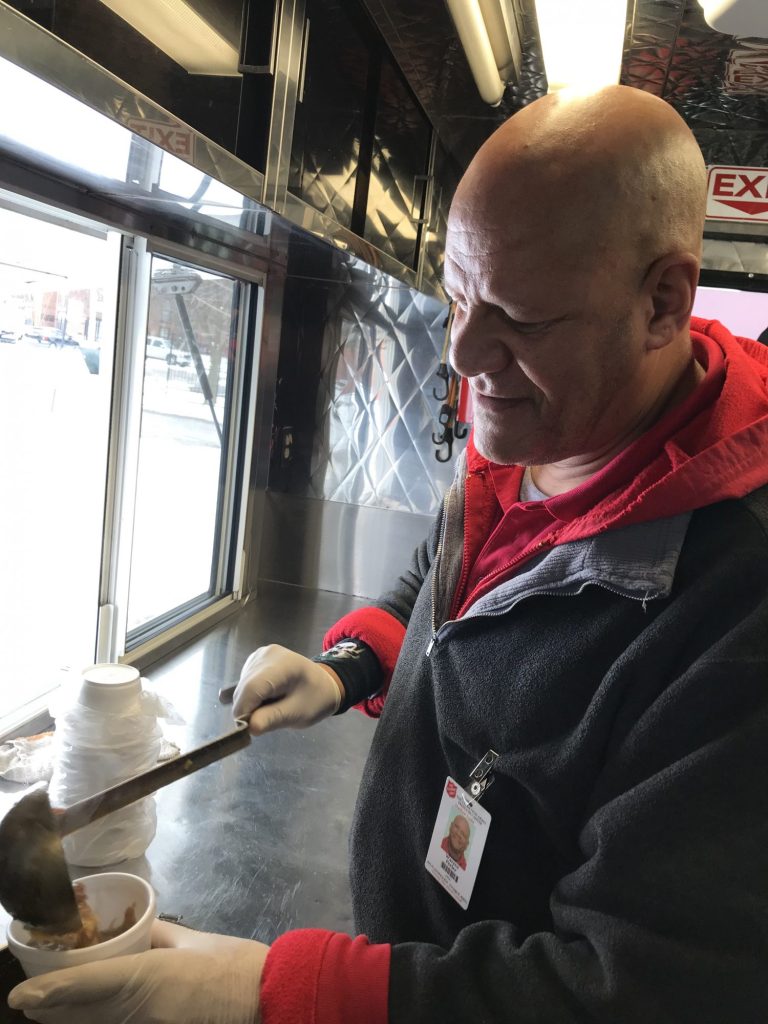 Warren Peeler knows the struggles of being homeless and taking that first step toward self-care. Even though his difficult past seems far away, he remembers the lessons he learned that helped him get clean.
Seventeen years ago, he landed a job with Salvation Army after getting help from Salvation Army's Harbor Light Center, an inpatient substance abuse treatment program. Now he works on the feeding truck, a gratifying job since he started 11 years ago.

"Since I've been clean, it's like a weight lifted off my shoulders and I treat people with respect and kindness like they deserve," Peeler said. "Our job is to serve you and get you off these streets."

With an exceptionally upbeat and confident attitude, Warren constantly smiles when he is working, serving his friends on the streets and checking up on them.

"What's up, brother?" he said to people getting food on a cold January day. "Here you go, buddy. How you been doing today?"

He knows life is rough out there but wants people to know that opportunities exist to change like he did. That's why he always keeps his business card on deck, ready to hand out to those wanting help.

Peeler also acts as a counselor for those looking for a friend and advice; the long feeding van has an extra chair and a door that creates a makeshift office for privacy.

"I get on this truck and it's the thing I want to do — it's not [about] the paycheck — it's to help these people," he said.

Hiring employees who have directly experienced homelessness or addiction is what makes the feeding units unique, said Salvation Army's Jacqueline Rachev, director of communications.

"We hire folks who have been homeless or who have gone through the addiction process and can relate," Rachev said. "[They] tend to get more trust because they know what they're talking about."

Vargas said the business model is paying it forward. Now, he's looking to expand the model to a mobile medicine program.

He said he has been working with Rush Hospital to bring a street medicine team aboard their trucks. The teams, comprised of one doctor and two student doctors, treat minor ailments, provide basic medication, check blood pressure and drive folks to the hospital if they need immediate care.
Vargas said he hopes this will fill a health and substance abuse treatment demand he sees on the streets and provide people professional care outside of a clinic setting.

"When you have someone who has [professional] experience … people are more prone to listen," he said. "I am a substance abuse counselor and they might hear me one way but when a doctor is saying it, it puts a little more validity on it."

Vargas said the model is similar to efforts by the Lawndale Christian Health Center, which offers affordable care and employment to low-income residents.

"If this works out the way I interpret it to work out, this could be huge," he said.

Do stories like this matter to you? Subscribe to Block Club Chicago. Every dime we make funds reporting from Chicago's neighborhoods.