ENGLEWOOD — A multi-ward candidate forum scheduled for Thursday evening at Canaan Baptist Church, 1701 West Garfield Blvd., has been rescheduled due to the Polar Vortex.
Candidates vying for aldermanic seats in the 6th, 15th, 16th and 17th wards will now be discussing the effects of gun violence on the community on Tuesday, February 12, from 6 to 8 p.m.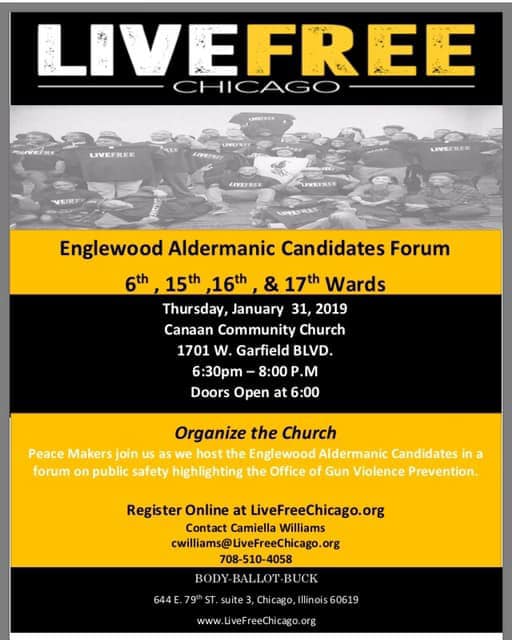 Running in the sixth are incumbent Ald. Roderick Sawyer, pastor Richard Wooten, and accountant Barbara Foster-Bonner. In the 15th, incumbent Ald. Raymond Lopez fends off challengers community organizer Berto Aguayo, violence interrupter Joseph G Williams, CPD crime prevention specialist Rafael Yanez, and minister Otis Davis Jr.
In the 16th, incumbent Toni Foulkes takes on Jeffrey L. Lewis, educator Eddie Johnson III, non-profit vice president Kenny Doss II, community outreach coordinator Latasha Sanders, and outreach director Stephanie Coleman. And, in the 17th, incumbent Ald. David Moore is up against patient care facilitator Raynetta Greenleaf.
This is the first candidate forum hosted by Live Free Chicago, an organization of black churches dedicated to ending gun violence.