CHICAGO — With frigid temperatures likely to plague Chicago through election season, you can now avoid a trip to your polling place while still fulfilling your civic duty.
Voting by mail used to require an approved excuse, but since 2010 any voter is able to receive a mail-in ballot. In 2011, over 24,000 Chicagoans elected to vote by mail.
Although that number dipped to around 22,000 in 2015, election officials expect 2019 to break records for vote by mail.
There have already been 39,000 applications filed for mail-in ballots and Chicago Board Of Elections spokesperson Jim Allen expects that number to rise.
"The forecast is warm and cozy," he said. "Vote at home people, it's the way to go."
Allen said that the elections board is encouraging voters to "stay home" and vote by mail — they even took out ads in the Red Eye and Sun-Times to let folks know it's possible.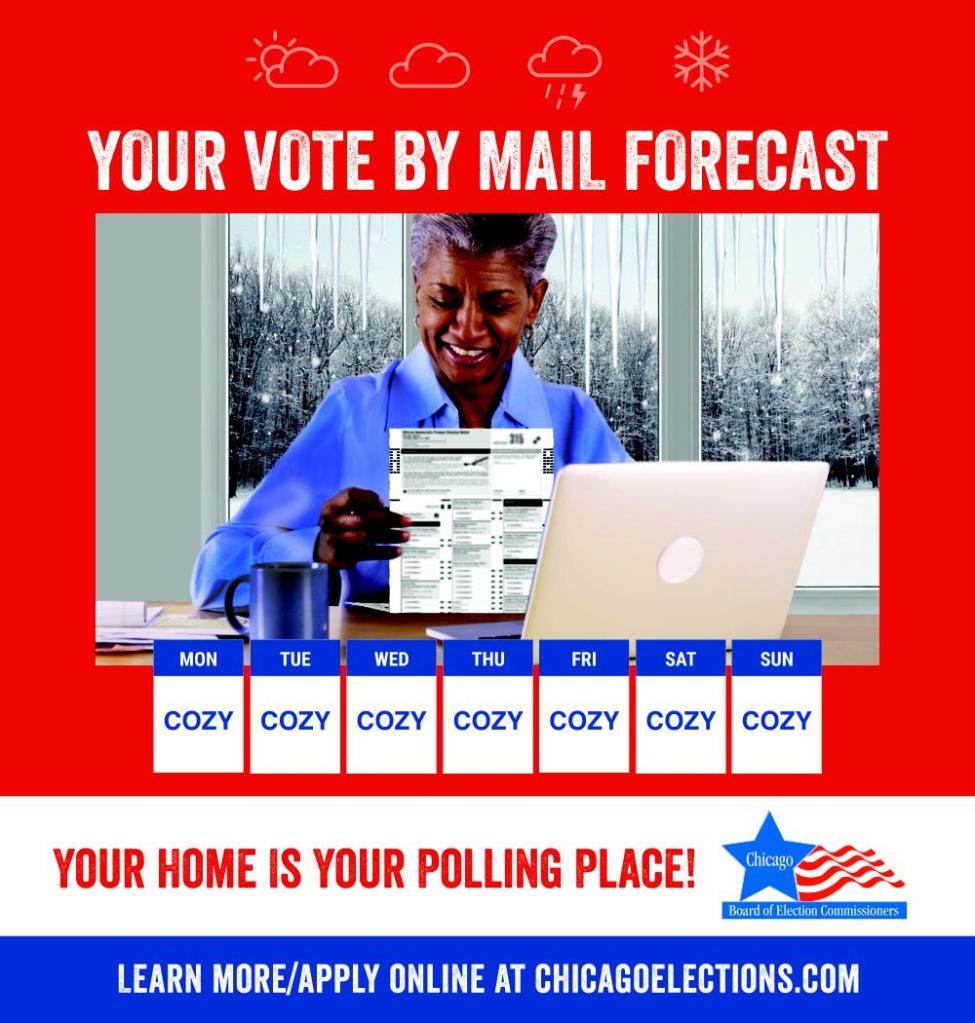 Want to fill out your ballot from your couch? Here's how:
First, voters need to apply online. Although the deadline to apply for a mail-in ballot is Feb. 21, The CBOE suggests that voters apply before the first week in February. This will allow ample time for voters to receive and return their ballot.

Once voters have applied, they simply need to wait for the ballot. Feeling antsy? You can check the status of your mail-in application here.

Move a lot? Make sure to update your address with the Board of Elections, otherwise your ballot will be sent to the wrong address. You can update your address here.
Got it? Now do your homework. Chi.vote is a great place to find out who is running and what they are about.
Know who has your vote? Fill out your ballot with a black or blue ball-point pen and avoid using a marker, they often bleed through and can void the entire ballot.
Now this is the hard part for some of us: don't forget to mail the thing! The election board supplies each voter with a postage-paid envelope, so voting by mail is free.
All mail-in ballots must be postmarked by Tuesday, Feb. 26. Voters should be aware that if their ballot is placed in a mail drop box in the afternoon or evening of the 26th, it could be postmarked for the 27th making the ballot ineligible. Mail-in voters are highly encouraged to mail their ballots before the 26th.
That's it! And if you prefer voting IRL, get all your early voting and election day questions answered here.