CHATHAM — In the eight years since Ald. Roderick Sawyer has taken office, the 6th Ward has seen some highs: the $100 million in capital improvements that included renovations of the Whitney Young library and Robeson High School; the passing of his privatization ordinance meant to prevent another parking meter deal, a recovering housing market east of the Dan Ryan and resilient neighborhood public schools.
"We have more Level 1 schools than we've ever had," Sawyer said. "Dixon is one of the top five in the city, our other schools are improving, we've got new facility improvements at Deneen, Park Manor and Wentworth. … Obviously we have a lot of work to do but we're invested."

The lows? Though confident he'll win a third term, Sawyer admits there were things that he would have liked to do, but couldn't — pointing to the failed plan for a call center on the old Kennedy King College site.
"I and my former Chief of Staff had worked on this for years but the numbers just weren't there," Sawyer said. "Call centers are more suited for rural areas, and we wouldn't have been able to offer a living wage."
Sawyer was one of the original sponsors of the #FightFor15 ordinance.
The recent loss of the Chatham Target, scheduled to close next month, also didn't help matters. But, that is a loss Sawyer is taking in stride. Target wasn't a good neighbor, Sawyer said.
"I'm not going to beg you to be here if you don't want to be here," he said, adding that he'd much rather focus on sustaining the mom-and-pop businesses that are the backbone of his ward.
He also touted his work with the Grassroots Alliance for Police Accountability (GAPA) that will more than likely result in the creation of a civilian oversight committee this year, and the construction of a new building for the police department's 3rd District.
"I let my record speak for me," said Sawyer, who believes his "open door" policy has endeared him to many of his constituents. "If I don't win, I'll still be here."
Richard Wooten and Deborah Foster-Bonner, the two candidates looking to unseat Sawyer, share a vision in which the beleaguered community is safe, prosperous and afforded the same opportunities as their North Side cousins.
They both believe in strengthening the local economy, reinvesting in public schools and keeping their neighborhoods secure. They both have a plan to help fledgling area business owners navigate the treacherous waters of entrepreneurship. They both believe the man currently in charge hasn't been doing a good job, and both felt a calling. In fact, their platforms are so similar that one might wonder why they haven't considered joining forces.
Well, they did. Years ago. Things didn't work out.
Deborah Foster-Bonner was Wooten's campaign manager during his last run. Now, the two former friends are squaring off against each other. Here are the two other candidates running for the Sixth Ward.
Richard Wooten
Born in Englewood, raised in Auburn Gresham, and currently settled in Chatham-Chesterfield, Wooten is a former Chicago police officer turned pastor.
He and his wife head Gathering Point Universal Ministries at 9050 S. Ashland Ave. He has been a community mainstay for years, organizing events as a Chicago Police liaison, training residents at CAPS meetings and brokering deals with community entrepreneurs. He's a member of Omega Psi Phi, and president of the Greater Chatham Alliance, a community organization created to serve area residents. It's that commitment to community that sets him apart from his opponents, Wooten said.
"I was doing this work since before I decided to run for office," said the Calumet College alum. "My commitment to community is my word. If I give you my word, I'm going to make sure I stick with it because it sits in my soul. As a pastor, I understand the compassion of people; as a police officer, I know how to deal with the B.S."
"If I got the courage to stand up against the police department, you best believe I have the courage to stand up to anybody else," Wooten said.
To that end, he proposes a stronger push for diversity and inclusion in the CPD, and an oversight board in each police district to monitor excessive force complaints. He also wants to take beat facilitators out of the department to create their own community organizations in order to improve the relationship between law enforcement and area residents. The change would allow CPD to do their jobs better, and people would be more willing to talk to a facilitator because they're just civilians, Wooten said.
He sees these as important first steps in rebuilding community trust, which, after last week's controversial conclusion of the Laquan McDonald case, is in short supply.
Wooten blamed Sawyer for the inundation of nail shops and liquor stores in the ward and envisions a more family-oriented community, with dine-in restaurants and supermarkets and "stores they need." He envisions STEM-focused elementary schools that stay open late to accommodate working parents, staffed by teachers that are being paid what they're worth.
This is Wooten's third and final run for office; if February 26 comes and he doesn't win, he's done.
"I'm still going to be me," Wooten said. "I'm not staying around in a mess. If people keep saying 'hey, I want mess,' that's called insanity and I can't be involved."
Deborah Foster-Bonner
For Deborah Bonner-Foster, economics is the key to making her ward great again. "Economics is the basis for everything," said Foster-Bonner, a lifelong Chatham resident and mother of one. "If you have a job—a living wage job—you're not as stressful at home. You need a living wage and benefits."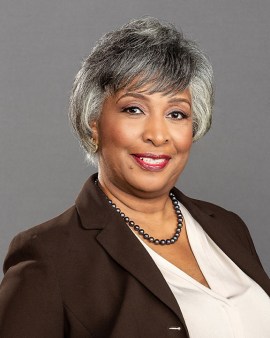 "Your job needs to be able to assist you…if you have benefits and the job is working with you, the job is part of the community and the job also understands why it's important that you be active in your child's school," she said. "So if you're active in your child's school, you're happier mentally at home because you're not worried about where your next dollar is coming from or how you're going to feed this kid."
Her reason for running? "Look around the area," gestured the Roosevelt University grad. "I'll let that stand for itself."
Slow economic progress, crumbling infrastructure, bad policing, unaddressed food deserts and an inaccessible alderman are among her main reasons for running.
Foster-Bonner, like Wooten, never set out for a career in politics and only did so at the urging of friends and family. Her community activism spans 30 years; from heading high school outreach programs as an Allstate accountant, to starting non-profit organizations (Friends of Mark Sheridan, Reunite Chatham) in order to help those most vulnerable.
If elected, she wants to help struggling entrepreneurs by creating an initiative that would give them the tools and guidance they need to be successful. She also plans on bringing in a food co-op in which residents would be able to invest time and money.
"People will be invested in its success because they'll be involved," said Foster-Bonner, who joined a North Side food co-op several years ago for research.
Community involvement is also the centerpiece of her public safety platform. An advocate of restorative justice for non-violent juvenile offenders, the candidate believes that the community is best equipped to police itself. Years after starting a neighborhood watch program, the CAPS beat facilitator negotiated a contract for 150 homeowner-owned security cameras on the south side of the ward; she said that CPD wants access to the feeds but she's lobbying to keep private.
"The police thought we were trying to catch them doing something. If you're not doing anything, there's nothing to catch. At the end of the day, we just want everybody to get home," she said.
This is Foster-Bonner's first and last run for public office, but she plans on remaining active in the community.
"If I can't win, then that means that it was meant for someone else and I wasn't the one," she said. "And I'll find someone to support."
Do stories like this matter to you? Subscribe to Block Club Chicago. Every dime we make funds reporting from Chicago's neighborhoods.