CHICAGO — Christopher Harris is singlehandedly creating one of the most popular wig businesses for the country's top drag queens.
Harris, 33, of Uptown, started his wig-making and -styling business, Haired by Harris, in 2016. In just a few years' time he's managed to get his wigs onto the most famous drag queens in the world, including actress and "Drag Race" staple Shangela and local stars Shea Coulee and The Vixen. Haired by Harris has appeared on TV, in commercials and on stages across Chicago.
Sales for Harris, who runs all of Haired by Harris by himself, doubled in 2018, and he said his small business is getting busier every day — which he's happy about, even if it means he doesn't get much time to rest.
"I really love hair, so when I'm starting a wig I don't consider that work," Harris said. "In a couple years I'm going to look back at this chapter of my life very fondly and be happy that I worked as hard as I did during this time 'cause it's gonna pay off."
'MacGyver' With Wigs
Harris, a native of Oswego, moved to Chicago 11 years ago and one of his first jobs was in a bar where drag queens performed. The job meant he met Chicago's drag performers even as "RuPaul's Drag Race," a competition show for drag queens, premiered and began to make drag queens into international stars.
Harris quickly fell in love with drag, he said, calling it an "art form."
"Just seeing the passion they had for their craft and the transformation that they could achieve by just the right wig and the right makeup always just caught my eye," Harris said.
Harris, who studied cosmetology after a childhood of learning about hair from his three sisters, worked as a hairstylist in the years that followed, but around 2016 he found himself looking for ways to get more creative.
"I wasn't feeling as inspired behind the chair, so I was trying to come up with an idea and a concept of how I could still do hair and still be professional," Harris said. "I decided to go back to my love of drag and the transformation of it."
Not interested in doing drag himself, Harris used what he'd learned in cosmetology school to start fashioning wigs that could be worn by drag queens. He dubbed his new business Haired by Harris.
In those early days Harris was a "MacGyver" when it came to making and styling wigs, he joked, but his skills improved with time and practice.
"One hundred fifty wigs later, you kind of get your groove in it," he said, laughing.
RELATED: RuPaul Fans: One Of Drag's Most Iconic Photographers Lives In Lakeview
Eager for more work, Harris started reaching out to drag queens and their management teams with information about his wigs. He got more attention through their word-of-mouth recommendations, and he started working conventions to sell even more of his wigs.
From there, things "snowballed into what [the business is] becoming," Harris said.
Harris' first big "get" was Tatianna, an East Coast-based drag queen who appeared on the second season of "RuPaul's Drag Race" and gained even more attention during a 2016 run on "Drag Race: All Stars."
As Tatianna was trying to claw her way to the "All Stars" crown and making appearances after the show, she was donning Harris' custom wigs.
Now, Harris' hair is used by queens throughout Chicago and he estimates about 35 percent of his wig sales are based out of Chicago alone.
Harris' clientele also includes famous out-of-towners like drag queen Shangela, who appeared in "A Star is Born" alongside Bradley Cooper and Lady Gaga. Shangela donned Harris' wigs during more than 150 performances while touring last year, Harris said.
Discovery Clothing also uses Harris' talents, with him doing hairstyling for the models  who appear in photos on Discovery's website, email newsletter and in its social media.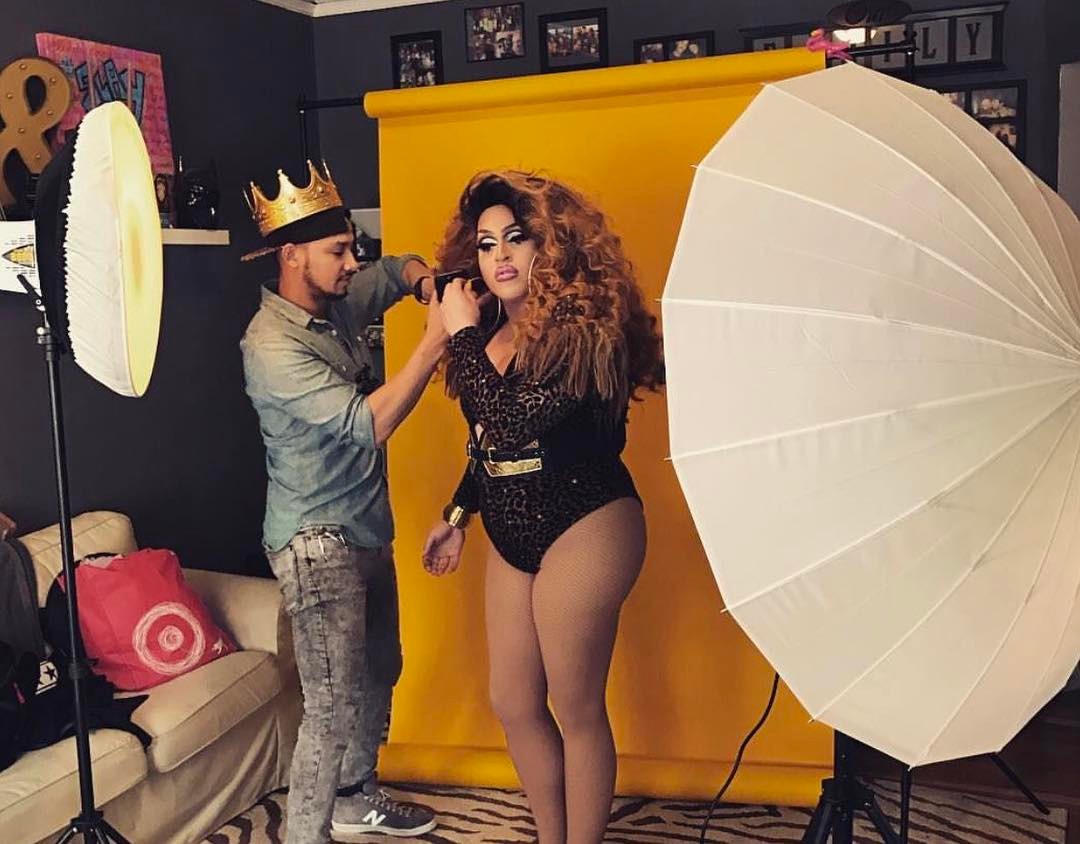 'Jack-Of-All-Hair-Trades'
What sets Harris' wigs apart from others is his aesthetic, he said: He can do anything for custom orders, but Harris' wigs tend to mimic "real-life, cisgendered [female] hairstyles," he said.
Harris also tries to create wigs that reflect the textures and styles of people of color, he said.
"I feel like there is a gap [for minority-based hairstyles], especially in the drag market," Harris said. "Having that viewpoint and sticking to it has allowed me to stand apart from a lot of other wig-styling companies."
Harris personally creates human hair wigs and styles synthetic wigs from his at-home workspace. He blasts music and sits with his 2-year-old pitbull, Babs, while patiently sewing together bunches of hair or creating just the right type of wave in a wig.
Some of the wigs are done on commission, and Harris, who described himself as a "Jack-of-all-hair-trades," works with clients to create styles based on their ideas or photos they provide as inspiration.
Harris sells a wig about every two and a half days, he said. They typically cost $135-$225 depending on the style and length.
The popularity of Harris' wigs means he's had to limit some orders so his quality will remain consistent — after all, he manages everything from the wig-making to the branding to the packaging and shipping by himself.
That commitment to Haired by Harris and the ballooning popularity of drag mean Harris is certain his business will grow if he continues to put in hard work, he said.
"You have to strike when the iron's hot," he said. "The drag movement is progressing."
And he has a secret weapon to keep himself going: "a lot of coffee and a lot … yeah, a lot of coffee," Harris said.
Seeing his wigs on TV and in movies (Shangela wore a Harris wig in the movie, "Hurricane Bianca 2″) has been especially inspirational for Harris, he said, and those successes have encouraged him to keep working and grow his business.
It's "very surreal to know you made something in your workspace and now it's being seen by millions. I think the growth we had within our company last year made for a very prideful moment," he said. "No matter how nerve-wracking or nervous you get, you have to have 100 percent confidence in the fact that, in the end, it's all going to work out."
Do stories like this matter to you? Subscribe to Block Club Chicago. Every dime we make funds reporting from Chicago's neighborhoods.