LINCOLN PARK — A key city commission on Thursday is expected to consider newly-released plans from Sterling Bay that will transform the North Branch's riverfront, just five days after the developer released its new master plan for the 55-acre development.
Ald. Brian Hopkins (2nd) on Saturday came out in favor of the new plan, which scrapped a Live Nation music stadium and a soccer field after community blowback. 
Despite calls from multiple community groups, neighbors and business owners to slow down the process and hold more public meetings on the new plans, Hopkins said the development will remain on the Plan Commission's Thursday agenda. 
"I'm prepared to support this before the Plan Commission on Thursday," Hopkins told the Chicago Tribune.
A petition calling on the city to slow down plans for a $900 million taxpayer subsidy for the development had more than 6,000 signatures as of Tuesday night, according to the Chicago Independent Venue League, a group of music venue owners.
The group urged those opposed to the development – or what they called a rushed process – to attend the Plan Commission meeting at City Hall at 10 a.m. Thursday. 
Before a City Council meeting Wednesday, Ald. Scott Waguespack (32nd) joined the chorus of those who want to delay the Lincoln Yards approval process.
Waguespack's comments came after a shocking Sun-Times report that revealed Zoning Committee Chair Ald. Danny Solis (25th) wore a wire for the FBI in their investigation into former Finance Committee Chair Ald. Ed Burke (14th).
"We now know that Ald. Burke was quietly representing the developers in this deal," Waguespack said in a statement. "We know that the Emanuel administration intended to put this project before Ald. Solis' Zoning Committee in short order. There are too many troubling questions and potential conflicts bound up in this multi-billion dollar proposal. It is the fruit of a poison tree."
Once the commission approves the plan it will go before the City Council for a vote. Typically in Chicago, what the loal alderman says goes. 
Based on the new drawings, there now appears to be an open-air amphitheater in the project. Sterling Bay said Wednesday "there is no stadium in Lincoln Yards," calling the area an "activated Riverwalk with green space."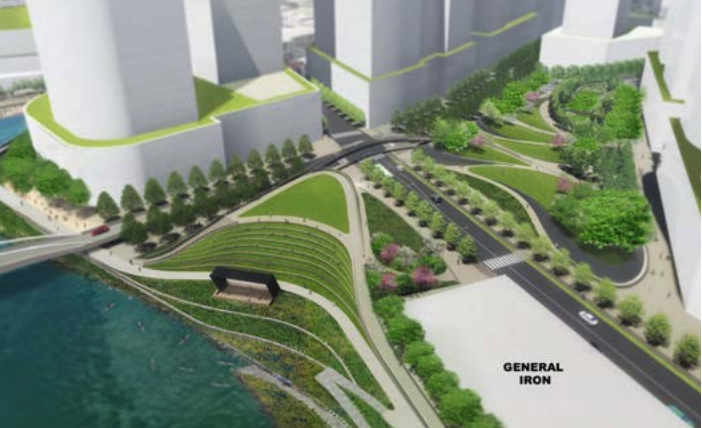 Hopkins told the Tribune he doesn't plan to hold another large scale community meeting on the project, though he'll have smaller meetings with community groups about the project.
Hopkins has not returned multiple calls to answer Block Club's questions about the development.