ENGLEWOOD — It is a brief respite, a much-needed break in routine. An opportunity to recharge, a moment to appreciate the beauty of words.
Each month, a group of folks from various parts of the city meet in a little Englewood coffee shop to break bread and pore over the work of a writer who is as relevant today as he was during the height of the Harlem Renaissance — Langston Hughes.
"Coffee With Langston" is a conversation, a therapy session, an event where strangers become friends who form lifelong bonds.
The cultural coffee klatch is the creation of Erika Dudley, of the Civic Knowledge Project with the University of Chicago's Office of Civic Engagement. In its fourth year, "Coffee With Langston" participants meet the third Wednesday of each month from October to June at Kusyana Cafe, 825 W. 69th St. — rain or shine — to dissect and debate a poem selected by Dudley.
The event is part of an ongoing series, Poetry in Public, which includes Everyday Shakespeare at Floriole Cafe in Lincoln Park (currently in its fifth year), and Poesía|Poetry at La Catrina Cafe in Pilsen (currently in its third year).
On this day, four of the "Coffee With Langston" faithful come out on a mild winter day for fellowship and "Jazzonia," a poem originally published in a 1923 issue of Crisis Magazine. A couple of other regulars are on vacation in Florida.
Dudley is the hostess with the mostest, one who believes in a full sensory experience. A small poinsettia sits next to a dainty cutting board filled with halves of pears and tangerines, which are soon joined by oversized cups of latte. The ambient background conversation, the De La Soul joint playing at a non-obnoxious level? All adds to the fun.
"We've been as few as two and as many as 14," said Dudley, who is a former community organizer. "I always like that there's always someone new."
"I come to all sorts of amazing things because of Erika," said Joanie Friedman, Executive Director of Civic Leadership with U of C's Office of Civic Engagement, who has known Dudley for 12 years. "She's one of my favorite minds and hearts on the planet. It gives me a reason to come to Englewood."
Dudley said she found that people love thinking about the arts, and especially literature and poetry, but don't really have an opportunity or a forum to discuss it outside of a class.
"I wanted something where we can dive as deeply as we wanted, or be as superficially or surface — which has never been the case. We always dive quite deeply," Dudley said.
A coffee shop setting seemed like a natural fit. Sometime in the early 2010s, Dudley had befriended Kusanya Cafe owner Phil Sipka, then a barista at Robust Cafe in Woodlawn. The two would spend the next three years talking about poetry, and a shared vision of a community-driven cafe that would offer a comfortable space where people could discuss music and poetry.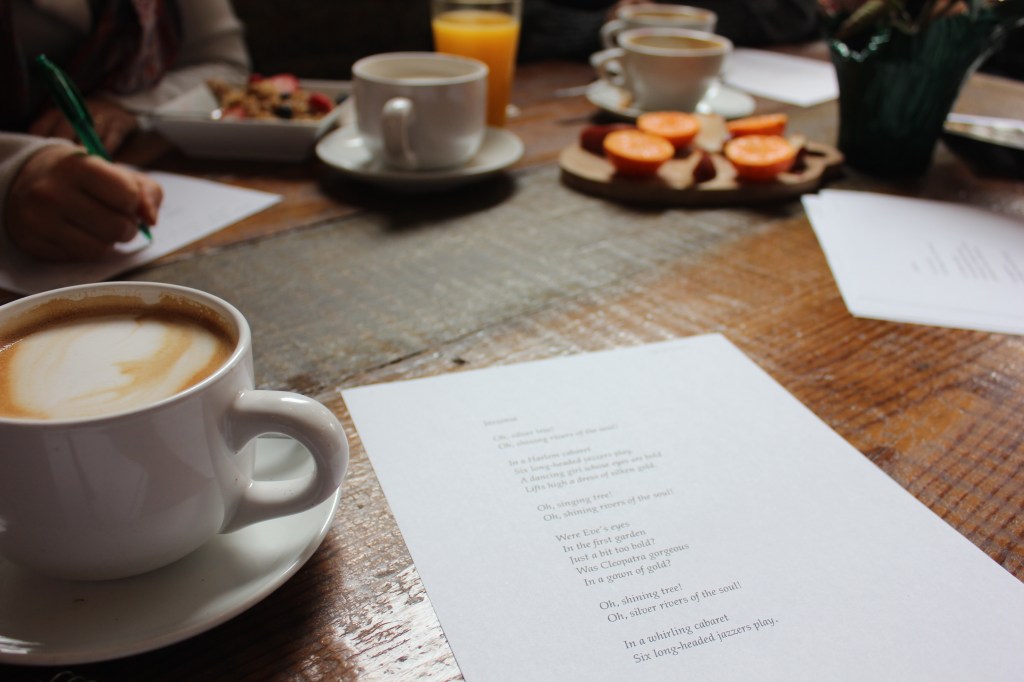 "I loved that there was someone behind the bar who had all these ideas and opinions but connected the humanities to coffee," Dudley said. "We wanted it to be in a cafe where people are familiar with the format, the vibe, and had an informality that encouraged people to stay as long as they want without feeling rushed, and if you're able to relax and be in the company of other curious people, you can have this outstanding experience. I couldn't think of a better place."
The choice to celebrate the work of Langston Hughes was also an easy one.
"I wanted to think about and talk about a poet of color, and it seemed very natural to think about Langston Hughes, who although is associated with Harlem, was actually a lecturer and Poet in Residence at the University of Chicago's [Laboratory Schools]," said Dudley, herself a former Interpreter in Residence at the university's Smart Museum from 2015-1016. She believed that Hughes' Chicago connection would allow her to bring people from around the city together to look at all his poems over time.
This is Jill Potter's second year attending the series, and it appears to be one of the best decisions she's ever made.
"Poetry wasn't something I did in my personal time, but reading it with other people really enhances the experience," said Potter, who is the Director of Programs at Urban Gateways, a nonprofit that makes art and culture more accessible to children and teens from marginalized communities. "I like that it's in the middle of the week because it forces me to stop and recharge, and be in a moment with other people to experience something in a whole new way."
For Celia Campos, an Englewood resident whose been coming for three years, it gives her a reason to get off Facebook and go outside.
"If I had to read a poem on my own, I wouldn't do it," said Campos, who enjoyed the series so much that she brought her sons to a few conversations. "I would just look at it and say, 'ok'. It's another way of spending time…kinda opens my thoughts."
Being friendly and accessible has allowed the group to welcome a number of people coming through Kusanya's door, including the owner of a suburban horse ranch who hosts his own program at the cafe, and a mayoral candidate who shall remain nameless. "We had so much campaign swag," laughed Dudley. "Pins, buttons, everything. But strangers just come in and join us, and it's because we're in a space like this."
For more information, Erika can be reached at edudley@uchicago.edu. 

Do stories like this matter to you? Subscribe to Block Club Chicago. Every dime we make funds reporting from Chicago's neighborhoods.