IRVING PARK — For the first time ever, the Irving Park neighborhood has a permanent public library.

The newly constructed Independence Library branch, located at the former site of the Hollerbach Funeral Home at 4022 N. Elston Ave., opened to the public Tuesday. 
The new building, part of a $23.6 million project, took four years to complete and includes flexible space for meetings or independent study, a graduated seating staircase and adult stacks on the library's second floor. The affordable senior housing above the library — a key part of the project — is still under construction.

Boasting an open floor plan with plenty of natural light, it's a space parents will look forward to bringing their families to, Irving Park parent Gretchen Siffring said.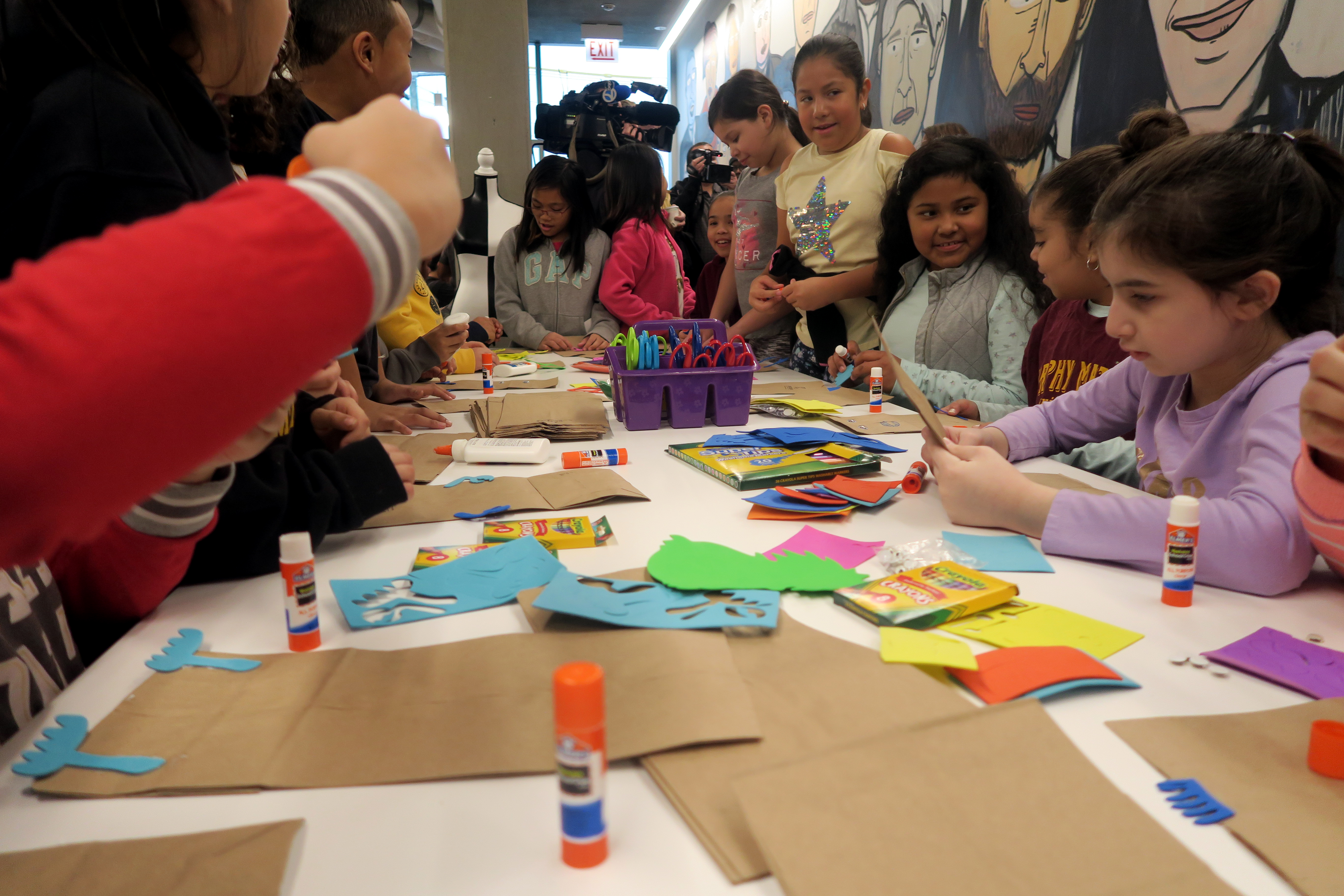 "I'm thrilled with this. I love the design. I love the space. It's so much bigger on the inside than I thought it was going to be," said Murphy Elementary parent Kristen Holub, who attended the grand opening with her children.
With the Irving Park library closed, she had been carting her kids to the library in Albany Park.
"We're just so happy that we can walk to the library again," she said. 

Students from John B. Murphy Elementary, 3539 W. Grace St., tested the children's area on the first floor at Tuesday's grand opening.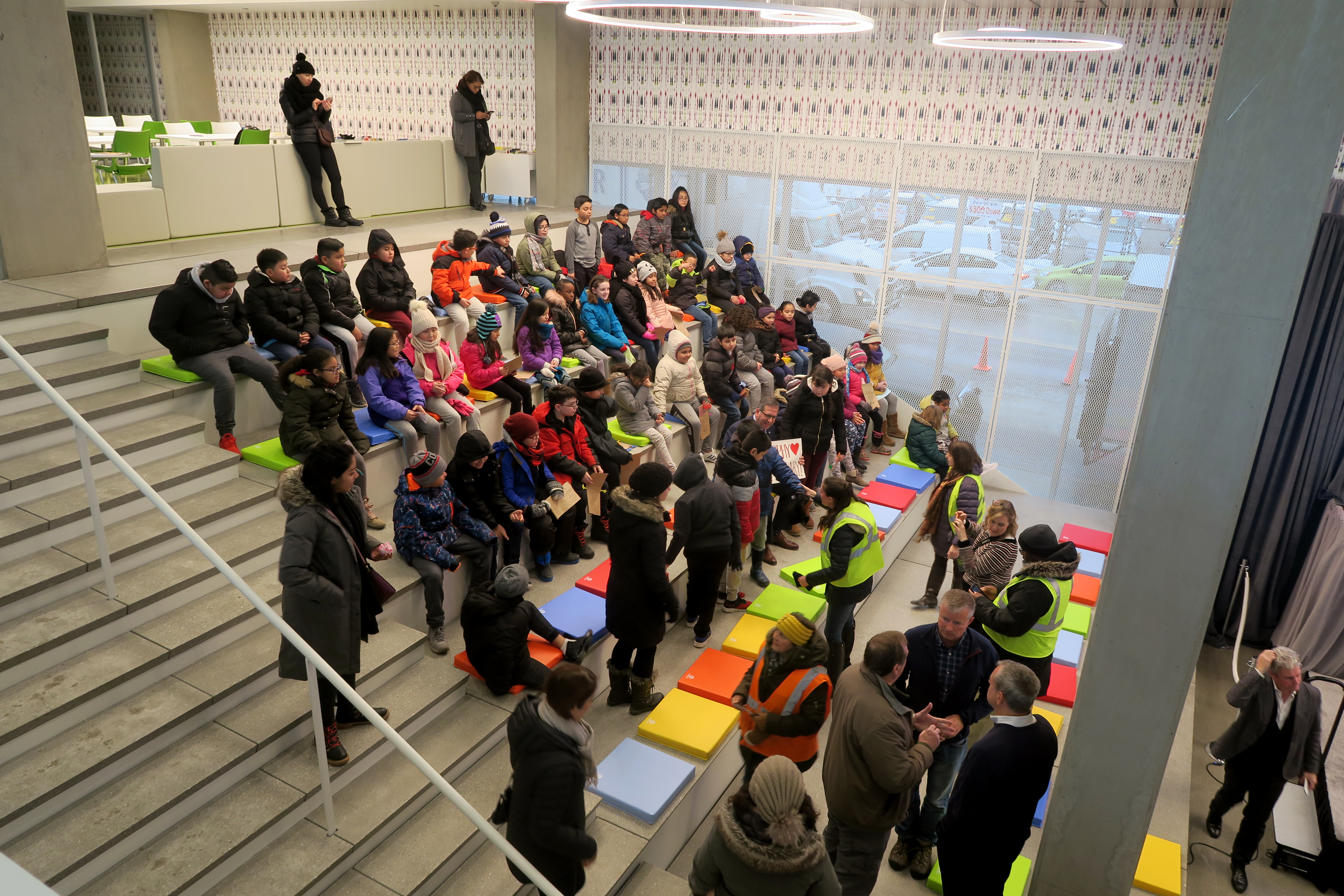 RELATED: After More Than A Century, Independence Library Gets A Home Of Its Own

The Independence Library's amenities include an early-learning play space designed to help kids develop literacy skills and a YOUmedia space which allows teens to explore digital design, music and recording technology. 

The library's CyberNavigator program will allow adults hoping to learn basic computer skills or apply for a job online to work with tutors to brush up on their digital skills like resume writing, interview prep and other industry-specific skills.
The new Independence Library branch is one of three branches that were built as part of an arrangement between the Chicago Housing Authority and Chicago Public Library to locate libraries within new mixed- or low-income housing developments.
The new building is being financed through an arrangement with the Chicago Housing Authority and relies on funding from federal sources and tax credits. 
Once the Independence Apartments are completed, they'll provide a total of 44 senior apartments, including 30 public housing and 14 affordable unit above the library. The branch was designed by John Ronan Architects and constructed through a partnership with Chicago Housing Authority and Evergreen Real Estate Group. The general contractor is Leopardo Companies, with Evergreen Construction Company assisting.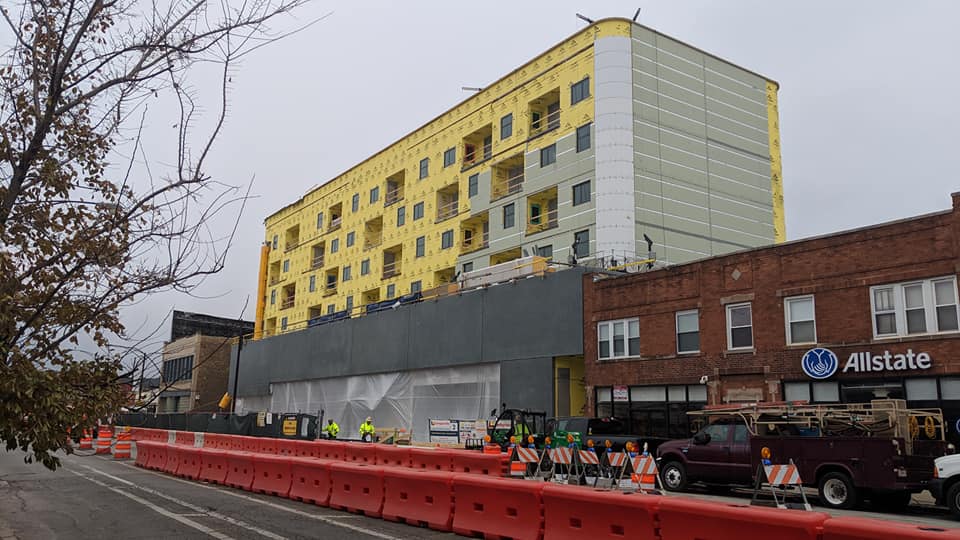 Mayor Rahm Emanuel, who attended a ribbon-cutting ceremony at the library Tuesday, said the city's new libraries with affordable housing are "breaking the mold." 
"If it wasn't for the fact of CHA's resources, we wouldn't be here. Public libraries don't have a capital budget like schools or like CTA or like parks," Emanuel said. "We required innovation, creativity and then the crisis of the moment, the fire, to rethink how we actually do things."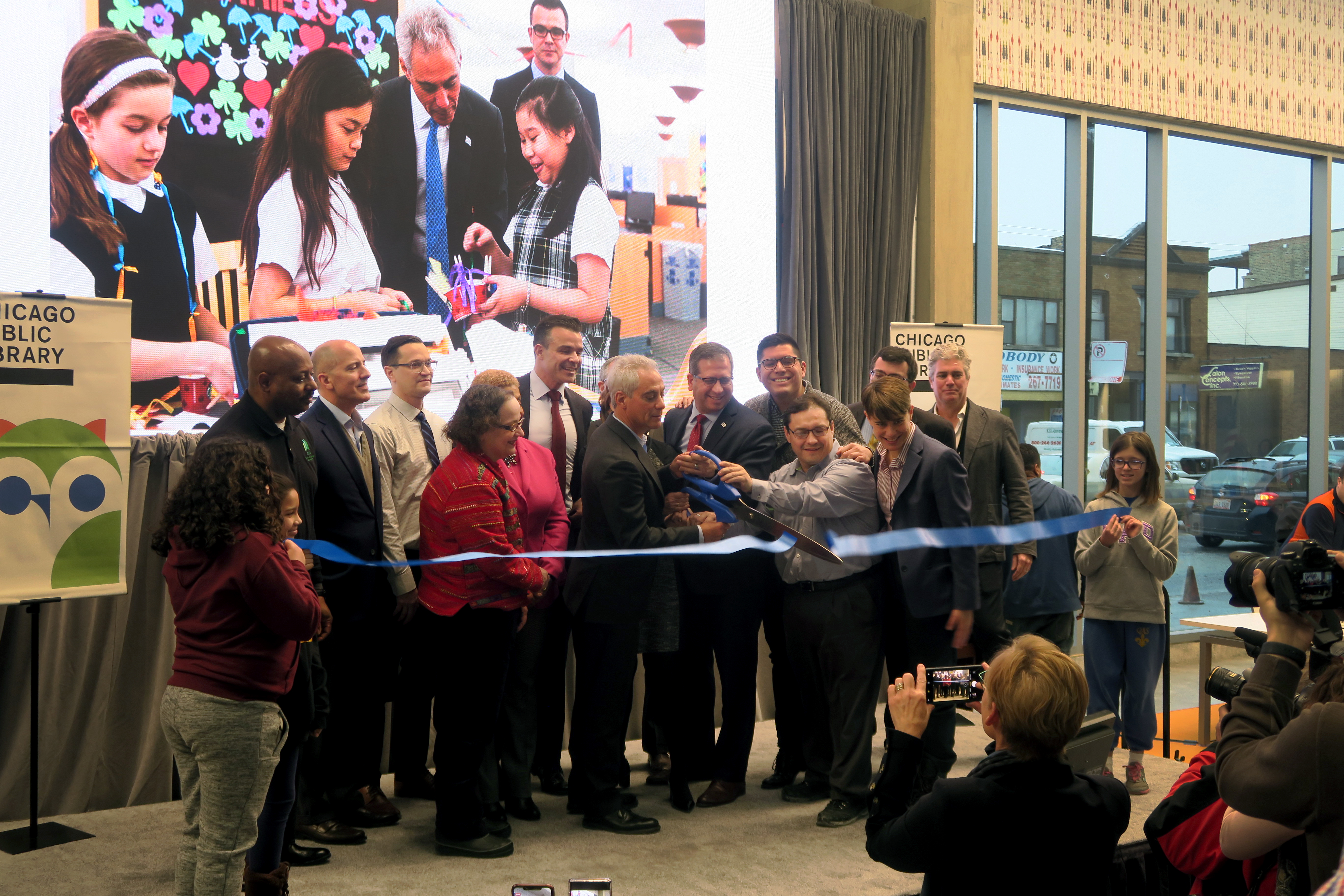 During his remarks, Emanuel couldn't help but make a dig a the current federal shutdown, saying the community benefits agreement that allowed federal funding to go towards the city's new library developments were one of the last things signed by Obama-era Housing and Urban Development Secretary Julian Castro.

"That's the benefit to having an administration that actually is open for business and willing to make investments," Emanuel said. "That was a totally gratuitous shot but I really feel better having said it. Washington D.C. may be closed but the Independence Public Library is open."

As Emanuel spoke the sound of construction crews could be heard echoing from the library's ceiling. The apartments, which are still under construction, began accepting applications last month.
Eugene Jones Jr., Chicago Housing Authority CEO, said the project is about three weeks behind schedule. 
"I'm going hear about that. But be that as it may, I'm just proud to be here in front of you to just be honored to do something for this community in this big way," Jones said.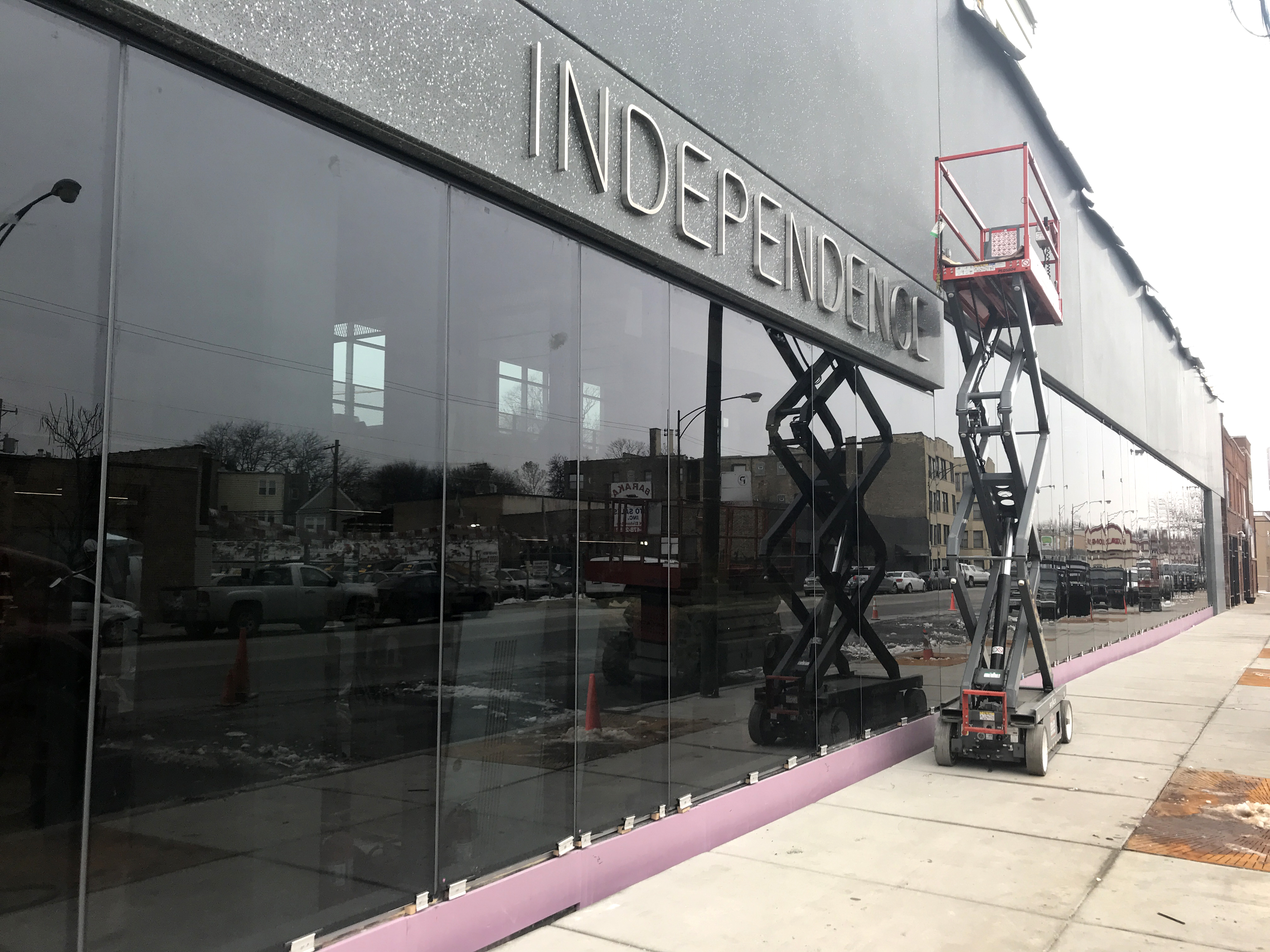 Independence Library history
While a fire destroyed the storefront Independence Library branch four years ago, the Independence Branch Library has waited more than 130 years for a building to call its own.
RELATED: Fire Creates 'Book Desert'; Neighbors Say New Library Long Overdue
The library began as the Irving Park Woman's Club literary society in 1888. Starting in 1901, each club member was asked to donate one book or magazine to form a circulating library, according to the Chicago Public Library.
By 1913, the club opened a library at the Independence Park field house, 3945 N. Springfield Ave. The library was located there until about 1928 and eventually moved to the brick storefront at 3718 W. Irving Park Rd., which is now Keller's Martial Arts, throughout the late 1980s and early 1990s.
On July 15, 1995, the library moved again, this time into a commercial storefront property at 3548 W. Irving Park Road. This space eventually caught fire in 2015.

After the fire, local schools, community groups, park advisory councils, Friends of Independence Library and active neighbors organized for a permanent library branch.

Now that's it's open, Independence Library will host a family day with live music and activities on Feb. 9. The event begins at 10 a.m. and more information can be found by visiting the library's website.
Do stories like this matter to you? Subscribe to Block Club Chicago. Every dime we make funds reporting from Chicago's neighborhoods.