SOUTH LOOP — SUE the T. rex, the Field Museum's sassiest dinosaur, has a new sidekick.
Well, "new" might not be the right word.
Teeth from an ancient shark that would have lived during the same time period as SUE the T. rex were found amid dirt collected with the dinosaur's bones, the Field Museum announced in a news release.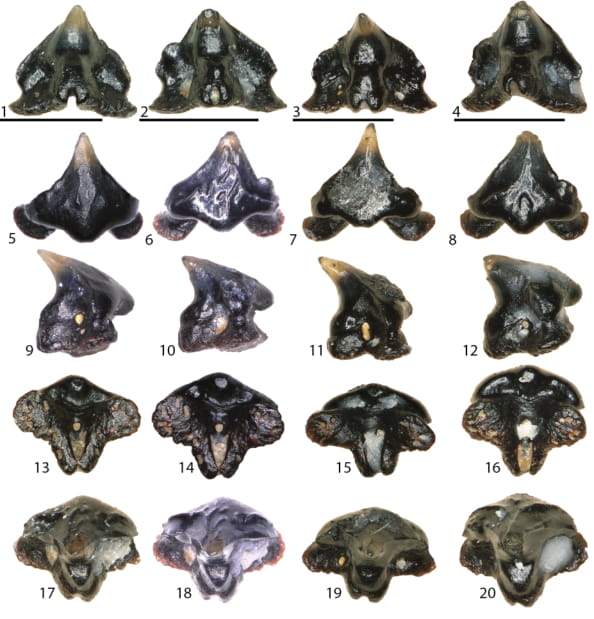 Museum volunteers and scientists have been sifting through the sediment that surrounded SUE's bones and recently found the millimeter-wide shark teeth, according to the Field. That means there was a shark living in the river that SUE probably drank from.
The shark would have been less than 2 feet long, had a flat face and was probably camouflage-colored, said Pete Makovicky, the Field's curator of dinosaurs.
RELATED: SUE The T. Rex Is Back At The Field Museum With A Huge New Suite (PHOTOS)
"This shark lived at the same time as SUE the T. rex. It was part of the same world," Makovicky said. "Most of its body wasn't preserved because sharks' skeletons are made of cartilage, but we were able to find its tiny fossilized teeth."
The newly discovered shark has been dubbed the Galagadon nordquistae in tribute to Karen Nordquist, a Field volunteer who first discovered the fossils.
"Most people, when they think of fossils, think of big huge dinosaur bones, but in the dirt, there are the bones of tiny animals," Nordquist said, according to the Field. "When you get those bones and identify them, you get an idea of the whole environment — everything that lived with the big dinosaurs."
The fossil's name also references the famous '80s game "Galaga" since the shark's teeth, which are a "stepped triangle shape," resemble the spaceships from the game, according to the Field Museum.
And SUE's friend is changing what experts thought they knew about the dinosaur's environment, museum officials said. Experts had thought SUE's lake had been connected to a partially dried river, but the Galagadon fossils show marine animals like the shark must have been able to make their way upriver to the lake.
(And no, it's not possible the shark was brought to SUE's lake through "some 'Sharknado' event," Makovicky said.)
"Every species in an ecosystem plays a supporting role, keeping the whole network together," said Terry Gates, the lead author of the paper describing the shark, according to the Field Museum. "There is no way for us to understand what changed in the ecosystem during the time of the mass extinction at the end of the Cretaceous without knowing all the wonderful species that existed before."
Do stories like this matter to you? Subscribe to Block Club Chicago. Every dime we make funds reporting from Chicago's neighborhoods.