AVONDALE — In the lead-up to the holidays, seventh graders at Avondale's Reilly Elementary School wrote letters — not to Santa, but to Chicago police officers. 
In them, the students explained who they were and what they wanted for Christmas. Emilio Hernandez, for example, asked for hand warmers. The 13-year-old said his mom is cold when she takes the bus every day to her factory job in suburban Des Plaines.
Hernandez got his wish and then some Monday morning as he unwrapped a big box of hand warmers for his mom — and a soccer ball for him — in the school cafeteria alongside his classmates.
"They went out of their way to get us gifts. They didn't know us or anything, but they got us stuff that we needed," Hernandez said of the police officers. 
Hernandez was among nearly 50 students who unwrapped holiday gifts Monday. The gifts were picked out by a group of Chicago police officers who are all members of the Latino fraternity Sigma Lambda Beta.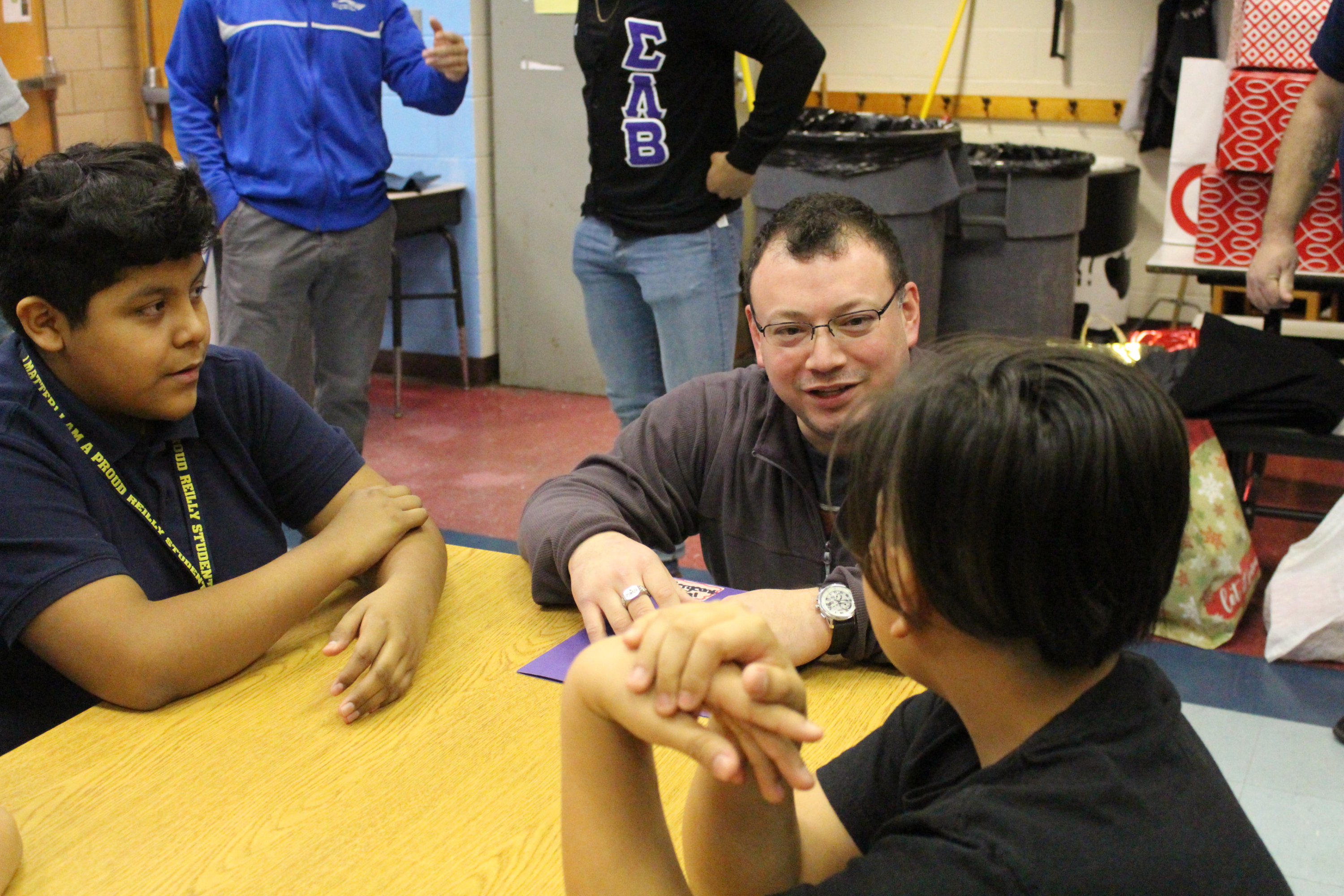 The tradition started two years ago. It was spearheaded by seventh grade teacher Mario Rueda and his friend and fraternity brother Officer Noe Zuniga.
 Zuniga, who grew up in Portage Park and attended Chicago public schools, said he relates to the students. The Avondale elementary school, 3650 W. School St., serves students from mostly low-income Latino families. 
"I saw firsthand that some of these kids come from really tough neighborhoods and tough family structures," said Zuniga, who currently works in the Calumet (5th) District on the Far South Side.
"I understand that something small — a small gift — can go a long way. It makes a big difference for these kids." 
The past two years Rueda and Zuniga had an arrangement in which Rueda would ask about five or six needy students to write letters to Zuniga, and then Zuniga would deliver holiday gifts to the kids after Christmas.
But this year Zuniga enlisted the help of his fellow officers and fraternity brothers. Each officer had his own group of five or six students. Nearly 50 students benefitted from the program, which Rueda described as an "amazing act of kindness."
Alejandro Cabral, who currently works as a sergeant in the Gresham (6th) District on the South Side, was among the officers who participated. 
Like Zuniga, Cabral said the students remind him of himself.
"I know what it's like to not get a lot of presents," said Cabral, whose parents moved his family to Chicago from Mexico in 1985.
"This gives me a chance to give back, but also to know what it's like to be on the other side, to be able to share the good that I have now with other kids." 
Zuniga grew up with Officer Samuel Jimenez, who was shot and killed in November when a gunman opened fire at Mercy Hospital. They played football together at Foreman High School.
Zuniga, who at 29 is only a year older than Jimenez was, said events like these remind him why he became a police officer as he struggles to make sense of the recent tragedy.
"All I can do now is continue putting on the uniform and make him proud. [Jimenez] would definitely be involved in something like this," he said.
Do stories like this matter to you? Subscribe to Block Club Chicago. Every dime we make funds reporting from Chicago's neighborhoods.