UPTOWN — Some neighborhoods have famous dogs, others have celebrity cats. Buena Park in Uptown has Rosie the Pig.

Rosie is a 100-pound pig with coarse white hair and a penchant for fresh fruits and vegetables.
On hot summer days, she likes to sun herself in a fenced-in yard facing West Hutchinson Street. In the winter months, she's usually cooped up inside her toasty "pig condo" in the garage, napping away the hours between meals.

While that's a pretty normal routine for a pig, it's one that generates plenty of interest throughout the neighborhood, according to owners Bill and Candice Lucas.
"It's kind of unique," Candice Lucas, 35, said. "A lot of people have dogs and cats, but you don't really see a lot of pigs in the city of Chicago."

Rosie, who turned six in September, has her own Facebook page with more than 900 followers. Her updates, courtesy of Bill Lucas, routinely generate dozens of likes and spur on plenty of in-person visits. Her smiling visage is also emblazoned on a community mural inside the Buena Avenue Underpass which runs beneath Lake Shore Drive.

"It's just unusual," Bill Lucas, 54, said. "And everybody likes a petting zoo. People in this neighborhood get to pet a pig."

On nice days when Rosie is out and about, people like gather at the foot of the driveway to give Rosie a hearty scratch through the fence or watch her eat out of a big metal bowl — and Rosie loves to eat.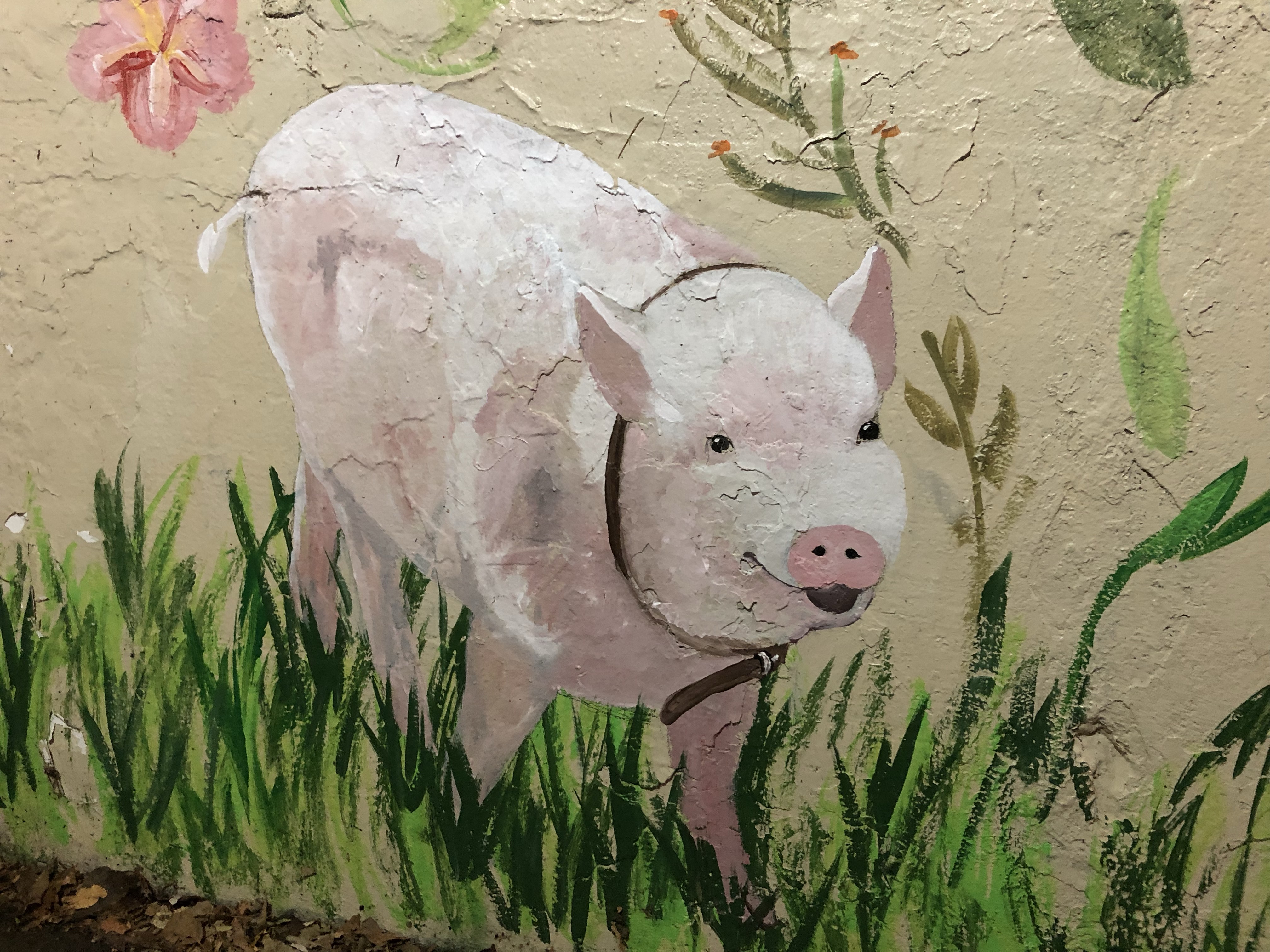 "I go to Costco every week and buy $45 worth of spinach, carrots and tomatoes, and then we throw all of our table scraps into her feed," Bill Lucas said. "She gets her three meals a day, and nothing is ever left behind."

Her favorite treats include grapes, strawberries, avocados and peanut butter. There are a few things Rosie isn't fond of, however. She doesn't like to eat onions, mushrooms, or cruciferous veggies such as broccoli or cauliflower, and the Lucases avoid giving her table scraps that are too salty or spicy. And, no, Rosie doesn't accidentally dine on any long-lost cousins, as the Lucas family household abstains from pork products out of respect for their portly pal.

Rosie first moved to the neighborhood six years ago, shortly after Bill and Candice decided they wanted a pet pig. The seed was planted after the couple went apple picking at a suburban farm that held piglet races every year.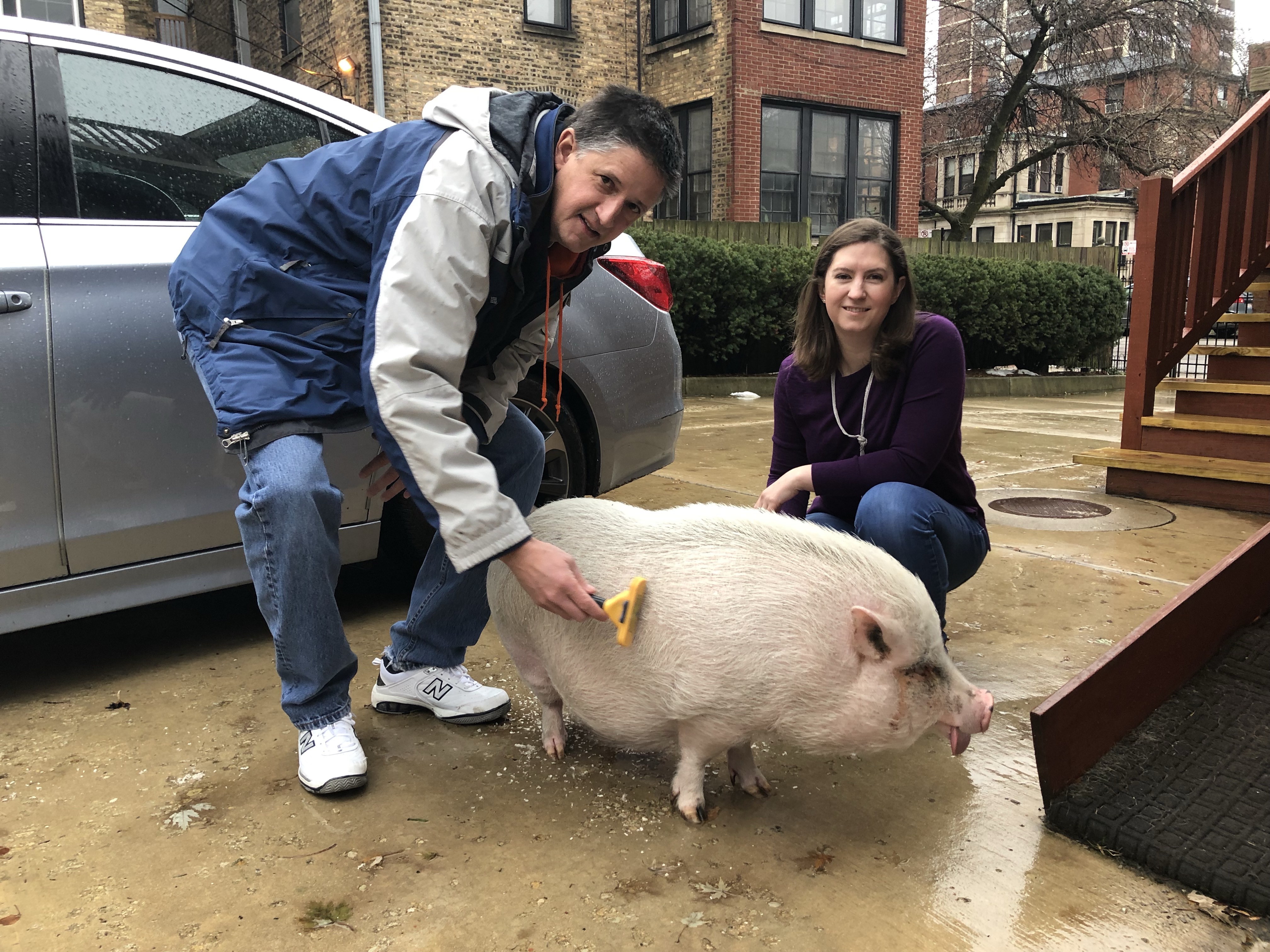 "We were driving home, and we were like, I've heard pigs are really smart and easy to train and make good pets," Bill Lucas said.

So, the Lucases did some research and ended up at the doorstep of a pig breeder near Indianapolis.

"I told Bill I wanted a pink pig, and the breeder was like, 'Pink pigs don't exist,' " Candice Lucas recalled. "'You want a white pig. It's the hair color.'"

When the couple laid eyes on Rosie, the match was almost instantaneous. And much to their delight, the little piglet was indeed pink in hue — and the name Rosie stuck.

"We just looked at her and said she's rosy, because she was very pink-looking," Bill Lucas said. "She didn't have as much white fur as a piglet, so she looked very pinkish."

Rosie took to her new life relatively quickly. She was potty trained almost from the start — a litter box as a piglet, then outside in the yard — and became fast friends with the couple's late chocolate lab, Roark. But there were also a few hiccups along the way. She didn't eat for the first 48 hours at home, prompting some concern from the Lucases. Then there was the time she ate a poisonous mushroom and took ill. And, over the years, Rosie got a little bigger than the couple expected her to.

"I would say after one year she was probably around 25 pounds, and we thought she was done," Bill Lucas said. "And then after two years she was around 60 pounds and we were positive she was done, and after three years she was 100 pounds."
According to the Best Friends Animal Society, those looking to get a "teacup" or piglet of their own should know: there is no such thing. Like Rosie, most "miniature" pigs grow to be 100 to 200 pounds — they don't stay little forever, despite what some breeders might claim. 
Rosie has also escaped three times over the years. Once, Candice pulled into her driveway to find her pet pig wandering down the street in front of her house. At 100 pounds, Rosie is not easy to pick up and lug back, so Candice had to improvise.

"There was this guy passing by with a bag of potato chips. And I'm like, please can I have some potato chips?" Candice said, laughing. "And so, we lured her back into the yard with the chips."

These days, Rosie is content just rooting around in her yard, doing pig stuff. But as a local mascot, she means a lot to the neighborhood, and that in turn means a lot to Bill.

"One of the coolest things about having Rosie is when you see some parent at the bottom of the driveway with two kids, and they'll say, can we meet the pig?" Bill Lucas said. "So … I'll throw some carrots at the bottom of the driveway so Rosie will come out, and they'll say, you just made my kids' day. And that's what's wonderful to me."

Smaller pigs have a lifespan of around 12 to 15 years, meaning there's likely many more years of porcine parenting ahead for the Lucases. But as rewarding of an experience as having Rosie is, Bill thinks she'll be the one and only pig for him.

"I am glad we have had her. It's been an incredible experience and I love her to death," Bill Lucas said. "But, it's hard to vacation. So, Rosie will be the one and only. We'll get a yellow lab next."
Do stories like this matter to you? Subscribe to Block Club Chicago. Every dime we make funds reporting from Chicago's neighborhoods.