This story was produced with data from ProPublica Illinois' The Ticket Trap, a new resource that allows users to search and compare where parking tickets are issued in Chicago.
CHICAGO — Black and Hispanic residents in some of the city's poorest neighborhoods are being heavily ticketed by Chicago Police, newly released data shows.
A new database of tickets from ProPublica Illinois shows that of the 19 wards where police are giving out most of the tickets that are issued, all but two have majority black and/or Hispanic populations. The database contains information on millions of parking, standing and vehicle compliance tickets issued over the years.
The outliers are the mostly white 19th Ward on the city's Southwest Side and 41st Ward on the Northwest Side, known for being home to many Police and Fire department employees. 
The 37th Ward — where nearly every resident is black or Hispanic — on the city's West Side is the one hit hardest by police ticketing, according to a Block Club analysis of the data. In the ward, which includes parts of Austin and West Humboldt Park, 80 percent of the 176,800 tickets issued between 2013 and 2017 came from police officers.
In comparison, police gave out just 39 percent of all the tickets issued citywide during that time period, with the other tickets dished out by city parking enforcement aides or contract workers. 
In response to the data, Chicago Police said the officers issue tickets without bias. 
"They have no way of knowing the occupation, age, gender, race, ethnicity or other identifying characteristic when assigning a parking/non-moving violation of a vehicle," Luis Agostini, a Chicago Police spokesman, said in a statement.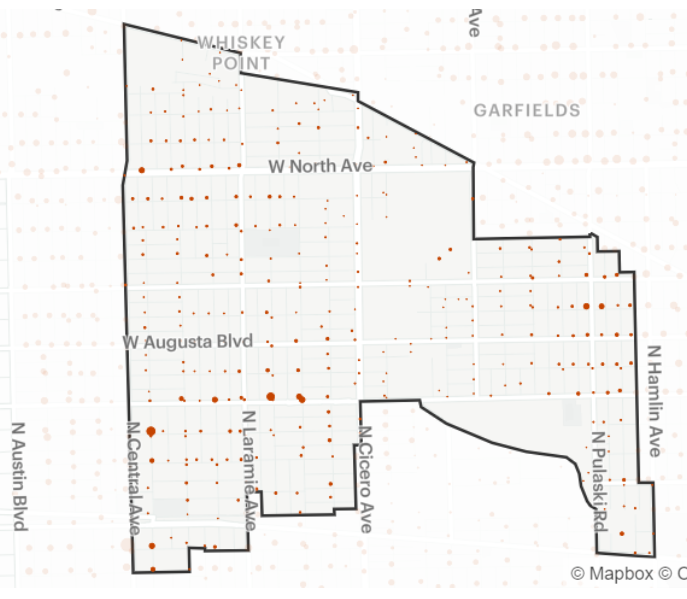 More officers, few meters
The wards where most of the tickets are issued by officers — like the 37th on the city's West Side and the 34th, 16th, 20th, and 6th on the South Side — tend to have more officers deployed to them, which could account for the number of citations from officers there, police said.
Aside from officers, tickets can be issued by parking enforcement aides, private contractors and others. But those non-officers have far fewer opportunities to issue tickets in the 37th Ward and other wards on the West and South sides than they do on the North Side.
A map from Chicago Parking Meters, which operates the city's pay boxes for street parking, shows the company has few meters in the 37th Ward compared to other wards — providing fewer chances for parking enforcement aides to issue tickets for expired meters.
Just 0.28 percent of the 37th Ward's tickets from 2013 to 2017 were for expired meters, according to the data. That's significantly lower than the per-ward average of 17.1 percent of tickets being for expired meters.
The map also shows Chicago Parking Meters has fewer boxes throughout most of the South Side, where the other wards hit hardest by police-issued tickets are, than it has in North Side wards where a larger percentage of tickets are coming from parking enforcement aides.
West Side resident Brandon Jones, 25, said his family and friends have been hit tickets they thought weren't fair — but he also thinks the 37th Ward gets more tickets because the violent crime there means more police officers tend to be present.
Craig Whittington, who has lived in the area for more than 40 years, said he believes the high percentage of tickets from police is a result of officers "preying" on black people in the 37th Ward.
Whittington and Gerald Pittman, a resident of the ward for 30 years, were getting air for a tire at a gas station in the ward Tuesday.
Pittman said he wasn't surprised to learn most of the area's tickets come from police, saying he believes officers issue tickets unfairly in the area when they're supposed to be looking for drugs and violent crime.
'I don't know what I'm going to do'
Whittington and Pittman said the tickets come at a high personal cost for residents of the West Side.
The 37th Ward tends to get more expensive tickets than other wards, though it's in a part of the city that's already struggling with higher levels of poverty and unemployment. The average cost per ticket is $101 in the ward — more expensive than the $82 per-ward average throughout Chicago.
The most common type of ticket issued in the ward is for not having a valid city sticker, which comes with a $200 fine, according to the database. About 30 percent of the ward's tickets were for that offense, significantly more than the city's per-ward average of 9.7 percent of tickets for not having a valid sticker. 
In comparison, the tickets for expired meters that parking enforcement aides dole out cost $75.
Pittman and Whittington, who are black, each have more than $1,000 in ticket debt for various alleged violations, they said. That's more than either can afford even with the city's payment plan options and they've seen their tickets double in cost when they were unable to pay.
"Some people are not able to pay all that," Pittman said. "Who has money like that?"

Mounting tickets start a vicious cycle in communities where people are already struggling, Pittman said. When drivers don't or can't pay parking tickets, the tickets double. Boots get put on the drivers' cars, keeping them off the road.
For some people, that means they can't get to work, leading to more financial hardships. Tickets even send some people into bankruptcy.
In the 37th Ward, residents racked up $45.9 million in debt from tickets issued Jan. 1, 1996-May 14, 2018, and only 47 percent of tickets have been paid, according to the ProPublica database.
Pittman tried to contest a ticket but lost because officials said there wasn't enough evidence to show he was in the right, he said. He said he's struggled to find work due to a years-old conviction. 
Unable to pay his tickets, Pittman said he has seen them double, and he fears the day a boot is put on his car.
Whittington said he used to rely on his car for work delivering pizzas, but then it was stolen and crashed. Although he got the damaged car back, he hasn't been able to afford to get the vehicle fixed. Now, he's out a job. 
"The tickets keep doubling," Whittington said. "I don't know what I'm going to do."
The two said they aren't represented politically and want the city to stop its practicing of doubling unpaid tickets.
The ward's alderman, Emma Mitts, did not respond to requests for comment. One of her challengers in the 37th Ward race, Otis Percy Jr., said residents have complained to him about heavy ticketing by police — the issue is "not really too much of a secret."
One of Percy's childhood friends had to file for bankruptcy because of ticket debt, he said. 
"It's disproportionate in certain areas, especially over here," Percy said. "We don't see any of that money coming back to the community in any way, shape or form. … Where is it going?"
The other challengers facing Mitts did not immediately respond to requests for comment.
Ald. Michael Scott Jr. represents the 24th Ward, which includes all or parts of North Lawndale, West Garfield Park and South Austin. In the West Side ward, 65 percent of tickets were issued by police between 2013 and 2017, compared to 39 percent citywide. 
Scott, who sits on a new city task force examining ticketing and debt collection issues, said he will ask the two police commanders whose officers patrol his ward to explain the discrepancy.
The alderman said he's in constant communication with the ward's police commanders — talking at least every other day — in an effort to tackle the area's public safety and quality of life issues, like ticketing. If he doesn't get answers, he'll take the issue to Police Supt. Eddie Johnson.
"At the end of the day, if my ward is being ticketed by police more than other communities, I need to know why," Scott said.
Wards where most of the tickets are issued by police:
37th: 176,800 total tickets, 80 percent from police
34th: 100,500 total tickets, 79 percent from police
16th: 151,500 total tickets, 74 percent from police
20th: 190,400 total tickets, 72 percent from police
6th: 165,400 total tickets, 71 percent from police
17th: 149,300 total tickets, 71 percent from police
21st: 128,300 total tickets, 69 percent from police
29th: 161,500 total tickets, 67 percent from police
24th: 192,600 total tickets, 65 percent from police
9th: 75,500 total tickets, 62 percent from police
23rd: 142,200 total tickets, 58 percent from police
7th: 128,500 total tickets, 58 percent from police
8th: 135,600 total tickets, 57 percent from police
28th: 289,300 total tickets, 57 percent from police
41st: 102,600 total tickets, 57 percent from police
49th: 190,500 total tickets, 54 percent from police
19th: 45,900 total tickets, 54 percent from police
10th: 81,200 total tickets, 53 percent from police
15th: 163,700 total tickets, 53 percent from police
Do you have a parking ticket story you want to share? Join ProPublica Illinois' 'Driven Into Debt' Facebook page and share your story. You can also email us at newsroom@blockclubchi.org.