NORTH PARK — The holiday season is all about tradition, and for many people those traditions revolve around food. 
In 2017, countless Chicagoans lost a beloved annual ritual when the shuttering of Andersonville's Swedish Bakery left a cardamom coffee cake-sized hole on their holiday table.
Behold, we bring good tidings of great joy.
Alfonso Aguilar, who spent 36 years at Swedish Bakery, has resurfaced at Bryn Mawr Breakfast Club to run the restaurant's new bakery, and he brought a headful of Swedish recipes with him.
Since the Breakfast Club bakery opened at the end of October, rumors of Aguilar's return have slowly been spreading among the Swedish faithful.
"Sometimes they think, 'Oh, maybe it's not true.' I say, 'Well, I'm here,'" Aguilar said.
Though Aguilar said he's barely scratched the surface of Swedish classics, to date he's reintroduced several coffee cakes, a selection of buttery cookie gems, the wildly popular whipped cream cake topped with luscious berries and of course the Princess Torte in all its green marzipan glory.
Craving something that's yet to reappear?
"Give me 24 hours, we'll make it," Aguilar said.
'Keep me busy'
At 64 years old, Aguilar could have opted to slip quietly into retirement after Swedish closed.
That's not how he operates. Work is what he knows. Work is what he does. Work is who he is.
"I'm not going to complain about 'Oh, I have to get up early, or I gotta work tomorrow.' I can't find no excuses not to work," Aguilar said.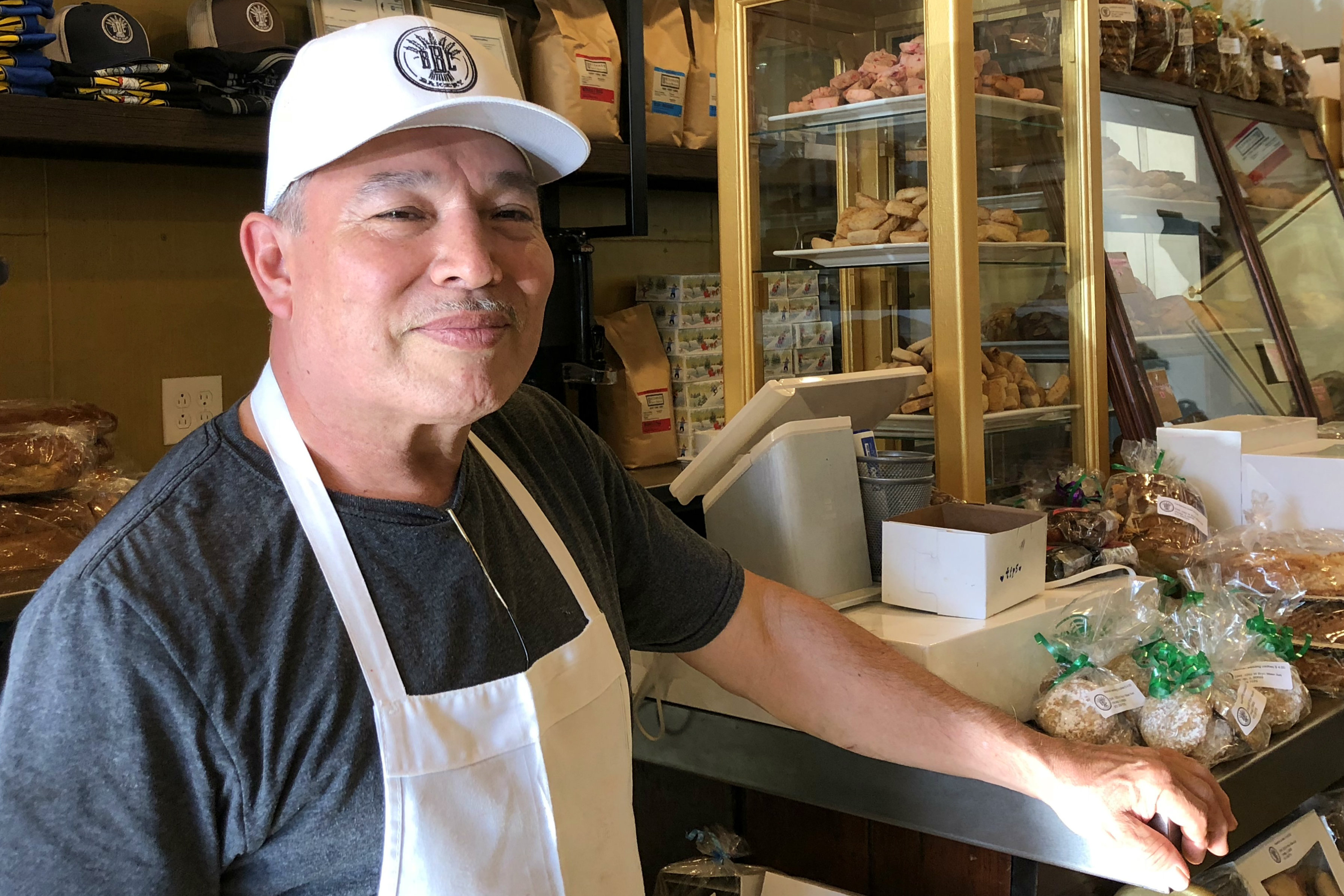 Bakers hours can be brutal, even for people decades younger, but Aguilar has been reporting to work at 3 or 4 a.m. for so long now, the query "Aren't you tired?" is met with a laugh.
"On Sunday, when I'm off and sleep over eight hours, I feel tired, but otherwise if I sleep two hours, three hours, I'm good. At Swedish Bakery, we used to start at seven in the evening til 10 in the morning, Thanksgiving through Christmas. And I mean, that's OK. I didn't feel tired. I go to sleep for a few hours, come back," he said.
"He's got a lot of energy, his soul is very young," said Manny Mejia, owner of Bryn Mawr Breakfast Club, 3348 W. Bryn Mawr Ave. "He's pushing me to do a lot of things. He's pushing me to do more and more and more."
Mejia and Aguilar first crossed paths nearly a decade ago at the Andersonville cafe M. Henry. At the time, Mejia was managing the restaurant and Aguilar was putting in a few hours a week as baker. (Throughout his years at Swedish, Aguilar always held down additional part-time jobs.)
Earlier this year, Aguilar said he stopped into the Breakfast Club for a bite to eat, and Mejia mentioned that he was planning on taking over the neighboring storefront (vacated by the short-lived Maison de Castelnau tearoom) to open a bakery.
Aguilar recounts the discussions that led him to the Breakfast Club: "He [Mejia] said, 'I'm going to need somebody.' I said, 'Well you let me know when.' Like four months ago, I stopped by [again] and we talked, so here I am."  
Mejia tells a slightly different story.
When the bakery was still very much just an idea, Mejia said he reached out to Aguilar for recommendations in terms of someone to run the operation.
"He said, 'I know someone,'" Mejia recalled. "When I was ready to open, I called him again. I said, 'Hey, do you have this person?' He says, 'It's me. I'm the person.'"
Though Mejia was thrilled to have Aguilar join the Breakfast Club family, he said he did pause to question why Aguilar didn't just strike out on his own. 
"I know his stuff is good. He's proved it over so many years. I told him, 'Alfonso, why are you not opening your own bakery?' He says, 'Oh I don't want be dealing with all that,'" Mejia said.
So here's how Mejia arranged things: He owns the bakery but Aguilar is the boss.
"Let me you show you something," Mejia said, motioning a guest to follow him behind the bakery counter, through the kitchen and out the shop's rear exit.
Above the door hangs a sign. It reads "Poncho's Bakery." Poncho, Mejia explained, is Alfonso's nickname.
"Basically the bakery belongs to him. He's the person in charge. He's running this," Mejia said.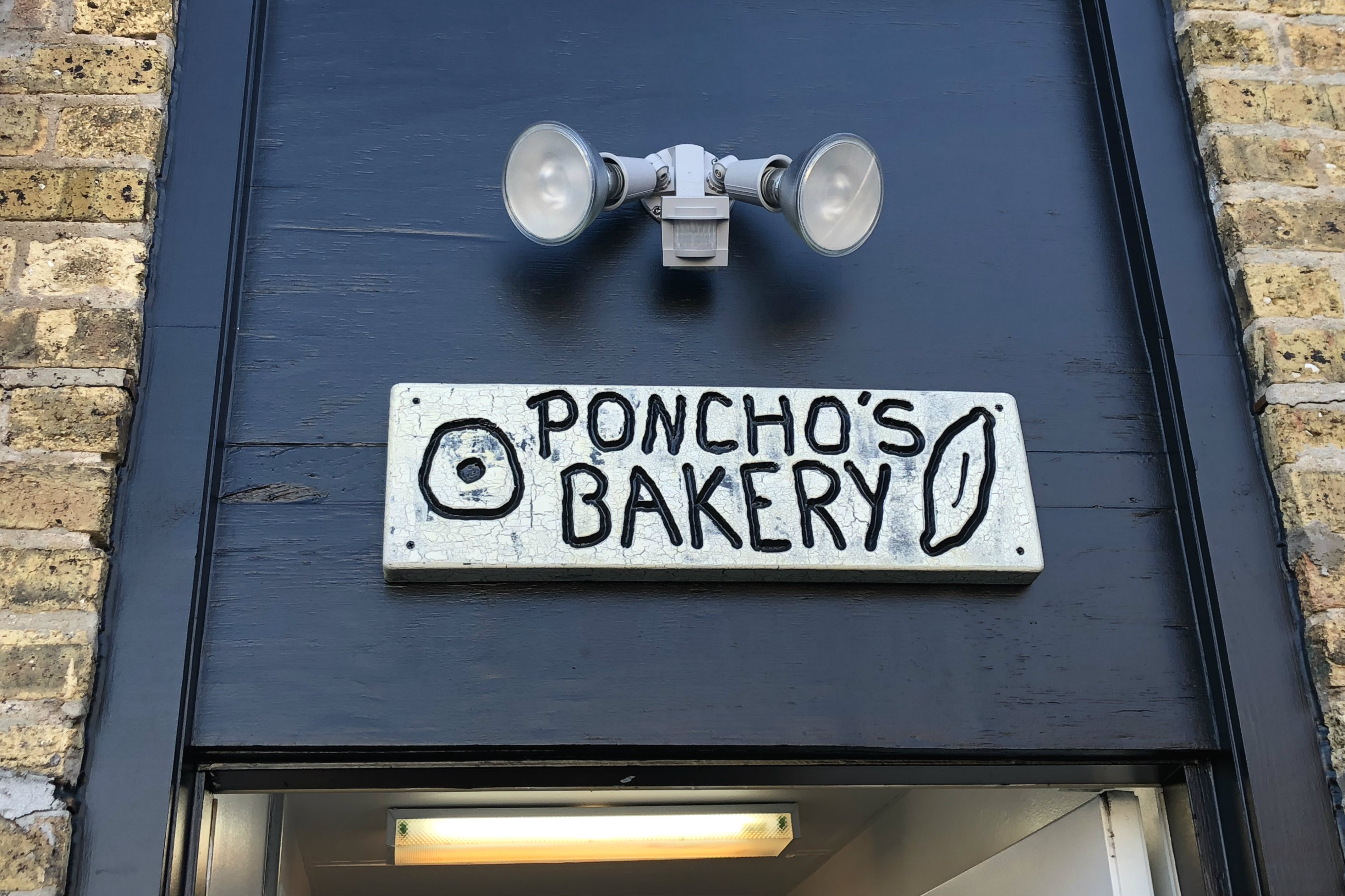 Given free rein, Aguilar is not only reviving Swedish standbys, he's also taken over Breakfast Club's bread program. All those orders of French toast now feature his handiwork, and Aguilar also supplies the bread needed for Mejia's dinner spot, Big Hill, just up the street.
"Whatever he tells me, we need this or that, fine, that's fine, keep me busy," Aguilar said.
"Keep me busy" could very well be the title of Aguilar's memoir. According to Mejia, the baker frequently pops into the shop on his off hours just because.
"It's like his home over here," Mejia said. "That's the thing that we're trying to do for him, find a home for him, where he can be for a long period of time, until he wants to retire, or wants to move on."
That day may not come for decades.
"A lot of people ask me that: 'Why do you want to keep working?' I say, 'Well my father worked til [he was] 82, so I don't know. I feel good. I get up in the morning, go to work, come back home. So far I still can do it," Aguilar said.
'It's been good'
Is there a certain irony to be found in the fact that the man responsible for upholding the Swedish Bakery's tradition is himself a Mexican immigrant?
Not the way Aguilar sees it.
What he's preserving isn't just about particular flavors or spices or the nostalgia for them, but also the quality, consistency and sheer productivity — the work ethic — he found to be so admirable at Swedish.
Aguilar still speaks proudly of the 800 coffee cakes Swedish bakers cranked out daily or the 400 pounds of cookies for a corporate event or the 3,000 paczkis every "fat day." (And yes — breaking news — he'll be making paczkis for Breakfast Club.) 
In Swedish Bakery owner Marlies Stanton (born in Germany, for the record), Aguilar found a kindred nose-to-the-grindstone spirit who was willing to teach. 
"She was 50 when I started working with her. When we finished, she was 86," Aguilar said (and who does that sound like?).
Mejia in many ways reminds Aguilar of Stanton, he said, a high compliment.
"I like the way he takes care of employees, he talks to you straight. The way he is, is like her," Aguilar said. "So I wish the same [success] for him. He's working hard. I like that."
Hard work has been Aguilar's mantra ever since he arrived in Chicago from the small city of Dolores Hidalgo in the central Mexican state of Guanajuato.
The year was 1970 and Aguilar was 15 years old. Times were vastly different then in terms of immigration policy, he noted.
"When I came in was no problem. Just give up your name, it only took me one day to get my Social Security, and a few months to get my papers," he recalled. 
The work for those who wanted it was plenty, and still is, Aguilar said. He quickly found employment in restaurants, "always washing pots or something."
By the late 1970s, he'd gotten into baking and applied for a seasonal position at Swedish over the holidays, October to January.
When the temporary gig was up, "She [Stanton] says, 'You want to come back?' I said, 'It's up to you. If you want to give me a job, I'm willing to work.' So I work there 36 years," Aguilar said.
Eventually his parents, uncle and brother (Aguilar is one of 12 siblings) joined him at the bakery. Aguilar said Stanton used to jokingly wonder if his son or daughter would one day wind up at the family business.
Not for them, he said.
Instead both graduated from UIC and Aguilar, who lives in Budlong Woods with his wife, a hair dresser, can't help boasting about their business trips to Italy, Germany and France — the fruits of his labor.
"They're happy. Whatever they needed, no problem, I could give it to them because I was working," he said. "I came to the United States and got a job. I mean, that's all you need. I can't complain. Everything has been good."