CHICAGO — A new study by DePaul University says rental e-scooters would be a cost-effective option for short trips around a neighborhood, but if you're going three miles or more, you're better off taking the CTA.
These "e-scooters" are essentially push scooters with electric motors. They allow a rider to stand upright while using a throttle and brakes on the handlebar to control speed and direction. Smaller than bicycles, they're also not nearly as fast — but as a dockless transportation system could be more flexible than the city's current Divvy system.

The Chaddick Institute for Metropolitan Development at DePaul University, which promotes effective urban planning, published a study on Dec. 12 looking at how a public e-scooter sharing system could be used by Chicagoans traveling within and between the city's neighborhoods.
Between those two types of trips, traveling within a neighborhood seems to be what an e-scooter does best, the study concluded. 

"We've done some studies on Divvy, on ride sharing, even congestion. Then dockless bikes came, and they're not necessarily leaving, but that was the hot issue last year," said Dr. Scott Smith, assistant director at the institute. "These are pretty new programs, even the pilot program on the dockless bikes just ended in November. We're just trying to process the future of micro-mobility."

As e-scooter companies have entered urban transit environments they've been a source of controversy, with some cities like Los Angeles struggling to curb the rapid proliferation of electric pay-per-minute scooter with bans and regulations.

People walking or using wheelchairs are unhappy with e-scooters on busy sidewalks. And when e-scooters stay off the sidewalks they've been met with hostility from drivers being forced to lag behind a stand-up scooter.  

Because of their dockless nature, e-scooters from companies like Bird and Lime strewn haphazardly across Los Angeles have also been set on fire or thrown into the Pacific Ocean by residents unhappy with their presence.

Earlier this year, Bird said it wants its dockless scooters to be on Chicago's streets this coming spring. Lime is also exploring launching scooters in the city's neighborhoods.

So when e-scooter companies began making headlines, Smith said the institute thought it was a good idea to do a study on how these e-scooters could potentially fit into Chicago's transit environment. Funding for their study partially came from Bird.

RELATED: Rental Scooters Are Taking Over City Streets Across The Country, And Chicago Could Be Next

"We work at an institute that relies on all sorts of different types of funding. Bird actually approached us to develop a study, but let me be clear that we at Chaddick developed the scope as well the methodology, and the results weren't influenced by Bird," Smith said.

The study mainly focused on how the introduction of e-scooters could impact travel time, reliability and convenience of trips relative to other active and shared-use modes including walking, bicycling, bike-sharing and public transit.

For their study, the institute looked at how the e-scooters would impact the Avondale, Logan Square, Lakeview, Lincoln Park and North Center neighborhoods on the North Side; the Douglas, Fuller Park, Grand Boulevard, Kenwood, Hyde Park, Oakland, Woodlawn and Washington Park neighborhoods on the South Side; and East Garfield Park, the Near West Side, North Lawndale and West Garfield Park neighborhoods on the West Side.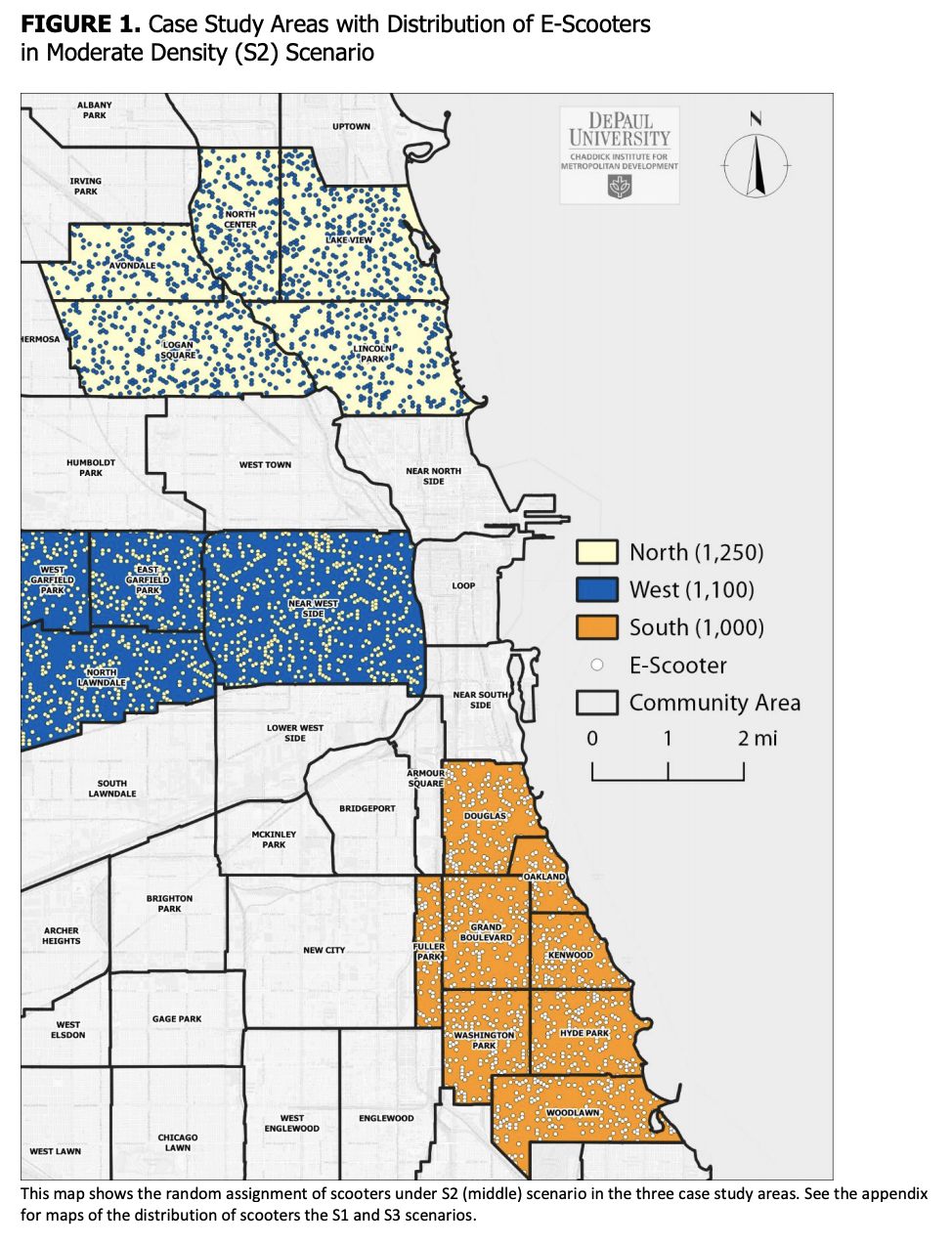 The institute simulated about 10,000 trips within the neighborhood areas. 
"We developed a multi-modal transportation model that allowed us to simulate all sorts of different lengths of trips. People may be using scooters for that first leg of a trip, walking 100 feet or so to a scooter and then hop on transit that takes you into Downtown," Smith said. "We also looked at trips within the neighborhood." 

The cost of using an e-scooter would likely be around $1.10 per trip plus $1.33 per mile, making them cost-effective on short-distance trips, according to the study.

People making trips between a half-mile and two miles in distance would get the largest benefit from e-scooters while someone riding a scooter a distance over three miles would not benefit nearly as much, the study concluded. 

"It becomes kind of an uncomfortable trip over that period of time and anything more than that distance," Smith said.

If a person was meeting a friend at a restaurant within the same neighborhood, an e-scooter could be a faster, cheaper option than taking the bus or using a rideshare service, Smith said. An e-scooter's advantages over short trips could also supplement the existing Divvy network.

"I'm a Divvy member, I go Downtown and two of the closest stations to my work are full like 50 percent of the time. Trying to find that open spot is a real constraint," Smith said.

Riding a Divvy to an open dock within the neighborhood and then taking an e-scooter over the last mile or so of the trip would create additional flexibility, he said. This would also be true of areas of the city where transit lines and bus routes were not a convenient walking distance to each other.
For farther distances, however, e-scooters would be more expensive than the train, bus or a Divvy ride.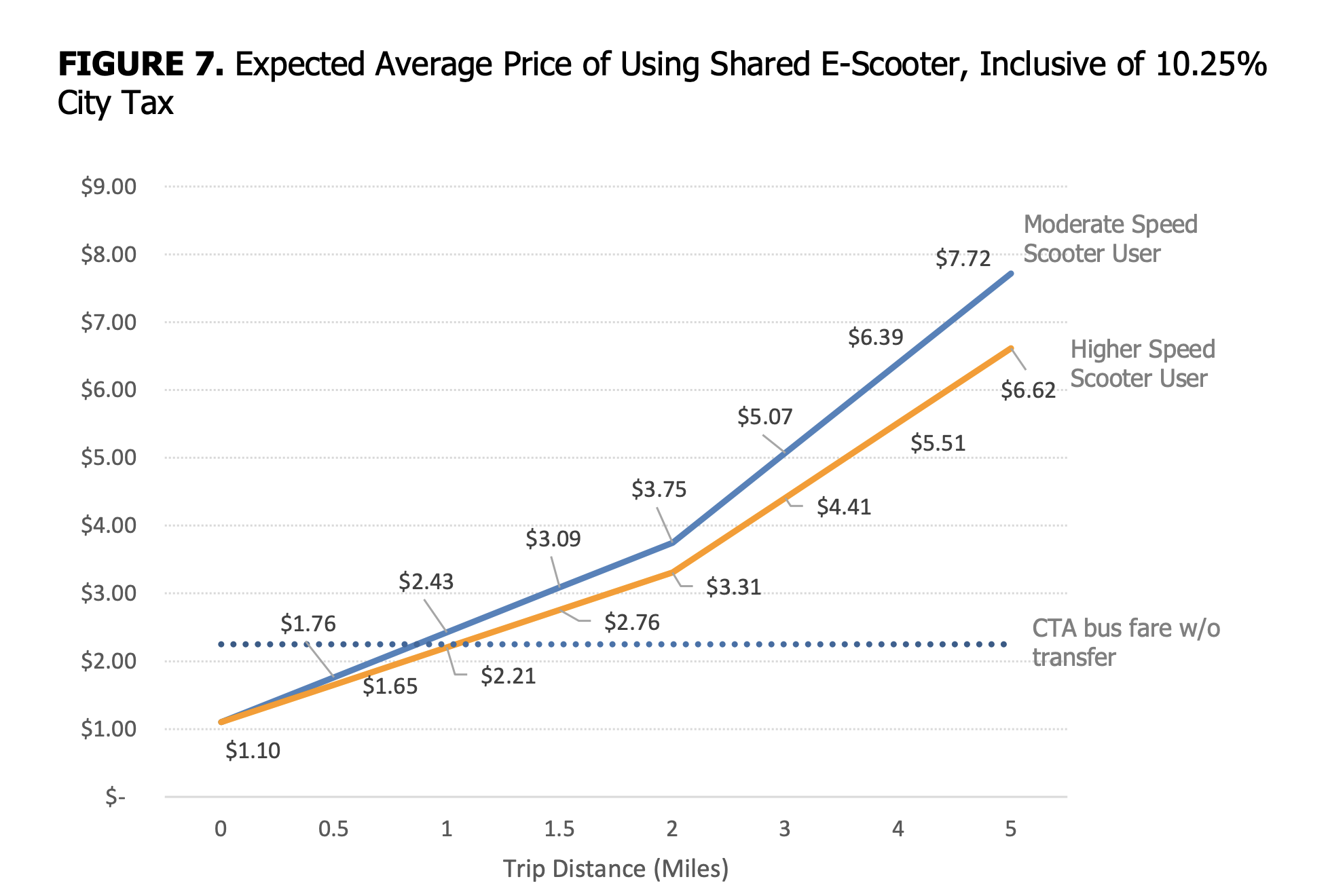 The study didn't dive fully into the pros and cons of a dockless system and how it could be regulated, but researchers did acknowledge issues such as scooters on sidewalks and congesting the right of way.

"Some e-scooter companies require you to take a picture after you're done riding them to make sure you leave them upright in a relatively good place," Smith said.  "Some cities … have required operators to kind of redistribute them to make sure at least they're not clustered all in one place or they're not littering various areas. They're theoretically held accountable for the distribution and also how they're taking up public space."
Do stories like this matter to you? Subscribe to Block Club Chicago. Every dime we make funds reporting from Chicago's neighborhoods.