AUSTIN — Austin's main streets could transform into hubs for small businesses and community interaction under a soon-to-be-revealed five-year plan.
The West Side neighborhood — Chicago's largest in terms of physical size and among its most populated — is in need of major reshaping and investment into business, education and community development, among other things, according to the Austin Quality of Life Plan. The plan will be released and discussed at a community meeting this weekend.
The plan was created after 18 months of stakeholder meetings involving more than 400 people. The initiative was led by a group called Austin Coming Together, according to the Local Initiatives Support Corporation, which helps create development plans for neighborhoods.
"People want to make sure we're telling our own stories, making sure stories about Austin are being told by people from Austin," said Andrew Born, operations director of Austin Coming Together, according to the corporation's website.
"This planning process is an opportunity for us to build collective power to decide what we want in Austin, not what others want for us."
Austin has seen decades of disinvestment since white residents moved out, according to the report. The Great Recession and collapse of the housing bubble then left many families facing foreclosure and residents without jobs. The area has also struggled with gun violence.
But the plan suggests the neighborhood — and particularly a major intersection at Central Avenue and Madison Street — could be transformed over the next five years into spots where cultural centers and small businesses flourish.
Investments in beautification could make the neighborhood more "attractive and walkable," according to the proposal, and area leaders could bring in more small businesses and train local entrepreneurs to grow the neighborhood's economy. Creating an initiative to shop locally would also help keep "our own spending power in the Austin economy," the report notes.
Proposed changes near Central and Madison: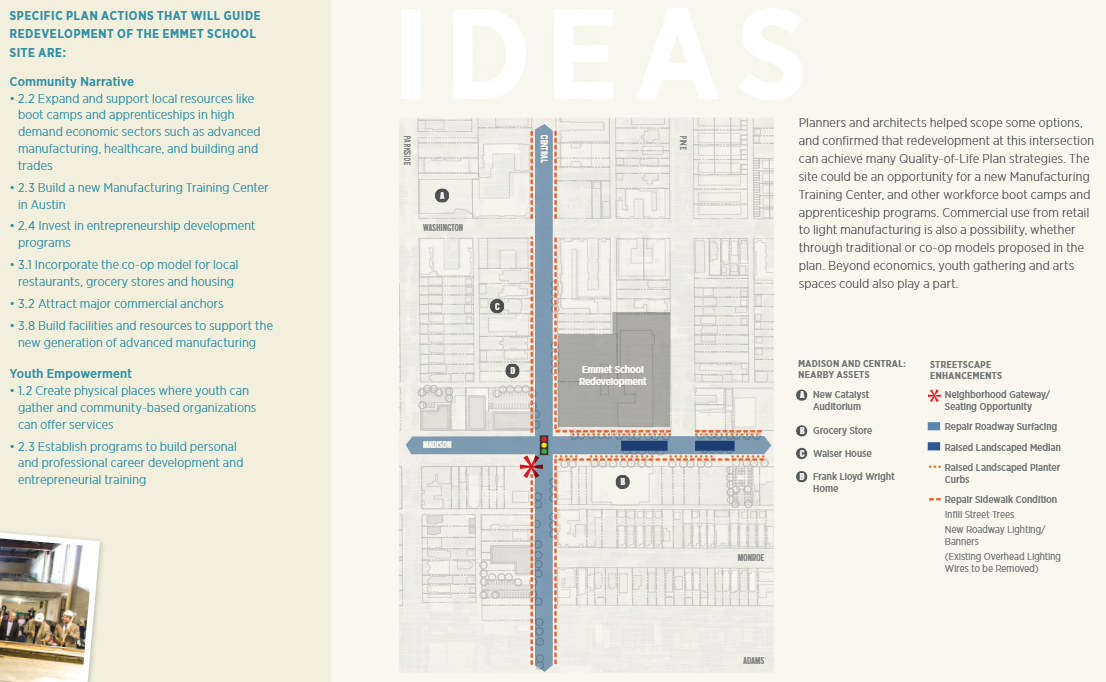 Proposed changes along Chicago Avenue:
The plan also focuses on "revitaliz[ing] the image and spirit" of Austin, providing educational opportunities for kids in the neighborhood, stabilizing the housing market and adding more affordable housing, empowering young people, helping residents engage civically and creating violence prevention programs.
The meeting to discuss the plan is 10 a.m.-noon Saturday at Michele Clark Magnet High School, 5101 W. Harrison St. There will be refreshments and a performance from the Austin Children's Choir. Attendance is free.