PILSEN — More than 20 activists staged a protest outside a real estate event focused on helping developers get a foothold in Pilsen, Logan Square and other gentrifying neighborhoods Wednesday morning. 
Calling for an end to "predatory" development in communities of color, nonprofit advocacy group Pilsen Alliance and members of other neighborhood groups ONE Northside, Logan Square Neighborhood Association and Democratic Socialist for America protested outside Pilsen's Mural Park, 1901 S. Sangamon St., temporarily blocking off the entrance to the event for commercial real estate brokers and developers. 
"We are not going to stand for predatory developers that are targeting our communities, and profiting off working class communities of color and immigrant communities," said Moises Moreno, an organizer with Pilsen Alliance. "We are here to take a hard stand that they are not welcome in our communities."
For $99, the seminar dubbed "Chicago's Emerging Neighborhoods: The Rise of Pilsen, Uptown, Logan Square and Humboldt Park" aimed to bring commercial real estate brokers and developers together for two panel discussions around "development successes" in those neighborhoods. Plans for the seminar sparked outrage online earlier this month, with some neighbors calling for a boycott of Bisnow, the real estate-focused digital news outlet hosting the panel discussion, and a protest outside the networking event.
RELATED: 'Emerging Neighborhoods' Developer Seminar Angers Residents Of Gentrifying Pilsen: 'Blatant Disrespect'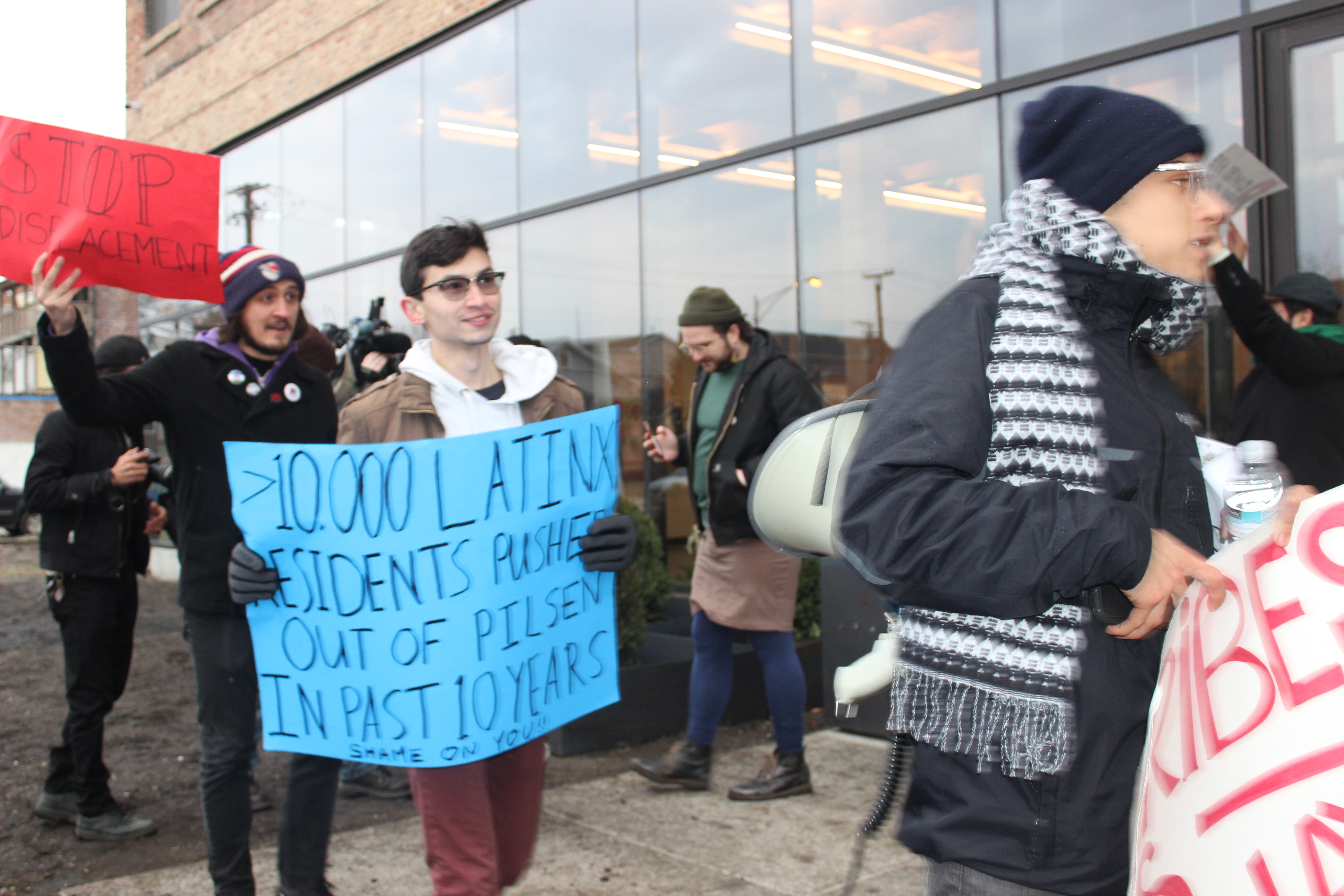 The original marketing material, which has since been altered, advertised that people who paid to come to the panel would learn which neighborhoods are "being targeted" by Chicago's biggest developers, the "key qualities needed for a development to be considered the crown jewel" in an "emerging neighborhood" and how to "reposition assets to meet the needs of new tenants" moving into Pilsen. 
Matthew McLean Jr., a partner at Condor Partners who is sponsoring and hosting the event at the developer's loft-style office property in Pilsen, expressed regret at any harm caused by how the event was marketed. 
"The discussion that we will be having is around responsible investment — development without displacement — and affordable housing," McLean previously told Block Club Chicago. "The people on the panel are on different sides of [the issue], but you can't have a discussion if you don't have people on different sides."
In the original marketing material, no reference to affordable housing was made. 
McLean sees the panel discussion as a way to engage the industry on the "the most embattled and most controversial neighborhoods for our industry," and how gentrification has impacted these communities. 
Following criticism, McLean worked with Bisnow to change the marketing language to "reflect the discussion" aimed at responsible development that embraces the local community and culture.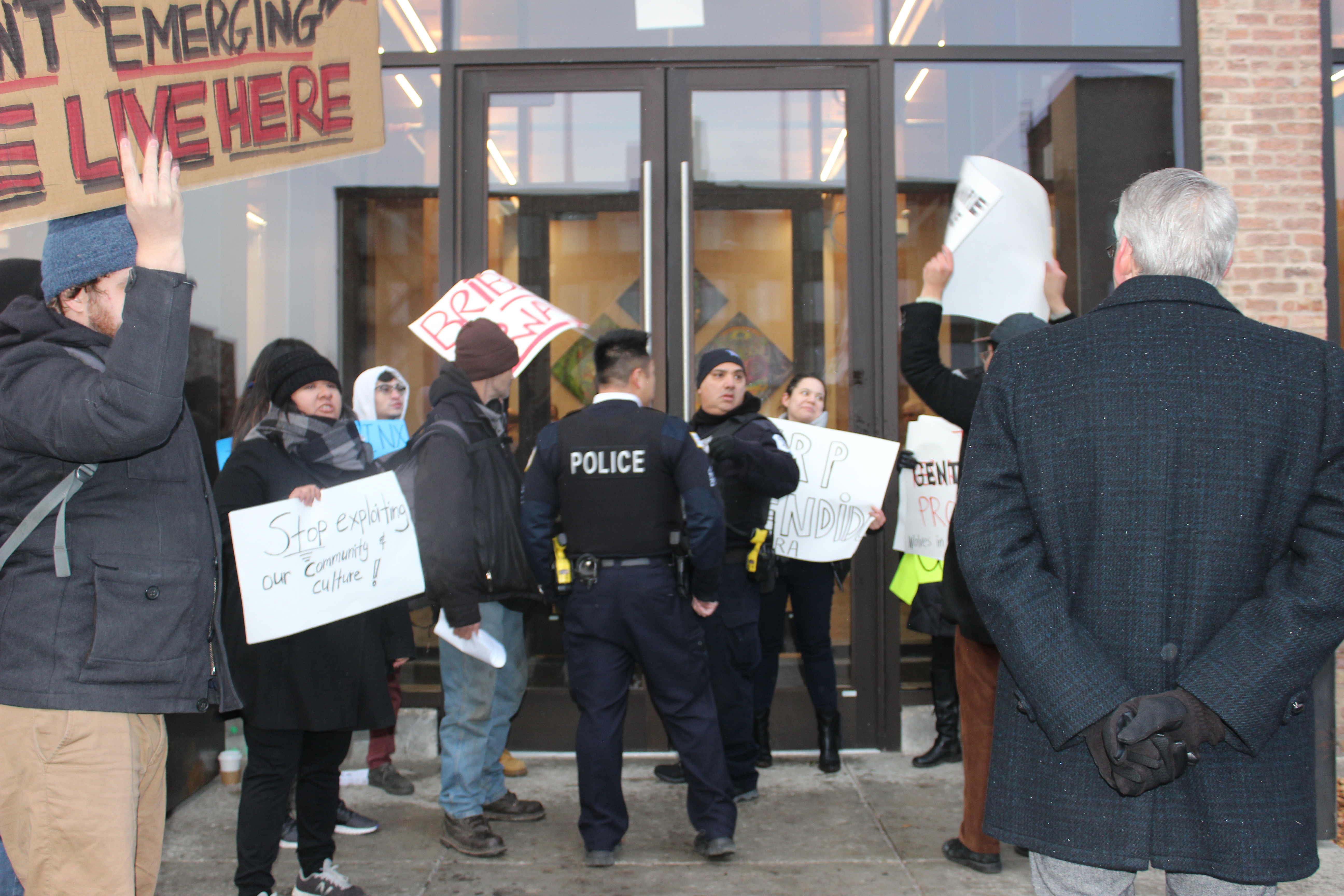 Outside the seminar Wednesday, protesters joined in a series of chants including a roll call of gentrifying neighborhoods across the city, followed with protesters shouting that the neighborhoods were "not for sale."
"They need to see the human faces of the people they are going to be displacing," Moreno said. "We are taking about renters, longterm residents — people who have roots in our communities that pretty much feel under attacked by these developers who are callously evicting people without just cause. We are talking about families with little kids, senior citizens. They need to see up close and personal to know what they are up against."
Moreno also criticized Pilsen nonprofit The Resurrection Project for taking part in the panel discussion.
Related: As Logan Square's White Population Surpasses Latinos, The Reverse Happens In Other Communities
 Veronica Gonzalez, vice president of real estate development for the Resurrection Project, said she accepted Bisnow's invitation to offer an "alternative" perspective than is usually offered at events for real estate brokers and developers.
"We need to find some common ground," Gonzalez said. "I'm not playing a one-on-one basketball game here. It's five of them against one of me. That's the reality of what's happening in Pilsen. I wish there were other affordable housing developers that are helping us solve these problems but right now [Resurrection Project] seems to be the only one."
In her work with Resurrection Project, Gonzalez focuses on finding ways to help finance affordable housing in Pilsen, Little Village, Back of the Yards and Melrose Park for residents making between $17,000 and $35,000. 
Exodus of Latino families from Pilsen and Logan Square
In the last decade, Pilsen and Logan Square have undergone dramatic changes, and longtime residents have fought to stay in their homes — or are cashing out and moving away.
Logan Square has lost more Latino residents than any other Chicago community in recent years, and Pilsen has also seen an exodus of Latinos as the area gets whiter. 
On Tuesday, a WBEZ analysis of new census data released this month shows the white population has surpassed the Latino population in Chicago's Logan Square neighborhood.
In a 2016 study, University of Illinois at Chicago professor John Betancur found that while Pilsen remains majority Hispanic, more than 10,300 Hispanic residents left the neighborhood between 2000 and 2010, a 26 percent drop.
In both neighborhoods, developers and speculators continue to scoop up old properties and redevelop them into luxury housing.
Do stories like this matter to you? Subscribe to Block Club Chicago. Every dime we make funds reporting from Chicago's neighborhoods.