NORTH CENTER — After 19 years of mixing martinis, Tiny Lounge's owners are happy to have been a part of the resurgence of Chicago's craft cocktail scene.
Owners Colleen Flaherty and Mark Johnson announced last Thursday in a Facebook post that their bar at 4352 N. Leavitt St. would close Dec. 31. The restaurant group's Tiny Tavern at 600 E. Grand Ave. and Tiny Tapp & Cafe at 55 W. Riverwalk South will remain open. 

"It just became a matter of being pulled a little too thin," Johnson said. "There's only two of us, so we don't really have the bandwidth to concentrate on those downtown locations and still have the presence in the neighborhood to do Tiny Lounge."

He said on average there's about 400 people going through the Riverwalk location in a day, and Johnson is moving between that location and the Navy Pier spot for about half the day.

"When you've been down there for 12 hours already, it's like do I really want to come here and say hey to people or do I want to go home," Johnson said.

Running three popular locations is a good problem to have, but it was time to say goodbye to their longtime neighborhood spot, he said. 
"We've been quite fortunate to have the run that we've had," he said. "I'm proud of the fact that we were one of the progenitors of that reemergence of cocktail culture in this city." 

Flaherty opened the first Tiny Lounge in a former dive bar called Giannini's Tap under the Brown Line tracks at Addison Street in 1999. Johnson described it as a "grandpa spot" where folks would sip cheap beer while watching a Bears game. A year later, Johnson joined Flaherty in a management capacity and ultimately became her business partner.

"That original bar, it was from the 1940s and it had this really art deco feel," Johnson said.

Tiny Lounge stayed in the former Giannini's space until 2006, when the Addison Brown Line CTA Station expansion led to the building's demolition. It wouldn't be until 2009 that Flaherty and Johnson would reopen Tiny Lounge, this time at at 4352 N. Leavitt St. in North Center.

"When we came up here we felt it would be a mistake to try and replicate that former space," Johnson said. "We wanted to do something with a more modern to mid-century aesthetic. We wanted to create the warmth though the materials, but not be overly ornamental in our design aesthetic. That's why the bar is stone and there's so much wood."

The spot became a popular gathering place for Chicago's scooter community, who would often host informal meetups at Tiny Lounge, parking their vintage rides out front. In the 1980s, Johnson was a part of Chicago's Mod scene, which took its ethos from the original U.K. Mods — a group of working class teenagers who wore sharp suits, listened to vintage R&B and rode Vespa or Lambretta scooters.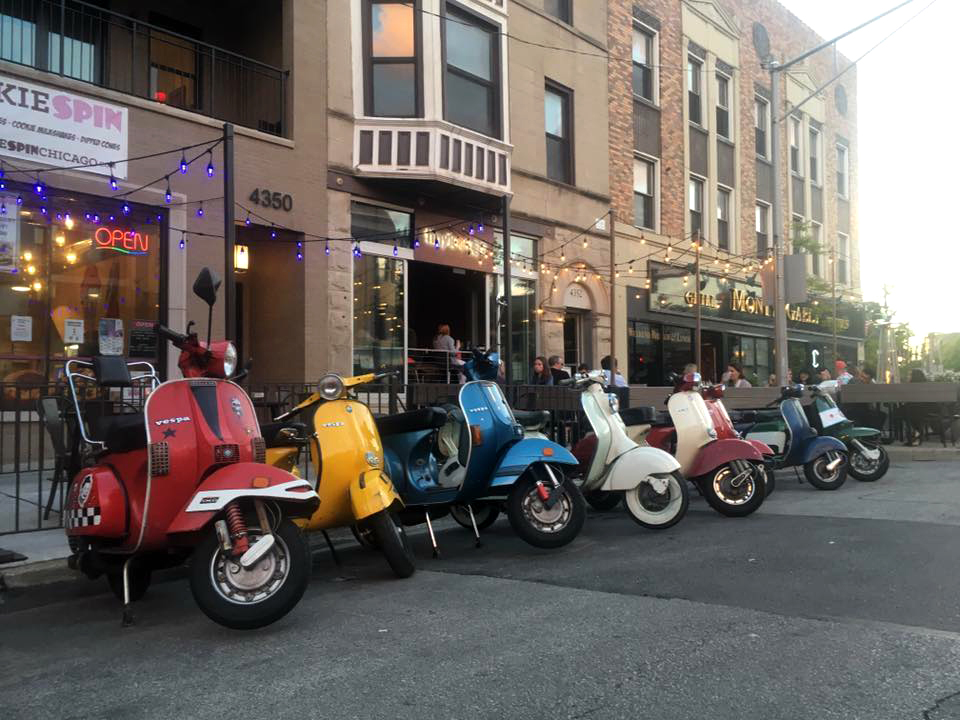 "The original Mods from the 1960s certainly have informed my sensibilities and sense of style. Certainly it informed my musical taste and Tiny Lounge has always tried to be eclectic, in that regard," Johnson said. "We grew up as working class kids, and the Mod ethos was always 'clean living under difficult circumstances.' So even though we might not have anything, we're always going to look sharp and going to carry ourselves with respect."

Johnson said that ethos still rings true to him.

"For some of the younger kids who work for us downtown, we've been fortunate to give opportunities and hire some people from underserved communities," Johnson said. "I always try to impart on them that everything starts with self-belief."

Looking back at the craft cocktail scene from 1999 to now, Johnson is amazed to see how it exploded in Chicago.

"Now it's ridiculous, sometimes it's even a bit much for me. If I go to one more place where a guy has the arm things to hold his sleeves up and has a ridiculous mustache," Johnson said, laughing. "But it's really good, to see that creativity. It's nice that people are doing things the right way and are focused on proper ingredients, juicing things and not doing premixed cocktails anymore."

Tiny Lounge's last night will be New Years Eve.

"And I'm hoping to get some of my friends to DJ. Like asking Windy City Soul Club, and maybe a few other friends, to come and send us off," Johnson said. "We'll try and figure out a way to have some fun."
Do stories like this matter to you? Subscribe to Block Club Chicago. Every dime we make funds reporting from Chicago's neighborhoods.