LINCOLN SQUARE — In the middle of the busy holiday season, on a Sunday night when the Chicago Bears were squaring off against the Rams in a nationally televised game, a group of Lincoln Square residents dropped everything to sing "Happy Birthday" to an 80-year-old man most of them barely know.
His name is Gordon Sand, which was news to many of the 30-some partygoers, who recognize him simply as the familiar, kindly face in the ball cap they see on the bus or pass on the sidewalk as he makes his way up and down Lawrence Avenue.
A few have helped him cross the street (he struggles with a support cane), some have shared a drink at Loafers corner bar, others just smile in greeting.
Jose Navea and Andrea Andrade, the husband-and-wife owners of Sweet Pepper Venezuelan Food Bar, 2604 W. Lawrence Ave., came to know "Mr. Gordon," who lives opposite their restaurant, in the months since opening their storefront eatery.
"The [Lawrence Avenue] bus drops him off right at our restaurant, and he always waves from outside or comes in just to say hi and talk," Navea posted to a neighborhood Facebook page.
During one of those chats, Navea learned Gordon's birthday was Dec. 9, and the idea for a communal celebration was born as a "neighborhood present to this lovely elderly man," Navea said.
"This is in the Venezuelan spirit," Navea told Block Club Chicago. "This is how Venezuelans are."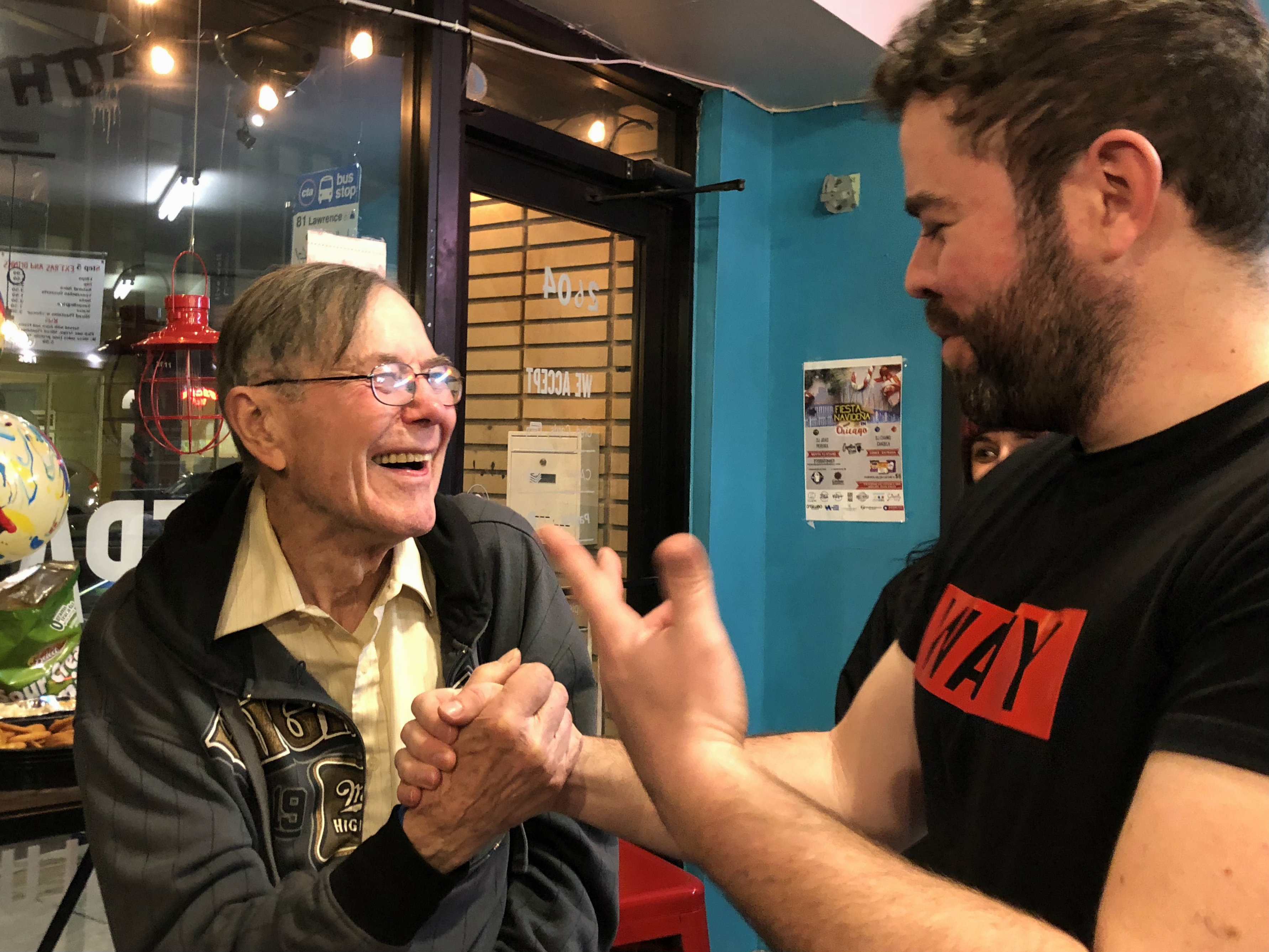 On Sunday evening, Sand could be found at the center of a collective embrace, shaking hands, accepting gifts and leaning in to learn the names of neighbors he's touched without even realizing it.   
"I can't believe all these wonderful people. It's overwhelming," Sand said. 
His voice cracked as he thanked Navea: "I don't know what to call it. It was beautiful."
In between accepting well wishes from his new friends, Sand shared bits and pieces of his life story. He moved to Chicago 50 years ago from his hometown of Great Falls, Mont., where "there wasn't a lot of excitement," he said.
He arrived in town on a Greyhound bus, and that's where he found his first job — working a concession stand at the Greyhound station. His first home was a rooming house on Dearborn Street and he'd walk over to Rush Street for dinner every night. 
A bit of an aspiring song-and-dance man, Sand never hit the big time, but he did rub elbows with the occasional movie star as a Brooks Brothers salesman. He met Tarzan (aka, Chicago's own Johnny Weissmuller) and a 1970s matinee idol whose name Sand couldn't for the life of him recall.
"It wasn't Paul Newman," Sand said. "Oh, I would have liked to have met him."
Sand, who doesn't have family in Chicago, landed in Lincoln Square five or six years ago — the precise time frame eluded him — and immediately became part of the fabric of the community, specifically the area near Rockwell and Lawrence.
"He's a cool dude. I really think he's 21 [years old], he's just wearing a mask," said Kirk Kendzior, who's chatted with Sand at Loafers.
And yeah, Kendzior was sacrificing the Bears game to celebrate Sand's birthday.
"It's a nice thing to do," Kendzior said. "I was raised old school, you respect your elders."
The scene of Sand basking in the glow of neighbors' goodwill was everything Andrea Andrade could have hoped for, she said.
"We just want to see him happy. He deserves that, he's a really nice person," Andrade said. "That's what nice about this community — people take care of each other."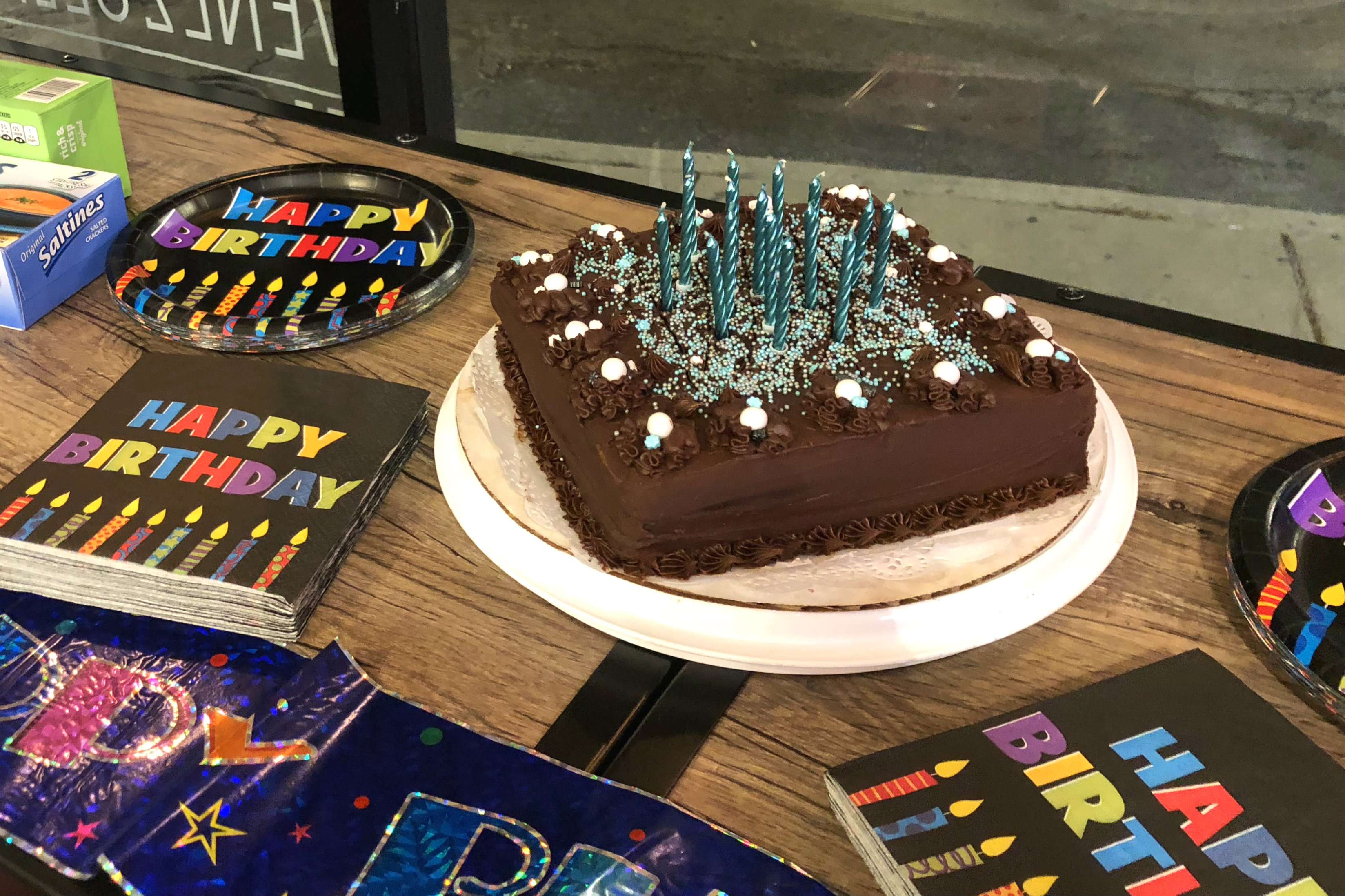 Do stories like this matter to you? Subscribe to Block Club Chicago. Every dime we make funds reporting from Chicago's neighborhoods.