LOGAN SQUARE — Most of Chicago's improv theaters are concentrated in neighborhoods like Lakeview, Lincoln Park and Old Town. 
But not everyone who does improv lives up there. In fact, a growing number of improvers are settling in the Logan Square/Avondale area.
That's according to Alex Prichodko, 28, and Andrew Lemna, 25, who have noticed that a lot of their improv friends live off the Blue Line and make the hike up north several nights a week to perform.
"If you live in Logan Square or Wicker Park or Avondale, it's not an easy trip up to Lakeview or Old Town," Lemna said. 
The pair recently opened Logan Square Improv, the area's first dedicated improv theater, in an effort to change that. Not only do they want to make it easier for their Blue Line friends to perform near where they live, but they also want to fill the neighborhood's comedy void.
"There actually feels like a need. [We wanted to be] the ones who can help people out," Lemna said.
Lemna and Prichodko are both originally from Indianapolis, but they didn't meet until Purdue University, where they both went for undergrad. After graduation, both got involved in Chicago's improv scene, performing and taking classes at all of the heavy hitters in town, including Second City, the Annoyance Theater and iO (formerly known as ImprovOlympic.) They're both currently on house teams at iO, which means they spend several nights a week practicing and performing there.
Over the last few years, they've done a lot of collaborating (they even have the same day job at a software company), but it was The Thursday Show — an improv show they created — that inspired them to branch out on their own.
The Thursday Show is the pair's weekly comedy variety show, which was traditionally held in the back room at Finley Dunne's Tavern in Lakeview. It's a showcase of improv, sketch and standup comedy.
"It was my favorite thing of the week. … It was fun to see so many talented people doing it each week. We probably had hundreds of different performers cycle through that room," Lemna said.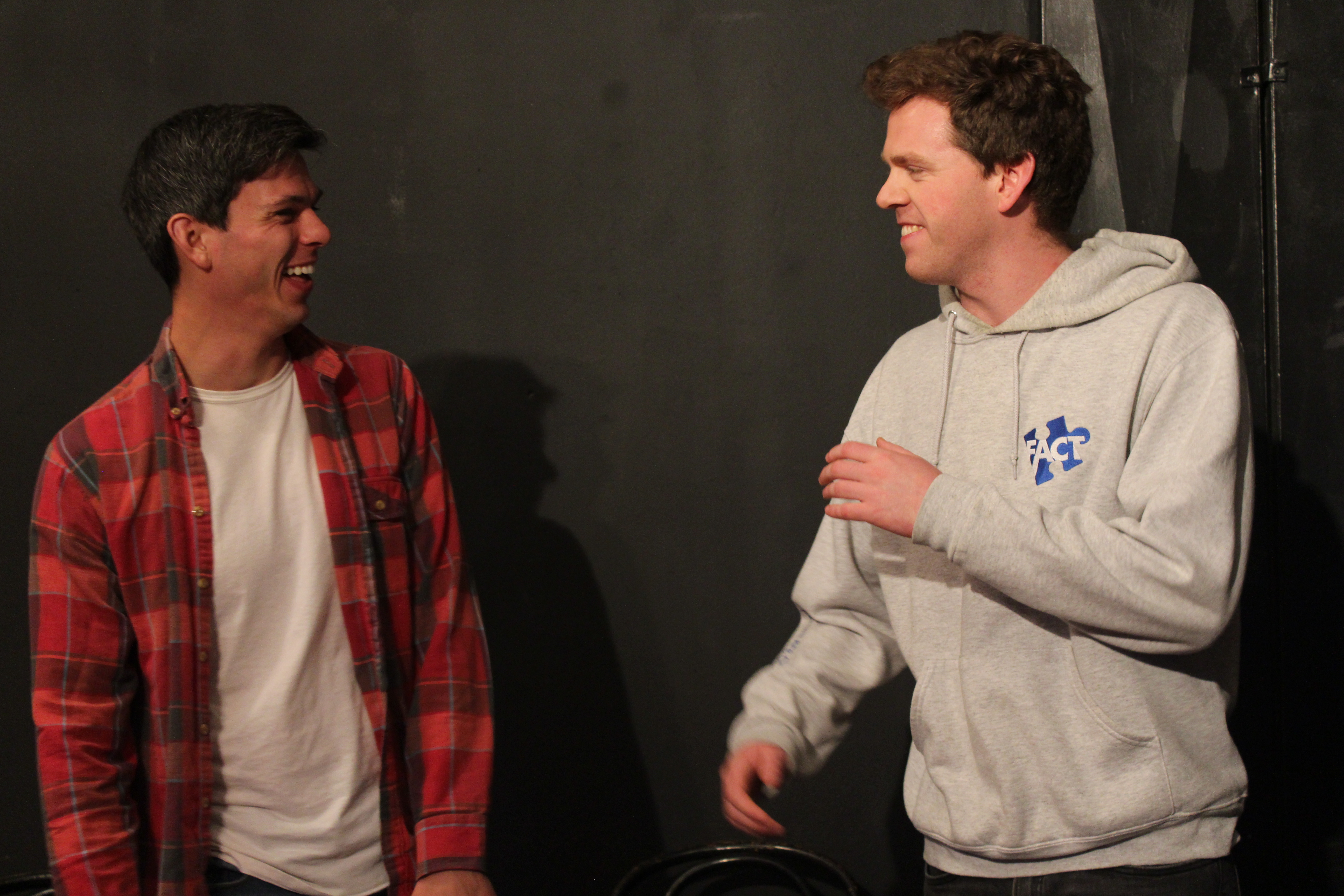 After a while, Lemna and Prichodko got to thinking: What if we had our own space to put on The Thursday Show? And what if the space was off the Blue Line so our Logan Square/Avondale friends didn't have to travel so far? 
That's when Logan Square Improv was born.
The pair opened the theater in a vintage storefront at 2908 N. Wisner Ave. (technically Avondale, we know) on the first Thursday of November.
Since then, they've added a bunch of new shows to the theater's weekly calendar — The Friday Show, The Saturday Show, Whose Line Is It Saturday, all of them showcasing long-form improv.
All of the shows are either free or $5 entry. It was important to the pair that the theater is accessible to all.
"We're trying to offer a huge variety if you're a comedy fan or you want to try comedy in general. [We're] making it as affordable as we can for anyone who just wants something to do," Prichodko said.
The pair is also rolling out improv classes that will cost $175 for an eight-week program, considerably cheaper than similar programs in the city, according to the pair.
And for $5, folks can become a member of Logan Square Improv by visiting the online platform Patreon. The membership gets you unlimited access to shows and a discount on classes.
Already 74 people have signed up, which confirms what the pair knew from the start: Logan Square/Avondale needed its own improv theater.
"It's been so good, and that's a testament to the performers and the community. It's such a cool, positive experience to watch so many people show up and perform and support each other," Prichodko said.
Prichodko said it was only a matter of time before the area got its own theater — the need was too great.
"If we didn't open this up, this would've been here eventually. So many people who perform on our teams in our theaters live on this side of town. And there are a lot of artists who live in Logan Square," he said.
Do stories like this matter to you? Subscribe to Block Club Chicago. Every dime we make funds reporting from Chicago's neighborhoods.