PILSEN — The Resurrection Project unveiled plans to build a $23 million transit-oriented development at St. Vitus Church, which has gone mostly unused for nearly 30 years, during a community meeting Wednesday.
The Pilsen-based nonprofit is proposing a 42-unit permanent affordable apartment complex that would include a small commercial space at 1814 S. Paulina Ave., just steps from the 18th Street Pink Line stop. 
RELATED: Shuttered Pilsen Church Could Transform Into Affordable Apartments Under Bold New Plan
The Resurrection Project looks to expand the property into a 54,200 square-foot apartment building that would offer a mix of one-, two-, three-bedroom units between two buildings that would scale five and seven stories, officials said during the meeting.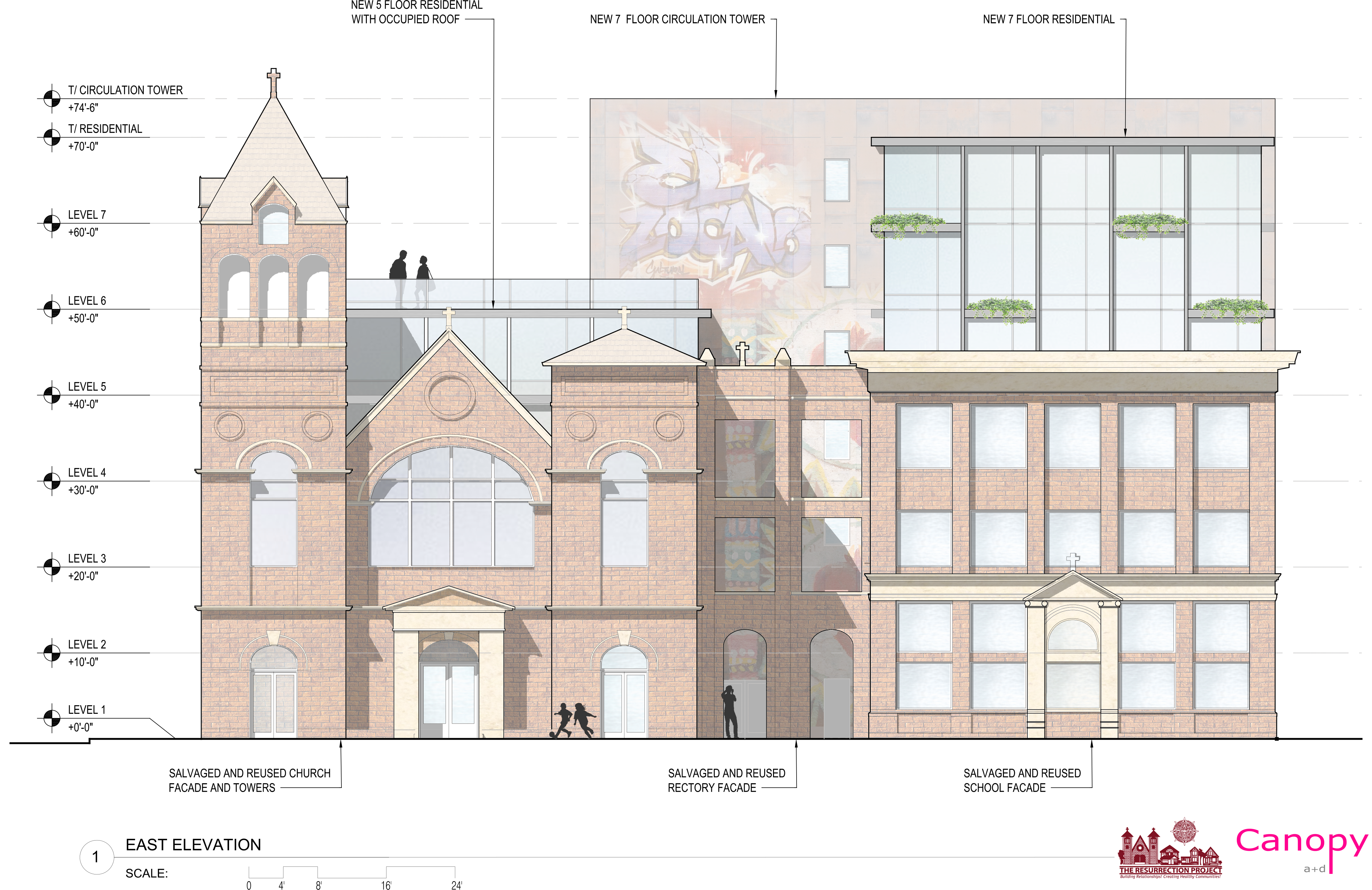 Under design plans created by Canopy, the property would retain historical elements of the church building but include a new construction addition. The site's plan also calls for green space, designated areas for murals and art, a small commercial space and 25 parking spaces.
The organization, which plans to apply for state funding to build the affordable housing building, estimates the development would cost roughly $23 million, said Veronica Gonzalez, vice president of real estate at the Resurrection Project.
If Resurrection receives the funding, construction on the project could start as early as 2020. The project would be completed 18 months later, she said.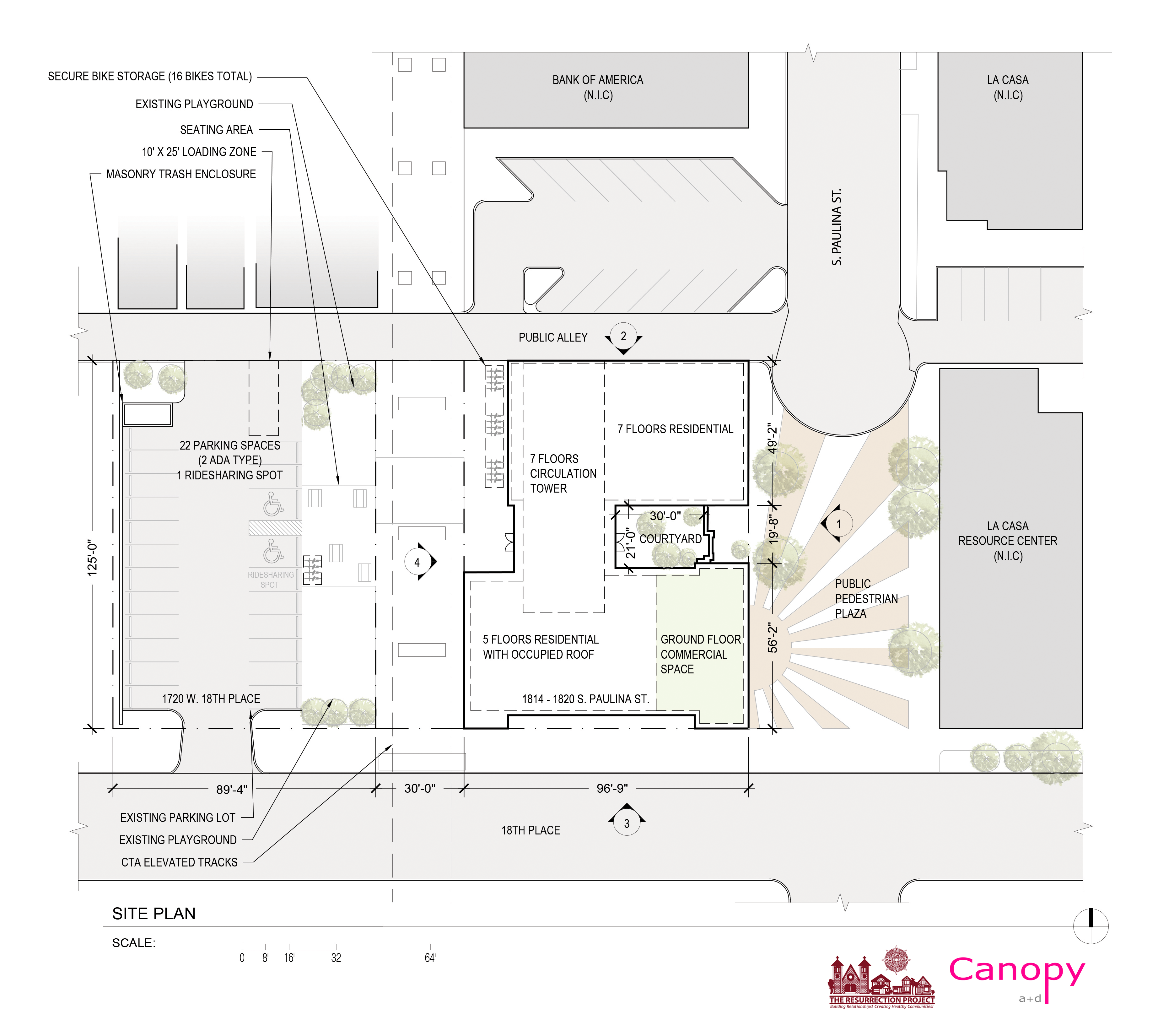 After being complete, the units would be available for anyone making between 30 and 60 percent of the area median income, or $17,000 and $58,000 per year. 
Gonzalez told roughly 50 residents and community members, that the concept was in its "infancy," and the organization was seeking community input to gather feedback on how to proceed with the project. 
"We have a vision to bring permanent affordable housing units on this site," Gonzalez said. "We feel the pressure of rising rents in Pilsen. We know this is an issue. This is exactly why we are presenting an early concept for affordable units here at the heart of Pilsen as part of an equitable development."
During the meeting residents raised concerns about the unit count of the development.
Miguel Chacon, a Pilsen resident who has lived in the neighborhood for 10 years and works in real estate, said there was a need for more units in the property. 
"If we need more affordable housing, we need to increase density," Chacon said. "The number of people who need cars is way down, we don't need to devote so much room for parking."
However, Teresa Fraga, 76, who has lived in the neighborhood for 52 years, wanted to see more parking in the development. 
"We already have problems with parking in Pilsen," Fraga said. "Twenty-five isn't enough." 
Not all people who will be living at the development will work in areas accessible by train, Fraga added. 
Related: Shuttered Pilsen Church Could Transform Into Affordable Apartments Under Bold New Plan
Of the 42 units, 12 would be one-bedroom units, 16 would be two-bedroom units and 14 would be three-bedroom units. The rent prices would be dictated by the city's affordable housing rent limits.
Under the city's 2018 affordable housing rent limits, a one-bedroom for a family making 30 percent of the area median income (AMI) would pay $438, while someone making 60 percent AMI would pay $914.
A two-bedroom unit at 30 percent AMI would be $526, compared with $1,096 at 60 percent AMI. A three-bedroom apartment would be $629 at 30 percent AMI versus $1,264 AMI .
People interested in applying for housing at St. Vitus would apply through the Resurrection Project website. Applicants are required to provide information such as proof of income and family composition.
The Resurrection Project currently operates 330 affordable housing units across its Pilsen properties. Those buildings include: Casa Morelos, 2015 S. Morgan St.; Casa Guanajuato, 1313 W. 19th St.; Casa Guerrero, 963 W. Cullerton St., and Casa Monterrey, 967 W. 19th St.
St. Vitus closed in 1990 and it was deeded to The Resurrection Project the following year, according to the nonprofit. The building was damaged in a fire, which has partially resulted in its underuse for so many years, officials said. 
The rectory of the building previously housed some Resurrection Project staff and other nonprofits until this summer when a pipe broke, forcing the organization to relocate staff, Gonzalez said. 
The school portion of the property has housed the Centro Familiar Guadalupano, a daycare center that provides services to residents of Pilsen since 1994, Gonzalez added. 
According to Gonzalez, the daycare center — run by Chicago Commons — has outgrown the space, and because of licensing limitations is not able to expand in the current property. The Resurrection Project is working with Chicago Commons to find a larger facility in Pilsen.
The Resurrection Project looks to incorporate community feedback into the design of the complex and will present the updated plan during a meeting on the development early next year.
Here are some more rendering for the proposed project. 
Do stories like this matter to you? Subscribe to Block Club Chicago. Every dime we make funds reporting from Chicago's neighborhoods.