ROSCOE VILLAGE — Seven of the nine candidates running for 47th Ward alderman to replace outgoing Ald. Ameya Pawar shared their ideas for development and public education with 400 residents at a rapid-fire forum Tuesday night at Lane Tech High School.

The seven candidates at Tuesday's forum were:
Two other candidates on the 47th Ward ballot, physician Kimball Ladien and restaurant owner Gus Katsafaros, who said he was "under the weather," did not attend the forum.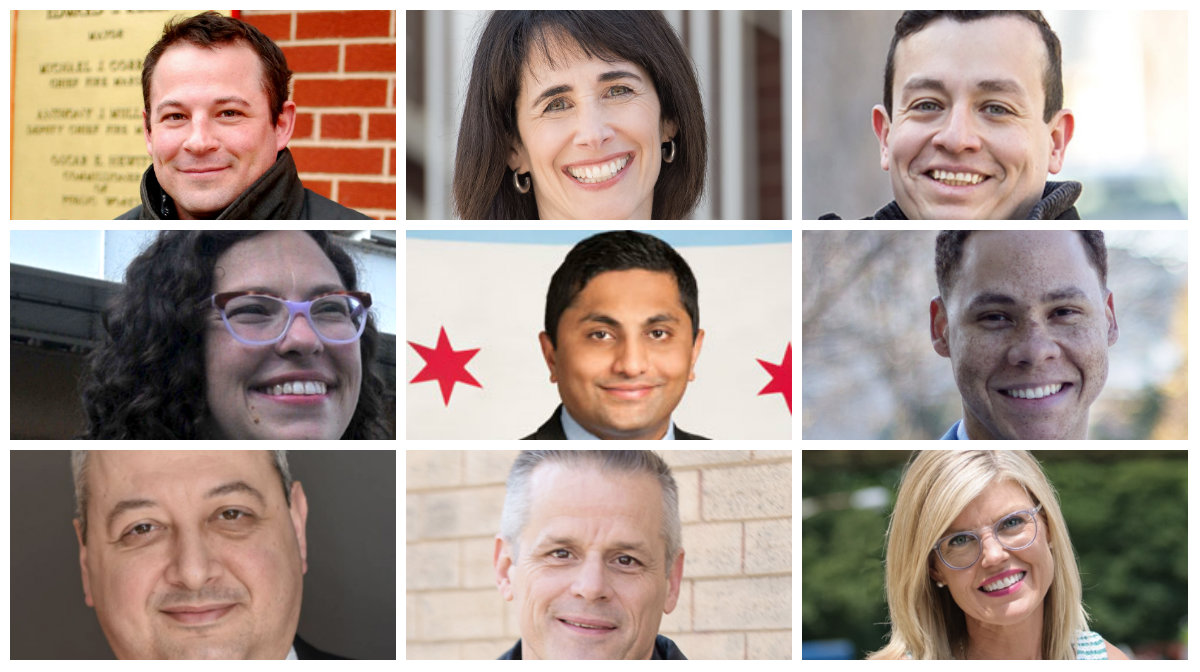 Development and housing 
At the forum, moderator and 47th Ward Democratic committeeman Paul Rosenfeld asked the candidates to share their vision for development, housing density and affordability in the ward. 
If elected, Maloney said she would pursue "filters" that to slow developers down so they don't "eat up" properties in the ward. 
"We've lost a lot of density," Maloney said. "That's a very real, factual problem. And the two-flat deconversion is a huge cause of it."
Kitzes, who worked with the Cubs and served on Ald. Tom Tunney (44th)'s community directive development council in Wrigleyville, said larger buildings should be developed on streets like Western Avenue, Ashland, Lawrence and density should be focused around transit hubs.
"And to expand the [transit-oriented development] ordinance to include bus lines. And then further incentivize developers and builders to reduce the loss of two-flats," Kitzes said. 

Schwartzers agreed with Malone's idea of filters and said transit-oriented development has proven effective in other areas of the city. If elected, he wants to make sure developers are building scaled-down, two- and three-flat condos that are affordable to the residents of the ward. 

Martin said he wants to maintain and expand housing affordability in the ward and would work with neighborhood organizations to review requests to rezone properties.
Jenkins also favored tapping transit-oriented development opportunities on the ward's arterial streets. 
"On our smaller streets I'm in favor of coach houses, I think those are good additional starter units [and] a great addition of income for people who own the houses in front and also two-flat preservation," Jenkins said. 

Dordek said the city needs to make the process for converting a single-family home into a multi-unit building just as easy to navigate as the process for converting two-flats into single homes.

If elected, Negron said he would pursue a master zoning plan for the 47th Ward that would give ward residents more negotiating power with developers. That way developers would know what the community prioritizes before they secure investors and develop preliminary plans, he said.

"And one thing I've learned from working in City Council is that aldermen are stronger when they are working together," he said. "We are not the only ones facing this challenge [of losing two- and three-flats]. There are communities near the 606 trail in Logan Square that are also losing type of housing. So we need to work together to come up with a citywide solution."

Organized by the 47th Ward Democratic Organization, the hour-long forum was designed around seven questions focused on things like education and public safety that were collected from the audience ahead of the event.
During the event, candidates had less than a minute to answer each question moderator and 47th Ward Democratic committeeman Paul Rosenfeld asked. The quick pace initially had all seven candidates slightly fumbling through their answers, but as the event progressed each one became more comfortable answering questions succinctly.
Public school funding 
Moderator Rosenfeld also asked the candidates how they would support public schools in the ward. 

Jenkins said he would prioritize funding for schools that don't have the ability to fundraise on their own.

"For me it's about equity across the city," he said.

Dordek echoed that sentiment, saying there's too much pressure for kids to test into selective-enrollment schools.

If elected, Negron said he would "block and tackle" at City Hall for resources for schools but would also want to address how they are currently funded, too. 

"There are a lot of great schools in this city but because of the magnet system some of the neighborhood schools get cherry picked and get left with fewer resources and fewer students," Maloney said.

Wearing her Chicago Teachers Union shirt at the forum in solidarity with the teachers striking at Acero network — the first-ever strike by teachers of a charter operator — Maloney said she'd oppose the closing of public schools and the opening of charter schools if elected.

"I'm 100 percent in favor of an elected school board. I also think we need a moratorium on charter schools," Kitzes said.

Schwartzers said he would prioritize capital improvement projects at public schools in the ward over private development projects.

"A lot of what everyone up here supports are things like fully funding public schools or bringing on an elected school board. But we need to consistently talk about why we don't already have that," Martin said.

Martin said Springfield legislators use an "evidence based funding formula" that creates a system where underfunded schools rely on parents to dip into their pocketbooks to cover the cost shortfalls of their children's education at CPS.

"That's not working," Martin said.
Redistributing resources to low-income neighborhoods
The closing question asked if the candidates would push for the 47th Ward to get a bigger cut of city resources or if they would pursue a more equitable distribution of resources to help low-income neighborhoods across Chicago.

"I think that sets up a false choice," Martin said. An alderman's job shouldn't just be fighting for his ward to get a share of city resources.

"I want to advocate for you. But if we want our schools to be fully funded, if we want more affordable housing, if we want a public safety system, especially a police department that works for us in the ward, it has to work for everyone throughout the city," Martin said. 

Jenkins said that hoarding city funds for the ward, one of the wealthiest in the city, wouldn't be fair. If elected, he would prioritize equitable funding across the city, especially for neighborhoods that lack adequate city resources.

"This question actually is why I'm running for alderman as a social worker. The old school way of looking at the aldermanic system is that we have to fight over the resources," Dordek said. "I'm completely against that approach…we need to make sure that we take care of all our citizens as a city and respect all the people of Chicago. We don't  have to lose because another neighborhood gains something."

Negron said there are cases when an alderman has to fiercely advocate for services in the ward or negotiate between community groups. But citywide disparities, like the large gap in average life expectancy North Center and parts of the West Side, need to be addressed, he said. 
Maloney said she would advocate for having sister wards "where we look at the equity from ward to ward." 

Kitzes said the city needs to work for all Chicagoans.

"There is great disparity in our city. Segregation and income inequality across the board. Chicago has a lot of struggles," she said. "A new City Council and mayor are coming in and we're going to have to make some difficult choices. But if we think about one thing, our common welfare, and we move forward with that as a guiding principle, our ward can help other wards overcome their struggles."

Schwartzers said a divided city doesn't work for anyone. All city agencies, including CPS and the Park District, should be funded adequately.

"You see money going downtown but you don't see money going to more blighted communities and that hurts everybody," he said. "If everybody gets their fair share you wouldn't have these competitions of who could get more [police] officers, which leads to fights at City Council."
In October, outgoing Ald. Pawar announced he will run for city treasurer.

A full video of Tuesday's forum can be found below.
Do stories like this matter to you? Subscribe to Block Club Chicago. Every dime we make funds reporting from Chicago's neighborhoods.