PILSEN — After going mostly unused for nearly 30 years, St. Vitus Church may get a facelift under a new proposal led by a Pilsen-based nonprofit. 
The Resurrection Project is set to unveil plans to repurpose the church building into a 42 affordable housing apartments at a community meeting at 6 p.m. Wednesday at La Casa Resource Center, 1815 S. Paulina Ave.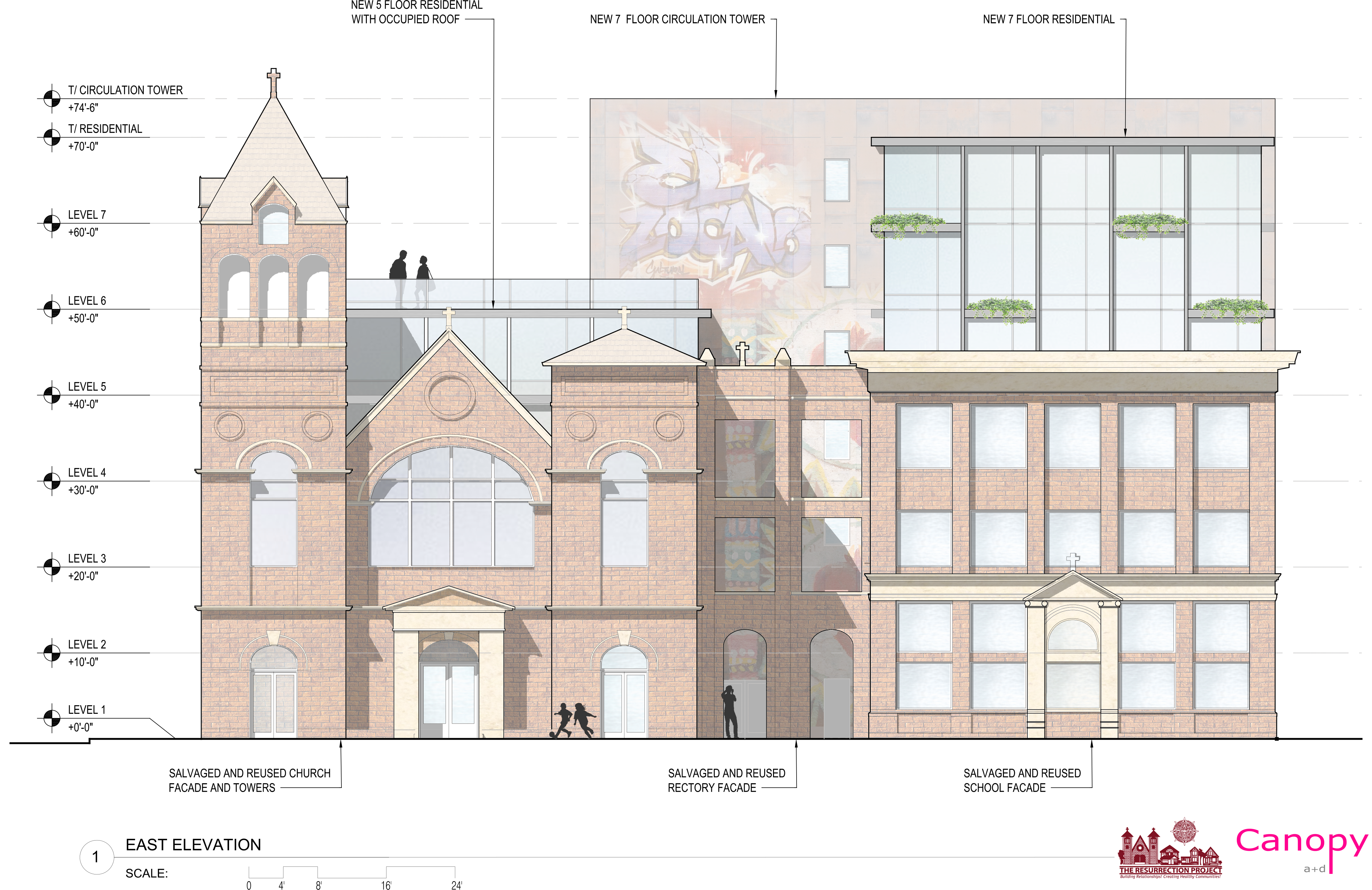 Under the proposal, the nonprofit aims to create a transit-oriented development that would serve families who make between $17,000 and $58,000 a year — or 30 to 60 percent of the area median income, said Veronica Gonzalez, vice president of real estate at the Resurrection Project.
As part of the plan, St. Vitus would be expanded into a 54,220 square-foot, seven-story building that would offer a mix of one-, two- and three-bedroom units, Gonzalez said.
Of the 42 units, 12 would be one-bedroom units, 16 would be two-bedroom units and 14 would be three-bedroom units.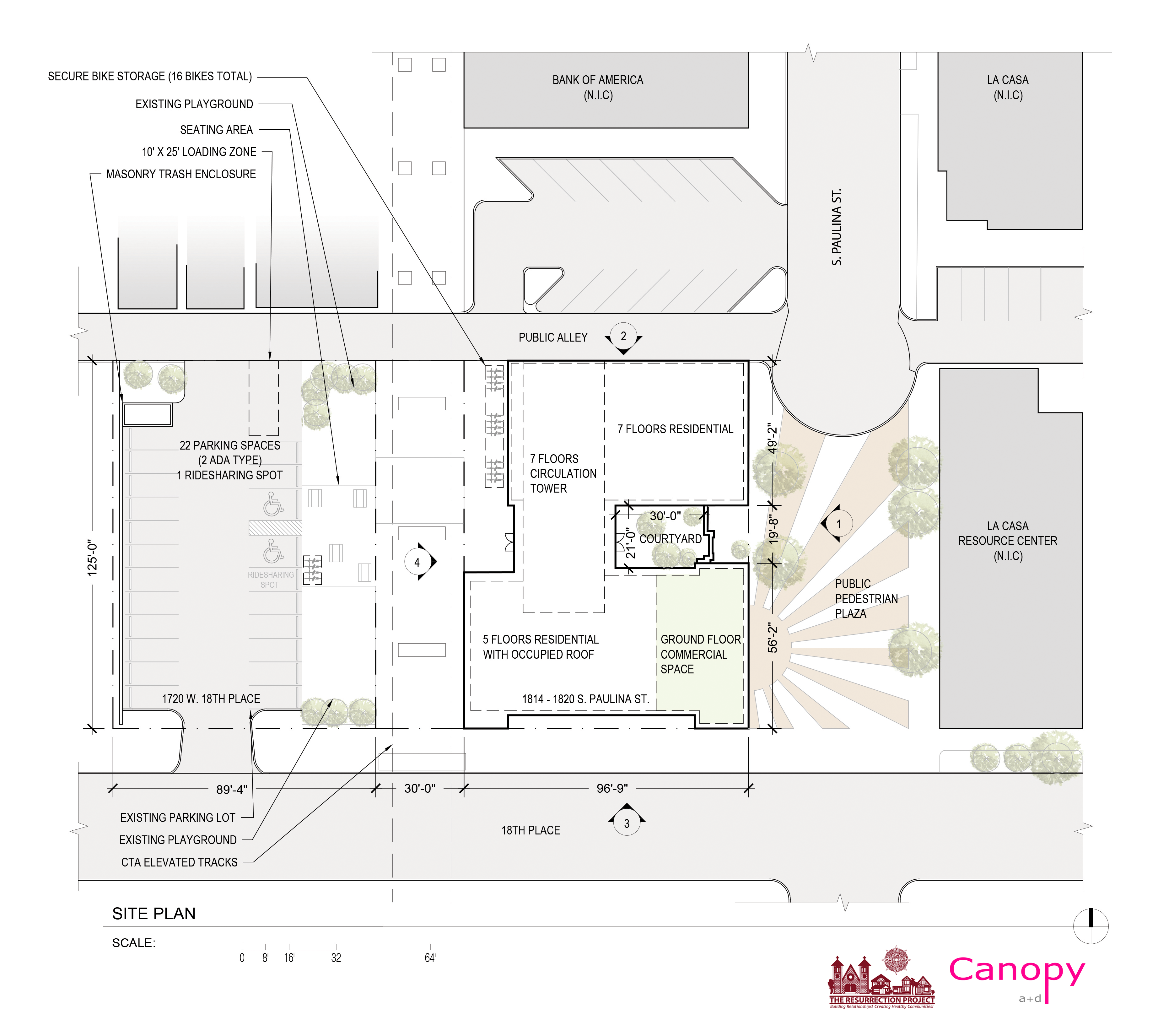 Under design plans created by Canopy, the property would retain historical elements of the church building but include a new construction addition. The site's plan also calls for green space, community gathering spaces, designated areas for mural and art, a small commercial space and 25 parking spaces to be developed on site.
Gonzalez said, the concept is in its "infancy" and the nonprofit wants to get feedback from neighbors early on. The plan for the property is "not set in stone," but Gonzalez said the nonprofit aims to bring "more quality affordable housing units" to the market in order to serve Pilsen families, who for the most part make less than $38,000 per year, she said. 
"We have a broader strategy to combat gentrification and displacement in the community, " Gonzalez said. 
As part of their overall plan, The Resurrection Project aims to acquire properties before they can be snatched up and flipped by market-rate developers.
"We try to buy them and hold them before the flip, or to stop the rising rents — that's one of our tactics," Gonzalez said. "Another is evaluating all the land that we own, whether vacant lots, underutilized property … that we haven't been able to develop in the past and re-activate it for community benefit."
St. Vitus closed in 1990 and it was deeded to The Resurrection Project the following year, according to the nonprofit. A portion of the building previously housed some Resurrection Project staff until this summer when a pipe broke, forcing the organization to relocate staff, Gonzalez said. 
Another part of the property houses the Centro Familiar Guadalupano, a daycare center that provides services to residents of Pilsen. 
According to Gonzalez, the daycare center — run by Chicago Commons — has outgrown the space, and because of licensing limitations is not able to expand in the current property. The Resurrection Project is working with Chicago Commons to find a larger facility in Pilsen.
In addition to the meeting Wednesday night, The Resurrection Project will schedule another meeting on the plan to repurpose St. Vitus in January. 
The Resurrection Project currently operates 330 affordable housing units across its Pilsen properties. Those buildings include: Casa Morelos, 2015 S. Morgan St.; Casa Guanajuato, 1313 W. 19th St.; Casa Guerrero, 963 W. Cullerton St., and Casa Monterrey, 967 W. 19th St.
Here are some more rendering for the proposed project. 
Do stories like this matter to you? Subscribe to Block Club Chicago. Every dime we make funds reporting from Chicago's neighborhoods.