LOGAN SQUARE — When people ask Elaine Frei what she does for a living, the 39-year-old tends to answer, sheepishly, "I have this balloon business."
Which is technically true — Frei is the founder/owner of Luft Balloons, based in Logan Square — but her response is also a bit like Coco Chanel saying, "I sell clothes."
What Frei actually does is take the humble balloon and elevate it into a medium for sophisticated works of art.
The words "sophisticated" and "balloon art" don't typically appear in the same sentence, something Frei is fully aware of. 
"I know it sounds weird but you have to just see a picture," she said.
Erase the image of balloons twisted into clownish animal shapes. Replace it with Frei's ethereal, exuberant, cascading installations that have more in common with sculptures — crafted out of latex and air instead of bronze or marble.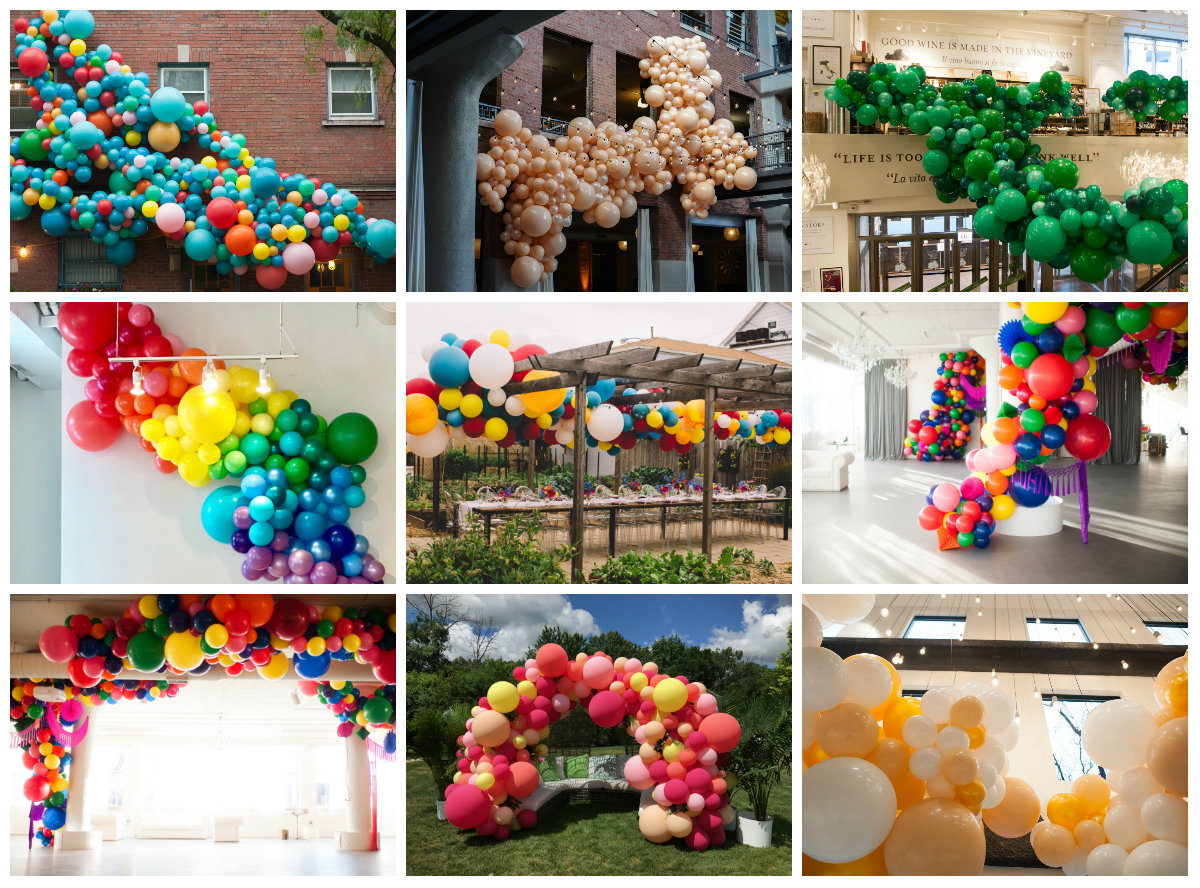 The "wow" factor is undeniable, and as a result Frei's work has become increasingly in demand by everyone from brides and grooms to Bloomingdales and Eataly.
"I think balloons command such a presence in a space that it just takes your breath away. Every single client comes in and is just like, 'Oh my god, it's so much bigger than I thought.' It's like landscape architecture, it transforms a space," said Frei.
The effect truly has to be seen to be believed, according to cake artist Emily Nejad, who moves in the same creative circle as Frei and has collaborated with her on events.
"The thing you don't get from seeing photos of [Frei's] work is the feeling of what it is to be in the room, the way it envelopes you and surrounds you and transports you to this different place," Nejad said. "It completely changes the mood and the feel."
Balloons are also inherently celebratory and joyful, bringing a sense of childlike wonder to grown-up affairs.   
"Balloons literally make everybody so f—ing happy," Frei said. "It's just one of those things, why did you have to let go of it in childhood? I always say that what we're trying to do with Luft Balloons is what other industries have done to cupcakes and doughnuts. You're changing the experience."
Unlike standard balloon art — the kind of columns and arches that come in assembly-required kits available on Amazon — each of Frei's sculptures is site specific.
"The design is going to speak to the space and the space is going to speak to the design. It's cohesive," Frei said. "That's why it's not decor. Because decor, you can place it anywhere."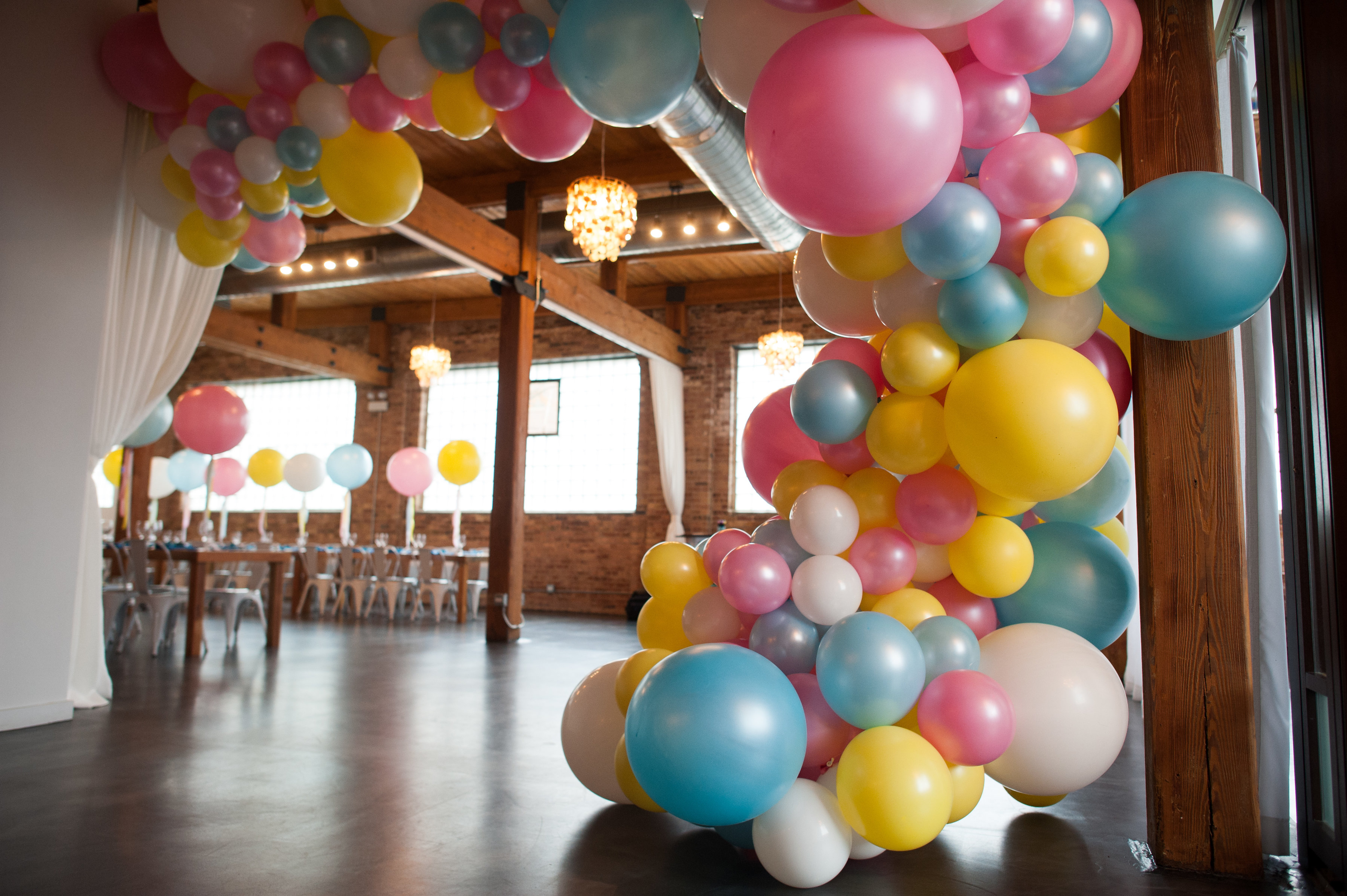 The process begins with a visit to a venue in order to snap a mental picture of the space; visions of how the installation should appear tend to materialize fully formed in her head.
"I just see how it needs to be hung and how it needs to be constructed. I just know. It must be from art school, making tons of models and all that stuff. I don't know how to describe it, I just see the points," Frei said. "Everything I build is basically identical to what I have in my head, like 99 percent accurate, which is weird."
The way Frei arranges hundreds, or even thousands, of balloons — a mix of three-foot, 11 inch and 16 inch — into gorgeous, free-flowing designs is a form of artistic alchemy.
"We always do a color mockup and I have to understand the flow, the thickness of one color or the pop of another. At the end of every install, I ask everyone to help 'zhuzh.' I don't want you to be able to see the construction. I don't want you to think it's a balloon … because that exposes the trickery of what you're trying to do," said Frei.

"It 'sings' when no one can pull it apart and figure out why it's so beautiful."
Construction takes place on site, which, depending on the size of the project, requires teams of two or five people (Frei has dubbed her crew "Lufters") to inflate and tie the balloons and string them with fishing wire. Frei personally hangs every installation — she's done roughly 50 in 2018 — almost always precariously perched on a ladder. 
"I used to do gymnastics so that's why I think I'm very nimble on the ladder," Frei said with a laugh.
Given the creativity and labor involved, installation costs start at $575, a price point that Frei readily admitted isn't feasible for the average birthday party or baby shower.
That's why Frei is preparing to launch a balloon shop app in early December, offering a curated color palette of latex balloons and Mylars that customers can mix and match as bouquets, for pickup or delivery.
"Think of the helium shop as the small but very design-y portion of what we do that allows it to be accessible to everyone," Frei explained.
"The idea is that like, a single balloon, you can hand to somebody and bring joy to them," she said. "It's all about just infusing simple joy into the world."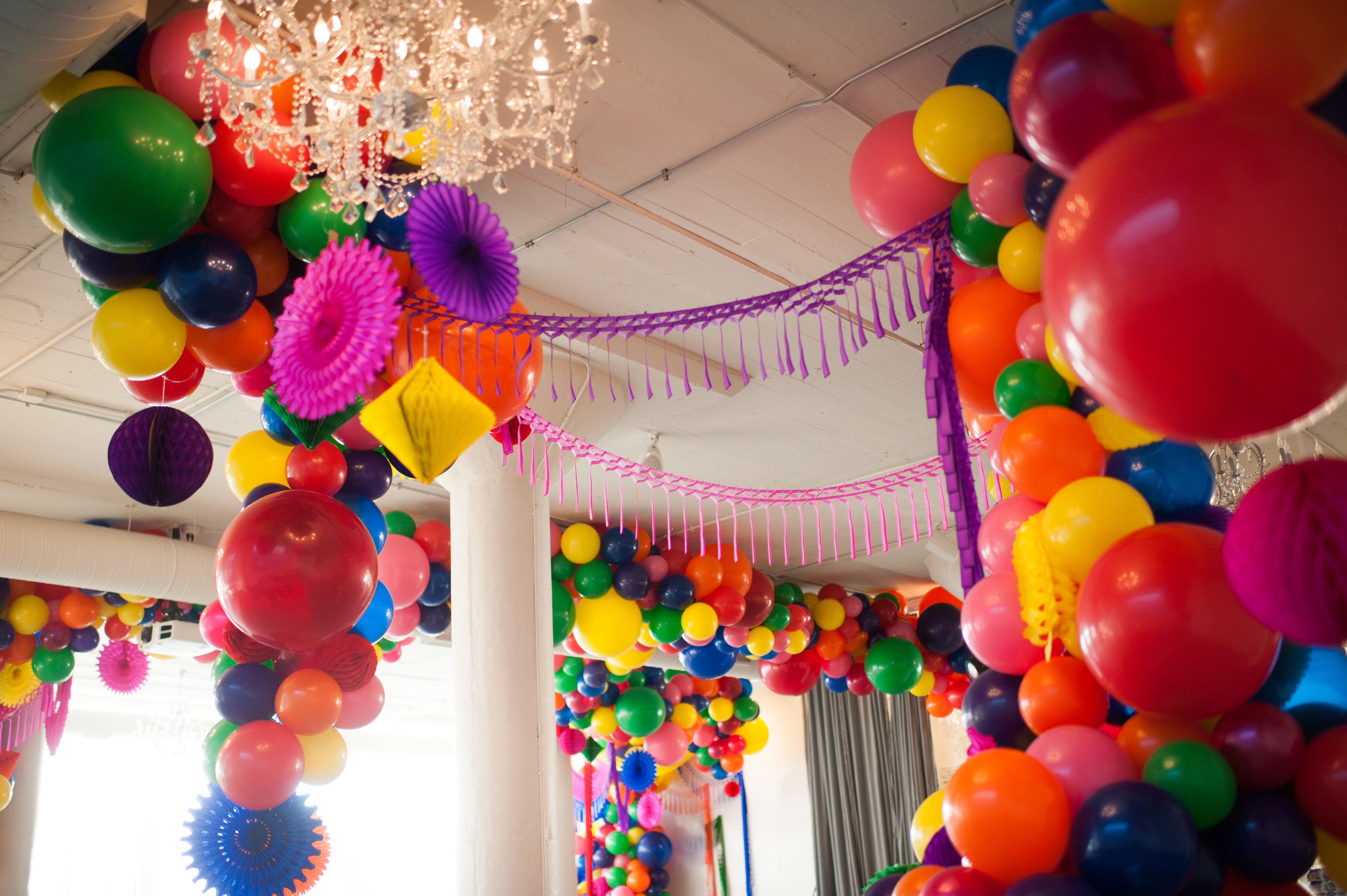 Coloring Outside the Lines
Frei didn't set out to become a balloon artist but in hindsight her unconventional career path feels like a case of "of course."
A native of Chicago's suburbs, Frei earned bachelor's and master's degrees in landscape architecture from the University of Illinois and the Rhode Island School of Design, respectively.
A post-grad school job working with Mikyoung Kim, a renowned landscape architect noted for her large environmental urban sculptures, heavily influenced Frei's understanding of three-dimensional art.
"It's about the way people move through space … you're changing their perception of a space," Frei said. "She [Kim] taught me this entire way of critical thinking, of how everything has a purpose, everything has an intention."
It's a philosophy Frei came to apply to balloons only after all other doors in architecture slammed shut in 2008 during the Great Recession.
Frei had just moved back to Chicago when hiring freezes hit the profession hard. 
"Pffft, done," she said of opportunities in the field. "I begged everyone for jobs. I taught at IIT, I worked on the Bloomingdale [Trail] project, which is now the 606, I did graphic design. … I did anything. Begged, begged, begged. It was like, 'We would love to hire you Elaine, but we can't.' So in that space I was like, 'OK, I've got to get resourceful. … Now is the time to really just kind of keep churning and figure out design ideas.'"
One of those ideas was a magazine of sorts, in partnership with her high school BFF Kate Sprouse, on the "sass and science of hosting dinner parties."
The concept never got off the ground, but in the process, Frei designed some "balloon things" for a prospective article and realized there was a market for someone to create more sophisticated colors than what's available on the shelf.
"So this was the impetus, creating custom balloon colors," Frei said.
Luft's balloons are double-stuffed, one color inside the other using a tool Frei designed, and the resulting combination is "beautiful luscious balloon colors," she said. 
The next thing she knew, people were asking if she could do events and Frei decided to give it a go.
"My first install was Hopewell [Brewing] and I did it for like nothing. The entire weekend I was just terrified looking at my phone: Are they going to text me that it fell down?" she recalled. "I knew nothing about construction, nothing about any of that. And it didn't fall down. And I just fell in love with it. That's it. It allows me to just really create a temporal piece of art."
Nejad draws a comparison between Frei's artistry and theater.
"You're creating an experience that's only for right now," said Nejad. "Once the cake is cut and the balloons are deflated, it's gone. You can't put it on a shelf. It encourages everyone to come be present in this moment, for this thing."
Turns out, Frei had latched on to a trend she didn't even know was sweeping through the balloon art industry.
There's an actual process to become a Certified Balloon Artist, involving both written and hands-on exams. Applicants are expected to construct perfect, mathematical columns, arches, etc., according to predetermined specifications.
"Organic" is the term for Frei's style. It breaks all the rules by having no rules.
"Organic was the idea that all of a sudden you started to not make a perfect column, not make a perfect backdrop, that you just started to play with balloons. Almost like kind of back in the art days, a Pollock starting to splatter paint," she said. "I'm excited to keep pushing the envelope."
Building The Company
Frei, who lives in Old Town with her husband and children, operates Luft Balloons out of the Festive Collective storefront at 3279 W. Armitage Ave.
Angela Wator, owner of Bash Party Goods, runs a party and paper goods shop in the front, with Frei sharing office space in the rear. 
It's a supportive environment — "Kind of like I'm existing in this bubble of bliss of just working with women," said Frei — in stark contrast to a co-working experience in Luft's early days.
"Across from me were these two guys and we would talk and they just thought they were the sh*t. They had funding and they were at a different tier. They were in the tech industry and I was in balloons and I was like, 'What am I doing?'" she said.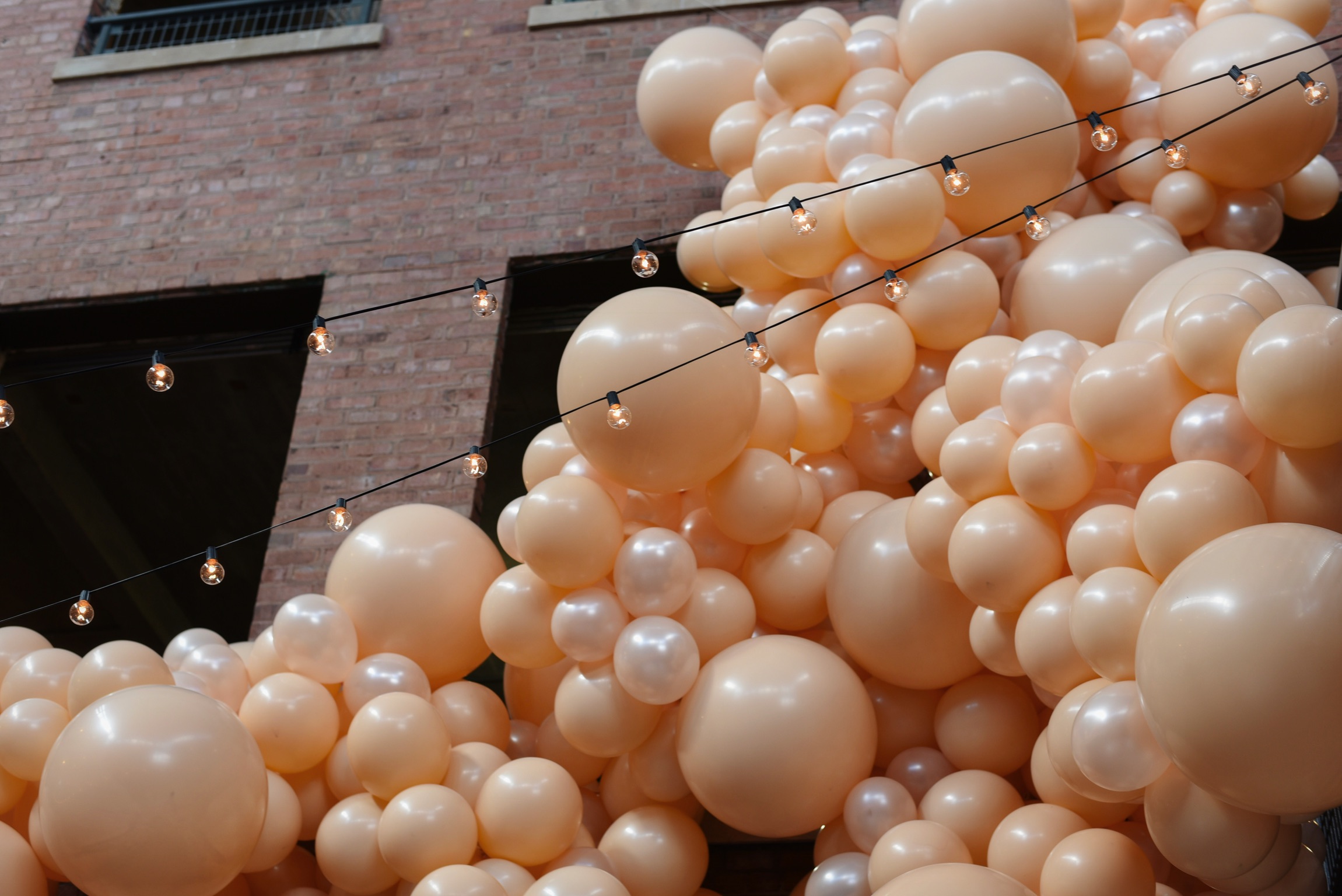 Brief crisis of confidence aside, Frei believed in the concept for what was to become Luft, but getting there was a different matter, compounded by a challenge that will sound familiar to many female entrepreneurs.
At the same time Frei's been building her company, she and her husband, who works in real estate development, have been growing their family. 
She was seven months pregnant with her oldest child, now 5, during that first installation at Hopewell. Two more little ones, ages 3 and 1, have followed. 
Toggling between Luft and motherhood has been exhausting, even for the energetic Frei.
"I was really down in the beginning, thinking 'I can't make it,'" she said. "I just didn't have the time [for Luft] because I had lots of babies. It was no sleep."
The demands on her time outside of Luft — "It's like, mom, why are you going to work? I want you to stay with me." — have in many ways made Frei more focused when it comes to nurturing her business.

She can't afford to spend her entire day promoting Luft on Facebook, Twitter, Pinterest and every other social media outlet (or hiring someone else to). So she doesn't.
"In the beginning you get caught up in the startup business like, 'I've got to get ahead, I've got to stay current.' I don't have that luxury because I've got little kids," Frei said. "The best piece of advice I got was, "Pick one platform and do it well.' You put all your energy into that and you build your community on one of them."
For Frei, that platform is the image-friendly Instagram — "I don't need words, right?" she said — where she's collected nearly 12,000 followers the old-fashioned way, none of them purchased. 
"It just is kind of a signifier of success in a way. Like, whatever you're doing, it's working, just keep doing it."