AVONDALE — Woodard Plaza has never really taken off.
But that could soon change.
When the city built the plaza on a triangular plot of land at Diversey, Kimball and Milwaukee avenues about five years ago, it was intended it to be a community gathering spot — a place where neighbors could watch free performances any given night of the week.
But instead the plaza suffered from neglect. Unruly weeds crowded out the curated collection of native plants. The drainage system stopped working. People threw their litter everywhere. Rats called it home.
Perhaps as a result, some events are held there, but not many.
Just last week, though, the plaza, considered the "gateway to Avondale," got a new lease on life thanks to a group of dedicated neighbors.
At the request of the newly-formed Woodard Cultural Alliance, a group made up of local artists and nearby residents, city crews replaced the weeds with new native plants, including drought-tolerant perennials that deter rodents, and fixed the drainage system. Neighboring business owners and residents also picked up trash in and around the plaza.
It's unclear how much the clean-up cost. A spokesman for the city's Department of Transportation couldn't immediately provide a figure the day before Thanksgiving.
Lynn Basa, one of the driving forces behind the project, said the clean-up is the first step in bringing the plaza back to life.
Now that it's clean, Basa said she and her partners at Woodard Cultural Alliance — Kristina Daignault of Basic Studios and Enrique Morales of Northwest Arts Connection — can focus on programming.
Basa said they'd like to book musical performances and markets there on a regular basis. But first they're planning to sit down with nearby residents, business owners and property owners to find out what the larger community wants.
"I don't want to swoop in and say, 'What we need here is a series of poetry readings,' when in fact what we need is a series of outdoor markets where Record Breakers and Monarch Thrift can show their wares," Basa said. "Everything has to be done in response to what is the highest, best use for what people need here."
The plaza, which doubles as an amphitheater, was originally designed by landscape architect Terry Guen, according to Basa.
The city paid for the project using $500,000 in Tax Increment Financing dollars, according to an old Streetsblog article. The project was part of the city's larger effort to convert public spaces into places where people can relax and enjoy cultural events, the blog wrote.
Basa said it's inspiring to watch neighbors come together to revive the plaza, which has and will always belong to the community.
"Nobody valued it. Nobody saw its potential. … It's been so much better here now that we started paying attention," said Basa, who founded The Corner Project in an attempt to revitalize Avondale's Milwaukee Avenue.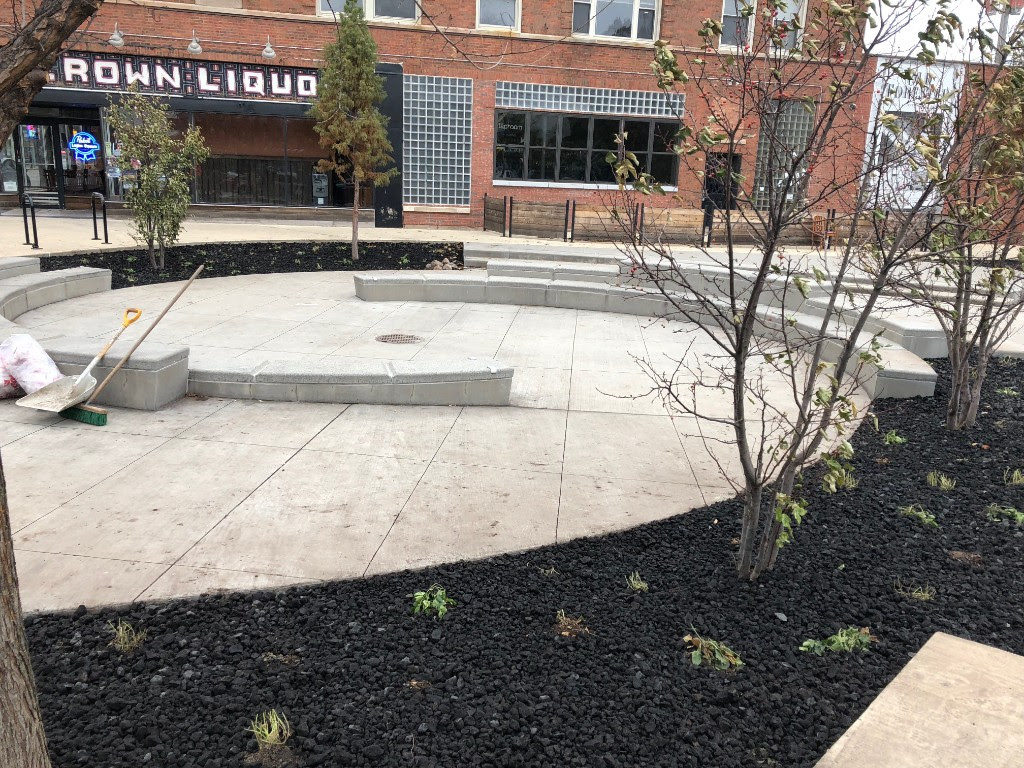 Do stories like this matter to you? Subscribe to Block Club Chicago. Every dime we make funds reporting from Chicago's neighborhoods.