EDGEWATER — After months of zipping his lips, Adam Gueldener can finally broadcast the secret he's been keeping since September: the Edgewater cake artist and his teammates took home the top prize in Sunday's Food Network "Holiday Wars" competition.
"I knew the whole time. It's so hard to not just let it slip. You can't spill anything," Gueldener said.
The episode, "When the Elves Call in Sick," pitted three teams of four confectionary artists against each other in a series of challenges, with $10,000 in prize money on the line.
For Gueldener, who's decorated cakes for celebs like Chance the Rapper, Tom Skilling and the cast of "Empire," the show represented his shot at taking center stage. (Read Block Club's preview here.)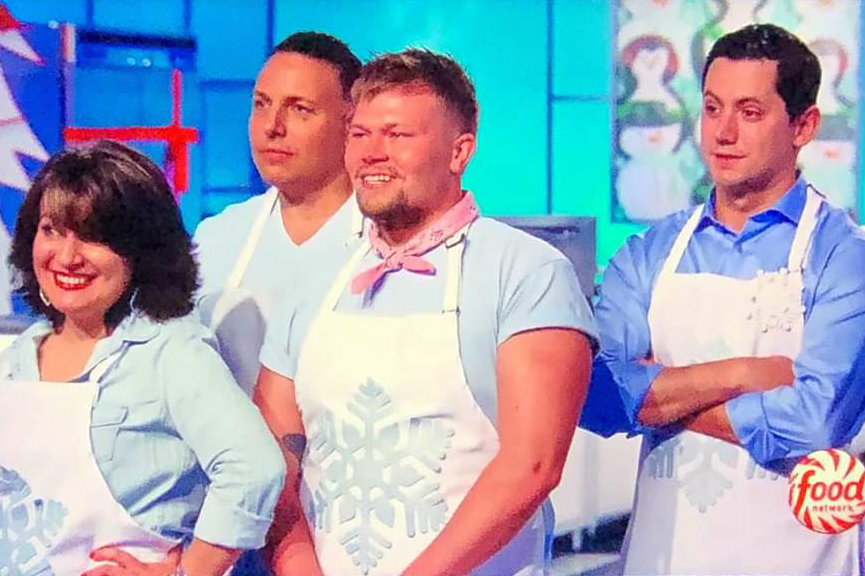 On Sunday night, Gueldener celebrated with a viewing party at Andersonville's SoFo Tap — like a lot of Millennials, he's cut the cable cord, so he needed somewhere to watch his own victory — where he passed out homemade sweets to the gathering of family, friends, co-workers and assorted bar patrons.  
As the episode unfolded, Gueldener's team jumped out to an insurmountable lead following the show's first challenge, in which contestants were asked to create confectionary pets and "dress" them in a crazy holiday costume.
"We were so proud of what we had made. We were going into the judging feeling confident," he said.
Gueldener's four-person squad — cast individually and made up of pastry pros from Texas, New Jersey and California — met during a handful of Skype sessions in advance of the September taping and he credits their immediate bonding for helping the group to perform under pressure.  
The team decided to design a pig for the challenge, and because of his mad skills working with fondant (check out his Instagram page), Gueldener was put in charge of making porky's outfit.
"We put him in an elf costume. His hat had a pineapple on it, like a pig at a roast," Gueldener said.
Finally being able to share his win with others was as thrilling as the competition itself, Gueldener said. 
"It was electric," he said of the atmosphere at the bar. "Everybody was having holiday cheer and dancing."
Congratulatory messages immediately began flooding in from family and friends across the country, including one pal who tuned in from 20,000 feet.
"One of my friends was on a plane that had DirecTV and he was watching while he was flying," Gueldener said.
 So what's next for the rising star?
For starters, Gueldener said he hopes the attention from his Food Network appearance translates into publicity for his employer, Edge of Sweetness bakery in Edgewater.
"It's a new business. We've been trying to elevate the level of cakes we're doing, more wedding cakes and special occasions," he said.
Gueldener has also definitely caught the TV bug and has applied for a spot on the Netflix series "Sugar Rush." 
As for the $10,000 Holiday Wars prize money (split four ways), well Gueldener has already put that to practical use.
"Since I work so hard, I ended up getting a new mattress," he said. "It was a much needed thing."
And highly conducive, we imagine, for conjuring up sweet dreams.