BRIDGEPORT — A drive-through Starbucks could be coming to a vacant lot at 31st and Halsted in Bridgeport.
Two city commissions have signed off on the sale of city-owned land that would be used to build a retail complex that includes the Starbucks. Next step for the project: a vote by a key City Council committee later this week.
Developer Glazier Corporation has proposed a two-building retail site, one of which would be a 2,300-square-foot Starbucks with a drive-thru at 3100 S. Halsted St., according to city documents.

The second building will be a 2,200 square-foot retail complex. A tenant for that building has not yet been secured. 
The Starbucks would be just south of that building, with outdoor seating proposed near Halsted Street, according to a document filed with the City Development Commission.

If the deal is approved, Glazier will also build an underground water retention area for the new development and for the Deering (9th) District Police Station directly to the south, according to a draft ordinance. Glazier Corp. CEO Josh Glazier said he could not yet comment on the plans.

City officials are proposing to sell the vacant lot for $625,000. The lot has an appraised value of $790,000, records show. The project is estimated to cost $2.7 million.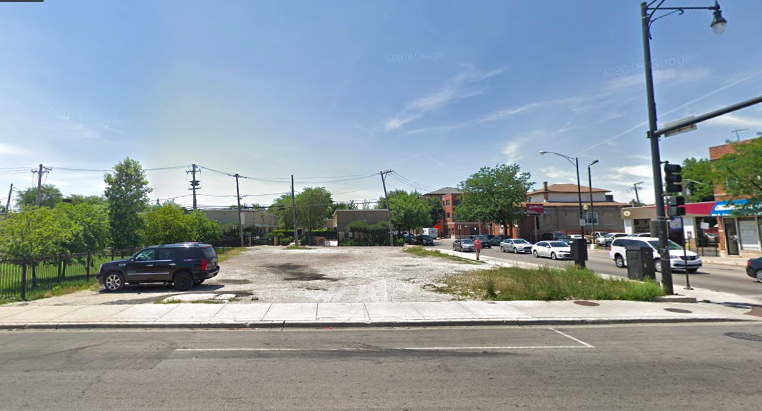 A proposed ordinance to approve the sale was introduced to the City Council on Nov. 14 and was assigned to the city's Committee on Housing and Real Estate, which will consider the proposal at its meeting Thursday.
The city's Community Development Commission on July 10 unanimously approved the sale. The city's Plan Commission voted to recommend the sale on July 19.

An estimated 27 jobs would be created to staff the new stores, according to the city's Department of Planning and Development.

If approved, the Starbucks would be at least the sixth coffee shop in the neighborhood, not including the Dunkin Donuts already at 31st and Halsted and at Archer and Halsted.
The Starbucks would be blocks away from Bridgeport staples Jackalope Coffee & Tea House, 755 W. 32nd St., and Bridgeport Coffee, 3101 S. Morgan St.

Starbucks would be joining relative newcomers Joy Cafe (opened June 2017), Red Line Cafe (opened October 2017) and Hardscrabble Coffeehouse, which is working to open soon on the south end of Bridgeport.
In September 2017, a Starbucks opened in Chinatown, the neighborhood's first coffee shop.
Do stories like this matter to you? Subscribe to Block Club Chicago. Every dime we make funds reporting from Chicago's neighborhoods.