LINCOLN PARK — Five mayoral contenders offered up proposals for combating gentrification — and revamping affordable housing — at a Chicago Teachers Union-sponsored forum Monday night. 
Former Chicago Police Board President Lori Lightfoot, Cook County Board President Toni Preckwinkle, Illinois Comptroller Susana Mendoza, community organizer Amara Enyia and former Chicago Public Schools Superintendent Paul Vallas answered questions focused on gentrification, public school reform and public safety. Billed as "The Great Displacement," the panel was moderated by Chicago Sun-Times journalist Evan Moore. 

Vallas said the city needs to "remove the obstacles for the development of affordable housing." If landlords were able to convert undeveloped garden units into affordable housing it "could create 150,000 units without a single subsidy."

Calling for officials to modify foreclosure laws, Vallas said that properties tied up in housing court "never get sold for years." He suggested those properties be turned over to local developers who could get grants to convert them to more affordable housing.
Capping property taxes could help stop gentrification, he argued. 
"You won't have gentrification because taxes won't grow more than one to two percent a year," he said.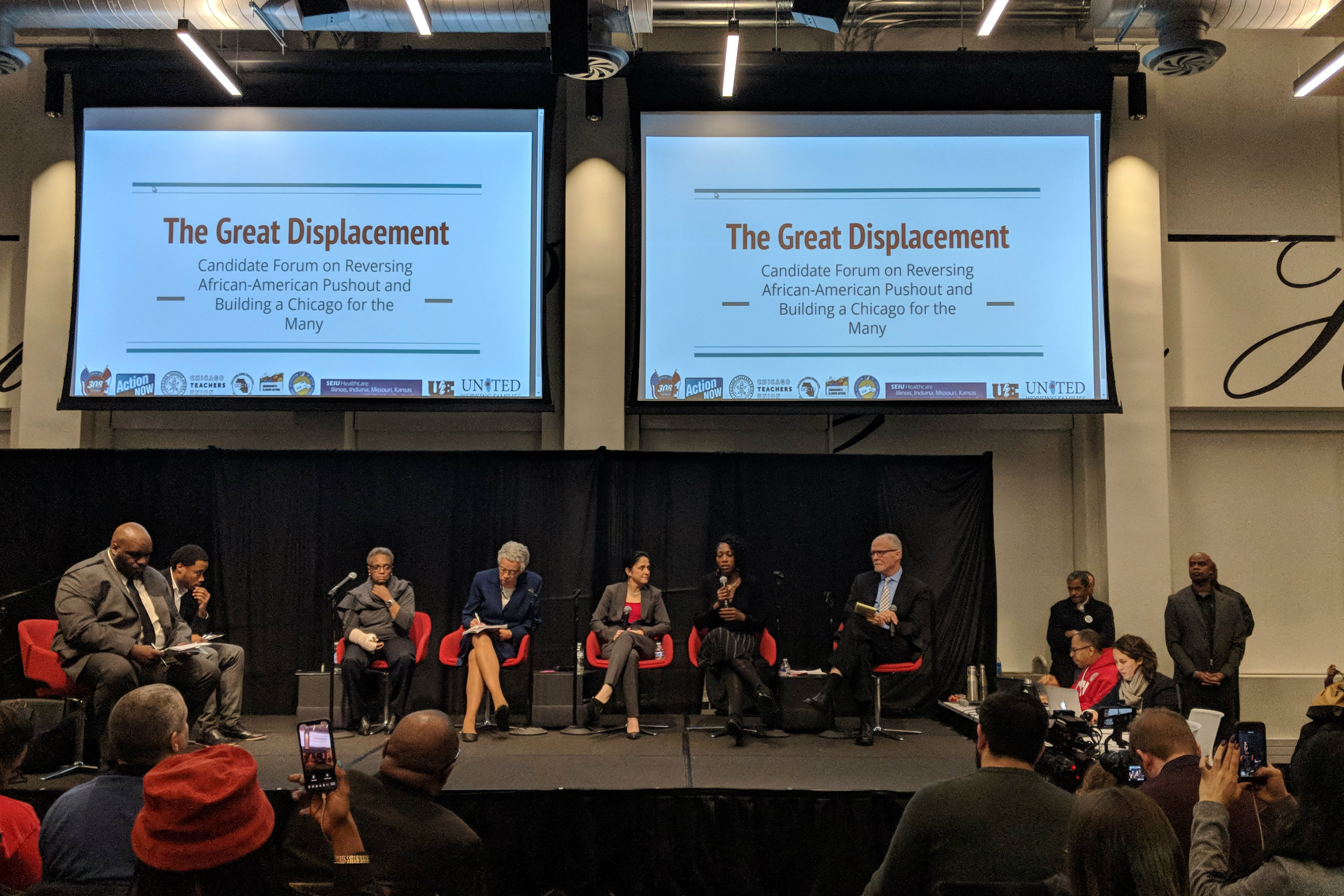 Lightfoot said that the city needed to "remove the red tape" surrounding affordable housing unit applications, calling the bureaucracy "out of sight."
She also said the city needed to get rid of the "alderman prerogative" because it prevents affordable housing units from being built across the city, instead of in specific communities.
RELATED: Chicago Is Still So Segregated Because Aldermen Are Too Powerful, Study Says
If elected mayor, Lightfoot said she will propose a progressive increase in the real estate transfer tax. That money could be used to help poor families and people who are homeless. 
"We've got to deal with the homelessness problem," she said.

Preckwinkle said the city's next mayor should first work to preserve the city's existing affordable housing stock. She has also has supported a plan to lift the ban on rent control in the state. 

"We have a 120,000 unit gap in affordable housing," she said. "There is a demand that is not being met."
RELATED: Three More Chicago Wards Asked If They Want Ban On Rent Control Lifted
Preckwinkle said it's imperative the mayor works with the business and philanthropic community to develop new affordable housing developments.
"We have to make sure that developers who are doing so well Downtown and [on] the Near West Side and South Loop are also helping us rebuild our communities that have suffered from housing loss and gentrification," Preckwinkle said. 

Mendoza said she would work to "make all neighborhoods in Chicago affordable to everyone." And she thanked everyone in the room who voted for a new Cook County Assessor. 
If developers want to build Downtown "they better have a plan for how they are going to help revitalize and reinvigorate our neighborhoods for everyone in the city of Chicago," she said. 
"Affordable housing should exist in every single one of the 50 wards," Mendoza said. 

Enya said that the city needed to consider larger families who may be struggling to find housing.

"Expanding affordable housing means not just for individuals, but for families," she said.

She said it is vital to ensure that there are "no incentives offered to crowd affordable housing only in certain parts of the city."

"It has to be an even spread where families can choose to live anywhere in the city that they like," she said.

Enyia said she would hold the Chicago Housing Authority (CHA) accountable for how they are using money they receive from the federal government. She also would work with the new Cook County Assessor to ensure low-income communities are not unfairly taxed. 
While five contenders participated in the CTU event Monday night, a number of mayoral candidates from the crowded field weren't at the forum.
Former Chicago Police Superintendent Garry McCarthy sent out a press release protesting his snub from the forum. Community organizer Ja'Mal Green also said he wasn't invited on Twitter.
Do stories like this matter to you? Subscribe to Block Club Chicago. Every dime we make funds reporting from Chicago's neighborhoods.