UKRAINIAN VILLAGE —  The folk rockers behind Ukrainian Village People never expected their band's T-shirts to spark what they call "a bit of a cult phenomenon." 
"Wear one. People always stop to comment. At an airport, walking down Division, or at a local coffee shop. There is great love for our neighborhood near and far," said Chris Sarakaitis, a member of Ukrainian Village People. 
The shirts advertise Ukrainian Village People — the official St. Helen School Dad's Club band comprised of Sarakaitis, Chris O'Neill and Patrick Skertich  — but they also show off wearers' pride for Ukrainian Village, declared the hottest neighborhood in America by Redfin in 2016, the same year that the band launched. 
An estimated 300 shirts are currently in circulation — worn by Ukrainian Village fans across Chicago, the country and the world.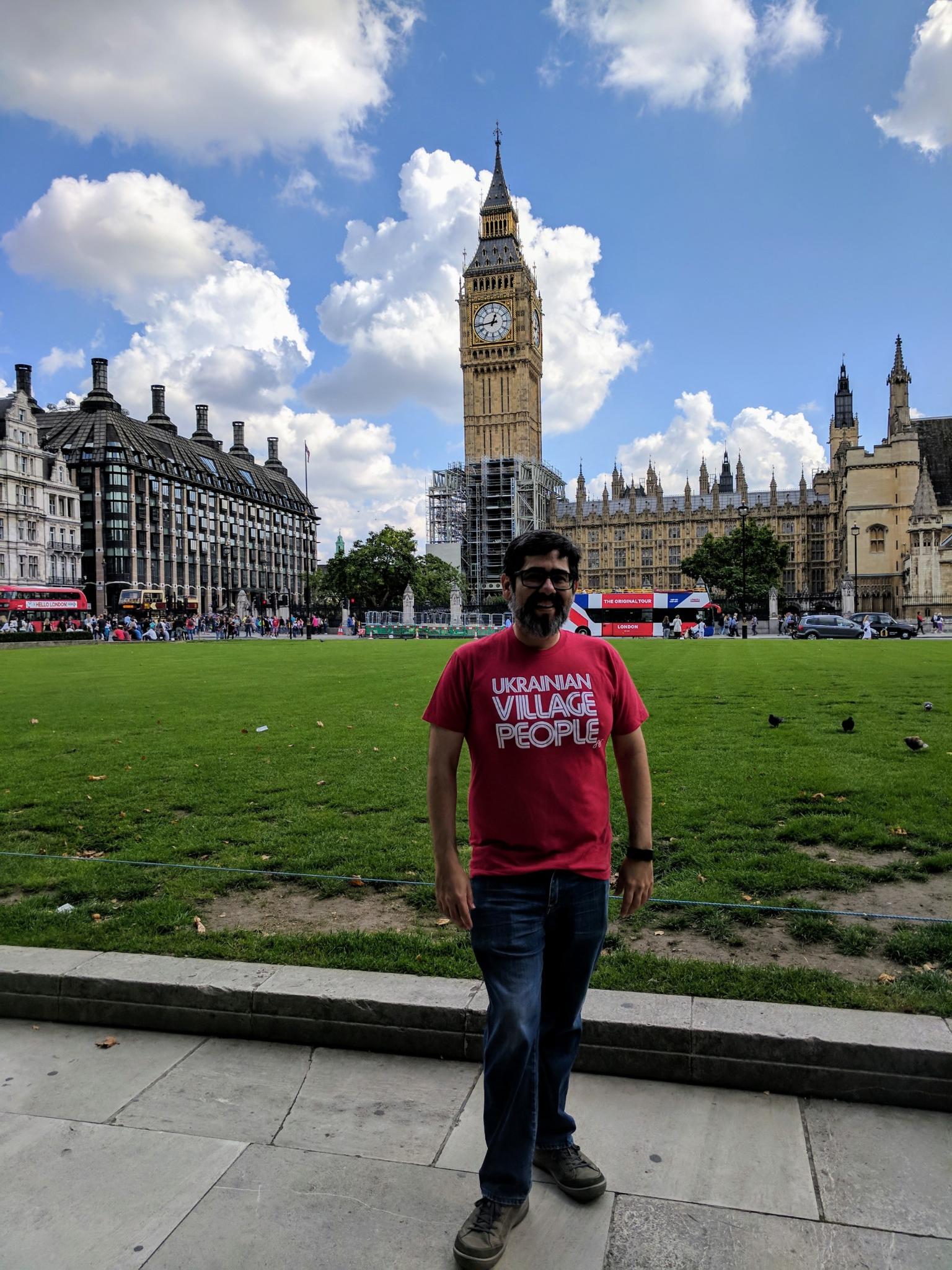 "Seen in London, New York, Miami, San Francisco, Portland and even on stage at Riot Fest, locals are proud to support the neighborhood far from home," Sarakaitis said.
A portion of the proceeds of each shirt sold go to St. Helen School, 2347 W. Augusta Blvd., where the band members' kids are students. 
The shirts cost $25 (short sleeve) or $40 (long sleeve) and $15 for children's sizes. Shoppers can buy the shirts at St. Helen School events, such as the upcoming Christmas fair on Sunday, December 2, or though direct order by emailing ukvptees@gmail.com.
"We're still pretty grassroots, so delivery may be delayed based on next order, and we do offer free delivery within the boundaries of Ukrainian Village," Sarakaitis said.
Megan Sutkus, a freelance art director and mom of three boys who attend the school, designed the band's T-shirts and logo.
Sarakaitis said the band was "born out of a love of music, great friendships and a passion for community."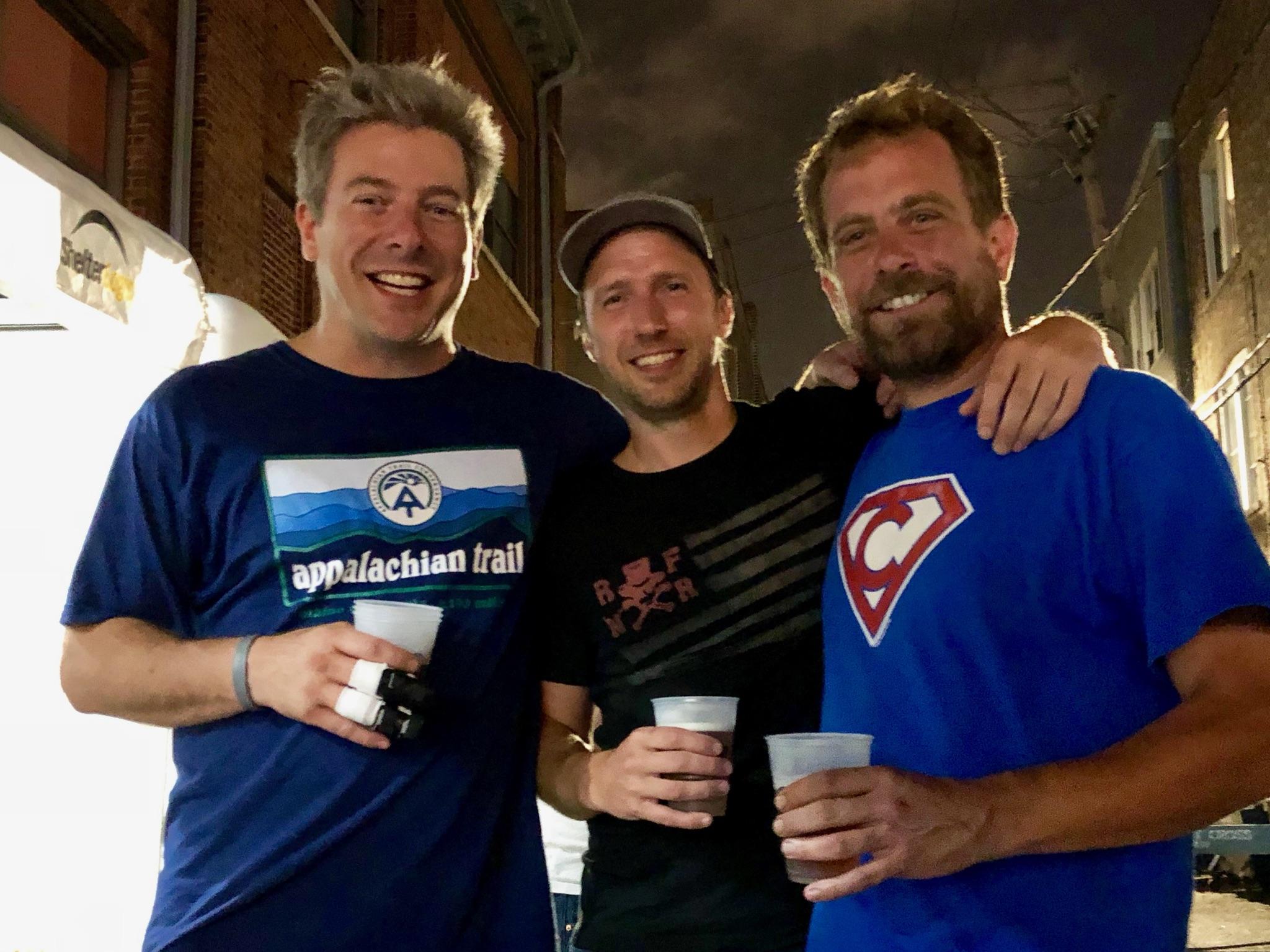 Sarakaitis, O'Neill and Skertich got the idea for the band name in 2005 when they were living in Ukrainian Village "during the pre-kid, totally awesome, late night Rock Band days," Sarakaitis said. 
A conversation some 11 years later about starting "a dad band" set the Ukrainian Village People plan into fast motion, and 19 days later they performed their first gig at the school's summer carnival in 2016.
"We cover crowd sing-alongs such as 'Take Me Home, Country Roads,' 'Me and Julio Down By the Schoolyard,' and 'Take On Me' and draw an impressive audience for our annual appearance at the St. Helen School Carnival in August," Sarakaitis said. 
John Gaston, another St. Helen parent, helps to promote the band and the shirts.
"It's fun to see [the shirts] out and about and adding to a sense of community in the neighborhood," Gaston said.
Deanne Glorioso, a Ukrainian Village resident, said she gets many compliments on her shirt when she walks around the neighborhood.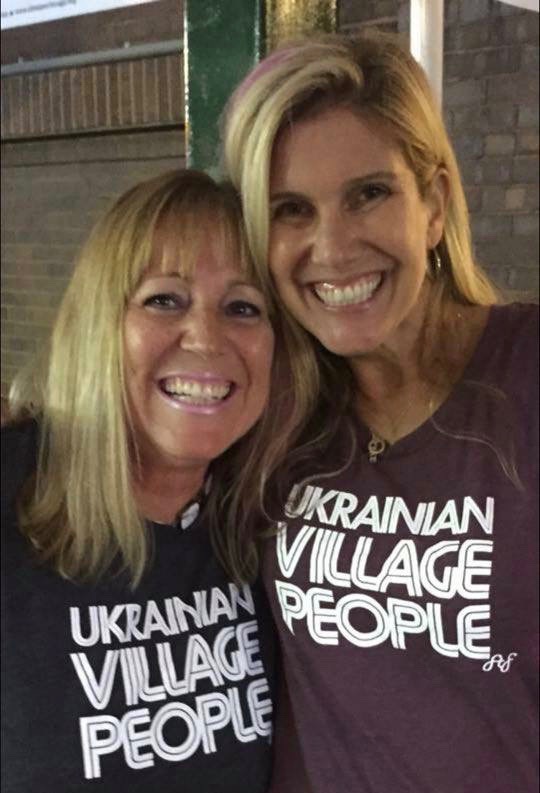 "We are all proud of our "village" and people always ask where they can find them. My initial purchase was to support the Dad's Club at St. Helen,  donating to the school. I didn't realize it was such a great statement and people would want them," Glorioso said. 
The shirt also appeared on stage at Riot Fest. 
Photographer Ryan Segedi, who snapped portraits of artists at Riot Fest for the Chicago Reader, captured an image of Devon Kay, a member punk band Direct Hit! wearing a Ukrainian Village People shirt. 
Sarakaitis was not aware of his band's shirt being worn on a Riot Fest stage until he saw Segedi's montage of photos in the Reader and Kay in a Ukrainian Village People shirt. 
"The best sighting yet!" Sarakaitis said. 

Kay told Block Club he bought the shirt at the St. Helen School carnival in 2017. Until being contacted by a Block Club reporter on Monday, he had no idea the shirt was for a band. 
"Direct Hit had played in town that night or something and our drummer and I stumbled over [to the school carnival] after seeing a pirate swing ride. I drunkenly purchased the shirt from what looked to be a nice Midwestern family. Honestly, I didn't even know it was a band. I'm a sucker for silly t-shirts and I thought this one [was] for a school fundraiser or something," Kay wrote in an email. 
Kay said he chose to wear the shirt at Riot Fest because he lives in Ukrainian Village and he is the only Direct Hit! band member not from Milwaukee. 
"I also wore it in Australia. Maybe one day I'll listen to the band. But it puts a HIGH standard now for those folks… they need to live up to the reputation of a great t-shirt," Kay said. 
Kay will have to wait until August 2019 to hear the band live, as Ukrainian Village People are not scheduled to play again until the next St. Helen School Carnival. Visit their Facebook page or YouTube channel for more information. 
Following are some photos of people in the shirts: