NORTH CENTER — Grief-stricken friends of Jemel Roberson, the security guard fatally shot by a suburban police officer while working at a Robbins bar, honored and mourned him with both a church tribute and a vigil.
About 150 people gathered in front of the steps of Lane Tech High School, 2501 W. Addison St., to share their memories of Roberson and offer each other support Friday night. Ahead of the vigil, people used chalk to write messages like "We love you Jemel" and "We are proud of you Jemel" on concrete.

"You made it out here. It's cold but you still made it and I really appreciate it," said Citlali Arroyo, a vigil organizer and friend of Roberson. "He was one of the first friends I made and I will always remember how kind and welcome he made you feel in his presence. You could spot him from anywhere because he was so tall."

Roberson graduated from Lane in 2010 and was on the school's basketball team. He also played music for his congregation at Purposed Church, 1252 S. Wolcott Ave. In his senior year basketball photo for the school yearbook, Roberson said he'd like to have "super-strength" as a superpower.

At the vigil, Arroyo said Roberson was a caring person, and she's so mad and upset at his death, which she called surreal. 

"I really don't have that many words to say because I still can't wrap my mind around it," she said. "And the more that I do, the angrier I get. But I hope that if you feel this way too that you can find a way to turn your emotions into an action."

Ariel Atkins, from Black Lives Matter Chicago, asked the crowd to join her in reciting the names of people who had been killed by police officers: Rekia Boyd, Bettie Jones, Laquan McDonald, Quintonio LeGrier.  

Atkins also asked the crowd to use what their feeling regarding Roberson's death to do something about fatal police shootings.

"I feel comforted and feel like we got a good message out there to a lot of people who needed to hear it," Arroyo said. "I hope that this can help people understand the anger in black America is completely justified. That this anger isn't just for Jemel, but also the people we lost before him. The people we will lose. I really want people to keep their hearts open and support and stand up for each other."

Roberson was working as an armed security guard at Manny's Blue Room Bar in suburban Robbins on Nov. 11. At about 4 a.m., a group of drunk men were asked to leave the bar. After being ejected, one of the men came back to the bar armed with a gun and opened fire, witnesses said.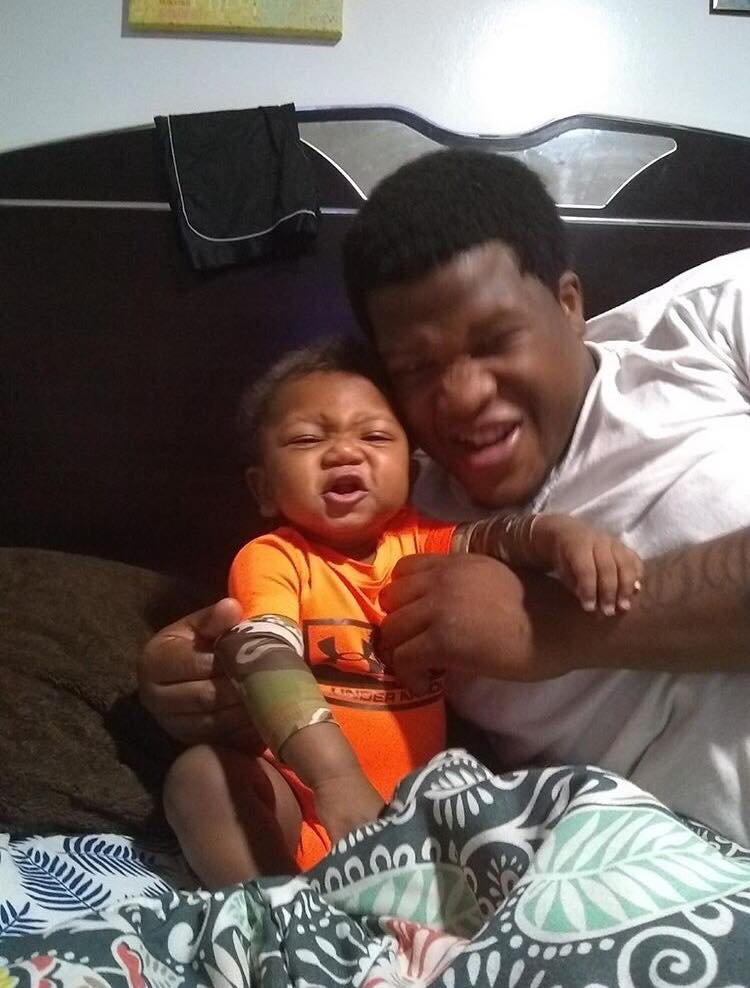 Roberson was able to detain one of the men involved outside but was fatally shot by a police officer from Midlothian, a neighboring suburb, who arrived on the scene.
The Cook County Medical Examiner's office said Roberson, of the 3300 block of West Lexington Street in Chicago, was pronounced dead at 5 a.m. on Nov. 11 at Manny's Blue Room Lounge, 2911 S. Claire Blvd., in Robbins.
Roberson's family filed a wrongful death lawsuit on last week, according to the Sun-Times. Also last week the Midlothian police department released a statement on Facebook addressing their officer's fatal shooting of Roberson, describing it as tragic and saying they would await "the completion of the [Illinois] State Police investigation to learn all of the facts of the incident."

On Nov. 13, state police released a statement that corroborated most of the initial reports regarding how Roberson was shot. But their statement also said "the Midlothian Officer gave the armed subject multiple verbal commands to drop the gun and get on the ground before ultimately discharging his weapon and striking the subject," according to witnesses state police interviewed. 
A co-worker at the bar told the Chicago Tribune Roberson was wearing a cap and sweatshirt said "Security" on them. He also said that the officer who killed Roberson fired within "not even five seconds" of warning Roberson to drop his gun.
"We need to organize. They will not stop killing our people until we force them to stop," said Aislinn Pulley of Black Lives Matter, another Lane graduate.

While speaking to the crowd, Pulley demanded Midlothian police release the name of the officer who shot Roberson, that he be fired and for Cook County State's Attorney Kim Foxx to charge him with first-degree murder.

"This can not go on as business as usual," Pulley said.

On Saturday, Purposed Church also held a musical tribute and prayer for Roberson. In a series of tweets, Pastor LeAundre Hill recalled the first time he met Roberson at his church in 2012.

"Just thinking about how #JemelRoberson showed up @PurposedChurch back in 2012 with my brother and just jumped on the keyboard to play with Stevie and CJ without even asking," Hill said.

Afterwards Roberson began showing up every week and Hill asked him to play with the church's band.

"Eventually he joined our church. I can't count the number of times I had to fire #Jemel, lol, and fuss at him about life, and guess what?," Hill said. "He still kept coming back and if the organ was open he was on it because he always knew that no matter what church he had moved on to, Purposed was still home and we were still family."

After his death, Katie Fromm-Bogacki, a friend of the Roberson family, created a GoFundMe campaign for the family to help pay for burial expenses. And on Saturday, Kanye West apparently made 10 donations, which total to $150,000, to the GoFundMe, putting the campaign $160,846 over its $150,000 goal.

A second GoFundMe campaign was started by Rayjanay Williams on Saturday to benefit Roberson's 9-month-old son Tristian and his unborn child.
"Tristian was a daddy's boy who jumped for joy from the sound of Jemel. These children will now grow up without a father because of his good deed," Williams said, the children's aunt. "If you have a heart to give please donate to this cause. My family thanks you all in advance."
As of Monday the campaign had reached $15,291 of its $20,000 goal.
And on Sunday, Nick LoGalbo, a basketball coach at Lane, organized a basketball rally to memorialize Roberson with several speakers and about 200 students

After the moment of silence at Friday's vigil, balloons were released into the night sky. As they floated away someone from the crowd shouted, "Jemel!"
"Don't wait for something to affect you. Just care about it because it affects human beings that you share this earth with," Arroyo said. "It doesn't have to be someone you're related to, a person is a person and they deserve to live."
Do stories like this matter to you? Subscribe to Block Club Chicago. Every dime we make funds reporting from Chicago's neighborhoods.