LINCOLN PARK —  More than 150 Lincoln Park and Bucktown residents made their objections to a proposed new tax increment financing district clear at a public meeting on Wednesday hosted by officials from the city's Department of Planning and Development.
"Delay the TIF!," "Slow down the TIF!" and "Where's the park?" were among the phrases shouted at city planners at various points throughout the meeting at Park Community Church, 1001 N. Crosby St. 
Eager for a park and preserve along a portion of the North Branch of the Chicago River rather than Sterling Bay's Lincoln Yards development benefiting from public infrastructure aided by TIF money, many of the meeting attendees wore "No park? No deal!" stickers.
Not one commenter during a question-and-answer session that spanned close to an hour spoke in favor of the new TIF district. If approved, the Cortland/Chicago River TIF district would span 168 acres and generate an estimated $800 million in funding to be used for public infrastructure, according to a fact sheet by the Department of Planning and Development.
Though the proposed Cortland/Chicago River TIF is not being developed specifically for Sterling Bay — the private developer behind the mega development called Lincoln Yards — much of the public infrastructure that would be funded by the TIF will help to build roads and bridges necessary for Lincoln Yards' $5 billion plan. 
Sterling Bay representatives were not at the meeting because the gathering was only designed to talk about the proposed TIF and not Lincoln Yards. A public meeting to discuss Lincoln Yards is scheduled for 6 p.m. Thursday, Nov. 29. 
Many in the crowd, like longtime Lincoln Park resident Allan Mellis, questioned a consultant's findings that the 168-acre mostly industrial area along the North Branch of the Chicago River and encompassing parts of Lincoln Park and Bucktown qualifies as "blighted."  
Tom Tresser, an anti-TIF activist, referred to the new proposed TIF as "immoral" and said it had been "rushed through."
Early Thursday, Ald. Brian Hopkins (2nd) told Block Club that he plans to tell the Department of Planning and Development to hold off on introducing the new taxing district for consideration on December 11 to the Community Development Commission.
"I am willing to take the necessary amount of time to review this and provide further details for community consideration. We are not there yet. I'll be taking that sentiment to the DPD [Department of Planing and Development] today," Hopkins said. 
But Hopkins also emphasized that the five different categories of public infrastructure improvements that would benefit from the TIF, such as improving existing roads, developing new streets and bridges, modernizing the Elston, Ashland and Armitage intersection, revamping the Clybourn Metra station and extending The 606, are all things he supports.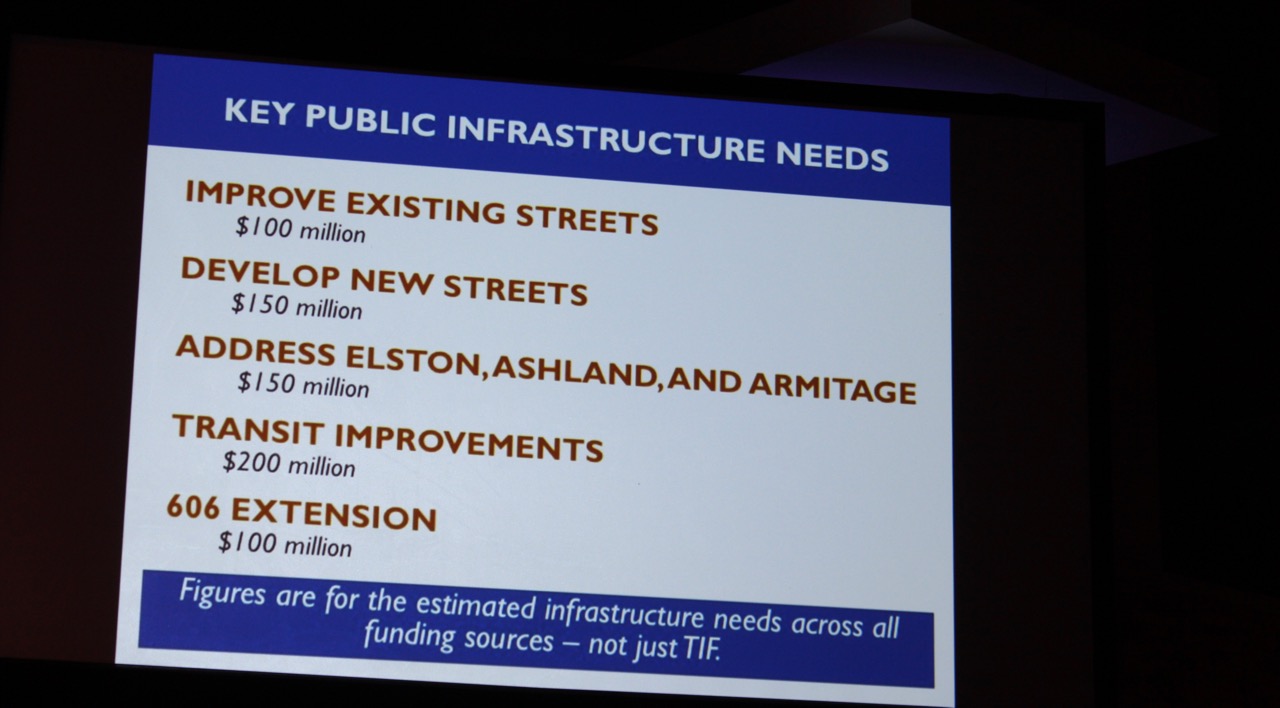 "I am solidly in support of every one of those things, and the question is to how to bring it about. There is a near unanimous consensus that we need all those things right now, whether or not Lincoln Yards gets approved," Hopkins said.
Hopkins acknowledged, without saying the name Sterling Bay, that private financing would be required to augment some of the infrastructure improvements in the proposed new TIF district, given that the plan for Lincoln Yards is dependent upon new bridges and roads. 
"There is no question the developer of Lincoln Yards will be required to pay for substantial community benefits, the exact how much is still being negotiated and that is one of the points that still needs to be refined," Hopkins said.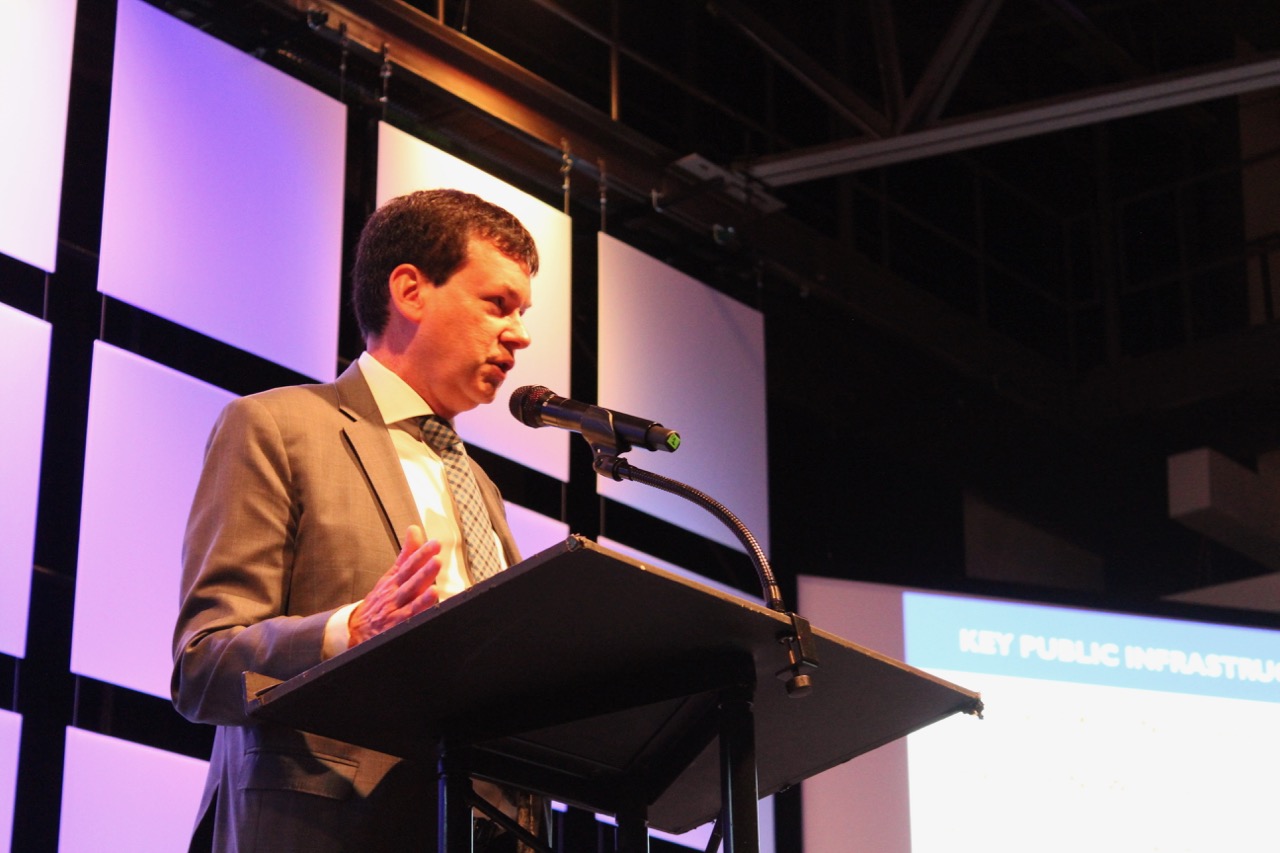 Hopkins urged the public to look closely at the proposed TIF.
"It shouldn't be subjected to knee-jerk opposition before all of the details are to be revealed," Hopkins said. "The general outline is, we are talking about $800 million in traffic and transit infrastructure improvements. It's what everyone in these neighborhoods have been asking for, for years. It has been on the public's wishlist for a long time, and finally there is a proposal to bring it to reality," Hopkins said. 
Hopkins also told residents that 80 percent of the proposed new TIF boundaries are already part of other tax increment financing districts and only 20 percent of it is actually new.
If the new TIF gets approved, Hopkins said the existing North Branch North and North Branch South TIFs will be eliminated and written over by the new one. "You can see [the new TIF] is a small expansion of TIF territory. The existing North Branch TIF can and has been used for developer subsidiaries, this new TIF cannot be used for developer subsidiaries," Hopkins said.
If necessary, Hopkins said on Thursday after the meeting, he will "bake into the agreement" that the new TIF will never be used for private development subsidiaries and only be used for streets, bridges, schools and parks. "It's not in the TIF now, but it's a step in the direction of what many advocates support," he said. 
The city has 144 TIF districts, according to its website.
Check out more photos and social media highlights from the meeting, below.