IRVING PARK — The basement of the Irving Park United Methodist Church bustled Wednesday morning with volunteers packing box after box and bag after bag with food for neighborhood residents waiting nearby.
Over 80 people sat in chairs arranged in rows in the church's basement, each one waiting for their ticket number to be called by volunteers who prepared fresh and canned food for them.
It's holiday season, and that means it's busy at the Irving Park Community Food Pantry, a community resource serving the neighborhood since 1984.
The center is open year-round, but this time of year brings specific needs. 
The current need — toys.
The pantry at 3801 N. Keeler Ave. serves people in the 60641 area code and the 60618 area code west of Kedzie Avenue. It's typically open every Wednesday, from 9 a.m to about 12:30 p.m., and on the second Tuesday evening of every month to help accommodate its clients' schedules.

The pantry kicked off it holiday toy drive in recent days, trying to fulfill dreams of neighborhood kids this season. 
"We are asking for toys for children of all ages, from newborn infants through the oldest teenagers who are often neglected during the holidays," said Renee Linnemeyer, a longtime volunteer.
"We're looking for any new, unwrapped toys. People can drop them off here but there are also other places in the neighborhood they can leave the donated toys."

Locations that will accept donated toys through Dec. 13 include:
Irving Park United Methodist Church at 3801 N. Keeler Ave.
The Ward Office of Ald. John Arena (45th) at 4754 N. Milwaukee Ave.
Irving Park Lutheran Church at 3928 W. Belle Plaine Ave.
The Irving Park YMCA at 4251 W. Irving Park Rd.
Old Irving Brewing at 4419 W. Montrose Ave.
Another volunteer, Arlene Simko, said it was the holiday crowds that got her involved with the center.
"I first came here a few years ago and I noticed it was the Christmas holiday rush. They did such a marvelous job and so I asked if they needed help," Simko said. "The people keep me coming back to help because it's such a worthy thing to do."
John Psiharis, the pantry's executive director, lives just a few blocks away from the pantry. Working there is a way to serve his community, he said.
"I have neighbors that come here, senior citizens who are on very fixed incomes. Another client is a woman in her 80s. She ended up having to raise her two grandchildren because their parents, as teenagers, were not able to do it on their own," Psiharis said.
"I personally believe in going to local businesses and supporting them so that they'll stay around and thrive as part of the community. I think supporting our neighbors with something like a food pantry is kind of the same thing."

He leads a volunteer staff of about 90 people who help distribute food every week. But it's more than that. Other services the pantry offers include connecting clients with support system resources to offer a more holistic approach to helping folks out.

"We realize that if they're coming in here that we could perhaps help them in other ways," Psiharis said. "So actually able to help clients complete SNAP applications. Because if they're walking in here in need of food, we can try to help them get food stamps so that they can have some ongoing security."
The pantry recently wrapped up a successful coat drive — one that was extended thanks to neighborhood generosity.
"The recent coat drive was really great. This room was full of coats, it hard to navigate around with all the coats we had, you couldn't get through here. It was crazy," Linnemeyer said. "The coat drive was supposed to end in October but we got a call from the 16th District police that they had 300 more coats. So we extended our coat drive and just made sure we were outfitting everyone."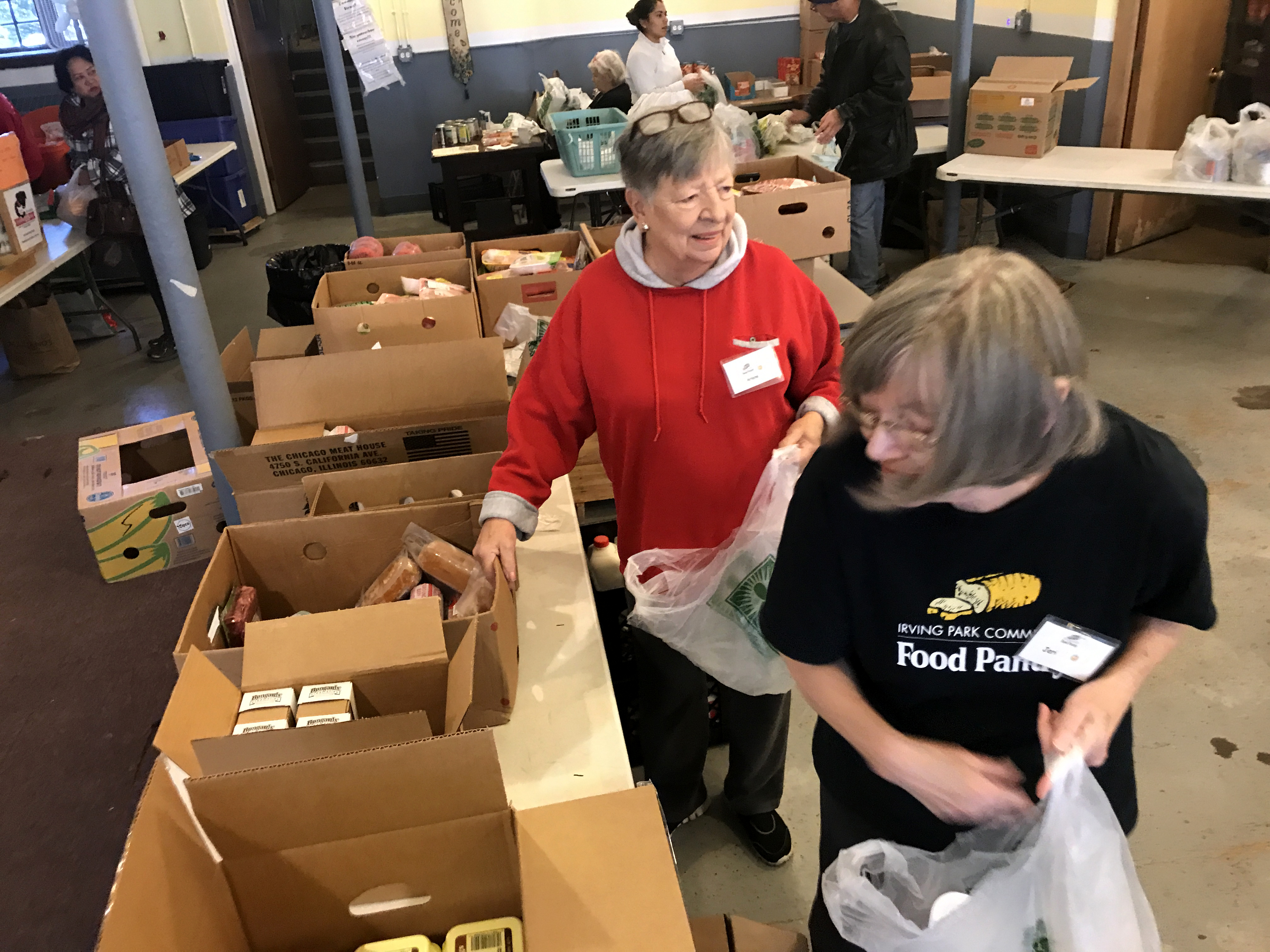 Psiharis said another resource for people who go the food pantry is the client services coordinator, who helps connect them with support for what's going on in their lives.

"The coordinator will sit down with them and kind of help them to unpack whatever situations they're dealing with," Psiharis said. "You know maybe it's a job. Maybe it's childcare or maybe it's substance abuse, domestic violence or homelessness. The list kind of goes on."

The food pantry is in operation all year, and does seasonal drives for things like school supplies and Easter baskets.


With that in mind, Psiharis asked those interested in helping out organizations like the Irving Park Food Pantry to keep them in mind not just during the holidays.

"People are hungry in March. They're hungry in June, in September. We as a society tend to think of the hungry more around the holidays. But there's definitely a need for volunteers and donations throughout the year," Psiharis said.

For more information on the toy drive and how to get involved with the Irving Park Community Food Pantry visit their website and check their Facebook page.
The pantry will be closed next week for the Thanksgiving holiday but toy donations will still be accepted at the listed addresses.
Do stories like this matter to you? Subscribe to Block Club Chicago. Every dime we make funds reporting from Chicago's neighborhoods.