PILSEN — Aldermanic candidates in the 25th Ward slammed the city's new affordable housing plan aimed at keeping Mexican and Mexican-American families on the Southwest Side, saying it doesn't do enough to protect gentrifying Pilsen. 
Following the unveiling of the city's new five-part strategy to preserve Pilsen and Little Village Tuesday, candidates slammed the proposal — and raised questions on if the new affordable housing requirements would apply to Pilsen's largest vacant site — a site ripe for development.  
The proposed affordable housing pilot program would increase the city's affordable housing requirement from 10 percent to 20 percent within large-scale, market-rate housing developments in a 7.2-mile area in Pilsen and Little Village. The pilot program will require at least 10 percent of affordable family size-units be built on site, and developers can opt to build an additional 10 percent of units on site, or buy out of that by paying a fee per unit. 
Veteran Ald. Danny Solis (25th) was one of three aldermen to announce the plan Tuesday with Mayor Rahm Emanuel. 
RELATED: City Vows To Keep Mexican Culture Alive In Pilsen, Little Village With New Affordable Housing Plan
The city's plan falls short, said 25th Ward candidate Byron Sigcho Lopez, the former executive director of Pilsen Alliance. 
Instead of the proposed 20 percent, the requirement should be 30 percent — and all of the housing should have to be built on-site, with no loopholes for developers, Sigcho Lopez said. And that affordable housing mandate should apply to all of the 25th Ward — including the West Loop, South Loop and Chinatown — not just Pilsen, he argued. 
"The systematic and longstanding failure to recognize housing as a human right has necessitated bolder action," the candidate said. 
Sigcho Lopez also raised questions about the fate of Pilsen's largest vacant site, saying the pilot program boundaries "intentionally" exclude a prominent 8-acre site owned by developer Property Markets Group. 
The developer pitched plans for a 465-apartment development on the site between 16th and 18th streets and Newberry Avenue and Peoria Street in June 2017, but the project has effectively been blocked since Solis moved to rezone the property in April 2016. 
Despite some confusion about the boundaries, the new pilot would include part — but not all — of that massive vacant lot, according to a city map provided by the Department of Planning and Development.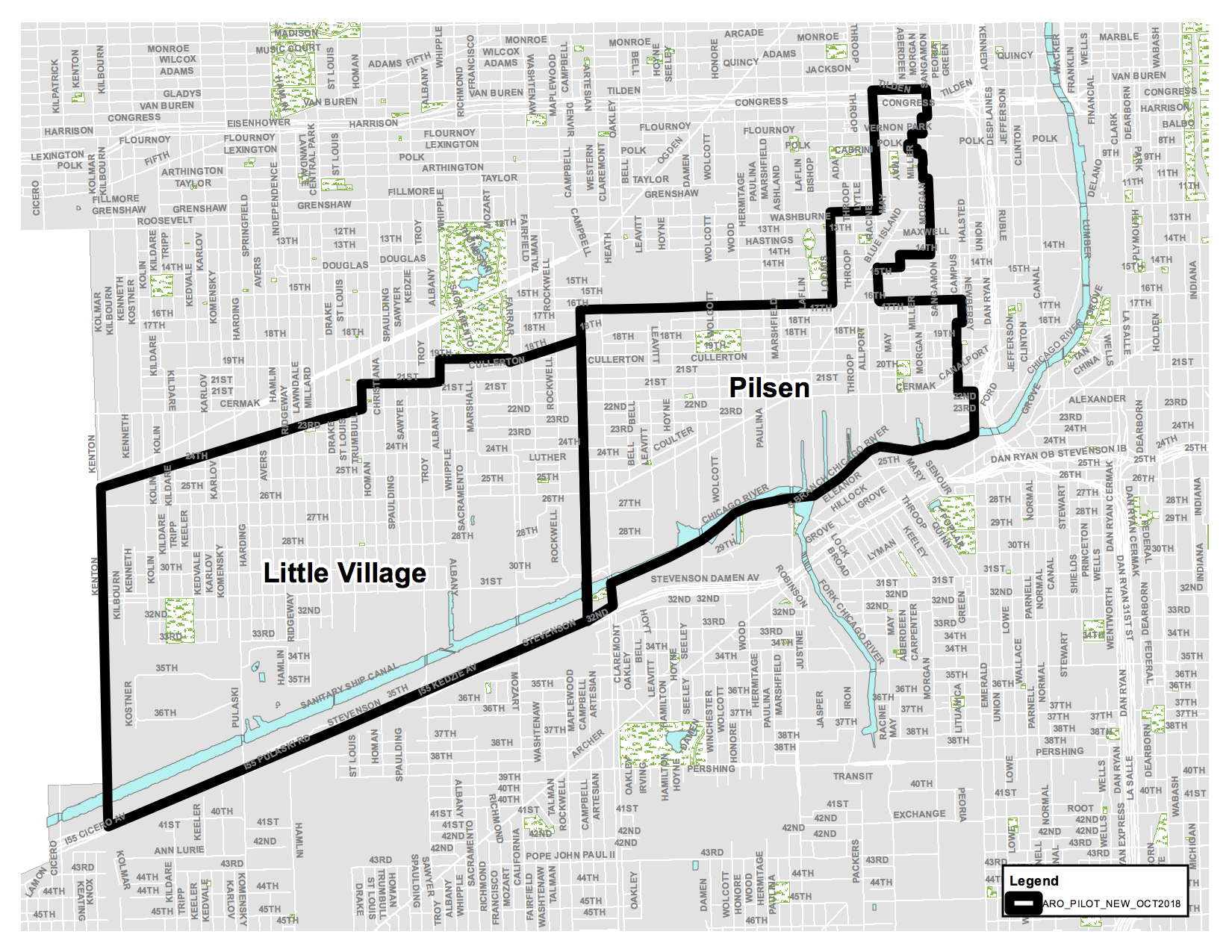 Thomas Bowen, a spokesman for Solis, said the alderman would apply Pilsen's unofficial 21 percent affordable housing mandate to any portion of the 18th & Peoria site that is excluded from the pilot program's boundaries. 
Since 2005, Solis and the Pilsen Land Use Committee have required a minimum of 21 percent of all new developments in Pilsen to be designated as affordable housing units. The rule applies to new developments of 10 or more units that seek zoning changes from the city or use city land or subsidies, but Solis has approved projects with less affordable housing on site when the developer offers another benefit to the community. 
The unofficial 21 percent mandate is more than double the city's mandate requiring 10 percent of new developments to be affordable housing units.
"Alderman Solis has a community-led requirement of 21 percent affordable housing for new developments in all of Pilsen. He's made it clear, repeatedly, that affordable housing is a priority and anything outside of the proposed footprint will still conform to this requirement," Bowen said in an email.
With the city's new official 20 percent proposal on the table in Pilsen and Little Village, Solis told Block Club Tuesday that he will discuss the unofficial 21 percent mandate in Pilsen with the Pilsen Land Use Committee to determine if it will be applied going forward. 
"I'm not going to quibble about one percentage point difference," Solis said. 

Other candidates also said the plan won't do enough to protect changing Pilsen and Little Village.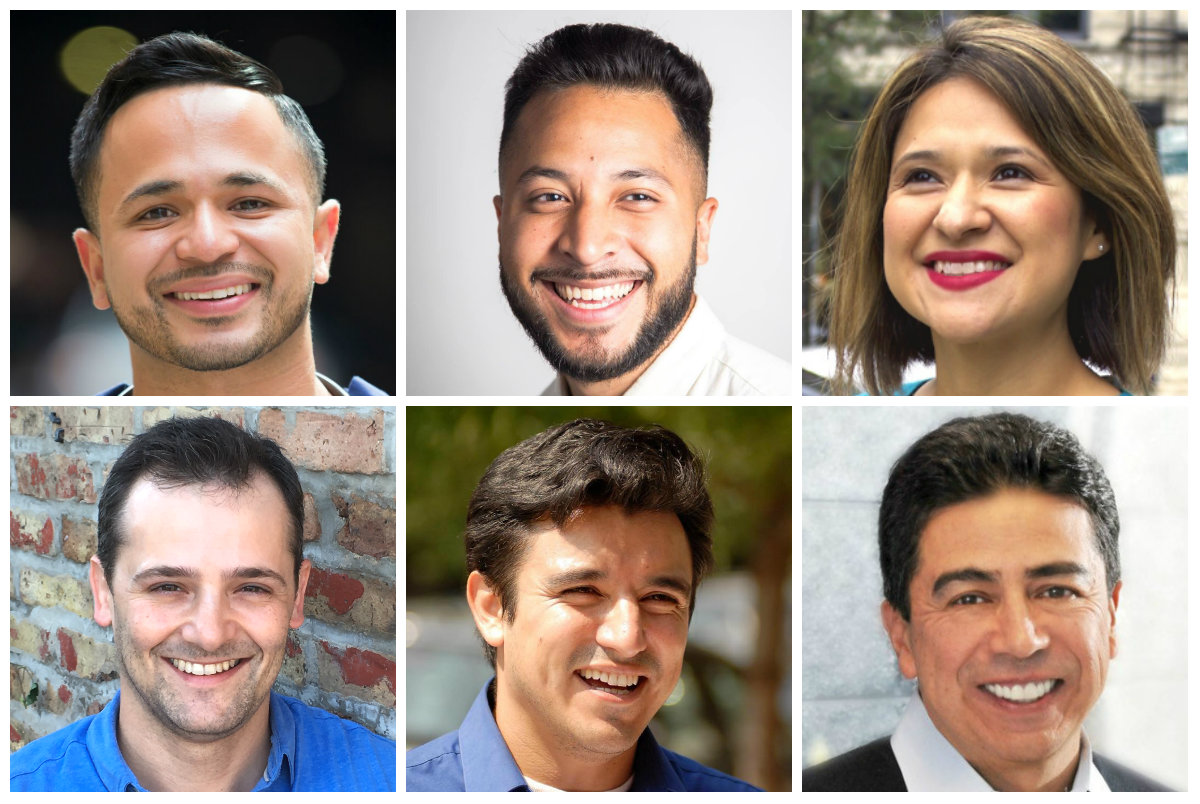 Calling the plan "developer-friendly," candidate Hilario Dominguez, a former teacher, said the plan fails to address the "growing housing and displacement crisis with sufficient urgency or strength."
"Developers may be required to build more affordable units, but they'll still be able to pay to opt out of locating those units on-site. Our buildings may be granted landmark status, but there's no guarantee that the local, family-owned businesses that currently occupy them will be able to pay increasingly competitive rent," he said. 
Dominguez called for the city to increase resources for small, family-owned business and prioritize the "improvement of environmental and residential living conditions" for low-income families.
And the people of Pilsen and Little Village should have the opportunity to weigh in on plans before proposals like this are rolled out, he said. 
Candidate Aida Flores, a former CPS principal, also said the plan doesn't do enough to save families from displacement. The city's flawed plan comes down to a lack of community input, Flores said. 
"You need to engage the community," Flores said. "Where are they in this process because if you aren't actually hearing from [residents] on what is going on, how are you going to give them an actual solution?"
"People want to be heard and they are the best to tell us where we are falling short," Flores added. 
Candidate Troy Hernandez, a data scientist, called parts of the city's proposal "a train wreck."
"Given that Alderman Solis brags regularly about Pilsen['s] 21 percent affordability requirement, this should mean nothing for Pilsen," he said. 
Rather than providing financial assistance to developers who purchase or refinance multi-family residential buildings in exchange for long-term affordable rental covenants, he said the "money should be set aside for owner-occupied home buyers." 
"Otherwise, it's just another great return on the investment that property developers have made in Rahm and Solis's campaigns," Hernandez said. 
Candidate Alex Acevedo, a community relations manager and son of longtime State Rep. Edward "Eddie" Acevedo Sr., questioned why it took so long for the city — and "negligent" Solis — to develop a housing policy for Pilsen. 
Acevedo said the process has been "too slow" to address affordability concerns. 
"There are documented increases in housing costs that have steadily forced lower to middle-income families out of the neighborhood over the past decade," Acevedo said. "This data has been there for years." 
Solis told Block Club Tuesday that the pilot program aims to expand "good development" that is attentive to middle and working class communities staying in these neighborhoods.
"Maybe you can make the argument that it doesn't go far enough, but it certainly goes farther than what we had," Solis said. "It looks at preservation, new construction. … It's going to include assistance with El Paseo. And more importantly it expands to Little Village."
Pilsen, a historic port of entry for Mexican immigrants, has seen an exodus of Latino families in recent years.
In a 2016 study, University of Illinois at Chicago professor John Betancur found that while Pilsen remains majority Hispanic, more than 10,300 Hispanic residents left the neighborhood between 2000 and 2010, a 26 percent drop.

From 2000 to 2010, Pilsen's population plummeted by nearly 15 percent. The biggest drop — 41 percent — was the number of families with children living in the neighborhood.
Solis, chairman of the city's Committee on Zoning, was appointed to the 25th Ward seat in 1996 by former Mayor Richard Daley and formerly chaired City Council's Hispanic Caucus.
In 2015, Solis narrowly avoided a runoff, capturing 51 percent of the vote. His closest challenger, Sigcho Lopez, garnered 18.6 percent of the vote. He was about 70 votes shy of forcing Solis into a runoff. 
The 25th Ward includes parts of Pilsen, Chinatown, the West Loop, Little Italy and Heart of Chicago.
RELATED: Race To Unseat Solis Becomes More Crowded As Former State Rep Candidate, Former CPS Principal Jump In
RELATED: Pilsen Data Scientist, Environmental Group Leader Running For 25th Ward Seat Held By Solis
Do stories like this matter to you? Subscribe to Block Club Chicago. Every dime we make funds reporting from Chicago's neighborhoods.